Cruelty free makeup Vs vegan makeup, how they differ and which is better for you
When it comes to making more animal-conscious beauty choices these days, there are two options. You can choose between cruelty free or certified vegan products. Our beauty editor reveals the differences, and then recommends some miraculous beauty buys to get you started...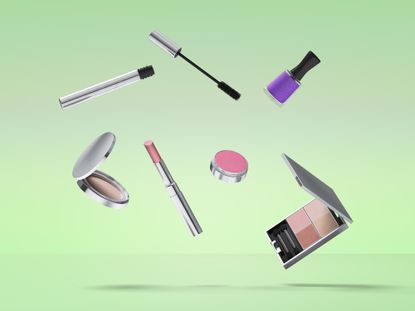 (Image credit: Getty Images)
Once you've found yourself a convincing cheese substitute, following a vegan diet is pretty easy these days - in no small part thanks to the tens of high-street retailers who have launched tasty new vegan menus this year.
But it's not just the food industry that's wising up to the importance of stocking vegan offerings, with plenty of beauty brands taking giant leaps in that direction too. There are now more vegan and cruelty free makeup and beauty products than ever before.
For some, buying cruelty free beauty products are higher on their agenda than buying vegan ones. But do you know the difference? In this article we look at the definition of each, where they overlap, and highlight some of the best vegan and cruelty free makeup and beauty products on the market right now.
Cruelty free makeup and beauty: what is it?
First up, cruelty free. This means the product was not tested on animals. Most brands which are fully cruelty-free (meaning both them and their suppliers don't test on animals) will shout about it - proudly displaying logos like the Leaping Bunny on their packaging. If you're in any doubt about which of your favourite brands are cruelty-free, most provide information and an explanation in the FAQ section of their websites.
Vegan makeup and beauty: what is it?
You may want to only use products that are certified as vegan and therefore cruelty free and also don't contain any animal-derived ingredients at all. This can be trickier to follow, with ingredients such as beeswax, honey and lanolin popping up in a lot of lip and skincare products.
Read on to discover our favourite vegan and cruelty free makeup brands, and discover which products are best for you...
Cruelty free makeup and beauty brands
Burt's Bees Satin Lipstick, £9.99, John Lewis & Partners (opens in new tab)
After a budget friendly lipstick which is also from a cruelty free makeup brand? Look no further than Burt's Bees Satin Lipstick range. Their genius lipsticks have a lightweight, yet creamy, finish, and last all day long.
Chantecaille Concealer, £44, Space NK (opens in new tab)
Disguise wrinkles and plump up fine lines in one single swipe. This innovative concealer by Chantecaille features an anti-fatigue complex powered by peptides that will de-puff the eye area, reduce dark circles and improve the skin's elasticity.
Ambient Lighting Powder, £42, Liberty (opens in new tab)
Achieve the gorgeous candlelit glow you've always dreamed about with this ambient lighting powder from Liberty, which creates a flattering sheen and blurs out the skin's imperfections. Don't forget to check out the rest of the Hourglass (opens in new tab) cruelty free makeup range, and very high quality.
Lily Lolo Natural Eye Pencil,£7.50, Lily Lolo
For a smooth eye pencil that's gentle on sensitive skin, look no further than this natural eye pencil from cruelty free makeup brand Lily Lolo. Not only can this pencil create a precise, enhancing effect, but it's free of chemical that irritate your skin including fragrances and parabens. The brand is certified cruelty free, so why stop at just one eyeliner pencil?
The Golden Goddess Luxury Palette,£40, Charlotte Tilbury (opens in new tab)
Smoulder in seconds with this Golden Goddess palette by Charlotte Tilbury. With a pale base and pretty bronze shade with just a hint of shimmer, plus two seductive shades of brown, this palette is all you need for a shimmery day-to-night look.
Lash Slick,£14, Glossier (opens in new tab)
Define, lengthen and protect your lashes with Glossier's Lash Slick mascara.Featuring tiny fibres to coat lashes from root to tip, the brush enhances the look of your lashes without creating that dreaded spider's leg effect. Not only is this popular product officially cruelty free makeup, ii is also free from parabens and fragrances, so ideal for sensitive skin.
Butter London Nail Lacquer, £15, lookfantastic (opens in new tab)
For all the shades you could EVER need check out Butter London Nail Lacquer, available at lookfantastic (opens in new tab) and other online retailers such as Amazon. Free from toulene, DBP, parabens and formaldehyde, Butter London proves that you really can get gorgeous nail polish, without all the nasties. Yay!
Super Healthy Hair Smooth Booster, £6.18, Beauty Pie (opens in new tab)
A members-only beauty club, Beauty Pie make luxury beauty affordable by stripping out the advertising costs and retailer mark-ups in order to sell products at factory prices. The way it works is easy – sign up and pay a monthly membership in order to access the factory prices (non-members can pay the 'typical price' you'd pay elsewhere for a product of this quality). We particularly love Beauty Pie's haircare, which offers some of the best vegan shampoo and conditioner options on the market.
MORE:Low effort (and cost!) pampering tricks and beauty treatments at home that will help you beat the January blues
There are different spending allowances depending on your chosen membership level (starting from just £5 a month for £50 allowance) and it rolls over to the next if you don't spend it all. As well as bringing us bargain prices, all of their products are cruelty-free, with a growing number of vegan products. We're seriously impressed by their new hair boosters, bringing volume, shine and smoothness to badly behaved barnets but they do have cruelty free makeup too.
EcoTools Blooming Beauty Kit, £15.18, EcoTools
In need of some new brushes? Look no further than this set by EcoTools. Groom your brows, contour the face and shape your eyes with these high quality, all natural brushes made from recycled and natural materials. It's a total win-win.
Douvall's Argan and Ungurahua Oil Shampoo, £24, Douvall's (opens in new tab)
Known for it's nourishing properties, argan oil works wonders on dry, stressed-out locks - helping to bring even the most frazzled tresses back from the brink. This shampoo is full of the good stuff, leaving hair feeling fresh and clean - without stripping away it's natural oils and moisture. Sustainably sourced, Douvall's argan oil production is in partnership with a women's co-operative, providing them with a fair wage, good working conditions, childcare and education. All of the range is both cruelty-free and vegan-friendly.
Drops Of Youth Cream, £22, The Body Shop (opens in new tab)
For animal friendly products you can always trust, look no further than The Body Shop. And right now we're loving their bestselling Drops of Youth cream. This air whipped moisturiser leaves skin feeling bouncy and smooth, whilst reducing the appearance of fines lines and wrinkles. Famously, none of their products are tested on animals, so they also have a good line in cruelty free makeup. We recommend their foundations.
Kora Organics Body Exfoliator,£36, Space NK (opens in new tab)
Revitalise your skin with the Kora Organics by Miranda Kerr exfoliator. Made with diatomaceous earth (that's naturally occurring soft rock) and bamboo stem to help to gently exfoliate dead skin cells away,this natural combination will gently break down dead skin cells, revealing a brighter, more youthful complexion. For more evidence on how amazing this product is, just take a look at Miranda Kerr's complexion - yup, its perfect.
Vegan makeup and beauty brands
Certified Organic Vegan Lipstick, starting from £19.50, INIKA (opens in new tab)
It wouldn't be a list of cruelty free makeup without a nod to INIKA, a popular beauty brand that's registered with the UK Vegan Society. While it's hard to choose from their extensive range of products, we're loving their bestselling organic lipstick, which comes in 12 stunning shades and contains nourishing argan oil, jojoba and shea butter.
Geranium & Rhubarb Bar Soap, £9,The Soap Co (opens in new tab)
A brand with a conscience, all of The Soap Co's products are crafted here in the UK by people who are blind, disabled or otherwise disadvantaged. All but one of their products are 100% vegan (their exfoliating soap pebble is cocooned in wool) and everything is cruelty-free. Made from lovely, nourishing ingredients including coconut oil and shea butter, their soaps are quickly becoming a bathroom staple.
Skyn Iceland Nordic Skin Peel, £39, M&S (opens in new tab)
Designed to reverse the ravaging effects of stress on your skin, Skyn Iceland is inspired by the natural resources of, you guessed it, Iceland – from mineral rich waters to soothing algae's. The perfect antidote to one too many late nights, their peel pads dissolve away dead skin cells to reveal the fresh, younger-looking skin hiding underneath. As you'd expect from a brand so closely connected to nature, all Skyn Iceland products are completely vegan and cruelty-free.
Authentic Beauty Concept Hydrate Shampoo & Conditioner, £23.15 and £27, Authentic Beauty Concept (opens in new tab)
Congrats toAuthenticBeautyConcept, who has just received the vegan seal from the Vegan Society for their entire range [baronly three products; Gritty Wax Paste, Shaping Cream and Amplify Mousse, which are currently still in the process].Authentic Beauty Concept products are formulated with a special combination of purified natural extracts. We tried the Hydrate product range for dry hair, which contains mango fruit extract and basil leaf extract, and as well as having fabulous results - it smells divine!
Joseph Ferraro, ambassador forAuthenticBeautyConcept, told us, "AuthenticBeautyConcept was inspiredby hairdressers, artisans and peoplewho share the same values, and the ethos behind the products is that we wantedsomethingauthentic, natural, simple and made with carefully selected ingredients.We believe what you leave out is as important as whatyou put in, so our products are vegan as well as freefromsulfate surfactants, parabens and silicones.
"We also want to bring mindfulness into our experience so for our in-salontreatmentswe createanenvironment – a memento – that blocks out the noise ofthe busy world around. When you're present in the nowthat's when you rebalance your mind and soul bringingout your innerbeauty."
Le Labo Santal 33 Eau De Parfum, £127, Cult Beauty (opens in new tab)
Long-lasting vegan perfumes can be hard to come by (many of them rely on animal-derived musk for longevity), but Le Labo's cult scents more than stands the test of time. Designed to suit any gender, Santal 33 is an interesting and intoxicating mix of spicy cardamom, iris and violet deepened by warm, musky notes of leather. Spritz onto your wrists and neck but resist the temptation to press your wrists together – it'll dull the top notes and mean your fragrance fades faster.
Herbivore Bakuchiol Smoothing Serum, £45, Space NK (opens in new tab)
Dreamed up and created in their Seattle kitchen by founders Julia and Alexander, all of Herbivore's products have been formulated by them, from scratch. Completely vegan and with a focus on sourcing natural active ingredients they are all tested on humans, never animals. A gentler alternative to retinol, promising reduced redness and irritation without compromising on results, their Bakuchiol serum is safe for all skin types.
Lily England Makeup Brushes, from £5.95, Lily England
Lily's pretty makeup brush ranges are both vegan and cruelty free - and they also come at affordable prices.
We love the white and rose gold Marble Lux Set (£45), which comes with a square case - top marks for dressing table presentation.
Lily said, "I launched Lily England when I couldn't find any truly high quality cruelty-free and vegan makeup brushes and beauty tools that worked well AND looked good on my dressing table. "
Jess Beech is an experienced fashion and beauty editor, with more than eight years experience in the publishing industry. She has written for woman&home, GoodtoKnow, Now, Woman, Woman's Weekly, Woman's Own and Chat, and is a former Deputy Fashion & Beauty Editor at Future PLC. A beauty obsessive, Jess has tried everything from cryotherapy to chemical peels (minus the Samantha in Sex and The City-worthy redness) and interviewed experts including Jo Malone and Trinny Woodall.