11 of the best serum foundations for a dewy-looking base with benefits
Our beauty writer reveals her top serum foundations that are a high-tech hybrid of skincare and makeup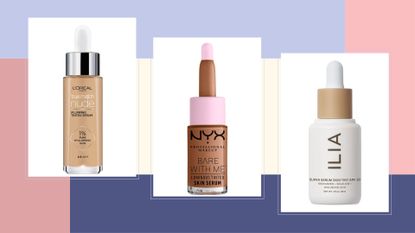 (Image credit: Future)
The best serum foundations offer a lazy solution to product layering on time-precious mornings. They're often crammed full of skin-boosting ingredients while giving the dewiest finish around. What more could you want?
These modern hybrids are here to serve those of us that crave a minimalist beauty routine with maximum skincare benefits. Unlike many of the best foundation formulas, they contain active ingredients to hydrate, brighten, even and protect your complexion during wear. "With so many products available it can become overwhelming, especially when it comes to knowing which will work with which," global makeup artist and brand founder Ruby Hammer tells us. "Serum foundations' hybrid formulas cut out the guesswork as they work in synergy for a flawless finish. They are perfect for those that like a simple routine."
Want to know what the best serum foundation options are right now? We've tried and tested a huge selection across the market and these are the ones that came out on top.
HOW WE TESTED THE BEST SERUM FOUNDATIONS
Why you can trust Woman & Home Our expert reviewers spend hours testing and comparing products and services so you can choose the best for you. Find out more about how we test.
To make the cut for this list of the best serum foundations, each product has been tested and worn by me. I tried each one over the course of a couple of days to make sure I had the most well-rounded view and could see the product's longevity and coverage as well as how it reacts once on the skin. I assessed the formulas for their skincare benefits as well as shade ranges and also how well the packaging functioned, from transportability to ease of application.
I tried options from a range of brands and price points to ensure that I could recommend products for everyone to enjoy. Most, if not all, of the serum foundation options I tried also served as some of the best foundations with spf, making them doubly beneficial. The options below were the best of the best, which genuinely impressed me as well as other members of the beauty team.
THE BEST SERUM FOUNDATION BUYS, as tested BY OUR BEAUTY WRITER
1. L'Oreal Paris True Match Nude Plumping Tinted Skin Serum, 1% Hyaluronic Acid
Best overall serum foundation
Specifications
RRP: $16.79/£14.99
Active ingredients: Pure hyaluronic acid
Shades avilable: 9
Extra benefits: Non-comedogenic, dermatologically tested, luminous finish
Reasons to buy
+
Lightweight finish and feel
+
Matches 99% of skin tones
+
Hydrating
I've been trying to think of a possible reason someone might not like this product but I just can't. Apart from the fact it doesn't contain SPF, this is pretty much the perfect base product – and you should apply separate sunscreen anyway, or at least a face moisturizer with SPF. Ultimately this feels like a proper tinted serum, which basically gives that 'my skin but better' look with a juicy plumped complexion and a gorgeous sheer and dewy finish.
The formula contains 1% pure hyaluronic acid meaning it deeply nourishes the skin for all-day hydration and doesn't leave it feeling patchy or flaky. It managed to cover my imperfections, dark circles, and any redness I had post-morning cleanse, but didn't look like makeup. It's without a doubt the best serum foundation out of the all-star lineup I tried and I really can't stop raving about its powers. I have already enthusiastically recommended it to countless friends, colleagues, and even some strangers.
2. Catrice Cosmetics Nude Drop Tinted Serum Foundation
Best serum foundation on a budget
Specifications
RRP: $11.46 / £7.49
Active ingredients: Hyaluronic acid, Vitamin E
Shades avilable: 16
Extra benefits: Suitable for all skin types, free from oil, perfume, alcohol and preservatives
Reasons to buy
+
Buildable coverage
+
24 hours of hydration
+
Cruelty-free & vegan
This was much thicker than expected, but I enjoyed how it was the perfect marriage of a lightweight foundation and a skincare product. Containing effective hydrating heroes, hyaluronic acid, and Vitamin E, I knew my skin was being looked after despite the heavier finish. It felt completely weightless, breathable, and performed how a normal foundation would, but with added extra skin-loving ingredients.
For the price, I really don't see why anyone would question buying this, as it really does tick so many boxes. It covered all my redness, imperfections, and spots and left my skin looking flawless all day long. I will say that if you're after a lightweight skin tint then this isn't going to be the best serum foundation for you, as it looks and feels like a foundation, but know that it goes the extra mile with the great skincare base.
3. YSL NU Bare Look Tint
Best serum foundation for a barely there look
Specifications
RRP: $44/£28
Active ingredients: Marshmallow, glycerin, hyaluronic acid
Shades available: 20
Extra benefits: Suitable for all skin types, allergy tested, 90% skincare base
Reasons to buy
+
Light coverage
+
Feels like you aren't wearing anything
+
Nice smell
I loved this serum foundation from the moment I put it on my face. So lightweight, dewy, and hydrating, this was one of my absolute favorites and certainly in the top three serum foundations on this list. The unique water-gel texture feels so lovely on the skin as if I wasn't wearing a makeup base, which is always welcome. It absorbed well and lasted all day long too.
The formula is packed with all the ingredients that thirsty skin drinks up., like hyaluronic acid, glycerin, and marshmallow, which works to soothe irritation. The veil of color suited my skin tone well and gave a smooth even finish with that gorgeous glow we all crave. This may not work for you if you prefer full coverage to mask spots or imperfections but it's ideal for those who want their real skin to show through underneath their foundation.
4. NYX Professional Makeup Bare With Me Luminous Tinted Skin Serum
Best serum foundation for radiance
Specifications
RRP: $15.25/£13
Active ingredients: Tremella mushroom
Shades available : 5
Extra benefits: 12-hour hydration, adaptable shades, evens skin tone
Reasons to buy
+
Vegan & cruelty-free
+
Luminous finish
+
Great price point
Reasons to avoid
-
Slightly greasy feel
-
Only five shades available
This bargain buy was almost completely sheer when I first applied it, which was slightly jarring - and made it tricky to ensure I covered my whole face. After a couple of seconds of blending, the tinted serum mimicked my skin tone and transformed into a lovely radiant finish. Offering just-enough coverage, this gave my complexion a natural-looking boost and blurred imperfections, although some might prefer a heavier finish.
Offering a dewy makeup look, this product felt lovely on the skin and totally illuminated my base. It blends so easily and would also work as a primer to layer under makeup if the coverage isn't heavy enough for you. It's worth noting that despite claiming to not have a greasy finish, this dried slightly tacky, so if you have oily skin, you may not like this one.
5. ILIA Super Serum Skin Tint SPF30
Best serum foundation for higher coverage
Specifications
RRP: $48/£48
Active ingredients: Niacinamide, squalane, non-nano zinc oxide (UVA/UBA protection)
Shades available: 30
Extra benefits: Mineral SPF protection, extensive color match, non-comedogenic, suitable for sensitive skin
Reasons to buy
+
Vegan & cruelty-free
+
Luminous finish
+
Adaptive color match technology
Reasons to avoid
-
Slight initial odor
-
Higher price point
This product has TikTok to thank for the fact it's gone viral globally. Everyone and their aunt has been raving about this as one of the best serum foundation buys, so I was intrigued to see if it actually lives up to its stellar reputation. The good news is that it absolutely does. On the slightly thicker side, this skin tint felt like a foundation and offered one of the most full-coverage formulas out of the all serum foundations I tested. But, despite not being as 'tint-y' as I thought it would be, I really loved this.
It's packed with lots of skin-loving ingredients like niacinamide and squalane, and I knew my skin was being well looked after and protected thanks to the SPF30. It also offers a mighty 30 shades in the range, so there's something for absolutely everyone. The formula sat really well and kept me looking radiant all day long, a real feat after a 10-hour day of meetings and a hefty commute. If you prefer more coverage from your skin tint, then you'll love this one.
6. Typology Tinted Face Serum with Vitamin C, Squalane & Aloe Vera
Best serum foundation for active ingredients
Specifications
RRP: $40.70/£28.90
Active ingredients: Vitamin C, squalane, aloe vera
Shades available: 6
Extra benefits: Evens skin tone, restores moisture, fragrance-free, vegan
Reasons to buy
+
99% naturally derived formula
+
Non-clogging
+
Silicone-free
Reasons to avoid
-
Not many shades
-
Can appear darker on skin
This is rarely in stock due to its popularity so I was grateful to get my hands on it to test it out. The silicone-free, non-clogging formula glided onto my skin and managed to cover my post-party weekend dark circles with absolute ease (big win). A little went a really long way and the consistency was perfect for a tinted serum.
At first, the color looked a little dark but after a few minutes, it toned down. I would still recommend going a shade lighter than usual, but if you were wearing your best fake tan for your face or prefer a darker shade match then you'll be fine. It's packed with Vitamin C to boost radiance, squalane, and aloe vera for deep, long-lasting hydration so it packs a punch. I love that it left my skin feeling as if I wasn't wearing anything all day and it looked plump and healthy too.
7. Clinique Even Better Clinical Serum Foundation SPF20
Best serum foundation for oily skin
Specifications
RRP: $44/£36
Active ingredients: Vitamin C, salicylic acid, hyaluronic acid
Shades available: 42
Extra benefits: 24-hour wear, 86% skincare formula, waterproof, sweat and humidity resistant
Reasons to buy
+
SPF protection
+
Allergy, dermatologically, and ophthalmologist tested
+
Great shade range
Reasons to avoid
-
Sits in lines slightly
-
Might not work for dry skin
Clinique Even Better Clinical Serum Foundation ticks almost every beauty box you could imagine. In fact, just reading about all the active ingredients, approval tests, seriously impressive shade range, and consumer testing results may be enough to convince you to order a lifetime supply.
This 86% skincare-based formula has 42 shades, contains SPF20, is sweat, humidity, and waterproof as well as being fragrance-free, dermatologist and ophthalmologist tested. But, how did it actually look on the skin? The results were dewy, radiant, blurred, and healthy-looking. I only needed half a pump to cover my whole face, meaning I'll get a lot of use out of the bottle, which also makes this higher-priced buy better value. It did have the potential to collect in lines a little as the day went on, so might not suit very dry skin. Otherwise, this was a knockout product that I immediately fell in love with.
See our full Clinique Even Better Clinical Serum Foundation review
8. L'Oreal Paris Skin Paradise Tinted Moisturiser SPF20
Best serum foundation for dry skin
Specifications
RRP: $16.99/£11.99
Active ingredients: Aloe vera, ginger and witch hazel
Shades available: 13
Extra benefits: 70% water-based formula, 24 hours of hydration, defence against pollution
Reasons to buy
+
Lightweight and dewy finish
+
Bargain price point
+
Super hydrating
Reasons to avoid
-
Some might prefer a fuller coverage
This SPF20, UVA & UVB, and antioxidant-rich tinted moisturizer is another winning offering from L'Oreal Paris. Giving you a more luminous and lightweight finish than most other tinted serums on this list, this is perfect for the summer months when you want a very natural-looking glow. The 70% water-based formula provides up to 24 hours of deep hydration and juicy makeup look we all want.
This formula is packed with witch hazel so will work to help reduce and prevent blemishes while Aloe vera ensures the skin is healthy and hydrated throughout wear. It looked great when I applied it with a damp beauty sponge and I found it was one of the best foundation for dry skin options I tested. Lightweight enough to be worn alone or under your normal makeup base, this drugstore bargain really is worth stocking up for summer.
See our full L'Oreal Paris Skin Paradise Tinted Moisturiser SPF20 review
9. Iconic London Super Smoother Blurring Skin Tint
Best serum foundation for a filter effect
Specifications
RRP: $42/£27
Active ingredients: Pea extract, amino acids and peach flower
Shades available: 18
Extra benefits: Contains a blurring complex for a smooth finish
Reasons to buy
+
Buildable coverage
+
Covers imperfections
+
Cruelty-free
Reasons to avoid
-
Better suited to normal or oily skin
Despite an early incident, where what felt like half the serum foundation poured out of the bottle before I had the chance to stop it, this product impressed me. When I think of Iconic London, shimmery highlighters, setting sprays, and contouring products come to mind but I hadn't actually tried any of their bases before this. After cleaning up the spill, I enjoyed that it was on the thinner side, consistency-wise, as it meant a little went a really long way and it wasn't cakey at all.
I also like that there are 18 shades to choose from and managed to pick up the perfect shade for my complexion. Think of this skin tint as more of a blurring filter effect, masking imperfections, pores, and dark circles. It doesn't work to keep skin plump and hydrated, so you will need separate skincare for that. But, if you're looking for something to blur your base, then this is most definitely the best serum foundation choice for you.
10. Oskia Nutri-Bronze Adaptive Sheer Tinted Serum
Best serum foundation for a deep color
Specifications
RRP: $78.50/£64
Active ingredients: Bakuchiol, niacinamide, hyaluronic acid, Vitamin E
Shades available: 1
Extra benefits: Adaptive Tone Technology, anti-aging benefits, can also be used on body
Reasons to buy
+
Packed with active skincare ingredients
+
Feels luxurious
+
Suitable for a diverse range of skin tones
Reasons to avoid
-
Very expensive
-
More of a bronzing product than a foundation
Fusing a bronzing tint with featherlight hydration, this tinted serum offers long-lasting moisture with sheer coverage and a sun-kissed finish. The serum uses adaptive tone technology, designed to complement all skin tones, while potent skincare actives help to nourish and protect your skin. This includes bakuchiol, a natural alternative to retinol, which visibly smooths the look of fine lines making it one of the best foundations for mature skin.
This smart serum is seriously impressive and ideal for deeper skin tones as well as fairer ones during the summer months when you want a gorgeous bronzed base. But, pale complexions should take care – it's quite dark, so apply sparingly and blend carefully. I'm not sure I would wear it alone as it was fairly dark for my skin. However, if you have a warmer skin tone, this would really suit you. If you're very pale, I'd recommend picking another option or using it as a bronzing primer.
11. IT Cosmetics CC+ Nude Glow Color Correcting Medium Coverage Skin Tint
Best serum foundation for a luminous base
Specifications
RRP: $47/£36.50
Active ingredients: Niacinamide, hyaluronic acid, green tea extract
Shades available: 22
Extra benefits: SPF40, 24 hours of hydration, addresses skin concerns
Reasons to buy
+
90% skincare formula
+
This brand knows bases
+
Visibly improves brightness, skin texture and evenness
Reasons to avoid
-
Not high coverage
-
Staying power isn't brilliant
IT Cosmetics knows how to produce a killer foundation, their iconic CC cream is my all-time favorite makeup base that I'll never tire of using, so I was very excited to see how this version compared. Combining the benefits of a foundation, a brightening serum, and SPF40 protection in one step, this tint delivers a skin-like finish. It promises 24 hours of hydration and is enriched with niacinamide, hyaluronic acid, and green tea extract. So far, so impressive.
On first impressions, this was much more luminous than the original CC cream but it felt extremely nourishing and as if I wasn't wearing any makeup. The formula covered all my redness, imperfections, and dark circles immediately and created a dewy skin veil that is perfect for the summer months. I will flag that the staying power isn't as good as the original, as it's so hydrating it has a slight 'slide' factor, so that's worth considering if you're after something durable.
---
How to choose the best serum foundation
If you're looking to make the switch from full coverage bases to a light serum foundation, there are a few aspects to bear in mind:
Ingredients: It's a good idea to match any foundation formula to your skin type, but especially so with serum foundations as they are designed with ingredients to tackle skincare concerns. Generally, many serum foundations contain light hydrating ingredients such as hyaluronic acid and vitamin E, which are good news for every skin type. If it also packs in heavier skincare oils and occlusive ingredients, it'll be a good pick for oily skin, antibacterial ingredients such as witch hazel and mattifying powders work best for oily skin and fragrance-free formulations will suit sensitive types.
Coverage: Most serum foundations are light with have a fluid consistency, although there is a spectrum, from ultra-sheer to medium-coverage formulas that can be built up. The finish of the coverage is just as important as the level of pigment itself. For example, many formulas are created with light-reflecting particles, which will look juicy and lovely on dry skin but potentially a bit slick on oilier types. Formulas with blurring or mattifying powders will work well on breakout-prone or combination skin, as they can wash over these issues without completely masking them in makeup.
Shade: Serum foundations tend to come with fewer shade choices than high-coverage foundations because they're more adaptable and sheer, and can generally work on more than one tone. If you are trying to shade match online, look out for digital try-on tools where you can upload photos, shade-matching quizzes that use algorithms, or virtual web chats, which can all help you pick.
Is a serum foundation better than regular foundation?
That depends on what you are looking for, but if you want a hybrid between makeup and skincare then yes, they can be better - especially when it comes to benefits. Most standard foundations have either little or no skincare ingredients and have a primary function of just pure coverage. The best serum foundation options will have added benefits like active skin-replenishing and conditioning ingredients, SPF protection and much more.
Do you need a primer with a serum foundation?
While not crucial, a primer can be worth using before your serum foundation. If you have oily skin, a mattifying or grip-focused primer will ensure that it stays in place for as long as possible. Look out for one that offers staying power rather than skincare benefits, as you'll be getting all that you need from the best serum foundation options.
Annie Milroy is the Beauty Writer for Woman & Home and other publications.
She spent three years studying Journalism and English Language at the University of Portsmouth before starting her career in magazines in 2017.
After 5 years working as a Fashion & Beauty Writer, she refined her career and is now working at Future as a Beauty Writer.