Best Fake Tan For Your Face: The Easy Way To Lift and Sculpt Your Skin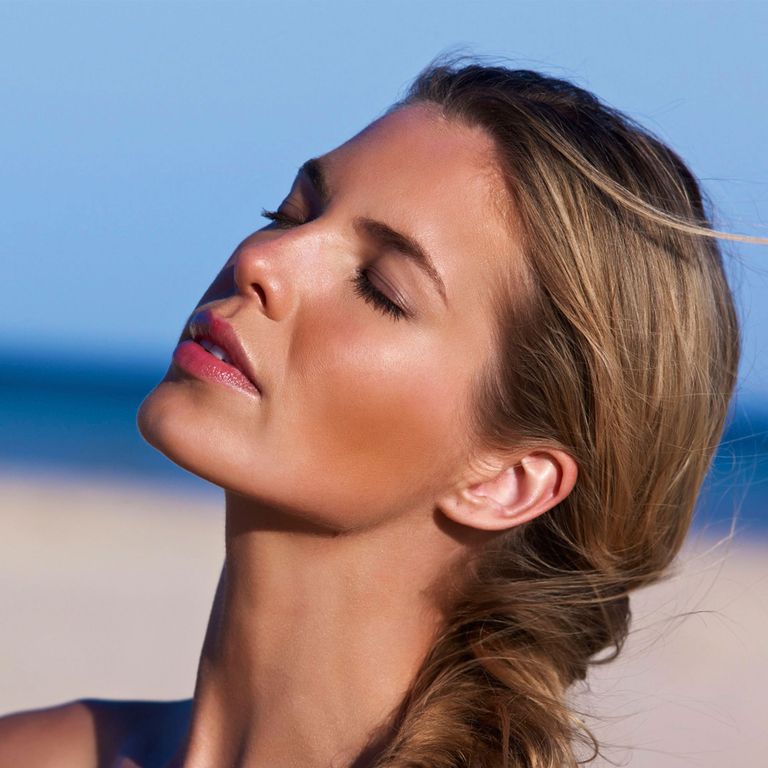 Contour skin using self-tanner to pull your cheekbones forward. Here, we pick our edit of the best fake tans for face.
The art of contouring has been reimagined in many a way these last few months, with strobing', clowning' and baking' entering our beauty vernacular. The latest technique for sculpting skin? It's touted as tontouring' – an easy, speedy method that pulls cheekbones forward with the help of self-tanner.
The idea is that, by using self-tan to enhance your natural bone structure, you can eschew the fuss of makeup, blending and an arsenal of tools. The additional bonus is that if you use a tan that develops gradually, your sculpting will be set in place when you haven't got a stitch of makeup on.
Compared to the painterly placement of traditional contouring, the new tontouring is pleasingly simple and requires minimal time or effort. That's our kind of beauty tip. Begin by applying a gradual tanner all over your face and neck, then use an angled brush (we love Real Techniques Bold Metals Flat Contour, £16.50) to nudge a deeper tanner under cheekbones.
We recommend trying this before bedtime to let the colour develop overnight, so you'll wake up to soft definition that helps to propel your features forward. To make the technique all the easier, we've rounded up our pick of the best self-tanners for face, each packed with benefits to go with your sun-kissed glow.
From a serum that ditches drying DHA to a sumptuous bronzing oil, these glow-boosting unctions will tan your skin to tontoured' perfection in no time.
Keep clicking through for our edit of the best self-tanners for the face…
Hylamide Booster Glow Serum, £20
For those who fear the drying and potentially ageing properties of DHA, Hylamide has developed its Booster Glow Serum sans harsh, aggravating chemicals. It harnesses melanin-stimulating peptides and keto-sugar to gradually veil your pores in a sun-kissed wash when applied to the face twice a day. It may not tan as quickly as products fueled by DHA, but the glow lasts longer and even gets along with skin that's prone to irritation.
Tan-Luxe The Face Illuminating Self Tan Serum, £27.96
Another self-tanner that bronzes skin without the use of DHA, this Illuminating Serum is formulated with an agent called Erythrulose. It's thought to be less drying than DHA and, in this serum, is combined with vitamin E and hydrolysed silk to further please those with parched skin. To apply it, mix a few drops with your usual face cream to promote a golden tone akin to the tan you'd get from a long weekend in the South of France.
James Read Gradual Tan BB Tan Pen, £20
The beauty of this James Read tan isn't just in the gentle, tawny hue it gives skin; it's also in the pen, which lends itself well to tontouring'. The brush at the tip makes it easy to apply a nuance of sculpting underneath your cheekbones, simply by sweeping the liquid on and letting it develop while you sleep.
St. Tropez Self Tan Luxe Facial Oil, £23
Few things plump and pamper parched skin quite like a sumptuous facial oil, so imagine the glow you'd get when combining these elixirs with a hint of subtle tan. St. Tropez has done just that with the Self Tan Luxe Facial Oil - a flacon of liquid gold that transforms skin into a gleaming, tawny canvas. How do you use it? It's simple. Apply two or three drops to clean skin, blend in with fingers and – if you wish – sweep a sculpting tan over the top.
Xen Tan Face Tanner Luxe, £19.99
This beautiful Xen Tan bronzing cream creates a radiant tan with a formula so hydrating, you can happily slather it on your complexion every day. The colour is deep and natural looking, making it a strong contender for both your base tan shade or as a sculpting hue when pressed under your cheekbones.
Sisley Self Tanning Hydrating Facial Skin Care, £83.50
Skincare meets bronzing in this fresh, fragranced Sisley lotion, which bathes even the fairest complexions in warmth. Slather it on as you would a face cream to bump up your skin tone in a subtle way, and live in confidence that you won't suffer errant streaks or patchy fading.
Vita Liberata Trystal Bronzing Minerals, £35
This isn't just any bronzing powder – it's a bronzing powder with a shot of self-tanner that deepens skin over time, and leaves a tan that lasts for up to five days. If you're applying the Trystal Bronzing Minerals while tontouring', pop them under cheekbones for instant sculpting that sticks around even after you've washed your face at the end of the day. It's on the more subtle side, so it's perfect for use on skin that's been prepped with little more than cream, to ensure the colour is visible on your cheeks.