The best fake tan for mature skin that will give you all the glow and none of the regret
Beauty Editor Lynne Hyland tests out the best fake tan for mature skin and picks her favourites based on the results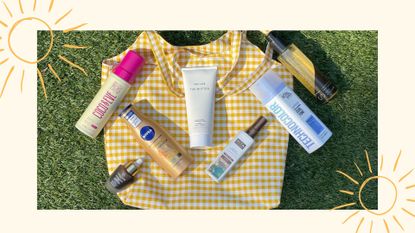 (Image credit: Lynne Hyland)
I've tried hundreds of self tans over the years and I'd say that the best fake tan for mature skin is often different from the products I swore by in the past.
Perimenopause, menopause and beyond can truly mess with your fake tan performance and this is because your skin's ability to react with the DHA in fake tan and turn brown diminishes as you get older.
I've found that my skin physically can't handle the best self tans like it used to; similar to my liver's response to 'going out late on a school night' and 'bottomless brunch'. Super-dark formulas for example, which I was partial to once, are now too drying for my liking and grab onto any age-worn dry bits like knees and feet. So I've been on the look out for a fake tan for my skin that has enough power to deliver a great color result - whether it's a gradual tan product or a good instant tan for quick results.
And I've found some! These are my 10 favourite fake tan products for mature skin that I'd use again and again because they give you all the glow and none of the regret - for real.
How I tested the best fake tan for mature skin
Midlife is complicated enough; fake tan doesn't need to add to that. When compiling my edit of the best fake tan for mature skin, I tested a range of different self tan products, from the best fake tan for pale skin to fake tans specifically for your face - like bronzing drops. I was looking for products that are easy to apply, develop evenly and give a convincing color that really could have come from a beach holiday.
I was also looking for tans with added skin care ingredients to compensate for the drying effect of DHA and help lock in color for longer. It would be lovely to say 'doesn't smell' was on my must-have list too, but experience has taught me that 100% odor-free fake tan is about as real as unicorns. Let's agree on 'not too gross' as a bonus marks category.
The best fake tan for mature skin - thoroughly tested by our beauty editors
Why you can trust Woman & Home Our expert reviewers spend hours testing and comparing products and services so you can choose the best for you. Find out more about how we test.
1. Vita Liberata Tinted Heavenly Tanning Elixir
The best fake tan for mature skin overall
Specifications
RRP: $44 / £34
Format: Tinted tan with a luxe texture
Key ingredients: Slow-release DHA, organic aloe vera and ginkgo biloba
Reasons to buy
+
Long-lasting result
+
Luscious, melting texture
+
Great guide color
Reasons to avoid
-
One of the more expensive fake tans on this list
This was love at first glide. I've never met a fake tan with a formula so silky that it feels like an indulgence to use. Even if you don't feel confident about applying fake tan, everything about this product instills self-belief. There's no snagging on any dry areas, it has the smoothness (but not the stickiness) of chocolate dessert and a cocoa scent to match. Yes, I know I said there's no such thing as an odor-free tan but this one does smell delicious for quite some time before the DHA breaks through.
Even the guide color is passably attractive rather than something you need to wait out away from judging eyes. The final shade is a) gorgeous and b) the gift that keeps on giving. It actually continues to develop over 72 hours, a technology I fully appreciate now I'm at an age when fake tan fades so much faster on my skin. The hydrating formula suits both my face and body, making this my favorite top-to-toe fake tan.
2. Collistar Magic Drops Self Tanning Concentrate
The best fake tan for mature skin for a healthy face glow
Specifications
RRP: $43 / £36
Format: Facial tanning drops to apply neat or diluted
Key ingredients: Rapid-acting DHA, vitamin E
Reasons to buy
+
Very quick results
+
Excellent color
+
Non-drying
Reasons to avoid
-
Skin-care level expensive
Collistar isn't the first name that springs to mind when it comes to fake tan, and to be perfectly honest I only tried this because I'd run out of my usual tanning drops. What a lucky empty that was, because after just one application of Magic Drops I realized I'd stumbled upon 'The One'. Not only did the color develop astonishingly fast, it was glorious. I suddenly looked really, really healthy, and my skin felt soft and smooth. Since that fateful day, I've used this many times and it's never failed to win me a "you're looking well".
Unlike most tanning drops, it's designed to be applied neat which sounds slightly terrifying but in reality it works beautifully, even on skin as pale as mine.
This is a great product to use to self tan your face - even if it's the only part of you that's being tanned - because it's easy to blend the liquid down to your neck and decolletage so you're not left with a tidemark. If you want to be ultra-cautious, you can mix it with moisturizer but I won't be swayed from the neat drops version that gives me that 'I drink green juice daily' healthy glow (even when I don't).
3. St Tropez Self Tan Luxe Body Serum
The best fake tan for mature skin for a subtle glow
Specifications
RRP: $48 / £35
Format: Clear, lightweight serum
Key ingredients: Hyaluronic acid, niacinamide and vitamin B5
Reasons to buy
+
Packed with moisturizing ingredients
+
Gives a subtle, very believable color
+
Non-messy
Reasons to avoid
-
A single application won't be dark enough for some
St Tropez is such a brilliant, iconic tanning brand that picking a favorite product feels like picking a favorite child. Another day I might have gone with the original 1Hr Express Bronzing Mousse, which continues to suit my skin very nicely, but today I've got my hydration hat on and I'm going for this recent launch. It contains hyaluronic acid and niacinamide, as well as vitamin B5 and a collagen complex to deliver skincare goodness with your glow, and it manages to be light yet moisturizing.
The formula is clear, which might put some people off, but I find there's enough of a gleam to keep tabs on where it's been applied. I never missed any areas when I was testing the product anyway. The color result is a light golden glow that's ideal if you're looking for a boost rather than a jump-scare of a shade shift. Not everyone can style out a big 'Ta-dah, I've TANNED' reveal and this fake tan for mature skin is also great for anyone afraid of making those rookie self tan mistakes.
4. Isle of Paradise Self-Tanning Body Drops Dark
The best fake tan for a custom body glow
Specifications
RRP: $38 / £26.95
Format: Drops to mix with your body cream
Key ingredients: Caffeine, baobab and oat extract
Reasons to buy
+
Simple to use
+
Easy to customize the final color
+
Great for fighting fade
+
Great value
Reasons to avoid
-
Experimentation may be needed for the best result
The original Isle of Paradise facial tanning drops are great, and this follow-up for below the neck doesn't disappoint. Like many IoP products, this comes in light, medium and dark versions which are color-corrected for unwanted undertones. I love how easy this is to build into your existing body care regime with just a quick squeeze of a dropper. There's something pleasingly non-intimidating about it all, and having my own fragranced body cream kept the DHA aroma to a minimum too.
I went for the medium shade, and around eight drops per generous dollop of my regular body cream. I can't pretend that every handful had the exact same proportion between cream and drops but this didn't have any adverse effects on the final, 100% natural-looking result. My favorite thing of all though was how easy this is to top up at the first sign of fading. If you want a product to make your tan last longer, this is it.
The best fake tan for mature skin for a deep glow
Specifications
RRP: $35 / £26
Format: Tinted mousse
Key ingredients: Cellushape formula promising an anti-ageing, anti-cellulite effect, coconut oil
Reasons to buy
+
Dark glow without orange undertones
+
Has a flattering, confidence boosting effect
+
Quick to apply
Reasons to avoid
-
Cellulite doesn't magically vanish so the bottle slightly over promises
Usually, I'm not massively enamored of anything that has "anti-cellulite" written on it, but I'm prepared to turn a blind eye on this occasion because this fake tan is otherwise excellent. (Also, you're reading a guide on the best fake tan for mature skin, so you're old enough to know that a fake tan isn't going to magically smooth you skin).
Remember me saying I don't like dark fake tans? This is an exception. The glow it gives is deep but it's also cool - in the color wheel sense and in general too. I'm extra careful to wipe over troublespots like knees and feet, but I've not had issues with excess build-up or skin dryness afterwards. I also like the fluffiness of the formula, which makes it very quick to apply. The guide color isn't particularly daylight friendly but being able to get a tan this deep that's still age-appropriate easily makes up for it. If I'm going on a beach holiday, I'll prep with this product.
6. TAN-LUXE The Butter Illuminating Tanning Butter
The best fake tan for mature skin for moisturizing
Specifications
RRP: $38 / £21.25
Format: Luxe tanning butter
Key ingredients: Cocoa butter, shea butter, coconut oil and oat oil
Reasons to buy
+
Hydrating formula
+
Easy to build gradual glow
+
Doesn't take too long to get a visible result
Reasons to avoid
-
Expensive for a gradual formula
Sure it's not the cheapest gradual tan, but I like to justify it by saying it's a multi-tasker that moisturizes, bronzes and adds radiance too. As soon as you apply it you'll notice a couple of things: the lovely rich feel from all the oils, and also the glowy, micro-particles that take the edge off pallor while waiting for the actual glow to arrive. Actually, it's fairly quick in grad-tan terms - I get a subtle yet visible lift from one application, and after three I'm ready to ease off everyday application and shift into maintenance mode.
The hydrating ingredients reap rewards in both the smooth skin feel and keeping the color intact once it's there. A little goes quite a long way too. If dryness has put you off using fake tan in midlife, I can't think of a nicer product to win you over again.
7. Bondi Sands Technocolor 1 Hour Express
The best fake tan for mature skin using smart color technology
Specifications
RRP: $27 / £19
Format: Tinted mousse
Key ingredients: Color-correcting tones
Reasons to buy
+
Rapid development
+
No need to sleep in it
+
Clever color technology
Reasons to avoid
-
Calls itself '1 Hour' but instructions say three hours-plus gives best results
I'll be upfront, at first glance I thought this might be a very Gen Z product and a bit of a gimmick. Having tried it, I take it all back. It comes in four shades, but rather than light, medium and dark, you're presented with unappealing-sounding options like 'emerald' and 'magenta'. Thankfully, this refers to the clever color-balancing technology which is the result of 'laser skin tone analysis technology' and designed to give the perfect result on specific skin tones. I'm pleased to report that Sapphire (for fair skin) did not turn me the color of a Smurf. In fact, it was great, and very fade-resistant too.
Be aware that Bondi Sands has called this a '1 Hour Tan' but the pack says three hours gives optimal results (and in tiny writing you'd miss if you're long-sighted. Don't get me started on how midlife-unfriendly most beauty instructions are.)
However, I usually keep all 'express' tans on that long anyway, because that's how they develop best on me. Three hours did seem to be the sweet spot with this one, and while there was definitely a fake tan aroma at least I didn't need to sleep in it - or get it on my sheets.
8. Nivea Q10 Firming + Radiance Gradual Tan Moisturizer
Specifications
RRP: $16.99 / £9.99
Format: Gradual tan body moisturizer
Key ingredients: Anti-oxidant coenzyme Q10
Reasons to buy
+
The most affordable fake tan on this list
+
Easy to use
+
Moisturizing and hydrating
Reasons to avoid
-
Still a hint of fake tan smell
Pretty much anything featuring Nivea's famous Q10 skin firming ingredient gets the nod of approval from me, including this excellent gradual tan. It's as simple as smothering on any body cream, although do make the effort to use a mitt rather than just washing your hands. Nobody wants a weird tidemark at the wrist or to be frantically googling 'how to get fake tan off your hands' on the morning of a big event.
It promises 'tighter, firmer skin' which I'm dubious about as a claim, but I will certainly agree that using it in a fortnightly tanning cycle ticked the 'radiance' bit of the product name. My skin felt a lot softer and more supple too. I'd say the fair to medium shade would make a pleasant all-year-round glow, as it's easy to build up or ease off as you please. There's a summer inspired scent of jasmine, plum and peach but, like a wasp coming along to bug your picnic, there's still a very faint fake tan aroma by lunchtime. It didn't put me off though, and it's far less offensive than many of the fake tans I've tried in the past.
9. Vita Liberata Body Blur
The best fake tan for mature skin for instant color
Specifications
RRP: $30.93 / £20
Format: Easy to blend cream
Key ingredients: Filter-finish particles, shea butter
Reasons to buy
+
Reliable instant tanning product that beats the others on this list
+
Natural-looking color that blends with different skin tones
+
Excellent staying power for an instant tan - so it won't rub off on your clothes if applying last minute
Reasons to avoid
-
Difficult to wash off your hands or skin where you don't want it (so always apply with a mitt)
Is it wrong to have the same brand scoop two recommendations in the same top 10 list? Not when its products are this good. Sometimes there's a 'flesh on show' emergency with no time to tan, and it's in those moments that I send up a prayer of thanks to the beauty gods at Vita Liberata for creating Body Blur. It is, quite simply, miraculous.
Many instant tans make you look like you've had a nasty encounter with some gravy granules, with grainy streaks sticking to every single dry spot. Body Blur, on the other hand, will never have you resorting to tan-shade tights. It's so forgiving, even when you've not exfoliated in months, and it blends to the most perfect, filter-like finish, in shades to suit different skin tones.
You can also count on it not to transfer, streak or in any other way announce that your summer glow was squeezed out of a tube mere moments ago. I do find it's best to apply this with a mitt, as the color is a devil to wash off palms, but that's not really a criticism, more a testament to its staying power.
10. Bare by Vogue Face Tanning Serum
The best fake tan for mature skin in a face serum format
Specifications
RRP: $28.50 / £26
Format: Lightweight clear tanning serum
Key ingredients: Hyaluronic acid, pomegranate
Reasons to buy
+
Buildable color
+
Quick acting
+
Hydrating
Reasons to avoid
-
Sadly it won't make you look like model
This product was launched when brand founder and model Vogue Williams was going through the latter stages of her last pregnancy, and she told me in an interview that it was the only thing responsible for keeping her "looking alive" through the exhaustion. To which there can only be one rational response: get that one my midlife face. Now!
This serum is one of those brilliant hybrid products which doesn't just straddle skin care and self tan, it excels at both. It has the feel of a regular hyaluronic acid serum, and I can't detect any drying trade-off from having a shot of DHA in there. I tested out the medium shade and once I'd built up an initial golden base built from three applications I then settled into a 'one day on, two days off' routine which kept my face both hydrated and glowy. It was also a great time saver because I found I needed less makeup to look presentable, and many days I was happy to ditch the foundation and just slick some concealer on my under eye circles. It really is bare skin confidence in a bottle, and I'm sure I bruised my palms thwacking the base to get every last drop out.