The 14 best fake tans for easy, believable bronzing on every skin tone
These are the best fake tans our beauty editors have come across, with picks for every texture - from mousse to mists and body makeup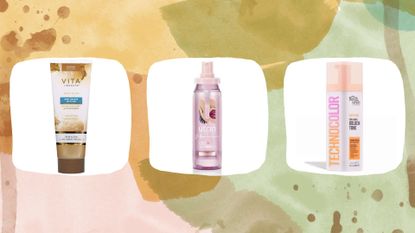 (Image credit: Vita Liberata/Utan/Bondi Sands)
The best fake tan for you depends on a few factors. Skin tone, product type and budget all play a part, but more important still is whether you're an experienced tanner, and how deep a glow you're after.
Luckily for us, the tanning market is vast, catering for nervous tan novices who want to dip their toe into tanning for the first time, through to bronze-happy babes who can't imagine leaving the house without a coating of ultra-deep mousse.
By now, we all know that sunbathing isn't smart for our skin. At best, UV rays can rob our skin of skin-plumping proteins collagen and elastin, and at worst lead to more sinister side effects. As no skin expert would ever recommend frying in the sunshine for a bronzed glow, it makes sense to plump for the easier (and safer) option – the fake stuff. Just remember, whether you're looking for the best fake tan for your face or body, there is one golden rule: "A fake tan which is a shade you would never achieve in the sun looks really outdated, and is just not flattering to the rest of your appearance," advises spray tan guru to the stars James Harknett. "And if you've never self-tanned before, don't choose the day before an occasion to try a new tan for the first time."
Do your research, both when it comes to the formula and the shade you're choosing, as well as how to fake tan your body and how to self-tan your face – as the advice varies slightly for each. Laying the groundwork will help ensure the end result is a gorgeous, glowing, maybe-just-spent-two-weeks-in-the-Maldives radiance rather than a streaky faux pas.
The best fake tan, chosen by our beauty team
Why you can trust Woman & Home Our expert reviewers spend hours testing and comparing products and services so you can choose the best for you. Find out more about how we test.
1. Tan Luxe Express Tanning Mousse
Best overall fake tan
Specifications
RRP: £37 / $49
Texture: Foam
Key features : Vitamin C, beta-glucan and hyaluronic acid
Reasons to buy
+
Easy to use
+
Lasts for a whole week
+
Fades evenly
Ever since I had a bad tanning experience in my teens (streaks everywhere, had to call in sick to my Saturday job) I've exclusively worn tans that come with a guide colour. The logic is that if I can see exactly where I've applied the tan, and also therefore where I might have missed, then I'm not going to have any patchwork-like surprises when it develops. So, when I was presented with Tan Luxe's clear mousse to try, I was more than a little nervous.
It's an express mousse, which means it can be left on for between 30 minutes and 3 hours before showering off, depending on the intensity of colour you're hoping for. Erring very much on the side of caution for my first application, I went for just 30 minutes of tan-based basting before hopping in the shower. By the morning, what had developed was a golden, very convincing tan that was noticeable enough for my colleagues to ask whether I'd caught the sun at the weekend, but not so tell-tale that it looked unnatural.
Since then, I've found my tanning sweet spot is an hour with this mousse, which gives me a glow that lasts for a whole week. As it doesn't have a guide colour, it fades better than your average tan too, as you don't have that residual colour on the skin which can go patchy – especially around the elbows and knees. The mousse texture makes it easy to apply with no drips too, just make sure you're using a mitt to avoid stained palms and keep your skin well hydrated between applications.
2. Bondi Sands Technocolor 1 Hour Express Self-Tanning Foam
Best fake tan for shade range
Specifications
RRP: £19.99 / $23.99
Texture: Foam
Key features : Coconut water, tailored tanning
Reasons to buy
+
Choice of 4 different undertones
+
Results in as little as an hour
+
Hydrating on the skin
Reasons to avoid
-
You need to do the quiz to find the right shade
Ever wondered why a fake tan can look amazing on your friend but completely unconvincing on you? It's likely down to having different colourings, and the undertones within the tan. Most fake tans come in varying shades according to skin tones, so they might be light, medium or deep, but not many take the undertones of your skin into account, which are cool, warm and neutral. If you're not sure which bracket you'd fit into, the jewellery test is a good way to work it out. Hold a piece of silver jewellery against your skin, followed by a piece of gold. If silver makes your complexion look brighter, you have a cool tone, if it's the gold that gives your skin vibrancy, you're warm. If it's pretty much a tie between the two, you're neutral.
The brilliant thing about Bondi Sands Technocolor range is that it comes in four different shades based on your skin tone and undertone – Sapphire (for a natural cool tone), Caramel (for a warm, golden tone), Emerald (for a deep olive tone) and Magenta (for a rich, deep tone). They have a quiz on their website, which will guide you through the shade-matching.
I'm between shades, so tried both the Sapphire and the Emerald and had good results from both. The guide colour makes it easy to avoid any missed spots, and I liked that the tan didn't have to be left on overnight (which means no risk of stained sheets). They call it a 1-hour tan, but it can be worn for longer if you want a deeper colour. 45 minutes has worked well for me, and my tan lasted for around three to four days before fading.
3. St.Tropez Luxe Crème Mousse
Best luxe fake tan mousse
Specifications
RRP: £35 / $48
Texture: Mousse
Key features: Coconut water, white flower scent
Reasons to buy
+
Easy to use
+
Hydrating
+
Classy fragrance
St Tropez might just be the biggest name in sunless tanning and this new-gen developing tanner shows why they've held that position for over a decade. It's a classic mousse that develops in around four to eight hours, after which you rinse the guide colour and go. There is nothing particularly new about this protocol but what St Tropez has done is finessed every element of the experience. The mousse is ultra creamy and hydrating and doesn't dry out your skin, the guide colour is natural-looking enough to be worn through the day and thanks to an uplifting flower fragrance it smells like summer, not biscuits.
The longer you leave it on, the deeper the shade. This makes it a pleasingly customizable option for various skin tones and tanning desires. I found two to three hours ample for a natural-looking glow, but if you're nervous, then you can always start with an hour. It was originally launched as a limited edition product in collaboration with supermodel Ashley Graham, but as it's one of the best I've used, I'm thrilled that it's stayed a long-term part of the line.
4. Isle of Paradise Glow Clear Self Tanning Mousse
Best clear fake tan mousse
Specifications
RRP: £19.95 / $28
Texture: Mousse
Key features: Avocado oil, colour correcting, 3 shades
Reasons to buy
+
Very hydrating
+
Customizable shade
+
No messy guide color
Reasons to avoid
-
Better for confident tanners
A-List tanner Jules Von Hep's brand brings positive vibes only to some of the best self-tan on the market with inclusive campaigns and joyful products for every skin tone. This one works much like a traditional tanning mousse, with a few crucial differences. Firstly, and most notably, it's transparent. This will be a good thing for confident tanners, who can pop it on before bed or at the beginning of a day and gradually develop a tan without worrying about guide colour transferring onto sheets, clothes, or looking a bit muddy. That said, if you aren't a regular tanner you might prefer to use a tan that you can see where you've put it to avoid streaks (if that's what you're after, check out our Coco & Eve tan review)
Colour aside, what stands out are the three-shade options – light, medium, dark – each offering colour-correcting properties and packed with nourishing oils like chia seed, avocado, and coconut. You can sense this in the rich texture of the mousse and plump bounce of skin after applying. The colour, once developed is on the deeper side, so if you are fair definitely stick with light unless looking ultra-bronzed is the goal. Those with deeper skin tones will likely adore the proper colour 'hit' of the medium and dark shades.
5. Bare by Vogue Self Tan Foam
Best fake tan mousse with guide colour
Specifications
RRP: £23 (UK and Ireland only)
Texture: Mousse
Key features: Pregnancy-safe, cruelty-free, 3 shades
Reasons to buy
+
Easy to apply
+
Develops quickly
+
Pleasant fruit fragrance
+
Realistic tan results
Reasons to avoid
-
Develops a fake tan smell after a while
Since launching, Bare by Vogue has taken the tanning industry by storm. And after testing the Self Tan Foam, we can see why. Not only is the fruity-scented formula a joy to apply but it's also available in three versatile shades (light, medium, and dark) to suit various skin tones. On application, the foam has a lovely lightweight texture that blends in so smoothly. Seriously, you'd struggle to make this one streak. Developing quickly, I noticed a change in colour after a few hours (three to four) before it peaked at eight hours.
The shade is red-based, as opposed to green-based, which lends limbs a believable bronzed glow that mimics two weeks in St Barths. In terms of staying power, this is up there with some of the best I tried – lasting five to seven days. Removal was also easy; I simply used the Bare by Vogue exfoliating mitt to take off the tan in the shower – but you could also use one of your best body exfoliators, too. The only downside? It does have that distinctive fake tan scent after a while – but this is to be expected with most developing tans.
6. Sienna X Gradual Self Tan Lotion
Best gradual fake tan
Specifications
RRP: £16 / $23
Texture: Rich lotion
Key features: Aloe vera; cocoa butter; coconut scent
Reasons to buy
+
Olive undertone
+
Skin nourishing ingredients
+
Non-sticky texture
Sienna X creates some of the most revered-by-professionals spray tans on the market, with a sideline in excellent home products too. The secret? Undertone. Almost everything this brand does shares a brilliantly natural-looking olive base that's miles away from the orange disasters some might associate with self-tanning. This gradual lotion would be a great introduction to the brand, offering the option to build up a believable bronze colour bit by bit. Apply it as you would your body lotion, enjoy the tropical coconut fragrance and non-claggy texture, and repeat as you like on subsequent days.
Some gradual tans require a good two to three applications before you even notice a difference but this offers a subtle yet tangible glow right from go one. This makes it a great option to top up some natural bronze if you're always wondering how to make a tan last longer post-holiday. A little goes a long way, so it's great value too. One gripe: After repeated use, the skinny pump nozzle can get a little clogged up. It's easily picked out so no great issue, but seeing as this is pretty flawless otherwise, it would be nice to have that little packaging snag ironed out.
7. Garnier Summer Body Moisturising Lotion
Best gradual fake tan for beginners
Specifications
RRP: £12 / $14
Texture: Light lotion
Key features: Apricot kernel oil, glycerin
Reasons to buy
+
Huge bottle is great value
+
Light spreadable texture
+
Smells like summer
+
Two shades available
Just the sight of this jumbo-sized orange bottle might be enough to trigger misty-eyed nostalgia in anyone who came of age during the early '00s tanning boom. Garnier Summer Body was an icon and OG of the gradual tanning world, and while the formula has been tweaked and perfected over the years I'm pleased to report that all the things we loved about it remain intact. Namely, its low price, easy texture, subtle results, and sunshiney fragrance.
This is so spreadable and gradual that it would actually be some achievement if you did manage to mess it up. It applies like a very light body lotion, sweeping over limbs efficiently and sinking in fast, then develops into a mild glow that can be built up as you like. There are light and deep shades, so you can adjust for skin tone and tanning desires. I personally found applying it two days on the trot built up my ideal colour, which could be maintained by reapplying every three days or so. Natural botanical oils keep limbs soft and offer skin-smoothing properties in ashy areas.
8. Dove DermaSpa Summer Revived Body Mousse
Best budget fake tan
Specifications
RRP: £11 / $14
Texture: Mousse
Key features: Moisturizing formula, 2 shades
Reasons to buy
+
Nourishing feel
+
Very gradual
+
Great value
If you are a total self-tan newbie and want a product it would be nigh-on impossible to mess up, Dove's gradual mousse may well be the best self-tan to put on your shopping list. First and foremost, it's very gradual. So much so that after one application you might think, hmm, did that do anything? Rest assured it did as after round two you'll see a subtle golden colour start to build. The beauty of this layered approach is, should you miss a patch or not wash your palms thoroughly enough, each coating is such a subtle veil of colour there's no chance anyone else will spot it.
Shade aside, the texture is a bouncy rich mousse that's supremely easy to apply using your hands (or a mitt, if you prefer) and smells fresh, fruity, and summery. A little goes very a long way, which is mostly a good thing as you're less likely to miss a spot but do be careful when pumping it out of the can or you could end up with far too much on your hands.
9. Vita Liberata Body Blur
Best instant fake tan
Specifications
RRP: £30 / $41
Texture: Cream
Key features: Shea butter, glycerin, soft focus particles
Reasons to buy
+
Ultra transfer-proof
+
Blurring finish
+
A little goes a very long way
We'll come right out with it: This is the absolute boss, the unbeatable Beyoncé of instant tans. It's no exaggeration to say you wouldn't catch us on holiday or in a party dress without a bit of this on our legs. Essentially it acts like body makeup and glosses over all those little things that might make one reluctant to wear a skirt—mottled skin, cellulite, thread veins, and little bruises that hang around long after you knock your shin on the coffee table.
Even if you don't especially want to look bronzed, it will even everything out, blur over bumps and give skin a soft-focus sheen that will boost your confidence. This makes it an excellent choice for anyone with darker skin who simply wants to perfect and enhance their skin tone rather than tanning, per se. Often the main fear with instant tans is that they will rub into clothes or dribble down the ankles at the first hint of precipitation, but this is unsurpassed in its staying power and has a five-strong shade range that adapts nicely to most tones.
10. Alleven Colour Shield Hydrating Tinted Protection
Best instant fake tan
Specifications
RRP: £70 / $97
Texture: Mist
Key features: Argan oil, 6 shades
Reasons to buy
+
Very high coverage
+
Airbrushed effect
+
Good shades for darker tones
Like all the best instant products, this sits somewhere between body makeup and self-tan. The main USP is a classy mist-it-on protocol that gives legs, arms, and anywhere else you fancy a smoothed-out and airbrushed appearance.
The application takes a little bit of getting used to – hold it fairly far away and mist in long sweeps over the skin. Don't go too close and stay in constant motion for the best chance of smooth application success. It's worth getting the knack, as once it's on this stuff is hardcore transfer-proof and seriously flattering. The six-strong shade range extends from very light to the very deepest tones, meaning you can pick a true match for skin-perfecting or a deeper one for tanning.
Whatever you use this for, you'll love the way it makes your skin look and how much you can trust it not to budge. So much so that you'll forgive a little mess from the spray (easily wiped off the bathroom tiles, promise).
11. James Read Gradual Tan H2O Tan Mist for Face
Best fake tan for face
Specifications
RRP: £25 / $28
Texture: Mist
Key features: Rose water
Reasons to buy
+
Light, fresh mist
+
Gradual tanning
+
Hydrating
If you're not in the market for an all-over tan, perhaps a hit of healthy glow in your complexion could work instead? If so, you couldn't do much better than this hydrating mist from tanner-to-the-stars James Read. This is tanning at its very easiest and most pleasant. Just spritz the aloe vera and rosewater-infused water onto clean skin, let it dry for a minute or two then you're done. Expect a subtle colour to begin developing after four hours or so, then you can top up as and when you wish to build. There's no grubby guide colour and nothing to wash off, plus it plays nicely with other skincare and makeup.
It's hard to imagine who wouldn't like this, although if you like to completely control where your self-tan goes then the mist action might bother you, in which case facial drops or serum would suit. As a pro tip, Read recommends to "leave the mist in your fridge, especially in the summer months for a cooling effect."
12. Utan x Jamie Genevieve CBD Tanning Water
Best fake tan water mist
Specifications
RRP: £18 / $24.90
Texture : Water mist
Key features : Organic aloe vera, CBD, DHA
Reasons to buy
+
Natural colour
+
Won't streak or settle into pores
+
Buildable
Reasons to avoid
-
May be too subtle for some
If you find the idea of fake tan a bit daunting but are also finding your skin a little sallow and sun-starved, then this mist is the perfect solution to persuade you to give a faux glow a go. It's a tanning water, which means it's super lightweight and therefore doesn't settle into pores or cling in patches. What I really like about it though is that it's so low-maintenance to use.
There's no in-depth