Coco & Eve tan review – our beauty team puts the cult self-tanner to the test
w&h's tan fanatic beauty assistant brings us her Coco & Eve tan review – does it live up to the hype?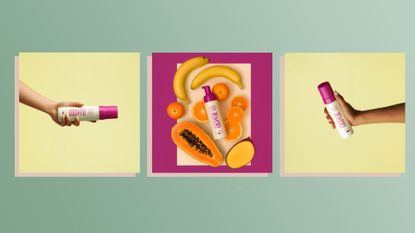 (Image credit: Coco & Eve)
Coco & Eve Sunny Honey Bali Bronzing Foam has become our new go-to. A self-tan that goes the extra mile, skin is left hydrated and firm with imperfections blurred. Don't be put off by the foam's green hue, it reveals a gorgeous golden glow that will last all weekend.
Reasons to buy
+

Easy to apply

+

Dries quickly

+

Even finish

+

Lovely golden colour
Reasons to avoid
-

The green undertone is a little scary at first

-

It is not odourless
SPECIFICATIONS
Price: $34.90/£25.90
Available shades: Medium, Dark, Ultra Dark
Face tan available: Yes
Extra features: Fast drying, develops in two hours, anti-cellulite technology, blurs pigmentation
I entered this Coco & Eve tan review with high expectations. If anyone were to know a thing or two about tanning, it would be a brand that's inspired by the sunshine climate of Bali.
I'm always trying to find the best self-tan - I don't feel myself without a bit of a glow. There are many reasons to opt for a fake tan – not only is it safer than the real thing, but it also makes limbs look leaner and blurs imperfections like veins and dark spots – what's not to love? After mastering how to fake tan, it's safe to say I'm now fully committed. And I've heard a lot of buzz about this particular tan, so I was desperate to try it.
Coco & Eve first launched in 2018 with just one product to its portfolio, Like a Virgin Hair Mask. Even in a crowded market, they quickly became a sensation. The brand has since expanded into skin and body care, and it seemed logical that their next move was to put their results-driven ethos into a fake tan. This product claims to go the extra mile by boasting an array of benefits, like improving the appearance of cellulite and pigmentation, but did it live up to my high expectations? Let's get into it.
Coco & eve tan review – our beauty assistant's verdict
Coco & Eve tan packaging
A fun and bright bottle with a pump applicator house Coco & Eve's tanning foam. Though the brand has strayed from its well-known baby pink and turquoise color palette, the yellow and fuchsia hues celebrate the tropical essence of this tanner's key ingredients and, in my opinion, are a great choice.
Compared to some of my best skincare products, the matte finish bottle is not as discrete as my minimal bathroom interiors may have hoped. However, the pump style design is a more practical choice for dispatching the product than its squeezable tube or pipette style competitors – which made the initial testing for this Coco & Eve tan review a bit easier.
What's the formula like?
I couldn't write a Coco & Eve tan review without taking a moment to mention how its formula goes above and beyond the bog-standard self-tanning product. The foam boasts a list of other impressive benefits. Lotus extract works to reduce the appearance of cellulite, whilst a blend of mango, fig, and cocoa is packed with skin-protecting antioxidants much like those found in some of the best face moisturizers. So far, so good.
It also contains raw virgin coconut, the brand's holy grail ingredient that puts the 'Coco' in every product this brand launches. Here, the Indonesian treasure plays a crucial hydrating role, flooding the skin with moisture much like some of the best moisturizers for dry skin, allowing for streak-free development and fading. Clever!
How's the application?
The first thing I noticed when I was carrying out this Coco & Eve tan review was the green-grey color of the foam. Although slightly horrifying to begin with, I realized it was intentional – a smart choice from the brand, as the hue works to cancel orange tones, resulting in a natural and golden glow. Unlike the many transparent formulas that have recently entered the market, this tan has opted for a traditional color-based formula to act as a guide during application and highlight areas you may have missed. I especially like this, because there's nothing worse than annoying tell-tale white patches.
Thanks to its silky texture, the foam allows for effortless application and glides smoothly over the skin without dragging. It dries quickly – but not too quickly – so you get just enough time to maneuver the product, covering all areas and removing streaks. Like most tans, it has a smell that is by no means subtle. However, it is not the biscuity scent regular self-tan users have come to fear, but a far less offputting tropical aroma. I quite liked it.
The key thing to remember about tanning is patience is key. Patience and the best body exfoliators. If your product is designed for the body only, don't just tan from the collarbone down and have a giveaway ghostly face, combine it with your best fake tan for face. Patchy orange hands have also become a pet peeve to me, so here's our womanandhome approved trick on how to get fake tan off your hands. In short, prevent it in the first place by creating a barrier with a body moisturizer that will soften rough patches on your palms and wrists for even application. Thank me later.
What was the result?
For this Coco & Eve fake tan review, I allowed the product to develop on my skin for two hours before washing it off in the shower. The result was a natural and radiant sunkissed glow with a slightly olive hue. I was particularly impressed with how hydrated my skin felt and how it concealed veins and dark spots.
Though we believe the best cellulite treatment is not caring about cellulite, a tan is a great way to reduce its appearance – though don't be disappointed to find this tan does not make a significant difference in actually reducing it. Still, my skin certainly felt nourished and firmer after use. With proper aftercare like using the best body moisturizer after showering, the tan lasted all weekend before it faded or showed any signs of budging. Then, once I was ready to say goodbye to my golden glow, using my best techniques for how to remove fake tan it came off with ease. I'm really impressed.
Coco & Eve tan review: w&h verdict
After carrying out this Coco & Eve tan review, it's safe to say that the tropical bottle has become one of my favourites. The green tint and smell may be off-putting to some, but this is minor compared with an array of benefits that make the application and results some of the best I've seen for a long time. It's my new go-to.
Darcy Brown is a print and digital beauty journalist with her finger on the pulse of the latest trends. She entered the industry as an intern for publications such as Fabulous Magazine and the Sun. Since graduating from university with a first-class BA Hons degree in Philosophy, she has thrown herself into all things beauty.
When she's not writing for Woman & Home and Weekly titles including Woman and Woman's Own, you can find Darcy working on editorial shoots and social media campaigns with some of the industry's leading experts, including George Hammer, Angelo Seminara, and Lan Nguyen Grealis.