How to fake tan like a pro, without a streak in sight
Everything you need to know about how to fake tan—from prep to maintenance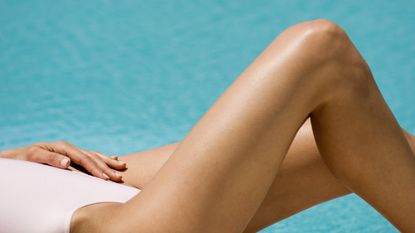 (Image credit: Getty)
woman&home newsletter
Sign up to our free daily email for the latest royal and entertainment news, interesting opinion, expert advice on styling and beauty trends, and no-nonsense guides to the health and wellness questions you want answered.
Thank you for signing up to Woman & Home. You will receive a verification email shortly.
There was a problem. Please refresh the page and try again.
Learning how to fake tan is a bit like perfecting making a meringue; it looks easy when you're watching The Great British Bake Off, but isn't quite so straightforward in practice.
First, there's the question of formula. Do you go for a mousse, a cream, a mist? The pros would actually recommend a combination of them all, with a lighter formula for the face that won't settle into pores and generate breakouts. Then there's how to apply. Unless you're aiming for orange-stained palms, you'll need some kind of applicator, whether that's a glove, a mitt or a brush.
Once you've mastered the basics of how to fake tan, streaky limbs and blotchy skin need no longer come part and parcel of your faux glow. Instead, you can simply reap all the benefits that the fake stuff has to offer. Not only will a good fake tan give your best foundation a run for its money, blurring everything from spots to veins, it's also much safer than baking in the sunshine. Wave goodbye to tanning mistakes, and say hello to gorgeous, glowing skin.
How to fake tan: choosing a formula
Before we get into the nitty gritty of how to apply fake tan, let's make sure you're using the right formula. "If you're new to self tanning, try to make the actual tanning as easy as possible by opting for a product with a guide color," advises tanning expert James Harknett. Go for one of the best gradual tan formulas rather than anything too intense. Both of the above tips will go a long way towards avoiding any missed spots, and help you steer clear of streaks.
For tanning pro Amanda Harrington, mousse formulas are the top pick for applying to the body. "A traditional tanning formula for many years, bronzing mousse is the only formula to use for a long-lasting body tan," she says. The consistency of mousse makes it easy to control, too. There's no dripping, nor will it heavily saturate your tanning mitt or brush. This makes it easy to smooth over build-up-prone areas such as dry skin on legs.
When choosing the best fake tan for face application, however, the criteria is slightly different. Historically, applying fake tan to your face meant compromising on your skincare regime, but new formulations mean that's no longer the case. "If you love your current skincare regime, why not choose self tan drops," says Jules Von Hep, tanning guru and founder of Isle of Paradise. "Add these into your usual moisturizer amount and apply to the skin."
"For the face, I always recommend a mist," says Amanda Harrington. "Due to the delicate texture of our faces, which showcases wrinkles and fine lines, a superfine, lightweight formula works best." Not all ingredients play nicely with fake tan (AHAs and oils can cause it to break down faster), so you may need to apply product more regularly to this area.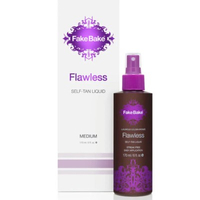 Fakebake Flawless Self-Tan Liquid
"Fakebake Flawless is a golden liquid with a tinted guide that mimics a golden glow," says James Harknett. "It adapts with all skin tones, knocking out that dreaded orange hue and developing to a natural-looking sun tan. It comes with a luxe mitt that enables you to sweep effortlessly across the skin for fast results. Being cruelty-free and organic is also an attractive pull."
---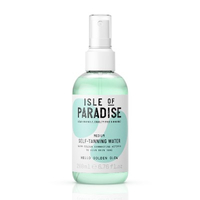 Isle of Paradise Self-Tanning Water Medium
"If you have never self tanned before, I love Isle of Paradise Self Tan Waters," says Jules Von Hep. "Simply spray the waters onto the skin and rub in with your hands (a bit like when you spray an SPF at the beach). Wash hands after use and allow 4-6 hours to develop. With no guide color there will be zero transfer onto bed sheets." There's a choice of three shades, including an excellent light option that's the perfect fake tan for pale skin. You also have the option to buy eco-friendly refill packs when you've reached the bottom.
---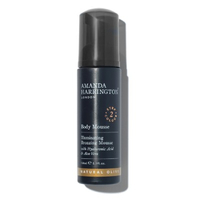 Amanda Harrington Illuminating Body Mousse
"Our Illuminating Bronzing Body Mousse is award-winning for a reason; it is one of the most deluxe tanning mousses on the market due to the luxurious skincare ingredients enclosed," says Amanda Harrington. "Aloe vera and hyaluronic acid deeply hydrate skin, working with the alcohol-free formula to ensure your skin does not dry out." What makes Amanda's tan so unique is the choice of skintone-focused shades. There's rose, honey, or olive—depending on how your skin naturally tans.
---
How to fake tan: the prep
Wondering is fake tan bad for your skin? The short answer is, not if you prep properly. The more you invest in prepping for your tan, the more hydrating, natural and long-lasting the results will be. "The biggest mistake people make is not spending enough time preparing their skin for a sunless tan," explains Amanda. "We prep our face before makeup, and our hair before styling, so why not prep the skin before tanning? Tanning is no different, and this gives the best results." We've broken down the prep into three essential parts:
Exfoliate
"Exfoliate the morning or evening before the tanning process, as this will allow your color to develop to its darkest on the skin," explains James Harknett. If you apply tan to skin that hasn't been exfoliated, it will only color the dead skin cells, leaving you with a patchy finish. "The tanning agent DHA, works with our skin cells and can easily grab on to more stubborn, built up and dry skin. Pay special attention to elbows, knees and backs of the heels when exfoliating."
Whether you exfoliate with a dry brush, a grainy scrub or an acid is up to you, but a long soak in the bath is the best way to start the process. "Ideally, enjoy a warm 30-minute bath the day before you tan," advises Amanda Harrington. "This will lift off any unwanted existing tan and gently soften skin for a more effective scrub when you come to exfoliate." Wondering how often should you dry brush to create a smooth canvas for tanning? Most experts recommend a little and often approach, a few times a week.
Hair removal
Dead skin cells are removed in the process of shaving and waxing, which is why these treatments are recommended 24 hours before tanning. Too soon, and the tan could irritate the skin or settle into pores, giving your skin an unwanted polka-dot effect. "Ensure you wax or shave any unwanted hair 24 hours prior to tanning," says Amanda Harrington. "Waxing and shaving helps with exfoliation, and doing this a full day before allows enough time for the pores to close again." It also means you're unlikely to need to remove hair when your tan is freshest too, as shaving in particular can take the color with it.
Prime
Before applying your tan, skin should be free from, "deodorant or fragrance, as well as moisturizers that include oils," explains Amanda. "These break down the tanning ingredient, causing it to separate and go patchy." Instead, stick to simple moisturizers, or ones that are specially formulated for use when tanning.
"You wouldn't put make up on without a primer so why tan without one? Allow it to absorb into your skin while you apply a thick moisturizer or barrier cream, to your hands, elbows, knees, and feet (including the heels) - if you are fair-haired, also apply some to your hairline and eyebrows," says Jules Von Hep. Wondering what is barrier cream? These rich moisturizers help protect your skin's barrier layer, as well as provide a physical barrier to stop self-tan from overly absorbing. Clever.
"Dry areas, such as hands, cuticles, elbows, knees, feet, heels and any areas with psoriasis or eczema, will absorb self-tan more than other areas," Jules continues. "Therefore, adding an aloe vera base will act as a blending agent—preventing the tan from going too dark in these areas, while blending the color with the rest of your application."
---
---
How to fake tan: The application
For a professional tan at home, St Tropez's tanning expert Michaella Bolder recommends starting with your upper body and working down to your feet. "I find it easier to focus on one area at a time," she explains. "Start with one arm, working in long, circular motions to get a flat and even finish. Then repeat this process on the other arm, chest, tummy, legs and back." A mitt is the quickest way to tan your body, but a brush will offer a more diffused finish, as well as flexibility to get into the nooks and crannies of areas such as your knees and feet.
Of course, some body parts are trickier to tan than others, especially the wrists, where tan tends to gather. "When tanning the inner arms, start by sweeping your tanning mitt from the top of the underarm and disperse towards the hands," advises James. "As the tan sweeps towards the wrists the color graduates, leaving a lighter finish towards the cuff. Do the same towards the hands, or just use minimal product blended with a gentle moisturizer." We'd recommend never using a fresh pump of product on hands and feet, instead coloring them with the excess left on your brush or mitt. The result is more natural, less orange.
Wondering how to self tan your face in a way that looks natural? One of the biggest giveaways of a bottle-given glow is pale ears, so don't forget to give them a light dusting of color too. "Take a short fiber kabuki brush and lightly buff off the excess from your face, before sweeping around your ears," says Jules.
Once you've finished tanning, carefully wipe your palms, and the space in between each finger, with a makeup wipe or pad soaked in micellar water. We also like to swipe across each nail too, to avoid staining.
---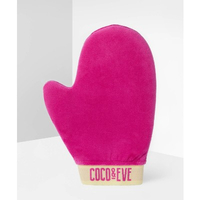 Coco & Eve Sunny Honey Soft Velvet Tanning Mitt
A good tanning mitt can be harder to come by than you might think. This one is not only long-lasting, but double-sided, incredibly soft, and as good and blending the best instant tan as it is a fine mist or gradual lotion. Rinse with warm water after use.
---
How to fake tan: maintenance
Two of fake tan's biggest enemies are oils and warm baths. They're great if you want to remove fake tan, but not if you want to hold on to that hard-earned glow.
"To keep the tan looking fresh and glistening on the skin, keep showers cool and quick," explains James Harknett. "Pat [rather than rub] the skin dry and moisturize. On warm days, sprinkle a little talc on joints, such as the inner elbows, back of the knees and around the breasts. This will create slip and movement so that fabric won't get warm against the skin and start to tear away at the tan. This tip is also great on sports bras, to stop the tan shedding too early due to perspiration."
"My number-one tip to prolong the life of your sunless tan is hydration," adds Amanda Harrington. "When your skin is hydrated your tan will look more radiant and fade more evenly. Oil breaks down your tan so opt for a hyaluronic-based body moisturizer. Avoid retinol or any enzymatic skin care as these can accelerate the fade time of tan on the face and body."
woman&home thanks James Harknett, Jules Von Hep of Isle of Paradise, and Amanda Harrington for their time and expertise.
Sign up to our free daily email for the latest royal and entertainment news, interesting opinion, expert advice on styling and beauty trends, and no-nonsense guides to the health and wellness questions you want answered.
Jess Beech is an experienced fashion and beauty editor, with more than eight years experience in the publishing industry. She has written for woman&home, GoodtoKnow, Now, Woman, Woman's Weekly, Woman's Own and Chat, and is a former Deputy Fashion & Beauty Editor at Future PLC. A beauty obsessive, Jess has tried everything from cryotherapy to chemical peels (minus the Samantha in Sex and The City-worthy redness) and interviewed experts including Jo Malone and Trinny Woodall.