What is barrier cream – is this ultra-rich cream the ultimate winter skin saviour?
Wondering what is barrier cream and how you should use it? Look no further than this handy guide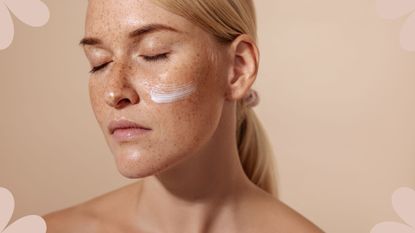 (Image credit: Future/Getty images)
woman&home newsletter
Sign up to our free daily email for the latest royal and entertainment news, interesting opinion, expert advice on styling and beauty trends, and no-nonsense guides to the health and wellness questions you want answered.
Thank you for signing up to . You will receive a verification email shortly.
There was a problem. Please refresh the page and try again.
If you're wondering what is barrier cream, you've come to the right place. The super-rich cream is often hailed as the secret weapon against dry, damaged skin – but what exactly is it, and how does it work?
If you've ever compromised your skin barrier with harsh actives or overloaded it with too many intensive ingredients, you may have been recommended a barrier cream. They're wholly different from your everyday best face moisturizer and have a totally different use, repairing your skin's barrier and helping to restore some calm.
That doesn't mean they're a quick fix – and actually, a barrier cream won't work on everyone. When it comes to sensitive skin, barrier cream can be a real healer, but some skin types may find the rich formula a bit heavy. So before you decide whether this product is worthy of a slot in your skincare routine, let's do a quick deep dive and ask the experts, what is barrier cream, and do you really need it?
What is barrier cream? The expert explanation
What does a barrier cream do?
The first, most obvious question is, simply – what is barrier cream for? According to Dermatologist Dr. Dev Patel (opens in new tab), it's essentially a cream designed to help strengthen and protect your skin's barrier. "The skin is our body's first barrier of protection, and a barrier cream looks to enhance this protection." He continues, "By doing so, the skin will be better at keeping the good things in (namely water) and the bad things out (environmental pollutants, allergens, irritants). They do more than just moisturize by helping to restore natural barrier function."
How do you use a barrier cream?
You apply a barrier cream like any other cream – gently massage it into any areas of dryness, extremely dehydrated skin, or soreness. You probably wouldn't use them all over your face, unless you have a real flare-up. Because they're thicker and richer than your everyday moisturizer you may want to wait a little longer for it to sink in before following on with any sunscreen or makeup. Although, if you do have irritated skin, you should probably skip makeup until it clears.
They aren't just reserved for sensitive skin – you can use most barrier creams all over your body, on any areas that require soothing or extra nourishment.
When should you put barrier cream on?
As we said, you probably shouldn't use a barrier cream as your go-to day cream. Although they're one of the best moisturizers for sensitive skin, they're best reserved for when skin is especially sore, dry, or damaged.
And what is barrier cream's main benefit in these circumstances? Dr. Patel explains, "Any skin irritation means the skin is inflamed – this leads to an impaired skin barrier protection and cells are not tightly packed together," he says. "This means there's increased TEWL (trans-epidermal water loss), the skin finds it harder to repair itself when dehydrated, and so the cycle goes on." This is when you should incorporate a barrier cream, he explains. "A barrier cream can help break this cycle and restore skin integrity."
Who is barrier cream for?
Barrier cream is for anyone who has dry, sensitive skin. Even if you don't normally suffer from sensitivity, if you've overdone it on retinol, exfoliating skincare acids, or any active ingredients, an application of barrier cream can help bring skin back from the brink.
Another time you may have wondered, what is barrier cream? is when dyeing your hair. It's often recommended to use a thick barrier cream along your parting or hair line, to prevent at-home hair dye from staining your skin. Basically, it's really handy to have a tube or tub of barrier cream in your beauty stash for lots of different reasons – it's a nifty little multitasker.
Should anyone avoid barrier cream?
The super-thick formula won't work on all skins – oily skin types may find it too greasy. Acne sufferers may find barrier creams off-putting too, says Dr. Patel. "Many barrier creams contain comedogenic oils and fats, that can block hair follicles and trigger acne."
Oily and blemished skin can still have a damaged barrier though, so you could still use it on any patches of damage, but just use it sparingly – and definitely don't apply it all over.
Our beauty editor's top 5 barrier creams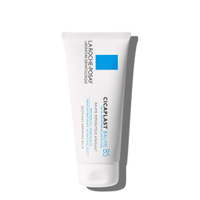 (opens in new tab)
La Roche-Posay Cicaplast Baume B5 | RRP: $14.99/£14
I'm evangelical about this buy, which is often hailed as one of the best La Roche-Posay products of all time. When my skin feels sore, sensitive, or just a little bit sad, a quick dab of this instantly puts things right.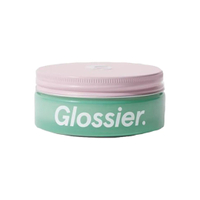 (opens in new tab)
Glossier After Baume | RRP: $28/£25
Specially created to care for skin in cold weather, this balm formula is rich enough to nourish, but surprisingly light when worked into the skin. If your skin's extra dry, you may be able to get away with using this as a day cream all-over, especially in the winter months.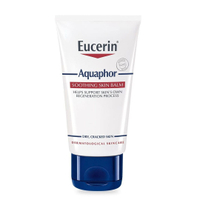 (opens in new tab)
Eucerin Aquaphor | RRP: $10.49/£9
A true beauty staple, this can be found in countless makeup artist's kits. That's because it's a true multitasker, and works as a moisturizer, on dry lips, as a sheeny highlighter (just ask Meghan Markle), and a great barrier cream to shield skin. I always use this when I'm touching up my roots at home.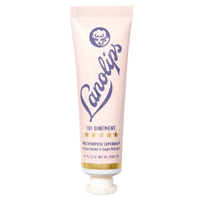 (opens in new tab)
Lanolips 101 Ointment | RRP: $16.95/£10.99
I always carry a tube of this in my handbag. Having tried pretty much all of the best lip balms on the market, nothing seems to compete with this 100% lanolin formula, which is thick and nourishing, without the petroleum that many balms contain. It's not just for lips either – it can be used on dry patches everywhere, and is also a handy cuticle softener.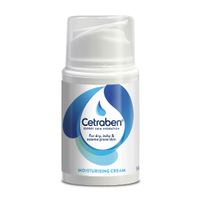 (opens in new tab)
Cetraben cream | RRP: $8.97/£5.20
Although not the sexiest of brands, this dermatology-backed buy is the gentlest option I found and made a real soothing, healing difference to sore skin. Dr. Patel recommends this, calling it, "a good fragrance-free option – and the low cost means widespread use on the body will not blow your budget." It's available in a huge 1L tub too, which is pleasingly reassuring.
Rhiannon Derbyshire is the Senior Beauty Editor for Woman & Home and other publications.
She started interning for magazines while working alongside her Fashion Journalism degree. There, she was lured to the beauty desk, seduced by matte lipsticks, posh shampoos and every skincare product imaginable. A first-language Welsh speaker, she can tell you why the best mascaras are always high street, why SPF is a non-negotiable all year round and how to find the exact right red lipstick in two languages.