The 11 best La Roche-Posay products, rated by our Beauty Editor
We rank the best La Roche-Posay products – from the top best-sellers to our beauty ed's desert island products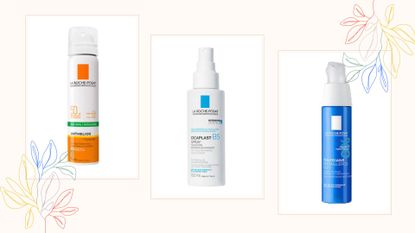 (Image credit: Future/La Roche Posay)
woman&home newsletter
Sign up to our free daily email for the latest royal and entertainment news, interesting opinion, expert advice on styling and beauty trends, and no-nonsense guides to the health and wellness questions you want answered.
Thank you for signing up to . You will receive a verification email shortly.
There was a problem. Please refresh the page and try again.
I'm often asked what the best La Roche-Posay products are. Loved by many a beauty editor, the brand focuses on gentle, hardworking buys that are ultra-effective. To say I'm a fan of the brand would be an understatement. I'm borderline evangelical. Dry skin? The Toleraine range sorts it right out. Sensitivity? The Cicaplast balm soothes instantly. Blemishes? Hand me that Effaclar range.
Truly, much of their range is a staple in my routine and I'm always recommending LRP as some of the best skincare products for anyone struggling with their skin. This brand's French pharmacy background means that they focus on skin health before trends. These products are all about protecting your skin barrier and keeping your complexion calm, soft, and soothed. Which doesn't mean that these products lack transformative powers. Active ingredients like retinol and the best Vitamin C serums are effective without burning a layer of skin off.
Being a mega-fan means that I want the inside scoop from the brand. So I've spoken to a handful of dermatologists and experts who ran me through the French brand's top bestsellers. If you're new to the range, this is the perfect way to get to know the best La Roche-Posay products before adding them to your cart. Your skin will thank you - and hopefully, me.
The best La Roche-Posay products, in order of popularity
Why you can trust Woman & Home Our expert reviewers spend hours testing and comparing products and services so you can choose the best for you. Find out more about how we test.
1. La Roche-Posay Anthelios UVMune 400 Ultra Light SPF50+
Best La Roche-Posay sunscreen
Specifications
RRP: $30.99/£18
Product type: Facial Suncare
Benefits: Broad spectrum sunscreen with SPF50+
Reasons to buy
+
The perfect daily SPF
+
Hardworking, science-backed formula
+
Not sticky or shiny
+
Sits well under makeup
This is the best facial sunscreen in my kit. I use it every day, rain or shine, so it's not a surprise that this tops the list as LRP's number-one bestseller. If you buy one product from this roundup, make it this one - it's without a doubt, the best of the best La Roche-Posay products.
It has also been reformulated to make it work even harder. "UVA rays are present all year round, and, unlike UVB rays which cause the skin to redden, you don't get a signal to let you know that they're causing damage. So, by the time you see wrinkles and pigmentation, it's too late." says Dermatologist Dr Justine Hextall (opens in new tab), "That's why, as dermatologists, we encourage year-round use of a broad spectrum product. Anthelios UVMune400 Invisible Fluid SPF0+ offers unprecedented protection across the whole UV spectrum - it's great to see a product keeping up with the latest science in this area."
There's always a sense of dread hearing your favorite products have been reformulated, even if it is seemingly for the better. What if it's shinier? What if the texture has changed? Thankfully, this remains absolutely brilliant. It goes on like a dream, sinks in quickly, and doesn't leave a white cast. It sits nicely under my makeup and doesn't give me any breakouts. In a word? Perfection.
2. La Roche-Posay Cicaplast Spray
Best La Roche-Posay soothing spray
Specifications
RRP: $14.95/£14
Product type: Spray
Benefits: Barrier repair, reduces discomfort
Reasons to buy
+
Ideal for sensitive skin
+
Mist action is super hygenic
+
Soothing and light
Reasons to avoid
-
More medical than indulgent skincare
A relatively recent release from the brand is this Cicaplast spray. It went viral on its launch, and I'm not surprised. A combination of skincare and a medicated treatment, it is designed to act as a soothing and repairing spray for various skin problems, including burns, rashes, and peeling. It will work just as well for menopausal skincare as it does for young, sensitive skin, thanks to the hypo-allergenic formula.
When heavy creams feel too much, or my skin is sensitive to the touch and could benefit from non-intrusive treatment, this spray is my go-to. I find it especially beneficial after having any hardcore skincare treatments, or after spending a lot of time in the sun, as it gives an instantly soothing feel. It is also ideal for places that may be harder to reach, such as the back, that could still do with a little TLC. It's one of the best face mists in terms of the actual misting action too - thanks to its soft-spray nozzle, you can also use the spray for a cooling pick-me-up on days when you need a little refresher.
3. La Roche-Posay Toleriane Dermallergo Night Cream
Best La Roche-Posay night treatment
Specifications
RRP: $24/£21
Product type: Moisturizer
Benefits: Instant and long-lasting hydration
Reasons to buy
+
The perfect finishing step for all skincare routines
+
Suitable for ultra-sensitive skin
+
Fast absorbing
+
Light gel texture
Reasons to avoid
-
Those with extremely dry skin may favor the Cicaplast Baume
Taking the time to curate a nighttime skincare routine that really works for you is the key to getting your skin under control. For me, the finishing touch that will work for many skin types is this Toleriane night cream. Whether you are looking for skincare for sensitive skin that you know you can trust, or just want something simple and effective, this night moisturizer can be worked easily into your regime.
One of my favorite ways to use it is after applying retinol or other intensive treatments that can lead to dryness or increased sensitivity. The thin, gel texture glides perfectly onto the skin and provides ample hydration overnight and into the next morning. Expect to wake up to plumper-looking skin that is primed and ready for makeup looks.
This is certainly a soothing moisturizer, and its main benefits include reducing skin sensitivity and calming redness. But even if you don't have particularly sensitive skin, I still absolutely recommend it for gentle and effective hydration.
4. La Roche-Posay Anthelios Age Correct SPF50+
Best intensive La Roche-Posay treatment
Specifications
RRP: $39.99/£25
Product type: Facial sunscreen
Benefits: Protects while improving appearance of wrinkles
Reasons to buy
+
Blends in quickly
+
Hardworking, multitasking SPF
+
Protects skin while battling signs of aging
Reasons to avoid
-
Not necessarily for all ages
Unsurprisingly, another SPF ranks high on this list. This one is slightly different, using skincare ingredients to treat the skin while protecting it from UV rays. It also includes antioxidants, which help reverse and protect against damage from pollution, as well as niacinamide and hyaluronic acid to plump and brighten the complexion.
Consultant dermatologist Dr Zainab Laftah (opens in new tab) says it's one of the best La Roche-Posay products in the range. "My patients with melasma and sun-induced freckles love this sunscreen because it helps target the pigmentation whilst offering high UV protection. It's a brilliant all-rounder, and it's kind to skin," explains Dr Laftah.
As I said, I'm devoted to the Anthelios Ultra Light SPF, but having used this I would also include it quite happily in my daily roster of the best skincare products. My skin feels plump and hydrated and after a few days of using this, I did feel my skin looked brighter. I'd recommend it for mature skin, but really it would work absolutely fine on all skin types and ages.
5. La Roche-Posay Effaclar Duo
Best La Roche-Posay Acne product
Specifications
RRP: $30.99/£17
Product type: Acne treatment
Benefits: Purifying without drying
Reasons to buy
+
Effective spot treatment
+
Treats blemishes without drying skin
+
Gets to work quickly
Reasons to avoid
-
Spot treatments can be subjective
I really struggle with hormonal breakouts, and I often find myself going against all my better judgment and opting for intense, harsh treatments in an attempt to zap those zits. Does it work? Eh, sort of. Does my skin end up looking better overall? Nope! Those harsh stripping ingredients may dry out blemishes but they can also really irritate my skin and leave me with redness and dry patches.
If you're wondering how to get rid of acne, the sensible answer is that the best solution will be slow and steady. Although it can feel less satisfying, opting for gentle treatments means your skin won't be 'punished' and can gently adapt to the ingredients, and focus on clearing blemishes without battling dryness and sensitivity. This is why this is one of the best La Roche-Posay products for treating acne. Dr Laftah explains, "The gel formula is light and non-comedogenic whilst the salicylic acid and niacinamide help unclog pores and reduce inflammation. This moisturizer is perfectly designed for those with blemish-prone skin and my patients with acne or oily skin absolutely love it."
My skin always feels clearer and calmer after using this - I couldn't be without it. I start including it in my routine when I feel a breakout about to kick in, and the difference it makes is really noticeable.
6. La Roche-Posay Toleraine Dermalergo Cream
Best La Roche-Posay moisturizing product
Specifications
RRP: $30.99/£18.50
Product type: Moisturizer
Benefits: Calming and hydrating
Reasons to buy
+
A brilliant way to get skin back on track
+
Soft and soothing
+
Instantly calms inflamed skin
+
Makes moisturizing easy
Even the most experienced beauty editors still make skincare mistakes, and this always comes to the rescue when I overuse the best retinol creams or get a bit too overzealous with skincare acids. A few months back my skin was acting particularly troublesome, and this was one of the best La Roche-Posay products for coaxing it back from the brink.
This ultra-gentle, soothing moisturizer makes an instant difference to sensitive, sore skin - in fact, I get a bit panicky when I've run out of it. The relief is instant when it hits my skin - it glides on, soothes instantly, and helps restore some calm. We're all guilty of going a bit overboard with active ingredients - it can be tempting to try to 'fix' your skin problems speedily. But, Dr Hextall explains why gentle is best when it comes to your skin barrier. "It is becoming apparent that the delicate balance of our skin's microbiome plays an important role in maintaining the skin barrier. Whatever your skin type, choosing skincare that protects and replenish this environment is the cornerstone of healthy skin."
She continues, "I have always recommended the Toleriane range to my patients. This ultra-gentle skin care is soothing, anti-inflammatory, and hydrating; tolerated by even the most sensitive skin. I cannot imagine any skin type that wouldn't benefit from this unique formulation."
7. La Roche-Posay Cicaplast Baume B5
Best La Roche-Posay sensitive skin product
Specifications
RRP: $14.99/£14
Product type: Cream for face and body
Benefits: Soothing and calming
Reasons to buy
+
Dermatologist-approved treatment
+
Incredibly effective at soothing skin
+
Makes an instant difference
When things get really bad, this is the absolute best La Roche-Posay product to bring skin back from the brink. The Toleraine moisturizer is lovely and gentle and calm, but this balm means serious business. It's thick, no-frills, and gets to work quickly.
I had a reaction to some particularly potent retinol recently and this balm was the only thing that made a difference. That's thanks to the 5% panthenol, which helps speed up the skin's natural repair process. It looks very white when you first start working it in, so it's not the best everyday face moisturizer, and you're unlikely to use it all over your face as it's a bit heavy and rich for that. But it's great for instantly soothing any patches of irritation or dryness. A little goes a long way too so be cautious on your first application.
It's also a great multitasker, working on the face and body. It's the perfect product to keep in your first aid kit or to keep handy in your best suitcase when you travel. It works on irritations, burns, and bites. You'll always be thankful to have it on hand - I know I am.
8. La Roche-Posay Anthelios Invisible Anti-Shine Face Mist
Best La Roche-Posay spray sunscreen
Specifications
RRP: $26.99/£14.50
Product type: Spray
Benefits: UVA/UVB & infrared protection
Reasons to buy
+
Lightweight
+
Can be worn over makeup
+
Easy to re-apply
Reasons to avoid
-
Not suitable for those who struggle with mists
As we know by now, sunscreens in various forms are undoubtedly some of the best La Roche-Posay products. Misting sunscreens have grown in popularity in recent years, largely due to the fact that they can be applied over makeup throughout the day, which is what I like to use this product for. Whether I am in a hot, sunny environment, or want a lightweight mist to provide protection on more muggy, overcast days, this is my go-to.
Those who struggle with spray products may prefer the brand's classic liquid sunscreen over this version, however, I think it doesn't hurt to have both. Whilst the liquid sits with my skincare at home, this mist comes with me in my handbag. But whichever one you favor, there is no doubt that LRP makes the best facial sunscreens, so you are in good company either way.
Plus, if you are looking to achieve flawless glass skin, this anti-shine face mist can give you a helping hand. Not only will it protect against sun damage and dark spots, but it also leaves a beautiful, glowy sheen on the skin. You don't need to worry about any droplets or white casts either, as the fine mist leaves no traces.
9. La Roche-Posay Hyalu B5 Seurm
Best La Roche-Posay hydrating serum
Specifications
RRP: $33.99/£38
Product type: Serum
Benefits: Hydrating
Reasons to buy
+
Incredibly effective at hydrating skin
+
Sinks in quickly
+
Suitable for everyday use
+
Works for all skin types
For me, LRP's serums are the true superheroes of the range, and this Hyaluronic Acid is one of the best La Roche-Posay products that I know I can recommend to everyone. You can't go wrong with HA - it's the best ingredient out there for plumping and hydrating skin, and everyone can benefit from using it.
I loved this from the second I used it. I'm all about hardworking, faff-free buys that just work, and this ticks all of those boxes. It sinks in quickly and doesn't leave skin feeling tacky or clogged. It sits nicely under both day and night creams, and you see a real difference in the bounce of your skin after just a few uses. You really can't go wrong with it.
Serums are also the best way of treating any skin concerns. The light formulas sink in more quickly and deeply into the skin than creams, letting those ingredients really get to work. If you're wondering how to apply serum, always do it after cleansing, or before moisturizing. You can use one morning and one evening.
10. La Roche-Posay Niacinamide B10 Serum
Best La Roche-Posay dark spot treatment
Specifications
RRP: $39.99/£38
Product type: Serum
Benefits: Dark spot correcting
Reasons to buy
+
Brilliant treatment for age spots
+
Suitable for everyday use
+
Can be used morning or evening
Reasons to avoid
-
Not a necessity if you don't have age spots
If age spots or pigmentation are a concern, this is one of the best La Roche-Posay products to treat them. Dr Emma Wedgeworth (opens in new tab), Consultant Dermatologist, explains why. "Dark spots occur on the skin for a number of reasons - sun damage, skin aging, acne marks, or hormonal changes." She explains, "Niacinamide is a great choice for pigmentation, because it's a true multitasker, helping tackle the many underlying causes. I'm often asked how to combat pigmentation, and this is a brilliant option, as niacinamide is all about reducing both inflammation and pigmentation."
This concentrated formula uses 10% niacinamide, blended with plumping hyaluronic acid to hydrate skin while helping those marks fade. This is a relatively new launch but its popularity means that the results really speak for themselves. I really enjoyed using this, even though hyperpigmentation isn't at the forefront of my skin issues. My skin looked brighter and refreshed within a week.
11. La Roche-Posay Effaclar Gel Cleanser
Best La-Roche Posay cleanser for acne-prone skin
Specifications
RRP: $19.99/£18.50
Product Type: Gel cleanser
Benefits: Purifying and oil balancing
Reasons to buy
+
Purifying but gentle
+
Brilliant morning cleanser
+
Ideal for acne-prone skin
Reasons to avoid
-
Not suitable for all skin types
Cleansing is so important for all skin types, but it's an especially key element of the best skincare routine for acne. You need to make sure you're using the best cleansers for your skin type, which will gently purify your complexion without drying it out. This is one of the best La Roche-Posay cleansing products for that exact job, working especially well for blemish-prone skin.
Dr Laftah agrees, "This is one of my best cleansers for acne-prone skin," she says. "Its soft foaming properties help remove the build-up of oil, debris, and dead skin cells and, as many of my patients report, it does not leave the skin feeling dry."
Do you know that tight, dry feeling you get after cleansing? This doesn't cause that. After cleansing with this my skin is fresh and clean without that almost itchy squeaky-clean feel. I always swap to using this if I'm in the midst of a breakout and I really find that it makes a difference to those pesky little under-the-skin spots. I also quite enjoy the massive bottle, I find it pleasing and strangely reassuring.
12. La Roche-Posay Retinol B3 Serum
Best La Roche-Posay retinol product
Specifications
RRP: $39.99/£38
Product type: Retinol serum
Benefits: Cell turnover and anti-ageing
Reasons to buy
+
Hardworking retinol
+
Effective, minus the irritation
+
Gentle enough for frequent use
Reasons to avoid
-
Slightly tacky texture
-
Important to follow on with a moisturizer
I'm not surprised that another one of LRP's serums has sneaked into the list of bestsellers. The retinol serum in particular is brilliant because it encapsulates exactly why the brand is so respected in the skincare industry - it yields results, without compromising your skin health.
We all know how transformative retinol is, but it can really come at a price, namely irritation, peeling skin, or a faint feeling of burning. You don't get that with this serum - you really feel like you're in safe hands with it. It's potent, sure - but it's not painful. As with all retinol, I'd recommend easing into using it every three or four nights, then working up your tolerance to using it more frequently - if you want to. The gentle formula means you can get away with using it frequently, without harming your skin. You might also be quite happy to use this sparingly, or weekly, and that's totally fine too!
Dr Laftah agrees that it's one of the best La-Roche Posay products for results without irritation. She says, "Recommending a retinol serum to my patients with sensitive skin to help address signs of aging can be a challenge, however this serum due to its unique formulation is tolerated by all skin types." It can feel slightly tacky on the skin after application, but that can be the case with a lot of serums. I always follow on with one of my best night creams, to keep my complexion balanced and happy.
Rhiannon Derbyshire is the Senior Beauty Editor for Woman & Home and other publications.
She started interning for magazines while working alongside her Fashion Journalism degree. There, she was lured to the beauty desk, seduced by matte lipsticks, posh shampoos and every skincare product imaginable. A first-language Welsh speaker, she can tell you why the best mascaras are always high street, why SPF is a non-negotiable all year round and how to find the exact right red lipstick in two languages.