The best cleansers for acne to banish breakouts and clarify your skin
Our beauty team selects the best cleansers for acne that'll treat and prevent breakouts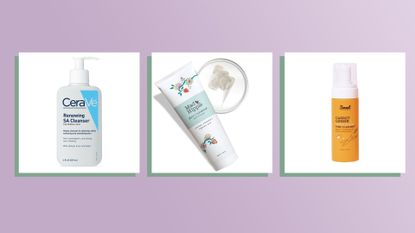 (Image credit: Future)
woman&home newsletter
Sign up to our free daily email for the latest royal and entertainment news, interesting opinion, expert advice on styling and beauty trends, and no-nonsense guides to the health and wellness questions you want answered.
Thank you for signing up to . You will receive a verification email shortly.
There was a problem. Please refresh the page and try again.
Landing on the best cleanser for acne is like Catch-22: on the one hand, you want to treat your breakouts, but on the other, you don't want to risk aggravating said breakout by testing out a bunch of new formulas. The saving grace? If you're armed with the knowledge of what to look for, you're more likely to send your pimples packing without having to go through hurdles to get there.
Having a one-size-fits-all approach when it comes to the best cleansers can be detrimental to your skin. The cleanser you choose will heavily rely on skin type. For instance, the acne cleanser someone with oily skin would use is different from what someone with dry skin would use. Your skin type will also determine the kind of formula you use—gel, cream, and foam acne cleansers are all formulated for different skin types, and using the wrong one can set you back on your skin-clearing journey.
Though acne cleansers can be tricky business, we're here to help. Follow our simple selection guide then peruse this comprehensive list of the best cleansers for acne. Each one is designed to soothe inflamed breakouts, act as the best blackhead remover and ward off future blemishes so your best skin shines through.
How to pick the best cleansers for acne
Why you can trust Woman & Home Our expert reviewers spend hours testing and comparing products and services so you can choose the best for you. Find out more about how we test.
There's a lot to consider when it comes to picking the best cleansers for acne, but these are the two key factors, according to the experts:
Acne type: Whether you're struggling with hormonal acne or want to know how to get rid of blackheads, there exists a cleanser for you. If you're dealing with inflammatory acne (that is, papules, pustules, nodules, or cysts), you'll want a cleanser that has soothing, hydrating ingredients like aloe or glycerin. If you're looking to get rid of blackheads or whiteheads, Facee Co-Founder Dr. Dina Mustedanagic (opens in new tab) says that over-the-counter treatments that include sulfur, salicylic acid, or benzoyl peroxide can be helpful, as they "help remove dead skin cells and excess oils, with benzoyl peroxide being the most effective option, sulfur being the mildest on your skin, and salicylic acid helping to prevent non-inflammatory acne from returning in the future." No matter what type of acne you have, board-certified dermatologist Dr. Debra Jaliman (opens in new tab) says that products with glycolic acid can help to unclog pores.
Skin type: "If your skin is dry and irritated a thick cream cleanser is best as they keep your skin hydrated and won't over-dry your skin," says Dr. Jaliman. In a skincare routine for oily skin that's also prone to acne, Dr. Mustedanagic says to look for a foaming cleanser, as "they're meant to deep clean the skin by getting rid of excess oil and sebum, as well as work to uproot any debris stuck in your pores." For those with normal to combination skin, opt for a gel cleanser, which Dr. Mustedanagic characterizes as having a thick gel consistency that provides a smaller amount of foam and a milder cleanse, which will cleanse your skin without leaving it feeling stripped. And how often should you wash your face for maximum benefits? The experts agree that twice a day - no more, no less - is best.
The best cleansers for acne, chosen by our beauty team
1. CeraVe Renewing SA Cleanser
Best acne cleanser overall
Specifications
RRP: $12
Type: Cream
Ingredient callouts: Salicylic acid, ceramides, vitamin D, hyaluronic acid, niacinamide
Reasons to buy
+
Good for all skin types
+
Non-comedogenic formula
+
Protects the skin barrier
Reasons to avoid
-
Doesn't combat stubborn forms of acne
CeraVe is a tried-and-true brand that develops good-for-all-skin-types skincare products—and their acne cleanser is no different. It packs a star-studded list of nourishing ingredients like brightening niacinamide, hydrating hyaluronic acid, and skin-protecting ceramides along with pore-refining salicylic acid. The result: a high-performance formula that exfoliates, cleanses and supports the skin barrier. We loved the gentle, creamy consistency of this and mild non-drying later.
Even better, this boasts a very reasonable price tag, is widely available at the drugstore, and can be used on the face and body to help you combat how to get rid of bacne. While we found this cleanser best for fending off mild forms of acne, the more stubborn types (aka hormonal acne and cysts) will need something a bit stronger. Still, this is a solid option for all skin types and is a welcome addition to anyone looking for a gentle formula to incorporate into their acne-busing skincare routine.
2. Dermalogica Acne Clearing Skin Wash Cleanser
Best luxury acne cleanser
Specifications
RRP: $40
Type: Gel-to-foam
Ingredient callouts: Salicylic acid, prebiotics, glycerin, menthol, tea tree, chamomile
Reasons to buy
+
Non-stripping
+
Helps with blackheads, whiteheads, and oiliness
+
Has a smooth texture
Reasons to avoid
-
Contains a strong menthol smell
If you're willing to spend the money on an acne cleanser, the Dermalogica Acne Clearing Skin Wash Cleanser is well worth it, combating the signs of aging, balancing oily skin, and curbing breakouts at the same time. The hero ingredient here is salicylic acid, which fights blemishes and blackheads, prevents new ones from forming, and stimulates cell turnover for brighter, clearer skin. Meanwhile, a mixture of menthol, chamomile flower, and tea tree calms inflammation and irritation.
If you're sensitive to scents in your products, we did find this one has a fairly powerful menthol aroma upon using. Also, if you have a sensitive skin type you may find the cleanser feels too harsh. Thus, if you have normal skin but experience the occasional breakout, you may want to opt for a more gentle formulation. If you're generally acne-prone, this is a great addition to your routine.
3. Neutrogena Glycerin Facial Cleansing Bar
Best budget acne cleanser
Specifications
RRP: $3
Type: Bar
Ingredient callouts: Glycerin
Reasons to buy
+
Doesn't leave behind a residue
+
Non-drying formula
+
Non-comedogenic
Reasons to avoid
-
Not good for sensitive skin
Bar soaps may have a bad rap for being drying, but we found this one from Neutrogena far from it, thanks to being free of harsh dyes and hardeners. It effectively mops up excess oil, cleanses the skin, and gets rid of pore-clogging, acne-causing bacteria, but it also contains glycerin to keep the skin's hydration levels intact.
We love that the formula is non-comedogenic (so it won't contribute to clogged pores), and the fact that it's so easy to use—we simply lathered the soap in our hands and applied it directly onto our skin. You can also do as we did and store it in the shower to cleanse skin while waiting for your best hair mask to sink in. While this cleansing bar is budget-friendly, it can lead to redness in those with sensitive skin types, so keep this in mind if your skin leans reactive.
4. Hero Cosmetics Gentle Milky Cleanser
Best acne cleanser for dry skin
Specifications
RRP: $15
Type: Milky
Ingredient callouts: Colloidal oatmeal, cermides, jojoba
Reasons to buy
+
Gentle formula
+
Made with plant-based surfactants
+
Non-drying
Reasons to avoid
-
Doesn't solve blackheads
The best cleanser for acne, especially for dry skin types, is one that'll unclog your pores without stripping your skin, which is precisely what this pick from Hero Cosmetics offers. It's enriched with skin-calming colloidal oatmeal (a savior if you suffer from dryness or inflammatory acne) along with polyhydroxy acid, which is a solid, more mild alternative to either AHAs vs BHAs, yet still maintains the ability to clarify pores.
On testing, we found this both refreshing and softening, which is not an easy combination to pull off. As far as your skin's moisture barrier is concerned, the cleanser contains ceramides and jojoba to strengthen and hydrate. Your skin will feel cleansed and your breakouts will feel soothed after using this.
5. Sweet Chef Carrot Ginger & Salicylic Acid Pore Cleanser
Best acne cleanser for oily skin
Specifications
RRP: $16
Type: Foaming
Ingredient callouts: Ginger, salicylic acid, turmeric, carrot
Reasons to buy
+
Lathers well
+
Clean formula
+
Vegan and cruelty-free
Reasons to avoid
-
Salicylic not for dry skin
Oily-skinned acne-prone folks, rejoice! The ingredient list of this cleanser from Sweet Chef sounds like your favorite smoothie recipe—ginger, carrot, and turmeric are touted for their brightening, antioxidant-rich properties as well as salicylic acid to remove the day's buildup and ward off acne.
When we tested this, we found it worked into a rich lather and also featured a foaming texture (perfect for those with greasy skin) but didn't leave our skin dry and tight afterward. And, a little goes a long way—one pump was all we needed to cleanse our entire face, which means the pump bottle should last you several weeks.
6. Paula's Choice Pore Normalizing Cleanser
Best acne cleanser for combination skin
Specifications
RRP: $14
Type: Gel
Ingredient callouts: Salicylic acid, arginine, panthenol
Reasons to buy
+
Deep cleans pores
+
Calms irritation
+
Cruelty-free and fragrance-free
Reasons to avoid
-
None, this is perfectly formulated!
It's not easy finding a formula that deep cleans pores and calms inflammation without contributing to more breakouts, but this one from Paula's Choice checks every box. While so many other skincare products contain skin-irritating fragrances, this one is fragrance-free, and instead features arginine, which soothes redness and provitamin B5, which conditions and hydrates the skin.
On testing, we loved the combination of soothing, calming ingredients with pore-unclogging acids and the fresh, elegant texture. If you're oily but prone to the odd dry patch, this formula is definitely suitable for you, as it contains a healthy mix of acne-fighting powers (via salicylic acid) as well as the aforementioned ingredients to keep your skin nourished, not dry.
7. Sonage Soothing Cleansing Creme
Best acne cleanser for sensitive skin
Specifications
RRP: $28
Type: Cream
Ingredient callouts: Apricot kernel oil, Matricaria extract, calendula flower extract, ylang ylang
Reasons to buy
+
Purifies pores
+
Non-stripping formula
+
Paraben- and sulfate-free
Reasons to avoid
-
Contains oils so won't suit everyone
Pores get a deep clean in this effective yet gentle acne cleanser that uses the moisturizing powers of apricot kernel oil and the cleansing properties of calendula flower extract. This combination makes for a unique formula that gets the skin clean, but doesn't damage the moisture barrier in the process (which many cleansers designed for deep cleaning do). Our skin felt clarified but also comforted.
Very few of the best cleansers for acne come in a cream texture, so if you prefer the gentle feel of lotions then you'll love how softening and soothing this is. If you're dealing with inflammatory acne, you'll also appreciate the formula's addition of ylang-ylang flower extract—it helps to reduce the appearance of redness commonly associated with this type of acne.
8. Biore Deep Pore Charcoal Cleanser
Best acne cleanser for blackheads and whiteheads
Specifications
RRP: $6
Type: Foam
Ingredient callouts: Charcoal, salicylic acid
Reasons to buy
+
Deep cleans pores
+
No added fragrance
+
Oil-free formula
If you're looking for an alternative to pore strips—which Dr. Mustedanagic says are abrasive and only a temporary fix that can damage the top layer of your skin—look to this deep cleanser from Bioré.
The key ingredient here is charcoal, which purifies skin by drawing out toxins living deep within the pores as well as classic pore-unclogging acid salicylic. On testing, we found this ultra-refreshing and particularly enjoyable to use on hot, congested skin. Bear in mind that while we did find this formula made the skin feel cool and clarified, it also left behind a distinct tingling feeling that some may not be used to.
9. AveSeena Gentle Gardenia Anti-Pollution Gel Cleanser
Best acne cleanser for hormonal acne
Specifications
RRP: $48
Type: Gel
Ingredient callouts: Amethyst, rice proteins, vitamin C, E, and B3
Reasons to buy
+
Gets rid of impurities and pollutants on the skin
+
Gentle, non-drying formula
+
Doesn't leave behind a residue no residue
Reasons to avoid
-
A bit pricey for a wash-off product
Hormonal acne is tough to treat, and while no one product can get rid of it completely, this cleanser from AveSeena is a good start. The dermatologist-founded line is meant to target "inflammaging" (or aging caused by inflammation), which acne is a sign of. "When we experience hormone fluctuations, the composition of our skin sebum changes," says immunologist, hormone expert, and founder of AveSeena Dr. Ebru Karpuzoglu. "The levels of linoleic acid in the sebum drop. It becomes thicker and thus more likely to clog pores."
This cleanser features powerhouse acne fighter niacinamide, which not only keeps breakout-causing bacteria in check but also brightens and reduces the appearance of marks often left behind by post-inflammatory hyperpigmentation after a pimple heals. If hormonal breakouts are your issue, Dr. Karpuzoglu recommends being ultra-gentle with cleansing so as not to upset the skin barrier and cause more acne issues. We're big fans of this cleanser.
10. Mad Hippie Jelly Cleanser
Best acne cleanser for inflammatory acne
Specifications
RRP: $13
Type: Jelly-to-milk
Ingredient callouts: Hyaluronic acid, resveratrol, white tea, chamomile, rose, sea buckthorn berry
Reasons to buy
+
Calming for irritated skin
+
Vegan and cruelty-free
+
Doesn't dry out the skin
Reasons to avoid
-
Doesn't remove makeup well
Dr. Jaliman is a fan of this acne cleanser from Mad Hippie, touting the fact that it contains chamomile—which calms and soothes acne-related irritation—as well as hyaluronic acid, which helps hydrate the skin. It also contains antioxidants resveratrol and white tea, which help rejuvenate the skin and protect against dulling pollutants. Aside from its laundry list of nourishing, calming ingredients, we loved this product's unique gel texture, which transforms into a creamy lather once it comes into contact with water. It didn't leave our skin feeling squeaky clean (which is a sign that it's been dried out)—rather, our complexion felt refreshed and awake after using it
With that said, even though this is meant to be a dual-purpose cleanser and makeup remover, it falls a little short on the latter, especially when it comes to removing waterproof mascara. For this reason, you may want to use this as a secondary step after removing your makeup with your best micellar water or oil-based cleanser.
---
woman&home thanks Dr. Dina Mustedanagic, Dr. Debra Jaliman and Dr. Ebru Karpuzoglu for their time and expertise
Michelle Rostamian is a Los Angeles-based beauty writer with 10 years of experience in the beauty industry. She began her career as a publicist, content writer, and social media manager, representing beauty brands and industry professionals. Currently, she is an editor and writer on all things makeup, beauty, skincare, and lifestyle. Michelle graduated from the University of California, Los Angeles with a B.A. in Communications. She has bylines at Cosmopolitan, Elle, Marie Claire, Allure, The Zoe Report, HelloGiggles, Yahoo, Byrdie, Well+Good, Reviewed, Women's Health, Runner's World, The Girlfriend, and more.