The best hair masks to nourish and repair every hair type
Our pick of the best hair masks—from color-enhancing to curl-defining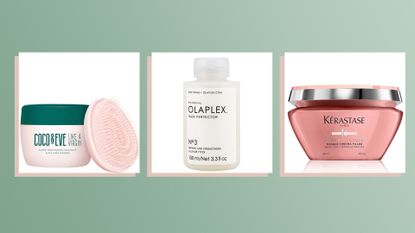 (Image credit: Future)
woman&home newsletter
Sign up to our free daily email for the latest royal and entertainment news, interesting opinion, expert advice on styling and beauty trends, and no-nonsense guides to the health and wellness questions you want answered.
Thank you for signing up to Woman & Home. You will receive a verification email shortly.
There was a problem. Please refresh the page and try again.
The best hair masks will really supercharge your haircare regime, giving you the kind of Middleton-esque bounce and gloss we all covet.
Heat styling, bleaching, perming, and even excessive towel-drying can all leave hair looking dry, dull and damaged. Yes, even the best hair straighteners can cause your locks to become frazzled, especially if you rely on them every day. What happens when your conditioner isn't making the grade and you're ravaged by frizzy hair and split ends? That's when the best hair masks can really make a difference.
When hair becomes dehydrated, the cuticle lies open, appearing uneven and rough, so you need to wrap hair in moisture and smooth the cuticle in order to reinstate the silky swish of healthy hair. Whether you pick one of thew new-gen bond builders for hair, a moisturizing mask or at-home keratin treatment these deliciously gunky formulas are richer and more concentrated than even the best shampoo and conditioner, and absorb deep into the hair shaft. They're basically like rehab for hair, and can be used to repair damage, imbue shine, enhance curls and fight frizz.
What concerns do the best hair masks tackle?
Why you can trust Woman & Home Our expert reviewers spend hours testing and comparing products and services so you can choose the best for you. Find out more about how we test.
Hair that's damaged to the point of breaking off needs a scissor-based solution. But the best hair masks can act as treatments for damaged hair that help smooth, nourish, and protect against the damaging effects of hard water on hair. If any of the below sounds familiar, it may be time to step up your hair care regime:
Split ends
Color fade
Frizz and flyaways
Dull, straw-like texture
Brittle and prone to breakage
Tangles easily
Most hair masks are best used on clean, damp hair, once or twice a week. Although as our beauty editor's K18 review reveals, some have protocols all of their own, so always read the instructions.
While your hair is basking in the treatment, you can supercharge its effects by wrapping hair in a warm towel. The heat will help your hair to soap up all those nourishing ingredients more effectively.
If you have fine hair, look for a pre-shampoo treatment. You'll benefit from the same intensive, reparative ingredients without them weighing heavily on the hair. For coarse or curly hairstyles, you could try applying a natural occlusive such as coconut oil for hair, or a thicker mask texture overnight to treat hair to maximum moisture.
The best hair masks, chosen by our beauty editor
1. Chris Appleton + Color Wow Money Masque
Best hair mask for most people
Specifications
RRP: $45/£38.50
Key ingredients: Blue sea kale, hydrolyzed vegetable protein complex, mediterranean sea kelp/algae blend
Designed to: Heal and strengthen fragile and bleached hair
Reasons to buy
+
Smells amazing
+
Transforms fragile hair
+
Immediate results
Color Wow has become synonymous with products that answer our hair problems before we even realize we had them. Take the still-unbeatable Root Cover Up, which was one of the first touch-up powders on the market. Money Masque is no exception. It doesn't feel like any other mask we've encountered—somewhere between butter and a gel. This unique consistency is able to make it right down into the cuticle and cortex to repair from the inside-out without weighing hair down. Blue sea kale and a hydrolyzed vegetable protein complex all sound very nice, but they're a hard-working bunch, repairing the cuticle and delivering long-lasting hydration.
If you're addicted to your hair straighteners or can't give up having bleached highlights in hair, this masque is going to be the miracle your hair's been crying out for. It's designed to be applied from root to tip. Leave it on anywhere between a few minutes and half an hour for a deep treatment, then rinse off thoroughly—this is the key to a weightless, bouncy finish. This mask managed to reinstate a supple, silky swish after just one use. When I styled my hair straight, it looked glossy and soft. When I went au natural, the waves were more defined. It really is a miracle worker.
2. L'Oréal Paris Elvive Hydra Hyaluronic 72H Moisture Wrapping Mask
Best hair mask for dehydrated hair
Specifications
RRP: $10.83/£7.99
Key ingredients: Hyaluronic acid
Designed to: Restore moisture levels in dehydrated hair
Reasons to buy
+
Suitable for fine hair
+
Reinstates silky swish
+
Light consistency
Reasons to avoid
-
Scent doesn't last long on the hair
Let's talk about hyaluronic acid. You probably already slather it on your face to plump dehydrated skin, so we're not surprised that L'Oréal Paris is now tapping into that same moisture-drenching capability to target dehydrated hair before it reaches the point of damage. It works in a slightly different way to your average HA skin serum, which attracts moisture deep down in the skin, plumping as it goes. Hyaluronic acid can't actually penetrate the hair fiber. What it does do is envelop each weakened strand with moisture to make hair feel healthier and plumper, whilst also helping protect against external aggressors.
Those with fine hair may balk at the claim that hair feels ten times more hydrated for 72 hours after using the mask. Sounds like it's a shortcut to lank-ville, right? You'll be pleased to hear this mask is actually incredibly lightweight with no weigh down. The consistency is very similar to your average conditioner—more silky than gunky—and it has a soft, clean, inoffensive aroma. Apply it after shampoo and it'll work its magic in just three minutes. Our hair felt softer and less crunchy from the first go and was much easier to style with less frizz. The scent didn't hang around for very long on the hair but the smooth, silky feeling did.
3. Kérastase Chroma Absolu Masque Chroma Filler
Best hair mask for colored hair
Specifications
RRP: $50/£37.60
Key ingredients: Amino Acid, Centella Asiatica
Designed to: Repair damaged color-treated hair
Reasons to buy
+
Perfume-like aroma
+
Color stays fresh for longer
+
Impressive shine
Reasons to avoid
-
May weigh heavily on fine hair
Whether you use at home hair dye or have salon balayage hair, color isn't always kind to hair. In order for color molecules to take hold, the chemicals in hair dye have to alter the structure of your strands by lifting the cuticles and then breaking down the natural pigment. Repeating this process will leave hair weak, brittle, and prone to damage. When hair reaches this stage, it means color will fade quicker, hair is more likely to break, and you will probably experience a halo of frizz.
Kérastase Chroma Absolu Masque can allay any fears you might have about dyeing your hair. Using a skincare-inspired approach, it supports the hair fiber from the inside out to fill porosity to preserve your color for longer. Kérastase has thought about everything with such meticulous detail, even down to the floral fragrance, which delivers a 72-hour aroma of neroli, freesia, and musk. It's designed for medium to thick hair so fine-haired girls may find it a little too weighty. Our hair looked noticeably shinier and was much softer to the touch.
4. Lee Stafford Hair Growth Activation Treatment
Best hair mask for hair that won't grow
Specifications
RRP: $11.50/£8.49
Key ingredients: Plant-Based Lupine Seed Protein, Vegetable Protein
Designed to: Encourage optimum hair growth
Reasons to buy
+
Amazing fragrance that lasts
+
Noticeably speeds up hair growth
+
Very good value
On average hair grows half an inch every month, but too much color and heat-styling can affect your growth cycle, along with poor diet and compromised scalp health. This mask acts like plant food for your follicles, delivering a nutritious blend of proteins, nutrient-rich fruit extracts, and a natural peptide to create the healthiest environment on the scalp to optimize growth.
I started using this out of desperation years ago when a scissor-happy stylist chopped off more than he ought to before my wedding. I used the mask diligently every week to claw back some length and it totally worked. It's also been a huge asset since experiencing postpartum hair loss. The tufts around my parting and hairline seemed to grow at an excruciatingly slow pace but soon started to accelerate when I re-introduced this treatment to my weekly regime. But besides the obvious longer-stronger hair perks, I would buy this treatment for the scent alone, which lingers on the hair for days after washing.
The tub recommends scooping out an egg-sized amount of conditioner at a time, which does mean you get through it fairly quickly. It's also worth noting that since this is a scalp treatment that's all about follicle health, you apply it directly to the roots, which could weigh a little heavily on very fine hair if not rinsed thoroughly.
5. Bleach London Reincarnation Mask
Best hair mask for bleached hair
Specifications
RRP: $9.49/£7
Key ingredients: Sunflower seed extract, micro wheat proteins
Designed to: Moisturise and repair bleached hair
Reasons to buy
+
Great value
+
Makes hair more manageable
+
Deeply nourishing
Reasons to avoid
-
Tube means there is some wastage
Bring dry, damaged, broken hair back from the brink with this elasticity-boosting mask. Bleaching agents will very quickly take a toll on your strands. As we've said, ammonia lifts the outer cuticle, which means the hair is more prone to moisture loss, has a higher level of porosity, and looks frazzled.
This mask, enriched with sunflower seed extract and micro wheat proteins, basically puts the spring and smoothness back into stressed-out strands. It's recommended you apply the mask to shampooed hair, comb through then wrap hair in a warm towel for up to 20 minutes. We found our hair was softer and more manageable from the get-go, especially on the ends, which looked smoother and less wild.
6. Moroccanoil Color Depositing Mask
Best hair mask for no-commitment colour
Specifications
RRP: $28/£28.85
Key ingredients: Amino acids, apricot kernel oil
Designed to: Colour and care for hair
Reasons to buy
+
7-strong shade selection
+
Less messy than boxed dye
+
Great in between salon visits
Reasons to avoid
-
Result wasn't as soft and silky as other masks
Bored of your hair color? You're only human. This mask is the perfect solution for color chameleons who want to change things up without the cost or long-term commitment of a permanent dye job. Think of it as a modern-day toner, with the added perk of conditioning hair as it deposits semi-permanent color. It comes in seven shades, from aquamarine to a rich ruby red. Our Beauty Director Sarah Cooper-White tried this and went from blonde to a beautifully-sophisticated shade of rose gold, which gradually faded over a few washes.
While it allows the fairer-haired among us to indulge color whims, it can also be used to add depth to brunette shades in need of a glossy touch-up or to neutralize blonde brassiness faster than even the best purple shampoo can. It didn't have the same silky-soft results as other treatments here but if a transformative veil of color is what you're after, this is a winner.
7. Olaplex No.3 Hair Perfector
Best hair mask for brittle hair
Specifications
RRP: $28/£26
Key ingredients: Bis-aminopropyl diglycol dimaleate
Designed to: Strengthen, repair and protect damaged locks
Reasons to buy
+
Immediate results
+
Mends hair from within
+
Full regimen available
Reasons to avoid
-
Pricey for a small bottle
For hair that's brittle, broken and in a bad way, Olaplex is definitely worth the splurge - and until the K18 vs Olaplex battle kicked off, was completely unrivalled on the haircare scene. This intensive treatment, a partner to the famous salon repair treatment, tends to the dry, straw-like texture of colored, permed, and over-processed hair. It works by mending the broken bonds within each strand, which occur when hair is colored and bleached.
Considering this is such a hard-working treatment, it doesn't sit heavily on the hair. We often leave it on overnight to help reinstate a soft, silky swish after a trip to the salon. Hair feels softer to the touch, has an added luster, and the ends of the hair seem much healthier even under the strain of styling.
8. John Frieda Miracle Drops Frizz Smoothing Hair Mask
Best hair mask for frizzy hair
Specifications
RRP: $3.37/£2.49
Key ingredients: Avocado oil
Designed to: Tame unruly hair and smooth frizz
Reasons to buy
+
Instant results
+
Reasonably-priced
+
Excellent smoothing
Reasons to avoid
-
One-use sachet feels wasteful
On a healthy length of hair, the cuticle scales lie flat and smooth. Damaged hair, however, has lifted cuticles so that moisture can seep in and cause frizz. Cue this little pocket of goodness. The sachet was a little fiddly to open when you're already in the shower, and if you're trying to be mindful of the environment (as most of us are these days) then the single-use aspect of this treatment might not sit well.
Results-wise, however, it's a winner. Hair comes out feeling soft, looking smooth, and smelling like a fancy salon. We noticed fewer flyaways and our hair was much easier to style, with a silky and glossy finish. For those who want to know how to get shiny hair in a cost-effective and convenient way, this could well be the best hair mask for you.
9. Philip Kingsley Elasticizer Deep-Conditioning Treatment
Best hair mask for fine hair
Specifications
RRP: $47/£35
Key ingredients: Castor seed oil, olive oil
Designed to: Put the spring back into damaged hair
Reasons to buy
+
Won't weigh fine hair down
+
Results get better every time
+
Smells delicious
Reasons to avoid
-
Must leave on for at least 20 minutes
This elasticity-boosting, gloss-giving, strengthening treatment transforms stressed neglected hair. Unlike your average hair mask, it's designed to be used before shampooing, which means even fine hair can lap up all of the nourishment without being weighed down by rich conditioners. It also means it takes a little more time than some others on this list, so reserve it for days you're planning a full pampering routine. It was originally created for Audrey Hepburn, whose hair had been damaged by relentless styling and coloring.
Delivering just what it says on the tub, the mask increases elasticity leaving hair bouncier, healthier, and less likely to snap at the sight of a straightener. Its pre-shampoo status means it's formulated with a higher concentration of active ingredients than your average hair mask used post-shampoo, which is evident in the results. This was one of the more impressive masks in terms of repairing dry, damaged hair. The fluffy cream is so light, even with the addition of nourishing oils, it didn't leave a hint of tackiness—only soft, smooth, tamed hair.
10. Coco & Eve Like a Virgin Super Nourishing Coconut & Fig Hair Masque
Best hair mask for natural hair
Specifications
RRP: $39.90/£29.75
Key ingredients: Coconut, Fig Extract, Shea Butter, Argan Oil
Designed to: Restore moisture and tame frizz
Reasons to buy
+
Smells gorgeous
+
Treats split ends
+
Deeply hydrating
This Insta-famous award-winning mask is a solid all-rounder. The ultra-nourishing coconut and shea butter combination makes this a great option for wavy, curly, and natural hairstyles, as natural oils can struggle to travel down these hair patterns. This beautifully scented buttery mask is ideal to absorb deep into the hair shaft to hydrate and soften coarser hair types.
Sit back for ten minutes and comb through—it gives the slip needed to detangle curls. When you rinse off, you'll be rewarded with smooth, defined, and far more manageable hair that is less prone to breakage. Plus, this brand is 100% vegan, so if you're already using the best vegan shampoo and conditioner for your hair type and wand to supercharge it with a mask, this would be a great choice.
---
Sign up to our free daily email for the latest royal and entertainment news, interesting opinion, expert advice on styling and beauty trends, and no-nonsense guides to the health and wellness questions you want answered.
Stephanie Maylor is a Beauty Editor working across five national magazine titles, with almost 15 years' experience in the industry. She has written for many brands, including woman&home, Grazia, Now, More!, Fabulous, NW, Woman, Woman's Own, Woman's Weekly, Essentials, Best, Chat, and OK! online.
In 2010 she launched her own beauty blog, which was shortlisted for Best Beauty Blog in the 2011 and 2012 Johnson & Johnson Beauty Journalism Awards. She has interviewed many high profile industry experts and celebrities including Alesha Dixon, Twiggy and Christina Hendricks.