The best dry shampoo for oily hair, as tested by us
Our tried and tested pick of the best dry shampoo for oily hair, with options to suit a range of budgets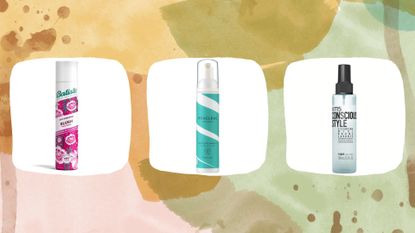 (Image credit: Batiste/Boucleme/KMS/Future)
Finding the best dry shampoo for oily hair is an important journey. Some people can lightly spritz any dry shampoo for a boost between wash days, but If your hair gets greasy easily, you'll need a product that's a little more powerful.
The best dry shampoos come in a huge range these days, from trusty Batiste to a hyped Olaplex option - with many designed for oily hair's specific needs. Tyler Moore, expert stylist at Live True London, explains that oily hair "is caused by a build-up of sebum along the hair follicle. How much oil you produce depends on your hair type and genetics, but can be made worse by other factors". This hair type generally warrants heavier and more frequent dry shampoo use, so the one you choose should combine gentle and hard-working ingredients.
"Dry shampoos that use rice starch are best for very natural results", says Tom Smith, brand ambassador at Olaplex. "I prefer to avoid talc which can make the hair look dull and grayish". With this in mind, we tested a variety of dry shampoos for clean, fresh-looking hair, spanning different budgets. Our picks could be used on a variety of hair types, but we kept the needs of oily, greasy hair front of mind when testing.
How we selected the best dry shampoo for oily hair
Why you can trust Woman & Home Our expert reviewers spend hours testing and comparing products and services so you can choose the best for you. Find out more about how we test.
I tested these dry shampoos out on my hair either one or two days post-wash, keeping an eye on how well they kept greasiness at bay over the course of the day. I like to think of my hair as 'combination' - with dry and frizzy hair at the ends and greasy roots, so there were still certain factors I looked out for, including:
Scent: Dry shampoo is designed to stick to your roots and keep your hair looking and feeling fresh all day, so the scent it transfers to your locks is important. Some dry shampoos can smell a little clinical or overly sweet, so I sought out fresh but still natural and subtle scents.
How well it settles: Traditionally, dry shampoos need to be brushed out through the roots, which can result in frizz for those with dry ends. Now, lots of dry shampoos can easily be brushed out with fingertips, making the dreaded white cast a thing of the past.
Ease of use: One of the bonuses of using dry shampoo is that you can simply spritz and go on days when you can't wash or style your hair. Any dry shampoo that made it too complicated to achieve great results was out.
Bottle design: From the perspective of aesthetics, it's always better to have a hair product in your bag or on your dresser that looks great - you'll be more likely to pick it up and use it that way.
The best dry shampoos for oily hair, tested by us
1. Olaplex No.4D Clean Volume Detox Dry Shampoo
Best overall dry shampoo for oily hair
Specifications
RRP: $30 / £28
Hair type: All, especially damaged
Finish: Invisible
Ingredients: Seed extract, citric acid, micro starch
Reasons to buy
+
Features Olaplex's bond-building technology for damaged hair
+
Genuinely invisible finish
+
Lightweight bottle
+
Subtle, fresh smell
It does pain me that my choice of the best dry shampoo for oily hair is $30/£30, considering you can get adequate bottles for as little as a few pounds (some are featured on this list) However, if you can afford it, I truly do think this is worth the money. After testing Olaplex's dry shampoo for several months, I can safely say that there's really nothing else like it. It boasts of an invisible finish and this is exactly what you get: no matter how much you spray onto your roots, the product that comes out is imperceptible, with absolutely no white cast transferring to your hair.
Not only is the product lightweight, but the bottle is too; despite the fact that it's a little thicker in shape than some other cans on this list, it still feels incredibly light. And after a few months' of regular use, it still feels like there's a lot left. Like the rest of Olaplex's range, it's completely vegan, as well as being free from sulfates, parabens, and phthalates. Wondering is sulfate bad for your hair? it's generally recommended to use sulfate-free products if you have a sensitive scalp or curly hair, which is more susceptible to breakage and dryness.
2. Batiste Blush Flirty Floral Dry Shampoo
Best budget dry shampoo for oily hair
Specifications
RRP: From $2.73 / £2.20
Hair type: All
Finish: Light, powdery
Ingredients: Rice starch, keratin, fragrance of peony, orange peel
Reasons to buy
+
Very affordable
+
Fresh, summery smell
+
Lightweight bottle
Reasons to avoid
-
Might be too sweet for some
-
White patches can form
If you've ever used a dry shampoo before, chances are it will have been Batiste. This brand has been around for years, and through plenty of upgrades and additions, the signature dry shampoo is still going strong. Yes, the smell can take a bit of getting used to, as it's definitely sweet, but this just adds to the freshness you feel on your roots after applying it. This budget option also adds a surprising amount of volume to roots, and while it probably won't keep your hair looking freshly washed the entire day, the distinctive bottle is easy enough to throw in your bag for a quick refresh.
Batiste has a few different options in its range now, including those with natural scents and those with a nearly-indiscernible mist. This Blush version is a little more heavyweight, which meant that it was easy to get quick results and extra volume on oily roots, though this did mean that white patches could form without holding the bottle at arm's length. All this being said, for such a low price, you can't go wrong with Batiste.
3. Bouclème Foaming Dry Shampoo
Best dry shampoo for curly, oily hair
Specifications
RRP: $22.40 / £18
Hair type: Curly and wavy hair
Finish: Invisible
Ingredients: Aloe vera, peppermint, tapioca and corn starch
Reasons to buy
+
Creates volume at the roots
+
Small bottle, easy to transport
+
Soothing ingredients, great for sensitive scalps
Reasons to avoid
-
Might not work as well on very fine hair
Dry shampoo is an antidote for greasy hair, so the idea of adding a wet product to my roots seemed completely counterintuitive. However, Bouclème's foaming dry shampoo does what it says on the tin, foaming satisfyingly in the palm of your hand before reducing down to a more manageable texture once it's massaged into the roots. While it's called 'foam to dry', this dry shampoo doesn't exactly convert into a powder, but the liquid aspect of it does evaporate and dry very quickly rather than sitting on top of the roots or adding any greasiness.
I loved that the pump only allows for a small amount of the product to be dispersed at a time, which is useful because a little really does go a long way. This isn't the sort of dry shampoo that creates a white layer or that really needs to be brushed out. I added a light layer to my roots, used my fingers to shake it out, and instantly saw a difference in my lank, oily hair on its second day without washing. As with the rest of the brand's bestselling products, this dry shampoo is formulated with curly and wavy hair in mind; so it's worth noting that if you have very flat or fine hair that doesn't have much of a curl pattern, the product might not sit as well on your roots, and could weigh them down.
4. Hairstory Powder Dry Shampoo
Best premium dry shampoo for oily hair
Specifications
RRP: $48.48 / £39
Hair type: All
Finish: Powdery
Ingredients: Corn starch, tapioca starch, lavender, nettle, sunflower
Reasons to buy
+
Very subtle scent
+
No need to reapply throughout the day
+
Small, easy-to-use bottle
Reasons to avoid
-
Might be too much for very fine hair
I was initially surprised by how expensive this option was, but on testing, I realized I genuinely hadn't used a dry shampoo that was anything like it. Firstly, the scent evades any of the sickly-sweetness you can often get with dry shampoos, instead smelling very natural and subtle. As someone who has used talcum powder as a cheaper alternative to dry shampoo (which is effective, but can make roots irrevocably white) this loose powder was a welcome high-end alternative.
What I liked about this powder is that, though it may not look like it's coming out thickly, it really settles on your hair. So much so, in fact, that it feels a little odd when you go to touch your roots throughout the day. This is actually a plus because, as we know, the worst thing to do when you have greasy hair is to keep touching it. I found myself less likely to touch my roots throughout the day, which in turn made the product last longer and do its job better. And while the powder didn't exactly add volume to my hair, it did stop it from going lank and oily again later on in the day.
5. Maria Nila Invisidry Shampoo
Best no-brush dry shampoo for oily hair
Specifications
RRP: From $16.17 / £13
Hair type: All
Finish: Light, mist-like
Ingredients: Rice starch, sunflower seed extract, seed oil
Reasons to buy
+
No need to brush the product through
+
Great for frizz-prone and/or curly hair
+
Vegan formula
+
Nice scent
Reasons to avoid
-
Other products add more volume
-
Might need to be reapplied
Even though this Maria Nila option is an aerosol spray, the product comes out like a mist, which adds initial moisture to the roots. This may seem counterintuitive, but I actually found that it instantly refreshed my greasy hair. Dry-brushing my hair in between wash days is not an option for me because of frizz, so I always fluff up and shake my roots after applying dry shampoo. Luckily, I found that brushing definitely wasn't necessary with this very fine - basically invisible - dry shampoo, even when I used a fair amount.
The scent is pleasingly subtle, though it is slightly reminiscent of hairspray. There is a ball-bearing in the bottle which causes quite a jarring sound when you shake it, but otherwise, the bottle is easy to hold, spray with, and transport around. And, while the bottle promises level one (out of five) hold, I found that spraying this liberally added a fair amount of volume to my greasy roots. The only downside to the Invisidry Shampoo is that it didn't really last the entire day, but it definitely held up for several hours. However, if I was going out again in the evening, I would probably add another spritz before leaving the house.
6. Colab Dry Shampoo+
Best vegan dry shampoo for oily hair
Specifications
RRP: $3.72 / £2.99
Hair type: Any
Finish: Light, powdery
Ingredients: Vitamin E, moringa seed extract, passionfruit extract
Reasons to buy
+
Smells lovely
+
Lightweight bottle
+
Protects against pollution and UV rays
+
Very cheap
Reasons to avoid
-
Sits on roots a little more than other options
Not only is Colab's Dry Shampoo one of the cheapest options on this list, but the sweet pink bottle also looks good and is lightweight, just like the formula inside. Boasting UV protection and protection from pollution, the six-in-one dry shampoo really does a bit of everything. The fruity scent wasn't too overpowering, and while I did find that it needed a little more brushing with my fingers than other options to properly disperse, it was still a very fine spray, which didn't leave my roots with any white residue.
There are options here that will last you longer, and possibly give a cleaner feel, but for such an impressive price – and of course, vegan ingredients – this was definitely a worthy addition to this list. Dry shampoos don't always feature natural ingredients, and if you're already using one of the best vegan shampoos and conditioners, you'll likely want to add a vegan dry shampoo to your routine in-between wash days. If that's the case, this Colab option comes highly recommended.
7. Amika Perk up Plus
Best dry shampoo for the gym
Specifications
RRP: From $16.17 / £13
Hair type: All
Finish: Light, powdery
Ingredients: Rice starch, sea buckthorn extract, citronellol
Reasons to buy
+
Bottle looks great and is lightweight
+
Refreshing scent
+
Doesn't need to be brushed out
Whether you've taken up strength training for women or you're following the 12-3-30 method, having a bottle of dry shampoo in your gym bag is always a good idea. I'm planning on keeping a bottle of this to hand when I've worked out. It's super lightweight, and easily transportable and the funky branding is another big plus. The scent is quite sweet, but not sickly, so you won't upset anyone by spraying this liberally in a changing room or bathroom. Plus, I found that I didn't need to brush the product out through my roots, using my fingers instead; though I made sure to follow the bottle's suggestion of waiting 30 seconds for it to settle.
Unlike a foaming dry shampoo or mist, this being an aerosol means it's easily used not just down the parting, but in several sections around your roots. I found this to be extra helpful when I had just finished a particularly sweaty workout, but I also tested this on a day when my hair was simply greasy from attrition and found that it did the job well on roots that had gone several days without a shampoo. What's more, I was really impressed with how long the result of this dry shampoo lasted, without the need to reapply throughout the day.
8. KMS Conscious Style Cleansing Mist
Best dry shampoo for sensitive scalps
Specifications
RRP: $22.94 / £18.45
Hair type: All
Finish: Invisible
Ingredients: Oat oil, moringa seed oil, water
Reasons to buy
+
Feels very cleansing
+
Nourishing, natural ingredients
+
Free from sulfates, silicones, and artificial colorants
Reasons to avoid
-
Fairly pricey
-
Might not suit those used to an aerosol dry shampoo
While my scalp isn't particularly flaky, I do find that washing it too often results in my roots feeling uncomfortable and itchy - less than ideal when you need to wash every few days, lest it becomes very greasy. With some aerosol dry shampoos, too much product comes out and sits on the scalp, so KMS Conscious Style Cleansing Mist is now one of my go-to's.
Being free from sulfates, silicones and artificial colorants, this natural dry shampoo is perfect for sensitive scalps. It also features oat oil and moringa seed oil, both nourishing ingredients that soothe your scalp while resulting in a nice, subtle smell. I was worried about spritzing a mist on my very greasy hair when I tested this, but I followed the instructions and shook the bottle very well, waiting 30 seconds before shaking it through my roots (though you could also brush) and I found that it immediately refreshed my oily hair. I was also happy with how long the results lasted, giving me a freshly-washed look for hours.
9. Klorane Dry Shampoo with Nettle
Best dry shampoo for dark oily hair
Specifications
RRP: $14.30 / £11.50
Hair type: All types of hair that is dark at the roots
Finish: Powdery
Ingredients: Nettle, rice starch
Reasons to buy
+
Good for sensitive scalps
+
Smells refreshing
+
Natural ingredients
Reasons to avoid
-
Only works on dark roots
-
You have to wait before brushing out
Dry shampoos often promise to relieve me of greasy roots but leave an unappealing thick white cast, which stands out even more against darker hair. Klorane's Nettle dry shampoo is made with dark, oily hair in mind, so instead of coming out white and powdery, the product settles to a light brown color on the scalp. Initially, this is a bit daunting, but I found that by fluffing up my roots using my fingers, the product dispersed and didn't leave any trace. However, I would say you need to use this dry shampoo sparingly; spray too much and it might be harder to tease it down through your roots and hair.
Klorane advises waiting for two minutes before brushing out the product. I did find that this was a little too long if I was in a rush to get out the door, but if you have a bit more time, this is a solid option for ensuring you won't be stuck with a white, powdery scalp. The nettle scent is pleasingly natural and not too strong, and it gave my hair a nice refresh when it was feeling a little lackluster. While I found that the effects of the dry shampoo didn't last quite as long as, say, the Bouclème foaming option, I would definitely feel confident spritzing this before a night out to achieve a fresh feel.
10. Arkive The Reset Dry Shampoo
Best fine dry shampoo for oily hair
Specifications
RRP: $9.95 / £8
Hair type: All
Finish: Light, almost invisible
Ingredients: Rice starch, seed oil
Reasons to buy
+
Very fine. doesn't need to be brushed out
+
Smells great
+
Adds volume
Using ingredients like rice starch, to absorb excess grease and refresh oily roots, and baobab oil to nourish sensitive scalps, this is a lovely-smelling and easy-to-use dry shampoo. Other dry shampoos I tested suggested a 30cm distance from the roots while spraying, but this bottle encouraged a 10cm distance, which seems very close. There's no need to worry, though, as this really is as fine as it says; I noticed no residue, white patches, or any evidence that the product had been there at all, other than the freshness it instantly gave my roots.
I found that there was no need to brush this product out, and instead, I used my fingers to fluff up my roots and achieve a freshly-washed look. With such nourishing ingredients, I didn't feel any itchiness or sensitivity on my scalp, even with the bottle held so close to my roots, and I also didn't need to reapply. A quick spritz was enough to achieve a voluminous hairstyle that you wouldn't guess needed a wash. As opposed to options such as Batiste or Bouclème, this bottle is a little heftier, but I didn't find this to be an issue, especially as I found no need to pop it in my bag for refreshes throughout the day.
Hannah is the UK Shopping Writer for woman&home. As a shopping writer, Hannah has written on everything from period pants to wine subscriptions, and is especially interested in sustainable alternatives to well-known products, as well as books and homeware accessories.
Before she joined the team at woman&home Hannah headed up the social media accounts for Wonderland in 2019, where she was also a Contributing Editor for the magazine's sister titles. During the COVID-19 pandemic, Hannah also explored evolving shopping trends at New York Magazine's The Strategist UK, researching everything from face masks to status candles and even pens.