21 hairstyles for fine hair: volumize and enhance with these inspiring looks
We curate the best hairstyles for fine hair to make your locks feel full and swishy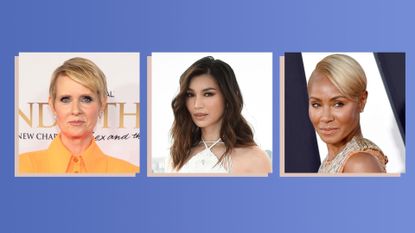 (Image credit: Future/Getty images)
woman&home newsletter
Sign up to our free daily email for the latest royal and entertainment news, interesting opinion, expert advice on styling and beauty trends, and no-nonsense guides to the health and wellness questions you want answered.
Thank you for signing up to . You will receive a verification email shortly.
There was a problem. Please refresh the page and try again.
If you're not blessed with voluminous hair, finding hairstyles for fine hair that create the illusion of it looking thicker is key. What is also essential is realizing that you and your fine hair are not alone. We promise that most of the celebrities that you think have thick, full hair have in fact got a head that's been supplemented with pieces and extensions.
Luckily there are lots of ways of adding serious volume to your hair without having to book in for expensive and high-maintenance extensions. Length, parting placement, and styling tricks can all contribute to creating a winning look that appears healthy, bouncy, and swishy.
And what's more, the best hairstyles for fine hair are always easy hairstyles. Your 'do should work with your hair not against it, it should be straightforward to achieve and simple to maintain. Sound good? Read on to discover the best fine hairstyles for every hair length and texture.
How to choose the best hairstyles for fine hair
Fine hair comes in many forms, as do hairstyles for fine hair. But no matter if you are looking for short hairstyles, medium hairstyles or long hairstyles, some general rules apply. These are celebrity hairstylist Lewis Pallett's top tips:
Avoid layers: "By keeping hair one length it will make hair look and feel thicker. Layers only make thin hair look even finer. Choppy cuts will also make hair look thinner whereas blunt edges make hair seem thicker and fuller."
Go shorter: "Longer hair can look wispy, not what fine hair needs. Short, blunt styles like bob hairstyles or a lob (a longer bob) will add volume."
For curls: "Fine hair that's curly works best in a shorter blunt style like a bob with bangs as well. It will also help create more curl definition and bounce."
Fake it: Clip-in extensions are a great option for fine hair. "If you aren't sure which extensions are best, Pallett recommends milk + blush (opens in new tab), "for a cheaper, more affordable option. Take them to your hairstylist and have them cut in to match your style. Your stylist will be able to shape and make the extensions look more natural and show you how to use them."
Hairstyles for fine hair: 21 looks we love
Short hairstyles for fine hair
There's no doubt that short haircuts, from a bob to a crop, make excellent hairstyles for fine hair, and are particularly flattering short hairstyles for women over 50, when hair thinning can be an issue. The trick to keep things interesting is being playful with texture, partings and hair accessories.
1. The textured side sweep
So simple yet so impactful. Part your hair on the side when wet, rough dry it to create as much texture and root lift as possible. And then you can always blast with a texturizing spray for even more volume.
2. The flicked out bob
By creating a bouncy blow dry with a slight flick at the ends—you can either use a round barrelled brush when blow-drying or straighteners—it creates the illusion that your hair is that bit wider than if it was poker straight.
3.The razzle dazzle 'do
Who cares how fine your hair is when it's dressed up in glitter? This party hairstyle only works on slicked, frizz-free hair and if anything, it's much easier to achieve on fine hair than thick. So it's an absolute winner!
4. The tousled crop
A short style is a great way to encourage volume in fine and super straight hair. Apply a volumizing mousse to damp hair then dry upside down for a bouncy blow dry. Flip your hair back over and finish drying the hair with your natural parting.
5. The slick and side
Keep things simple by creating a deep side part and then blow-drying your hair smooth. Wondering how to get shiny hair like Jada's? Add a few drops of shine serum or glossing spray to give your hair a mirror-like finish.
6. The mussed-up pixie
Prep hair with volume-boosting mousse and blast dry in different directions to achieve a full and mussed-up look on a pixie haircut. Apply a matte pomade to your fingers and pull and tease the lengths to add texture on top.
7. The textured bob
Adding loose beach hair waves into a fine, blunt-cut bob is an excellent way to add guts and bulk to your hairstyle. If your hair is naturally straight, use a fat-barrelled waving wand and wrap large sections of the hair in opposite directions to create natural-looking waves.
Medium hairstyles for fine hair
Medium-length hairstyles for fine hair offer a happy medium—midi hair is short enough to look healthy and appear thicker yet long enough to pop into updos or curl for extra texture. No wonder Davina McCall and Sandra Oh are fans.
8. The snatched top knot
Medium-length hair offers enough length to be able to tie it up but not too much that then makes your top knot look scrawny. Pull your hair up into a high tight ponytail hairstyle and give it a gentle backcomb to make it as full as possible. As you secure, stop yourself from pulling the loose hair out all the way on that last loop to create a cute knot.
9. The thickening quiff
By creating volume at the top of your head, even the finest hair will look thicker and like there's more of it. Create a section of hair at the crown and keep that separate whilst you either tie the rest in a ponytail or a messy bun. And then, taking the section, lightly backcomb it and twist and turn it to create the perfect quiff. Secure in place with some grips and spray.
10. The face framing fringe
Whilst a full-on bangs hairsyle might be too much upkeep, a softer fringe that parts in the centre of your face again creates the illusion that you have more hair around your face. Have the fringe land just above your cheekbones and it's super flattering for your face.
11. The bulking hair bend
Is this not the most dreamy hair ever? What makes it so perfect is it's not a curl, but also not a wavy hairstyle. It is just a slight bend in the hair, which makes it look wider and fuller. And the good news is, it's really easy to do. Simply take a section of hair and a little way down the length create a loop and then clamp a straightener on top. This will create the perfect kink. Medium-length hair should be able to get two or three down one section of hair.
12. Sleek and simple
Sometimes the most simple hairstyles are the best and by keeping your hair straight, especially if you've followed Lewis' advice above and got a one-length, block haircut, your hair will look healthy, shiny and there won't be a straggly end in sight.
13. The tousled top knot
If the idea of a slicked top knot gives you a headache (because it may give you a literal one) then soften things up by keeping the look loose and textured. Plus the more curl and movement in the hair, the more your fine hair will look full.
14. Half up half down
By creating a half-up half-down hairstyle you not only add more bulk to the top half of your hair but also down the back of your hair too. And of course, it couldn't be simpler; take a parting that from each temple and secure at the back. Tease the hair up slightly so it's not too polished and to give some extra height.
Long hairstyles for fine hair
Ok, we know we said long might not be the best choice of hairstyle for fine hair, but do you know what else we say? Be yourself and don't be a slave to beauty rules! The trick with making lengths work is creating movement and texture as well as clever updos that don't require handfuls of swishy hair.
14. The sleek and chic chignon
No time to wash your hair? No worries. This slick bun works best on second or even third-day hair. Rub some pomade into your palms then smooth over the front section of hair. Use a brush to gather all your hair together, flattening out any lumps and bumps until you have a sleek finish. Secure tightly in a ponytail then twist the loose hair around the band and pin neatly with kirby grips.
15. The over-sized accessory
It may sound obvious, but by adding anything oversized, that's where the attention and your eye goes to. So if you ever want to detract from the fact your hair hasn't been washed or cut in a while, pop in an amazing accessory and let that be the show-stopper.
16. The relaxed ponytail
This laissez-faire style can be banged out super speedily, and you don't need to have professional skills to master it. Sweep hair back and secure in a loose ponytail, pulling the band down a couple of inches until it sits at the base of the neck. Tousle out front sections and, if you have one, a fringe will give the style more of a fashion-forward direction.
17. The sleek finish
By keeping things simple, straight, and shiny your hair will look so healthy that nobody will notice if it's thick or thin (not that anyone does anyway). Achieve it by taking your time with a home blow dry process using a round brush to create a little volume at the roots. And if your hair is prone to frizz simply run your best hair straighteners over the mid-lengths and ends to keep everything sleek.
18. The fishtail plait
A great way to create the illusion of some extra bulk to your hair is a plait and a fishtail plait, even though it may look complicated, is one of the easiest hair up styles to do on your own hair. Sweep your hair round to the side, like Blake Lively, and once you've braided the length, gently pull each section to make them look fuller.
19. The side wave
By creating movement and width to fine hair, it will appear thicker and fuller. After blow-drying, take medium sections and use your best curling irons from the mid-lengths to the ends to create large waves. Whilst the hair is still warm from the tongs, gently pull the hair to make sure the waves are loose like Vogue's.
20. Subtle side parting
Moving your parting just slightly to the side lifts the hair at the roots creating some extra height and volume to the top. To get your parting as precise as possible use a pintail comb to create the perfect line.
21. Pile it high up do
If in doubt, back-brush your hair from the roots and pile it up on top of your head. The great thing about this look is the less you think about it and the more random it is, the better. Plus, adding a hair accessory such as a clip or bow will make it look bigger, better and even more glam.
---
How to look after hairstyles for fine hair
Keep it clean
"Thinner and finer hair tends to get greasier quicker so regular washing with the best shampoo and conditioner will keep it looking fuller. Swap your regular conditioner for a gel. They're lighter and won't weigh the hair down," says Pallett.
Our beauty editor recommends...
---
Dose up on dry shampoo
"The best dry shampoo is an amazing invention. You don't have to wash your hair as frequently and it's great for adding body on freshly washed hair," Pallett advises.
Our beauty editor recommends...
---
Give it a zhush
"Backcombing is a great way of adding extra volume into fine, flat hair," explains Pallett. "Take a small section, spray the root with hairspray, put a fine-tooth comb into the hair, and push towards the root to create a small section of backcombing. Repeat this all over and then use a soft brush over the top to smooth it out without losing any of the volume."
Our beauty editor recommends...
---
woman&home thanks Lewis Pallett for his time and expertise
Freelance Beauty Director
Sarah-Jane Corfield-Smith has worked in the beauty industry for more than 15 years and, as well as woman&home, has contributed to titles such as Stylist, The Daily Mail and The Times.

As a mum of two little girls she has limited time to spend on herself, so if you're looking for hard-working multi-tasking products, she's the one in the know.

Her top three products she has on her at all times are a glow-giving tinted moisturiser, brow pencil and a tinted lip balm. Oh, and she's never far away from a hydrating face mist.