Which hair extensions are best? Tapes, clip-ins and bond extensions explained
Wondering which hair extensions are best for you? We break down the benefits, costs, and how to care for every type of extension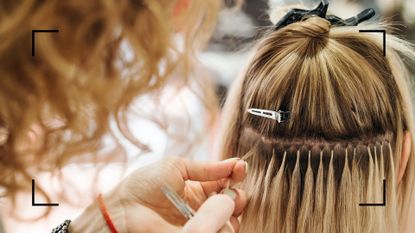 (Image credit: Future/Getty Images)
woman&home newsletter
Sign up to our free daily email for the latest royal and entertainment news, interesting opinion, expert advice on styling and beauty trends, and no-nonsense guides to the health and wellness questions you want answered.
Thank you for signing up to . You will receive a verification email shortly.
There was a problem. Please refresh the page and try again.
There are many different types of hair extensions so it can be hard to know which are best. From fun clip-in pieces to luxury bonded extensions or low-commitment tapes, each version has its own benefits and drawbacks. The hair extension that's best for you will depend on your hair type, budget and, most crucially of all, how much maintenance you are willing to undertake in the quest for luscious locks.
Traditionally, hair extensions had a bit of a rep. Their association with flammable waist-length manes on early 00's celebrities did them no favors but a lot has changed. "The hair extensions industry has grown exponentially and that can only have happened if hair extensions have been embraced by all types of women—from younger students right through to middle aged women and beyond," says Sarah McKenna, founder of A-List extension hotspot Vixen & Blush. As well as adding length, extensions can offer a discreet volume boost that no amount of blow drying with the best hair dryer could ever achieve. "I have seen our client base embrace hair extensions as an enhancement of their own hair, a subtle and often secret boost," agrees Sarah.
"Extensions are great for adding thickness around the sides if clients hair start to experience hair thinning," says Lauren Marr, extensions specialist at Gielly Green. "They are also good for adding that little extra length and creating the fullest looking hair. I use them to add color to a lot of clients hair, too. A few lighter ones can really enhance their hair and create movement and texture without any bleaching damage."
The good news is there is an extension out there to suit everyone and every styling need. Whether you already have a long hairstyle and fancy a quick thickness boost, want to add long-term length to your box braids or have a bob hairstyle but fancy some swishing-past-the-shoulder action for one night only. Find out which hair extensions are best for you and just like any good 'work' they'll be both flattering and undetectable.
Which hair extensions are best? A complete guide
Working out which hair extensions are best for you begins with understanding the types of extension on the market. Broadly speaking, they fall into three categories:
Clip-in extensions
Just as they sound, these are pieces of synthetic or human hair that are simply clipped into the hair at home, usually in a matter of minutes, and are removed just as easily before bed. They come in just about every length, colour, texture and style imaginable including ponytails and fringes.

Tape-in extensions
Generally considered a more low-maintenance salon option, these wide, flat sections of human hair are applied via an adhesive strip, last for about 6-8 weeks and have speedier application and removal than bonded extensions.

Bonded or micro ring extensions
These work by fixing tiny sections of human hair to your own, either with a keratin bond or tiny metal rings. They are considered the most permanent method of hair extension and the pieces can be reused, although they will still need refitted every few months.
Each type of extension has it's pros and cons. Do your research with our in-depth guide to find which hair extensions are best for your needs.
(opens in new tab)
Clip-in hair extensions
Specifications
Cost: From $21/£15
Application time: Five to ten minutes
Maintenance: Very low
Need replacing: Never
Reasons to buy
+
Easy to use
+
Good for experimenting
+
Simple to maintain
+
Long lasting
Reasons to avoid
-
Home color-matching and application
-
Heavy
The benefits of clip in extensions are clear from the name—as the pieces simply clip into your hair you can pop them in easily when you fancy, and take them out again when you are done. This makes them a great choice for anyone who wants fuller or longer hair occasionally, rather than every day, or who wants to experiment with extensions before taking the plunge with a salon-applied set.
Clip-ins can be very affordable or run into the hundreds depending on the quality of hair used. As with any hair extension you do get what pay for, so pieces that cost $100+ will generally be made with natural-looking human hair and come in multi-tonal shades more likely to match your own. However, if you want a fun swishy ponytail as a one-off for a party, a $30 synthetic piece will do just fine.
The DIY nature of clip-ins does also have some drawbacks. Firstly you'll probably be selecting and fitting them yourself, so unless you're a trained hairdresser you'll have to work at color-matching and application. They can also feel heavy, which in turn can tug at your natural hair. This isn't an issue if you wear them every now and then, but if you want fuller hair every day it would be much healthier to go down the professional route.
Maintenance is pleasingly simple, as they aren't attached to your scalp your natural oils won't travel into the pieces so they don't need constant washing. Synthetic pieces won't need washed, just brushed and stored carefully so they don't tangle. With human clip-ins the general rule is one wash for every 30-40 wears, using the best shampoo and conditioner to moisturize the hair (again, due to lack of natural oils). You can also give clip-ins a good, firm brushing when you aren't wearing them, without worrying about tugging or pulling them out as with bonds or tapes.
The best thing about clip-ins is almost infinite lasting power. Store and care for them properly, and your clip-in extensions will become a fun accessory for life.

Beauty editor's product picks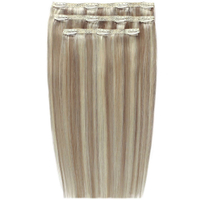 (opens in new tab)
Beauty Works Deluxe Clip-In Hair Extensions 18 Inch
This brand makes high-quality extensions with 100% remy hair (remy is painstakingly gathered with every cuticle facing in the same direction for a natural look). There are limitless styles, but this would make a great starter piece to add length and volume.
---
---
(opens in new tab)
Tape-in hair extensions
Specifications
Cost: Approx. $208/£150+
Application time: 45 minutes to two hours
Maintenance: Medium
Need replacing: Every six to eight weeks; the original tapes can be reused three times
Reasons to buy
+
Comfortable
+
Good for fine/thin hair
+
Cheaper
Reasons to avoid
-
High maintenance
-
Don't last as long
To the untrained ear, taped-in extensions might sound a bit awkward (not to mention obvious-looking). But when fitted well and treated with care these can be the most easygoing hair extensions of all.
Taped extensions are ultra fine wefts of human hair, attached at the top via medical-grade tape, which lies flat against the head. This makes tapes a great choice for fine or thinning hair, as they won't stick out between gaps in the natural hair. You can have between 12-50 pieces added and the individual pieces are light with their weight spread evenly along a larger section. This keeps tension to a minimum, which makes tapes generally more comfortable than clip-ins or bonds.
Tape hair extensions cost less than keratin bonds or micro rings, and have the benefit of speedy application and removal—by hair extensions standard anyway. They can be color-matched and cut to blend in the hair, and if you only have a few pieces fitted you can be in and out within the hour. Removal simply involves dissolving the adhesive with oil and can be done in as little as 15 minutes. "Tape extensions are quicker to apply and often used when clients want extensions for a special occasion such as a wedding or party. Although I do have a lot of clients who have these all the time as well," explains Lauren Marr.
A word on price
With any hair extensions you get what you pay for. Seek out salons with in-house specialists who work with reputable brands like Racoon and Great Lengths. Good extensions will never be cheap—you are paying for expertise and considerable labour time as well as the quality of the hair itself.
Tapes do require careful maintenance, which, if you've never had anything but your own hair on top, will take a bit of getting used to. You won't be able to wash your hair for the first 48 hours after application, and after that very gentle washing with oil and sulfate-free shampoo is a must. The oil bit is particularly crucial—you'll need to stay away from all oil-based haircare as it'll dissolve the adhesive and your pricy tape might slide off into your hand. You can dye your extensions if you like (as long as the colorant isn't oil-based) brushing should be regular but ultra-slow and gentle.
Depending on how well you care for them and how quickly your hair grows, the tapes will need refitted every six to eight weeks. After four weeks you may well see the top of the tapes begin to move away from your roots. Then it's your choice whether to have them removed, or re-applied for another six weeks.
Beauty editor's product picks
---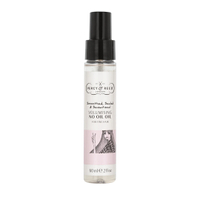 (opens in new tab)
Percy & Reed Smoothed, Sealed & Sensational Volumising No Oil Oil
This silky serum smooths and gives a lovely hit of 'slip' to extensions and natural hair that's feeling a little dry or frazzled. As the name suggests the ingredients list is entirely oil-free, so you won't accidentally dissolve the join between your hair and the tape.
---
(opens in new tab)
Bonded and micro-ring hair extensions
Specifications
Cost: Approx. $415-$1380+/£300-£1000+
Application time: Two to four hours
Maintenance: Medium to high
Need replacing: Every four to five months; the original hair can be reused for several years.
Reasons to buy
+
Blends into hair
+
Long lasting
Reasons to avoid
-
High maintenance
-
Time consuming
Although they are fitted differently, these methods all work on the same principle. Small bunches of human hair, usually between 20-40 strands, are attached to similarly sized sections of your own hair at the root. They can be sealed on with a warm keratin-based adhesive or tiny metal rings. Many salons now also offer cold fusion, where keratin bonds are sealed on using ultrasound vibrations. "Cold fusion is kinder and, when used by a skilled technician, won't damage the natural hair," says Extension Professional founder Louise Bailey, who has worked her cold fusion magic on Yasmin Le Bon, amongst others.
A whole head can involve applying over 100 pieces, so this is a time-consuming treatment with many clients spending three or more hours in the chair as they are fitted. The benefit is that each piece is so small it blends effortlessly with your natural hair. "They can be cut super small so are the most discreet and natural hair extensions," says Lauren. "They are great for adding length and thickness. I often use these as a filler on hair that's thinning around the sides or on the ends without it looking anything like extensions."
While ring or bonded extensions' longevity is a draw, that does mean committing yourself to at least five months of relatively high maintenance hairstyling. Gentle washing with sulfate-free shampoo is a must. If you're the sort of person who likes to get in there with your fingernails when you shampoo, you might find softly-softly washing a bit frustrating. Using a detangling brush morning and night is also crucial, as all those tiny pieces of hair can get matted without regular care. Styling-wise, you can treat these extensions as your own hair, as long as you are using the best hair straightener or best curling iron for keeping hair healthy.
After four or five months your natural hair growth will move the extensions down your strands, so you'll need to go back to the salon for removal or refitting. The good news is, quality well cared-for bonded extensions can be re-used again and again, so their value improves the better you maintain them.
Beauty editor's product picks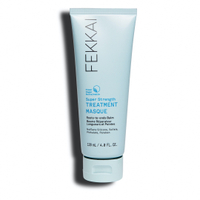 (opens in new tab)
FEKKAI Super Strength Treatment Mask

As they aren't growing from your scalp your extensions can't benefit from your natural oils. Instead, keep the mid-lengths and ends soft with this sulphate- and silicone-free mask containing rice protein, vegan keratin, and protective Pro Vitamin B5.
---
---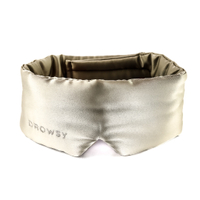 (opens in new tab)
Drowsy Silk Sleep Mask
Sleeping masks can be a surprising enemy of hair extensions, as the tight elastic tugs at bonds overnight causing slipping and affecting longevity. This cushion-like mask is a total gamechanger, as the padded high quality silk slips over hair with zero pulling and it prevents bonds getting roughed up against your pillow. Dreamy!
Hair extensions aftercare
Once you've decided which hair extensions are best for you, and made the leap to purchase or book into a salon, your final consideration should be maintenance. All human hair extensions are an investment, so the last thing you want to do is treat them poorly and shorten their lifespan.
Here, celebrity stylist and extensionist for SALON64, Stevie Holland, shares her top tips:
In the shower
"Be gentle when shampooing, try to scrub the scalp rather than the hair itself. Let the conditioner sit and soak into the mid-lengths to ends of your hair extensions. Thoroughly rinse out all products, paying particular attention to the roots, use a wide-tooth comb to comb out any tangles remembering to avoid the bonds."
Brushing
"Metal brushes conduct heat when adding the hair dryer which is damaging to the hair and are a very harsh way to brush your extensions. This often results in the extensions having a shorter life span or even worse being ripped and pulled out of the head. Always use a soft natural bristle brush starting from the ends, mid-lengths and then lastly the root area gently."
Heat styling
"Try not to use heated tools such as hair dryers, straighteners, and curling tongs on a regular basis and certainly not daily. When using this equipment, remember to always avoid the bonds, tapes or any other joining mechanism of the extension as this is the most fragile and important area. This holds the extension in place."
Styling Products
"Avoid using products that contain wax, oil, silicone, and excessive alcohol around the bonds as these products weaken the extensions and encourage them to slip out the hair. Use a treatment once a month to keep hair extensions soft and shiny."
Overnight care
"To avoid matting, if you can, plait your hair into two braids before bed to prevent tangling and matting at the root area."
woman&home thanks Sarah McKenna of Vixen & Blush (opens in new tab), Lauren Marr (opens in new tab) of Gielly Green (opens in new tab), and Stevie Holland (opens in new tab) of SALON64 for their time and expertise.
Beauty Editor, womanandhome.com
As woman&home's Beauty Channel Editor, Fiona Mckim has tried more products than she's had hot dinners and nothing makes her happier than raving about brilliant finds on womanandhome.com or her instagram grid (@fionamckim if you like hair experiments and cute shih-tzus). Fiona joined woman&home as Assistant Beauty Editor in 2013 under industry legend Jo GB, who taught her everything she needed to know (learn about ingredients and employ extreme cynicism). She has since covered every corner of the industry, from interviewing dermatologists and celebrities to reporting backstage at Fashion Week and judging the w&h Beauty Awards.