Box braids—the expert guide plus 15 styles to inspire you
Everything you need to know about hairstyles with box braids, plus inspiration pics aplenty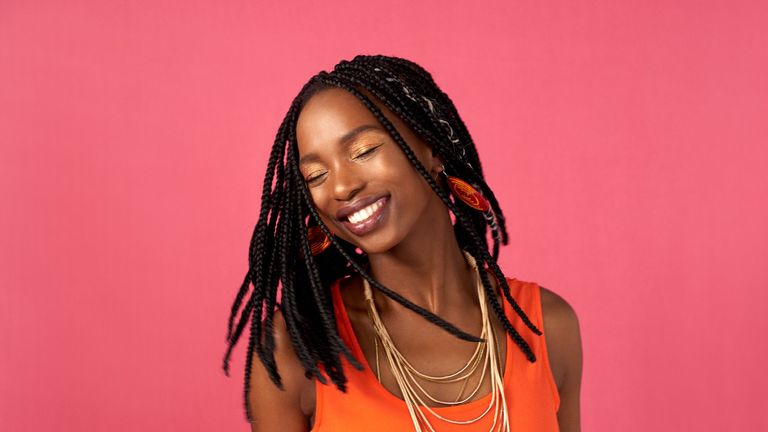 (Image credit: Getty images)
If you've ever considered box braids, but have never taken the plunge, that consideration probably came alongside several questions. Yes, this is a classic style, one you'll have seen countless times everywhere from the red carpet to the streets of your hometown. But if you are not not sure how box braids are created, how to care for them or how long they last, don't worry, we've got you.
When I say "we," I mean award-winning hairstylist, braiding guru, and author of the bestselling Good Hair; The Essential Guide to Afro, Textured and Curly Hair, Charlotte Mensah. Then, a smidgeon of visual inspiration from me, rounding up a selection of the most beautiful hairstyles with box braids from social media.
With anything hair-related—whether that's picking the best hair dryer or finding the right braided hairstyles for you—it's a good idea to submit to the superior knowledge of hair experts. And hairstylists don't come more expert than Charlotte, a member of the British Hairdressing Awards Hall of Fame whose clientele includes Eve, Erykah Badu, Janelle Monáe and Zadie Smith, to name but a few.
"Braids have always been popular with women with Type 4c hair because they afford a certain level of freedom," she explains. "Women can work out, sweat, or even swim without worrying about the repercussions of shrinkage and maintenance. Braids come in all shapes and sizes, and there are many styles and techniques to employ, such as Senegalese twists (double-strand twists), micro-braids (very small single braids) and cornrows (braids attached to the scalp)."
How long do box braids last?
One of the biggest draws of box braids is that they're relatively low maintenance and last for weeks. "Braids can be refreshed every four weeks, especially at the front, and then re-braided to protect the hairline," Charlotte explains. "Braids can be worn anywhere between six and eight weeks, depending on your needs, but should be restyled to incorporate new growth and to prevent your natural hair from tangling into the extensions.
"Hair that's fine and straight may loosen faster than curlier, kinkier textures. Wearing braids for long periods of time can cause hair loss and damage, so it's advisable to wear your hair naturally, if you can, from time to time."
Do box braids damage hair?
Braids do come with a risk of traction alopecia, or hair loss that's caused by lots of tension on the hair. "Braids should never be painful when being applied, and hair should never be tugged or pulled tightly," Charlotte stresses. "If you ever notice bumps or small white pimples on the scalp or experience itchiness, redness or soreness, and a generally very tender scalp, braids should be removed immediately as these are all symptoms of traction alopecia."
The best hairstyles with box braids
Looking to give this classic style a go? Social media is full of box braid ideas to inspire you for just about every hair length and style. From knotless box braids to jumbo box braids, this is just a selection of the looks we love to inspire your next 'do, whether you opt for colored extensions, beads, or knotless box braids.
---
The Extra Long Knotless Box Braids
---
The Jumbo Box Braids
---
The Small Box Braids
---
The Extra Long Box Braids
---
The Short Box Braids
---
The Box Braids With Beads
---
The Box Braids With Curly Ends
---
The Red Box Braids With Curls
---
The Ombre Box Braids
---
The Box Braids In A Bun
---
The Box Braid Cornrows
---
The Box Braids Ponytail
---
The Long Box Braids
---
The Half Up Half Down Box Braids
---
The Braided Top Knot
---
How to do box braids at home
Many women choose to have their hair professionally braided in a salon, but if you've got the skills, it's possible to create box braids at home, too. "Although it is possible to do box braids on your own, most women prefer having them done by an expert braider for ease and efficiency," explains Charlotte. Here is her step-by-step guide.
You will need:
Tail comb
Human hair or synthetic hair
Pomade for edges
Jug of hot water
Method:
Part a small square section of hair.
Take a similar section of hair from the pack of extensions.
Fold your extensions in half and place the center of the extension in between the section of the hair.
Begin braiding all three strands until the natural hair disappears.
Gather a bit of hair from the two other strands to create a third strand.
Braid until the end.
Dip hair into hot water (be careful) to melt the extensions and seal the braids.
How to care for box braids
"Braids can be achieved with human or synthetic hair, although the former is the most desirable as it tends to look more natural and is gentler on the scalp. Braids should be washed weekly as dirt, and product build-up accumulates quickly in the hair. The hair at the scalp should also be washed and involves lightly massaging the scalp with a moisturizing shampoo. It's best to use gentle movements to avoid friction and frizziness at the roots."
"Always remember that when you're wearing braids (or locs or any other protective hairstyle), it's important to massage the scalp with a light oil. A good massage with the fingers in a circular motion increases blood circulation and stimulates the natural flow of oil from your scalp to the rest of your hair."
There you have it: all of the inspiration you need for hairstyles with box braids. Now all you need is to master the art of box braiding at home, or to give your local salon a call...
As woman&home's Senior Beauty Editor, Fiona Mckim has tried more products than she's had hot dinners and nothing makes her happier than raving about a brilliant beauty find on womanandhome.com or her instagram grid (@fionamckim if you like hair dye experiments and cute shih-tzus)

Fiona joined woman&home as Assistant Beauty Editor in 2013, working under legend Jo GB, who taught her everything she needed to know about the industry (clue: learn about ingredients and employ extreme cynicism).
In a previous life, Fiona studied journalism back home in bonnie Scotland and honed her skills as a magazine features writer, with a brief and terrifying stint on the showbiz gossip pages of a tabloid newspaper in between. She's a skincare fanatic who can't resist adding an extra step to her routine if it's all the rage in Japan, loves fragrance, has fun with makeup and never turns down the chance to test a new hair tool. Basically, she loves it all.

When not slathering herself in self tan or squinting at a tiny ingredients list on a moisturiser, you'll probably find Fiona enjoying something to do with food - cooking it, eating it, cajoling her friends into trekking across London to try a hyped pop-up in a dirty car park.