Best braided hairstyles for women—39+ ideas from box braids to French plaits
Looking for braided hairstyles inspiration? Browse our edit with styles for every hair type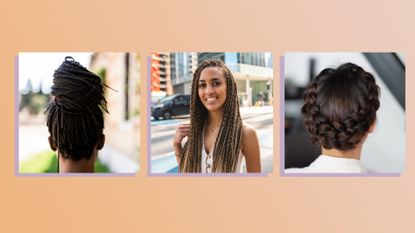 (Image credit: Getty Images)
There are so many braided hairstyles out there that the possibilities are pretty much endless. Whether you're in search of protective hairstyles, wedding hair ideas, or simply want to try something new, there's a braided option for you.
A braided hairstyle is the epitome of chic and works on almost any length; long hairstyles, bob hairstyles, and even short hairstyles can be worked into an intricate style. With hundreds of different braid variations out there, the level of expertise required to pull them off varies. The sky (and perhaps your braiding ability) is the limit—so we won't blame you for taking this cheat sheet to the salon rather than opting for a DIY job.
Braided hairstyles are incredibly versatile for all hair lengths and types. We've separated our edit of braided looks into braided hairstyles for long hair, short hair, half-up hair, and updos, with options for special occasions and every day.
The best braided hairstyles for women
Braided hairstyles are incredibly versatile—for all hair lengths and types. We've separated our edit into braided hairstyles for long hair, short hair, half-up hair, and updos, with options for special occasions and the everyday.
Braided Hairstyles for Long Hair
If you have longer hair, then the braiding world is your oyster. Due to their weaved patterns, braids tend to shorten the look of the hair and shorter styles can run out of hair to play with. The more length you have, the more scope there is for you (or your braider) to create intricate patterns.
Hair that's several inches long can also incorporate extensions in for extra length, volume, or an alternative color, without an obvious distinction between the extensions and your natural hair.
---
1. Box Braids
There are many ways of styling box braids. Add in extra length with extensions, play with colored pieces or try different sizes and widths of the braid to create a style that suits you.
---
2. The Classic Cornrows or Canerows
A traditional style of braiding that's kept close to the scalp, cornrows can be braided in straight lines or weaved around the scalp to create more detailed designs. If you're braiding your own corn or cane rows, a spare pair of hands will come in useful if you struggle to keep them neat!
---
3. French Braids
A classic three-strand plait that starts from the crown, the French braid is a timeless and popular hairstyle, albeit a little tricky to get the hang of. If you run out of patience to master it yourself, you may need to enlist the help of a second pair of hands.
---
4. Dutch Braid
This classic style is very similar to the French braid but instead of folding strands over the center, cross them underneath. This makes a cool mother of the bride hairstyle if you have enough length, try doing double braids if your hair is too short.
---
5. Crochet Braids
Crochet braids are a fantastic way to add length, regardless of whether you have naturally short or long hair. It is held together by a base of cornrow braids, with extensions attached on top and is a beautiful protective method.
---
6. Knotless Box Braids
To create knotless box braids, a different feed-in method is used compared to standard box braids. Knotless braids start with the braiding of your natural hair, with the synthetic hair being gradually added down the length of your hair.
---
7. The Fishtail Braid
An impressive braid to master, the fishtail braid is actually reasonably easy to do (with a little patience). Split the hair into two sections and take tiny strands from each across the front to join the opposite side. It's a little time-consuming on longer hair, but well worth it for that result.
---
8. Goddess Box Braids
Goddess braids really live up to their name. They give a stunning style, generally consisting of box braids with curly tendrils at the bottom of the hair and are often braided close to the scalp.
---
9. Scarf Braid
Spice up your french braid by plaiting your hair over a pretty scarf to add some character and color to your hairstyle. This works best on straight hair.
---
10. Braided Ponytail
Tie long hair up off in the most stylish way with this braided ponytail. Braid your whole head in a box braid and then use a hair tie one of your braids to tie it back, either at the top or base of your crown.
---
11. Headband Braid
If you're wanting to try something simple and impactful then this headband braid is perfect. It's a singular plait, which you can make as thin or as thick as you like, braid on one side of your head and then bring the end over to the opposite side, securing with a hair grip.
---
Braided Hairstyles for Short Hair
The beauty of short braided hairstyles is that they're far quicker to turn around. Less hair = less time in the chair. "Any style that is based on the top of the head is better for short hair as it'll hold better. The hair being a similar length on top of the head will ensure a stronger hold overall," explains Marlee Brunel, the manager of The Braid Bar (opens in new tab).
Braided styles aren't just for younger generations; plaits and twists also look fabulous on silver and gray hair. Just remember to use hair grips a similar color to your own hair if you choose to DIY, so that they blend in well.
---
12. The Braided Bob
Braids look fabulous on just about any length of hair, from short bobs to waist-grazing styles, but there's something about a braided bob that looks sharp and chic.
---
13. The Partial French Braid
You'd be forgiven for thinking that French or Dutch braids only work on super long hair or with extensions. But partial French braids can look seriously chic on a bob, a lob, or mid-length hair, too—you'll just need a smaller hair tie to secure your braid in place.
---
14. Loose-End Braided Bob
Leave the ends of your braid loose so they create a stunning look and add some dimension and volume to your hairstyle.
---
15. Crochet Braided Bob
The great thing about crochet braids is that they can be done on any hair length. You can choose how much hair is added and how long you want your bob to be.
---
16. The Braided Crown
Not only do partially or fully braided crowns look seriously chic and work for just about any occasion, but they also have the added benefit of disguising slightly oily roots (for less-special events). There's something ethereal about this elegant hairstyle, making it perfect for romantic occasions.
---
17. Pigtail Braids with Rings
Plait two simple French braids close to the scalp along the back of your head, but instead of continuing once you reach the base of your head, simply tie the braid off so you have two fluffy pigtails. Hair rings make a fun addition to this braided hairstyle.
---
18. Knotless Braided Bob
Knotless braids are ideal for people with short hair as you can choose how much synthetic hair is added. A great way to add dimension is to keep some parts of your hair un-plaited so your natural hair will shine through.
---
19. Double Braid at the Front
Keep your hair in its natural form except for four braids at the front. Two should be like little pigtail braids which feed into the rest of your hair, and the other two can frame your face.
---
20. Twist Braids
Twist braids are a great way to add an elegant style to short hair. Closely braided rows help open up the face at the upmost part of your hair, blending into thicker braids that contain braiding hair for a dimensional look.
---
21. Butterfly Box Braid
Butterfly locs bring an ultra-feminine look to the traditional loc. To achieve this trendy look, wavy hair is crocheted through braids and then wrapped around. They add a lot of texture to your hair and are a great protective style.
---
Half-up, half-down braided hairstyles
Half-up hairstyles are seriously easy to pull off and, even better, they also work with every face shape. They can be worn for just about any occasion, but are chic enough that they look as though you've made a big effort for special occasions or outings. Whether you go for a classic half-bun with braids or a partial French plait, there's a half-up half-down braided hairstyle to suit just about every hair type.
---
22. The half-up box braids
Long box braids can be wound into various updos, including half-up styles like this half-bun. This particular look is finished with beautifully styled edges for an elegant touch.
---
23. The half-up twisted braid
If your hair is long enough, take a few twists to the back of your head and secure everything with a grip or hair tie. This is such an elegant style and is fairly easily done by yourself.
---
24.The snake braid
If you can master a French plait, then you can easily perfect a snake braid. It looks tricky, but the secret is to do a regular plait, keep hold of the third strand, and pull the other two towards the root. The plait will snake around and is easily secured with a hair tie.
---
25. The Waterfall Braid
A simple but beautiful style that's great for mid-length to long hair, the waterfall braid leaves one side of the plait loose to cascade down like, you guessed it, a waterfall. It looks gorgeous with loose waves or curls.
---
26. Curls and braids
Like a combination of Fulani braids and natural coils, this is one of the best long braided hairstyles we've seen to combine a range of techniques. Definitely one for the professionals.
---
27. Front Looped Braid
Braid your hair in whatever style you fancy; box braids, knotless braids or locs. Then, take some strands from the front and loop them around to the back of your head, loosely tying them with a hair tie. It's an effortlessly stylish half-up look.
28. Dutch braid with space buns
Dutch braid the top part of your hair and instead of tying them off and leaving it at that, take an extra chunk of hair and create two cute space buns that can sit nicely at the top of your head. This is an eye-catching style so prepare to be asked how you achieved it.
---
Updo Braided Hairstyles
Braided updos work beautifully for long hair; wind box braids into a bun, keep things simple and flowy with a waterfall braid, or take inspiration from the Game of Thrones Dragon Queen, Daenerys Targaryen, and layer twists and plaits for a more elaborate look.
---
29. The braided updo
This style could not be a more timeless or classic bridal look and is one that many wedding guests opt for on the big day. It's perfect for keeping long hair away from the shoulders and elongates the neck beautifully. You can even incorporate flowers, textured twists, plaits, and curls—with plenty of hair grips and hairspray to keep it in place.
---
30. The braided topknot
One benefit of braided hairstyles on long hair is that they can easily be swept into chic updos, like a topknot or bun. This particular style is embellished with gold hair cuffs for an extra twist.
---
31. The halo braid
The halo braid, sometimes also called the crown braid because of how it sits on the head, is great for keeping hair away from the face. It may be a little tricky to do yourself without dexterous fingers, but hey, practice makes perfect.
---
32. The knot braid
A braid that looks incredibly difficult but is in fact surprisingly easy. Simply tie sections of hair and work your way down the length of your hair. Add in some flower clips or jewels for something really special.
---
33. The pipe braid
Ah, pipe braids—the edgier version of French braids. Try throwing in added texture to the ponytail and back-combing the crown for volume. These are perfect for longer hair, but you will need someone to help you as the knotting action can be a bit tricky.
---
34. Braided at the Back Ponytail
Spice up your normal ponytail by doing a simple braid at the base of your head. The easiest way to do this is to flip your hair over your head and plait downwards. Then, when you gather all your hair into a ponytail, the braid will be on proud display.
---
35. Braided Bantu Knot
This is a stunning braided hairstyle that can last for up to a week. You can choose how many Bantu knots you want, which may be dependent on the length and thickness of your hair. A nice idea is to add some hair jewelry to the buns.
---
36. Dropped Braided Bun
Braid your hair using whatever style braid you desire, and then tie the ends into a bun at the base of your head. This gives a gorgeous, sophisticated look and is great if you want an updo that won't be too tight and harsh against your head.
---
37. Box Braided Ponytail with Framing Braids
Box braid your hair and then tie it into a stunning high ponytail. You can use either a hair tie or some of your own hair to wrap around and secure it. Take two strands of the braid, one from either side of your center parting, and leave them hanging loose so they will frame to your face.
---
38. Double Dropped Bun
An intricate combination of braids and rows combine into double buns for a beautifully detailed braided hairstyle This is a great hairstyle if you have longer, thicker hair, but if not braiding hair and extensions can help create a fuller look.
---
39. Braided Space Buns
Apply your best dry shampoo for texture, flip your hair over your head, and braid your hair from the base upwards into a French braid. When you get 3/4 of the way up, create two space buns that can sit perkily at the top of your head. This works best on thicker hair.
40. The milkmaid braid
The milkmaid braid is a simple yet stunning style that looks so effortlessly chic. It suits all hair types and is easy to do from home. Simply center part the hair, plait each side tightly, wrap around the top of the head and pin with hidden grips.
---
woman&home thanks Marlee Brunel of The Braid Bar (opens in new tab) for her time and expertise.
Emma North is a Beauty Writer who works for digital titles including woman&home, Woman, Woman's Weekly, Woman's Own, Chat and GoodtoKnow. Emma's career in beauty journalism began with internships at publications including Vogue, Elle, The Telegraph and Glamour. She was then taken under the wing of Funmi Fetto, Contributing Beauty Editor at Vogue where Emma assisted with Funmi's debut beauty book, Palette.