These versatile braided hairstyles are perfect for any occasion (and always keep you looking chic)
Get inspired by these beautiful braided hairstyles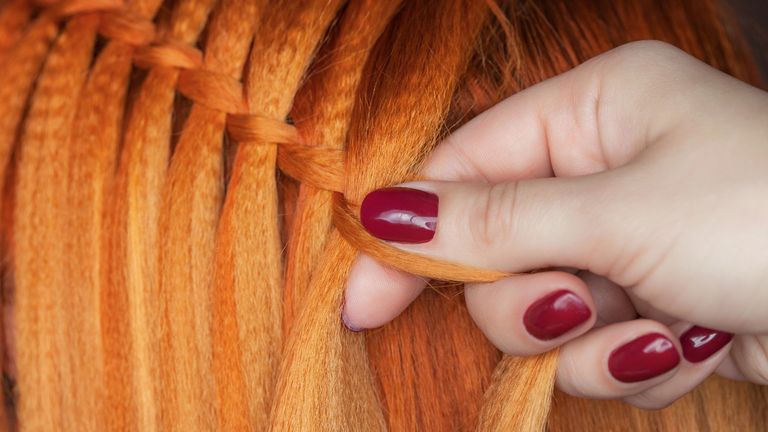 (Image credit: Getty images)
By Emma North
Braided hairstyles are a versatile look that suits pretty much any occasion. Whether you're a bride-to-be, have a birthday brunch to attend, or are simply heading out to the park with a friend, braided styles ooze glamour without the need to heat style your hair.  
A braided hairstyle is the epitome of boho chic and works on almost any length - long hairstyles, bob hairstyles or even worked into an updo like a messy bun. 
But with hundreds of different braided hairstyles comes a broad range of expertise required to pull them off. Indeed the sky (and perhaps your braiding ability) is the limit.
If you're a braided hairstyle novice and can't tell the difference between a fishtail or a Dutch plait, fear not. We've enlisted the help of Marlee Brunel, the manager of The Braid Bar, to divulge her best tips for creating these inspired looks. 
Best braids for long hair 
If you have a long hairstyle, the braiding world is your oyster. Due to their weaved patterns braids tend to shorten the look of the hair and shorter styles can run out of hair to play with.  The more length you have, the more opportunity to create intricate patterns, if your skills allow. 
Hair that's longer than jaw length also helps you incorporate extensions into your braid for extra length, volume or fun colour without an obvious distinction between the extension and your real hair. 
Braided up-dos work beautifully for long hair, keep things simple and flowy with a waterfall braid or take inspiration from the Game of Thrones Dragon Queen, Daenerys Targaryen, and layer some twists and plaits for a more elaborate look.  
Best braids for short hair
"Any style that is based on the top of the head is better for short hair as it'll hold better. The hair being a similar length on top of the head will ensure a stronger hold overall," explains Marlee. 
Braided styles aren't just for younger generations, plaits and twists look fabulous on silver hair. Just remember to use hair grips a similar color to your locks, so they blend in well. 
Is 'second day hair' best for braiding?
According to Marlee, freshly washed hair is best, "Having freshly cleaned hair is better and more ideal as we use products to ensure the style gets the best hold for longer." 
After washing and drying with the best hair dryer, if you feel like your hair is too slippery, apply a texturizing spray like Percy and Reed Beyond The Beach Texture Spray. Similarly, dry shampoo or hairspray at the roots will also give it some holding power. 
How to secure braided hairstyles 
The texture of your hair is critical when keeping a braided style in place. Silky, slippy hair won't hold, so the more texture, the better. "Hairspray is always a winner when maintaining any style," says Marlee. 
If you're after a reliable hairspray, we love L'Oreal Paris Elnett. You'll get a fantastic hold and a brilliant shine. 
She also suggests working with damp hair to avoid irritation, "We always recommend spraying the area with water before adding any extra products as it'll break up the products we apply, reducing itchiness and flaking of products."
You may want to have a good supply of hair grips nearby too. It's easy to become frustrated with loose strands and want to start again, but a hair grip can quickly sort out little issues. 
Braid inspiration
The half-up, twisted braid
If your hair is long enough, take a few twists to the back of your head and secure it with a grip or hair tie. It's such an elegant style that's easily done by yourself.
The box braids
There are many ways of styling box braids. Add in extra length with extensions, play with colored pieces or try different sizes and widths of the braid to create a style that suits you. 
The waterfall braid
A simple but beautiful style that's great for mid-length to long hair, the waterfall braid leaves one side of the plait loose to cascade down like, you guessed it, a waterfall. It looks gorgeous with loose waves or curls. 
The Senegalese twists
This incredibly beautiful style is best suited for afro hair. These twists are perfect for protecting the hair while it grows, as they can last between 8-14 weeks. Just remember to keep your hair wrapped in a bonnet at night to protect them. 
The halo braid
Angelic and heavenly! The halo, sometimes called the crown braid, is great for keeping fringes out of faces. It may be a little tricky to do yourself without dexterous fingers, but practice makes perfect. 
The braided updo
A classic bridal look that many opt for on their wedding day. It's perfect for keeping hair off the shoulders and elongates the neck beautifully. Incorporate flowers, textured twists, plaits, and curls with a lot of hair grips and hairspray to keep it in place.  
The Dutch braid
This classic style is very similar to the French braid but instead of folding strands over the center, cross them underneath. It works brilliantly on all lengths of hair but try doing double braids if your hair feels too short. 
The fishtail braid
An impressive braid to master, the fishtail braid is actually easy to do. Split the hair into two sections and take tiny strands from each across the front to join the opposite side. It's a little time-consuming on longer styles but well worth it.
The classic cornrows/canerows
The traditional style of braiding where plaits are kept close to the scalp, cornrows can be done in straight lines or weaved around the scalp to create more detailed designs. A spare pair of hands will come in useful if you struggle to keep them neat!
The snake braid
If you can master a french plait, you can easily perfect a snake braid. It looks tricky, but the secret is to do a regular plait, keep hold of the third strand, and pull the other two towards the root. The plait will snake around and is easily secured with a hair tie. 
The knot braid
A braid that looks incredibly difficult that is surprisingly easy. Simply tie sections of hair and work your way down the length of your hair. Add in some flower clips or jewels for something really special. 
The pipe braid
Pipe braids, the edgier version of French braids. Try throwing in added texture to the ponytail and back-combing the crown for volume. They are perfect for long hair, but you will need someone to help you as the knotting action can be tricky. 
The passion twists
A similar style to Senegalese twists, passion twists are two sections wrapped around each other but with the ends left curly. This style can be left in the hair for up to 8 weeks, but you may need a few touch-ups if the twists become unraveled.