Long braided hairstyles—18 protective styles to inspire your new look
These are the best long braided hairstyles to bookmark for your next braiding session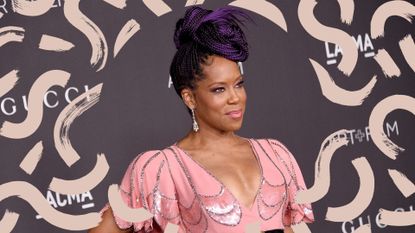 (Image credit: Getty Images)
Long braided hairstyles are a classic protective look. Of all the options that allow you to tuck your hair away for a bit, long braids are the style that suits any face shape and all types of textured hair. Whether you have curls, kinks or or coils, long braided hairstyles are a great way to manage your locks and give them a break from constant styling.
Given how great long braided styles look, no one can blame you for wanting to keep these types of easy hairstyles in for as long as possible. They make your morning and evening routines easier, as you don't have to worry about prepping your hair for bed or early morning styling before a 9am meeting. Braided hairstyles also come in many forms, from box braids to micro braids and cornrows, meaning everyone with curly hairstyles and natural hairstyles should be able to find long braided hairstyles that they love.
Long braided hairstyles—18 looks we love
Once you've decided long braided hairstyles might be right for you, next comes the fun bit! Get inspired by our pick of the best, most flattering looks to take to your next braid appointment, then learn how to care for long braided hairstyles with our expert tips and tricks.
1. Bohemian box braids
Face shape: any, particularly oval
Add a curl to the lengths of your long braids with a roller set or perm rod and hot water. Remember that hot tools are a no-no—even the best curling iron will melt synthetic braiding hair.
---
2. Blonde micro braids
Face shape: any
Work with your skin's undertone when picking a blonde hue, and think carefully when choosing between highlights vs balayage, depending on the look you want. Think about toning for blonde hair, too—Eva Marcille's warm tone suits her skin's undertones perfectly.
---
3. Braids and cornrow combo
Face shape: round or oval
Intricate cornrows add a point of difference to any long micro braids style. This technique gives the look a half up half down hairstyles effect, which helps show off your eyes and cheekbones.
---
4. High pony long braided hairstyle
Face shape: oval or heart
Simple yet effective, this high ponytail shows off the versatility of long braided hairstyles like box braids. Wrap a braid around the ponytail to hide the join and pin in place to replicate Solange's look.
---
5. Braided bun
Face shape: any, particularly round
The longer the braids, the heavier they tend to be. Wrapping up into a bun is chic and balances the weight too, helping this protective style take care of your hairline.
---
6. Side braids
Face shape: oval or square
These tight cornrows make for one of the most impactful long braided hairstyles, as they give the effect of a deep side part and draw attention to your bone structure.
---
7. Intricate braided plait
Face shape: any, particularly round
Play around with your braid sizes like Lupita for her red carpet look. This mixture of box braids and one larger central braid, with subtle accessories pinned in, is modern and ultra-cool.
---
8. Tree braids
Face shape: oval, square or round
Tree braids consist of braids that have the ends unbraided for a boho look. Use one of the best hair masks for natural hair on the ends to keep them in great condition.
---
9. Green braids
Face shape: any
Experiment with color in your long braids to add interest to this sophisticated style. This deep, lush green is surprisingly wearable, and perfect for the cooler months.
---
10. Jumbo braids with threading
Face shape: round, oval or heart
Embellish your long braided hairstyles with threads and hair cuffs—this makes a great finishing touch on thickly-woven box braids and would make for one of the most fabulous party hairstyles.
---
11. Pink braids
Face shape: any
Fun and statement-making, there'll be no missing you with pink braiding hair woven into your natural hair. This would be one of the best long braided hairstyles if you want to try a bold color without having to dye your hair permanently.
---
12. Long Fulani braids
Face shape: any, particularly oval or square
Fulani braids are one of the classic long braided hairstyles and originated in West Africa. This beautiful intricate style usually incorporates some cornrows around the front, and looser box braids at the back, often with beads and accessories through the lengths.
---
13. Chunky box braids
Face shape: round or oval
These chunky braids are one of the easiest long braided hairstyles to do at home, especially if you use the hairband technique. One to try if you can't get an appointment with your stylist.
---
14. Jumbo braids
Face shape: any
Want long braids but are strapped for time? As well as looking beautiful, these jumbo braids are the quickest of the long braided hairstyles to finish and make a real statement.
---
15. Ombre long braids
Face shape: any, particularly oval
Ombré hair is easy when styling braids—simply opt to have ombre braiding hair woven into your style. Ombre dye products are available at most beauty stores too, although at-home hair dye is a far trickier route to go down for graduated color.
---
16. Low braided pigtails
Face shape: any, particularly round
These low braided pigtails with cornrows through the front are a chic way to keep hair pulled back and out of the face. Use a styling cream or pomade to smooth down keep baby hairs in check.
---
17. Micro braids
Face shape: any
The smallest of long braided styles, and one of the prettiest too. If you don't have the patience to sit and have these installed (which will take a number of hours) there are realistic wig options to choose from online.
---
18. Triangle braids
Face shape: oval or square
A fresh way to update the box braid is to change the shape of the sections from a square to a triangle. This long braided hairstyle gives you more versatility when styling around the hairline.
---
How long should you wear braided hairstyles for?
As great as long braided hairstyles are, and as fabulous as they look, there's a limit to the duration you should have them in for before you cause damage to your hair. Celebrity hairstylist and co-owner of My Hair Bar Salon, Lorraine Dublin suggests keeping braids in for no longer than eight weeks, and then breaking for a month or two before installing them again.
This will give your scalp a chance to rest from all that extra weight and avoid the risk of tension alopecia, baldness, or hair thinning at the scalp. It's also wise to adopt a scalp care regimen when you have protective styles like braids or twists to prevent dryness, itchiness, or flaking.
How to clean long braided hairstyles
Because your hair is braided so tightly, washing your hair when it's in this style requires a different approach to a normal wash day, especially if you usually follow the curly girl method. The focus on a braided wash-day is mainly the scalp rather than the hair.
"You're running your hair under the shower," says Lorraine. "And then mainly concentrate on cleaning the scalp using a scalp rinse or a low-foam shampoo free of any sodium lauryl sulfates. Make sure you rinse your scalp and hair gently but thoroughly to get out any cleanser residue that could dry out your hair."
When you're done, delicately squeeze out any excess water, making sure to not rough up the braid as this will shorten the lifespan of your style. To finish, Lorraine suggests a spritz of leave-in conditioner to rehydrate your hair and complement the effects of the best shampoo and conditioner used on your braids.
How to protect your hairline when wearing braids
Every time you wear any braided or twisted style, you're giving your hair and scalp a break from combing, brushing and heat styling. Even the best hair dryer can cause potential damage—so your hair is likely to recover and grow more healthily during this time.
However, a caveat is that the longer the braids, the heavier they will be, and more likely they will get caught and tangled in things. To stop the weight of the braids affecting your hair and especially your hairline, keep your hair piled up at night and wrap your hairline with the best silk hair wrap or headscarf you have on hand.
---
woman&home thanks Lorraine Dublin of My Hair Bar Salon (opens in new tab) for her time and expertise.
Keeks is a London-based beauty writer and content creator. She has worked with titles including Cosmopolitan, VOGUE, Refinery29, Red, Elle, OK! and woman&home. While she has a well-rounded beauty obsession, her specialism is all things hair.
When she's not testing the latest hair tool on camera or waxing lyrical about styling tips, you'll find her re-watching old episodes of Real Housewives of Beverly Hills (or New York or Atlanta). She loves a social scroll as well as a romantic book, but nothing beats Sunday afternoon lunches with her friends and family. You can catch Keeks on all social platforms @keeksreid.