Toning for blonde hair: Pro tips to achieve the fresh, clean blonde of your dreams
The experts reveal their toning for blonde hair tricks and the best toning treatments, so you can take salon expertise home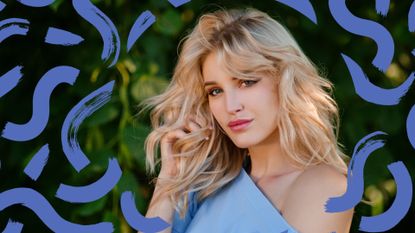 (Image credit: Getty Images)
Toning for blonde hair is just as much an art as it is a science—and it's one that salon professionals have perfected. But how do we take that salon-fresh look and recreate it at home to maintain a clean blonde color, free of brassiness and unwanted warm tones?
Far from an easy hairstyle, anyone who isn't naturally blonde will know that achieving and maintaining this hair color is no simple feat. Unless you've been blessed with blonde hair since birth, most of us have achieved our blonde locks as a result of many hours of painstaking graft—be that professionally administered via highlighted hair or balayage, a DIY job with at-home hair dye or— trickiest of all— a home highlighting kit.
And the work doesn't stop there. Once you've achieved your desired hue it is wont to change without notice. Natural warm pigment can creep through your carefully-created creamy blonde, or factors like pollution, mineral deposits, and the sun can dull and deaden glossy golden tones. If you've ever panicked over how to get chlorine out of hair then I'm sure you can relate.
Here's how to get toning for blonde hair right to help you stretch out those lengthy and pricy colorist visits...
Toning for blonde hair: Your complete guide
The top toning for blonde hair tips and tricks are so much more than just buying the best purple shampoo.
There's a whole hair toner industry out there to help keep your shade right where you want it, but the experts also share what you should (and shouldn't) do at home to keep your hue in check and hair healthy.
Toning brassy hair—tips for a cool, creamy tone
The majority of discourse around toning for blonde hair is around this particular element of it—getting rid of brassiness, aka yellow or warm tones and creating a cooler shade, be it icy white or a rich mushroom blonde.
Why does hair go brassy?
If your blonde had developed an unwanted tinge, there are a few probable reasons why. The darker your hair is naturally, the more likely it is to take on a yellow or orange hue when bleached. This is because the dominant warm pigment in hair is the trickiest to break down and requires intense bleaching to lift, hence why those going from very dark to very light hair are generally recommended to do it in stages to protect their condition. Environmental factors like the sun, smoke and pollution can also cause color to fade and allow warm pigment to re-emerge, while any sort of damage or dryness also makes it trickier for your hair to retain your chosen tone.
Toning down brassiness in the salon
As with anything hair color related, the gold standard of hair toning is performed in a salon by a professional. "We offer toning treatments for clients that have been in the sun and their color has lifted, or if they are not ready for their full color appointment," explains Louisa Moore, Senior Colourist at Jo Hansford Salon. "Toners last approximately two to three weeks depending on other elements. We also offer toners for fashion colors as they fade quickly, so clients can come in between appointments to have the color refreshed." The cost varies from salon to salon, but expect to pay from $35/£25 up to around $70/£50 for this treatment.
Toning down brassiness at home
When we think of toning for blonde hair at home, purple shampoo usually comes to mind. But how often should you use purple shampoo? "Refrain from the overuse of purple shampoo," advises Gareth Williams, Consumer Colourist at SALON64. "The pigments can build up and cause the hair to look dull, lack shine, and create an uneven canvas for your next appointment. This could end up causing a more expensive salon visit." With any product that contains purple pigment, stick to using it once a week at most, the same goes for brunettes using blue shampoo for brown hair, less is more unless you are aiming for blue gray hair. On other days use clarifying, shine-enhancing hair care to keep your creamy blonde super fresh.
Toning treatments for blonde hair recommended by our Beauty Editor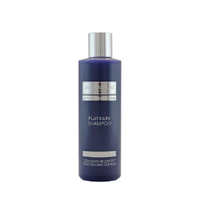 Jo Hansford Platinum Shampoo | RRP: £17
A luxurious spin on the purple shampoo genre, with a subtle violet pigment to avoid dulling or over-toning the hair. Use it twice a week for a creamy blonde tone, interspersed with the best shampoo and conditioner for softness and shine.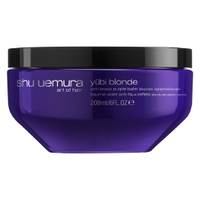 Shu Uemura Art of Hair Yubi Blonde Anti-Brass Purple Balm | RRP: $69/£49
This conditioning and toning treatment is packed with purple pigment, so makes an instant impact on the tone of yellowing hair. Best of all, the thick balm-like texture doesn't splatter all over your bathroom tiles like every other purple shampoo does.
Toning blonde hair darker—tips for deep golden tones
Though the majority of toning for blonde hair products are designed with coolness in mind, warm tones aren't all bad news. A beautiful toffee or honey blonde is supremely flattering on olive or dark skin tones and, if you're looking for a color that suits you, this shade is more low maintenance than cooler tones too.
Why go for a deeper blonde?
"Finally we are seeing stunning glossy iridescent golden hues and I am living for it," says Vicki Hoskin, Redken Advocate and owner of The Grove Hair Studio. "Embracing warmer tones rather than fighting against hair's natural warmth means you can step back from the weekly blue shampoos for a more low maintenance blonde. Warmer golden hues lift sallow complexions and give a gorgeous healthy youthful glow to the skin."
Toning darker blonde hair in the salon
Deeper blonde is less likely to need re-toning between appointments, so focus on achieving a glossy gold rather than flat yellow finish. "I've seen a massive shift in clients preferring richer blond. These tones are made up of a combination of warm and cool pigments, meaning they are able to reflect shine," explains Gareth. "We offer glossing system using an acid technology bringing the PH of your hair back to its optimum level. It's perfect after having bleach through the hair, making your hair stronger and enabling you to go slightly longer in between blonding services." Salon gloss and bonding treatments tend to cost around $70/£50, and take half an hour.
Toning darker blonde hair at home
One of the best things about being a blonde is how easy it is to shift your tone at home. That doesn't mean reaching for the dye. Shade-enhancing haircare will add richness without affecting the colour itself. "Super glossy hair works really well for honey blondes," says celebrity stylist and Pro:Voke ambassador Lisa Laudat. "If it has a tendency to feel dull, I'd recommend for warmer blondes to try a colour depositing shampoo and conditioner to prevent your colour from becoming flat."
Best toning products for warmer blondes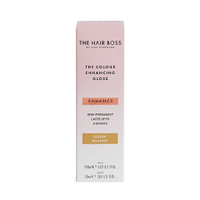 The Hair Boss Colour Enhancing Gloss Golden Balayage | RRP: £14.99
Shine, sparkling golden tones and more shine is the aim of the game with this two-step system. It combines a 20 minute colour-boosting gloss treatment and deep conditioning milk for a warmer, sunnier, glossier blonde that lasts for weeks.
Toning blonde hair silver—tips for an icy blonde tone
What is silver-blonde?
An icy silver tone is about as statement as blonde hair gets. As bleached-out as platinum but with cooler, blue-based undertones, this tone is brilliantly striking but make no mistake, it's high maintenance. Firstly your hair has to be pre-lightened as far as it'll go (very dark hair may reach the orange or frazzled and falling out stage before hitting platinum). Then it needs to be carefully toned and deeply-conditioned for a glossy silver hue, otherwise it will end up being a more gray hair color."It's all about silver tones and icy balayage," agrees Lisa. "But it's important to make sure colour stays bright and healthy–not dull and flat."
Toning blonde hair silver in the salon
Redken Shades EQ is a 20-minute salon toning service, which can be layered on top of permanent colour or on it's own for a temporary glaze. It comes in various silver tones and the latest iteration, Shades EQ Bonder Inside, is perfect for ultra-light hair. "The new Shades EQ Bonder Inside is an professional acidic demi-permanent colour with built in bonder for clients who are looking to go blonde and stay strong. With citric acid & taurine to help protect the strength of sensitized hair and help reduce alkalinity after a lightening service."
Toning blonde hair silver at home
You can afford to be a little bit more gung-ho with violet pigment for a blue-toned icy blonde, but purple shampoos can still be drying and dulling if used daily. "The most common mistake is people using too-strong purple shampoo and leaving it in for a long period of time thinking that this will make their hair ashier, when in fact it makes your hair purple!" says Louisa." Instead use a clarifying treatment to remove product and pollution build-up and maintain a clean tone then a demi-permanent silver gloss or hair mask with conditioning ingredients. Pick ones that are gentle, temporary and can be interspersed with daily softening hair care. Condition is king.
Best blonde toning products for silver hair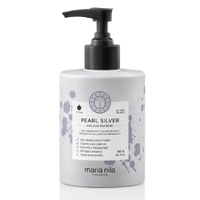 Maria Nila Colour Refresh Pearl Silver | RRP: $28.95/£24.90
A light violet, rather than intensely blue or purple pigment, makes this a great choice for enhancing and maintaining an icy silver-blonde tone. Leave it in for five to ten minutes depending on the depth of toning you want, and you'll get a nice shine boost into the bargain.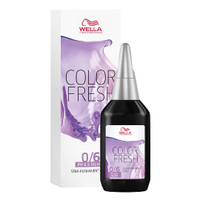 Wella Colour Fresh 0/6 Silver | RRP: $21.95/£11.30
w&h Beauty Director Sarah Cooper-White swears by this semi-permanent treatment to give her blonde balayage an icy, silvery tone between appointments. It's a bit of a process, so keep an evening free, but the results will last weeks if you're careful.
What tone of blonde suits me?
Wondering what tone you should be aiming for in the first place? Follow these simple steps provided by Jason Collier, Brand Educator at specialist blonding brand Jerome Russell:
"Finding out whether your skin is warm or cool toned will decide which blonde hue works best. There are many tests you can do to find your skin tone," explains Jason.
Look at your veins - "Using natural light, look at the veins on your wrist; if they're mostly blue and purple you have a cool undertone, if they are mostly green you have a warm undertone, and if they are a mix of both, you have a neutral undertone and therefore more choice."
What's your jewellery style? "Notice that you sway more towards one type of jewellery colour? Silver jewellery often looks better against cool undertones, while gold favours warm undertones. Neutral undertones get the best of both worlds and can pull off gold and silver equally well."
Check using the sun - "Another way of determining your skin tone is by noting how your skin reacts to the sun. If you tan easily and very rarely burn, you likely have a warm or neutral skin tone. If your skin burns and doesn't tan, you likely have a cooler skin tone."
Look at your natural colour - "One of the easiest ways to find and choose the right colour is to simply look at your natural hair colour. If you have ashy or rich brown hair with no red in, choose cooler blondes. If your hair has warmer tones then choose a warmer golden blonde."
Once you have determined your skin tone, it's time to choose your shade:
Warm: "Golden and pearl blondes to bring out the gold in your skin tone."
Cool: "Platinum blondes to bring out the red and pink in your skin tone'.
Neutral: "You can pull off any blonde!"
woman&home thanks Louisa Moore, Gareth Williams, Lisa Laudat and Jason Collier for their time and expertise
Sign up to our free daily email for the latest royal and entertainment news, interesting opinion, expert advice on styling and beauty trends, and no-nonsense guides to the health and wellness questions you want answered.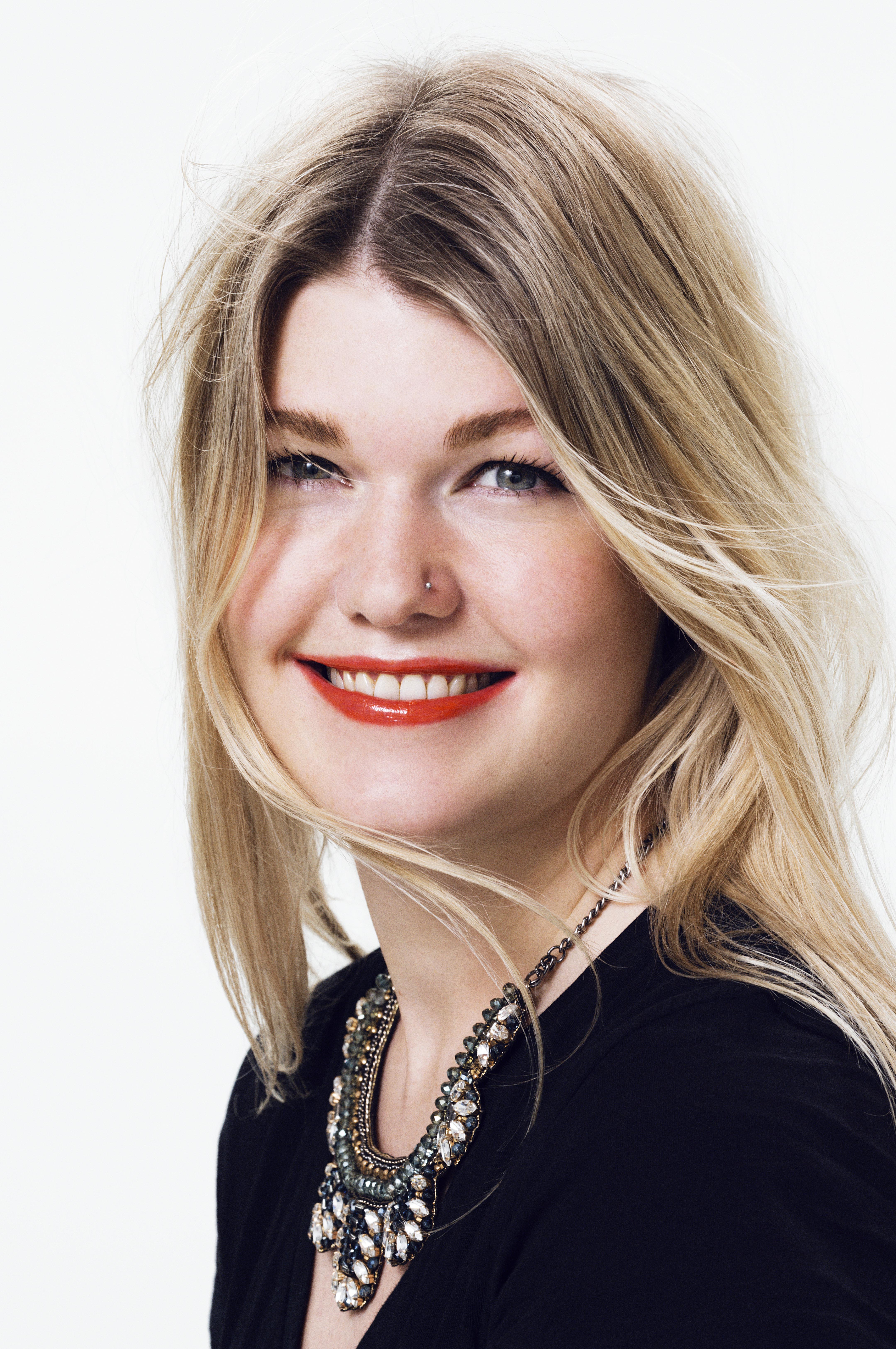 Beauty Editor, womanandhome.com
As woman&home's Beauty Channel Editor, Fiona Mckim has tried more products than she's had hot dinners and nothing makes her happier than raving about brilliant finds on womanandhome.com or her instagram grid (@fionamckim if you like hair experiments and cute shih-tzus). Fiona joined woman&home as Assistant Beauty Editor in 2013 under industry legend Jo GB, who taught her everything she needed to know (learn about ingredients and employ extreme cynicism). She has since covered every corner of the industry, from interviewing dermatologists and celebrities to reporting backstage at Fashion Week and judging the w&h Beauty Awards.