Brilliant home highlight kits to create naturally sunkissed tones at home
Our expert guide to the home highlight kits that are really worth trying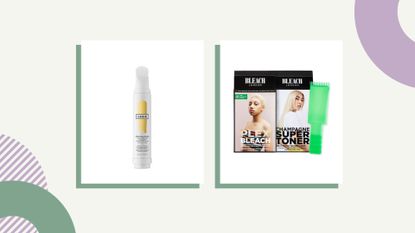 (Image credit: Future/Brands)
Home highlight kits are a growing area of the beauty industry, with budget-savvy consumers turning to box dyes to add subtle sunkissed sections to their natural color—be it blonde, brunette, or a hybrid of the two.
In the interest of honesty, it's worth saying straight away that unless you happen to be a pro hairdresser, or trained as one in a past life, at-home hair dye cannot be used to replicate intricate salon color services like ultra-fine highlights in hair or complex balayage hair looks like balayage with money piece. There's a reason it takes years to train as a hair colorist—it is a highly skilled profession.
But with salon services costing hundreds a pop, not to mention the fact you'll spend at least three hours in the chair each time, there is a case to be made for the ever-improving technology of home highlight kits. From permanent bleaching to semi-permanent glazes that can help you achieve warm red hair ideas, these DIY options offer a chance to create multi-tonal color at home, a more natural look than traditional box dye, and—with a bit of know-how—a feasibly salon-created look.
How to pick the right home highlight kits for you
While many of us have dabbled with semi-permanent dye at least once in our lives, home highlighting is a completely different kettle of fish, so it's important to carefully consider the following:
Natural color: It's a good idea not to stray too far from your base color when coloring at home and most of the best home highlight kits are for blonde or light brunette hair only. Those with very dark or black hair will know that nothing does the job except bleach, which is best in the hands of the pros. Instead, you could consider creating a statement 'money piece' (contrasting strands around the face) or adding warm or cool tones over the top of your natural color for a light-reflecting look.
Type of highlights: There are different types of looks to consider here—with traditional highlights, a money piece, balayage, and ombré the most popular—only a few brands offer a specialized highlighting kit, some are created with ombre or balayage in mind and modern box dyes can be used to create highlight-like multi-tonal shades within your hair.
Hair health: If there's one thing we all want, it's hair health. If your hair is on the fragile side, "use something ammonia-free and low peroxide," advises Francesca Dixon, colour director at Hari's Salon. "Ammonia-free has less chemicals so is less likely to cause as much breakage and low peroxide allows for a longer lift," continues Dixon. All-over reflective glazes or color-enhancing masks that focus on condition are good alternatives.
Semi-permanent vs permanent: "Many clients are keen to experiment with semi-permanent color as it allows you to try different shades without the commitment of a permanent color," says Sam Acott, master colourist at Josh Wood. Unlike permanent hair dye, semi-permanent is non-damaging and doesn't contain ammonia or peroxide. "It's worth noting, however, that semi-permanent color adds tone, color and shine—but is unable to lift hair lighter," adds Acott. So, if your hair is naturally dark and you want highlights, a permanent product will work best.
Ready to get inspired? Once you've narrowed down the home highlight kits that are best for your needs, skip to our home highlighting FAQ to find out exactly what you need in your kit and the method to use for a seamless process from start to finish.
The best home highlight kits, chosen by our experts
1. E Salon Light Set
Best home highlight kit overall
Specifications
RRP: $35/£32
No. of shades available: 6
Permanent: Yes
Gray coverage: Yes
Reasons to buy
+
Subtle balayage effect
+
Great choice of colors
+
Includes brush and toning mask
+
How-to videos available
This home highlights kit is probably as close as you'll get to a salon color service without leaving the house. This is the brand that brought us bespoke at-home hair dye, and once again they have thought of everything. Firstly you can pick from an unusually large selection of six shades, which determines the developing time (they've helpfully worked that out for you too) Your selected Light Set will be delivered to your home, along with tools, printed instructions, and the option to watch step-by-step videos on their site so you can really see what you're supposed to be doing.
The lights are applied in balayage style, meaning you paint on sections without foils or a painful cap, once again making things pleasingly simple, and the results are subtle and sunkissed. The idea is you go slowly and create gentle lighting effects, then top up every few months until you reach your desired color. This makes it a fairly foolproof and unintimidating process. As the cherry on top, a toning mask selected by their in-house experts is included for you to apply after the main coloring process to help you hit your perfect hue. Just as they do in the salon—genius!
2. Jerome Russell Bblonde Maximum Highlighting Kit No.1
Best home highlighting kit for dramatic results
Specifications
RRP: : $10/£6.49
No. of shades available:: 1
Permanent: Yes
Gray coverage: Unknown
Reasons to buy
+
Achieves striking color 'lift'
+
Creates impactful highlights
+
Works on many hair colors
+
Great value
Reasons to avoid
-
Cap is fragile
-
Can go brassy
Working particularly well on light brown hair, expect an unrivaled lift of up to eight to nine shades from this highlighting kit. It includes a cap and brush, much like the salon highlighting techniques of yore. And although you'll probably want to enlist a friend to do the back of your head, this does hold your hand through the home highlighting process, to help you achieve fine, natural-looking lights.
Our tester did find the tools a little flimsy, so care is needed on the application. And, if you have very dark hair the color can go a little brassy, so it's worth using a violet toning mask or shampoo afterward. If you take plenty of care with application this is certainly one of the best home highlight kits to emulate professional results. It also promises enhanced hydration and shine thanks to the addition of avocado oil, which is a bonus.
3. L'Oreal Excellence Age Perfect 9.31 Light Beige Blonde Hair Dye
Best multi-tonal color for blondes
Specifications
RRP: $8/£7.99
No. of shades available: 8
Permanent: Yes
Gray coverage: Yes
Reasons to buy
+
Lots of tones for all-over dye
+
Easy to use
+
Cares for hair
This nifty little number, designed with graying hair in mind, takes the tricksiness out of home highlighting as it is essentially an all-over color, but with enough multifaceted high and low tones to appear as if the hair is highlighted.
As well as excellent coverage on any gray hairs you wish to eradicate, this particular shade is ideal for adding subtle shimmering highlights to blonde hair, for a bright and sun-kissed finish. It also contains a unique complex of shine-boosting ingredients to leave locks looking healthy, and is so easy to apply you won't find yourself in a tangle in the bathroom!
4. Bleach London Golden Balayage Set
Best for balayage
Specifications
RRP: $28/£22
No. of shades available: 3
Permanent: Yes
Gray coverage: Yes
Reasons to buy
+
Great color results
+
Shade lifting and toning
+
Includes balayage board
Reasons to avoid
-
Quite a few steps involved
Hip hair color specialists Bleach London launched this kit to help their loyal fans create pro-style balayage without a salon visit. Balayage, for the uninitiated, is when strands of lighter color are painted on freehand, rather than using uniform foils as with highlights. This freewheeling placement can make balayage an appealing option for anyone weighing up highlights vs balayage for their DIY hair dye adventures.
The kit itself contains Total Bleach to lift the hair, a balayage board and Champagne Super Toner to add a creamy finish (you can buy the bleach and toner separately if you wish) This is ideal for those with naturally dark brown hair for which only bleach will do the job! Just be sure to use heat protection for hair if styling your hair after a powerful color lift like this one, as even the best hair straighteners can leave your locks on the parched side when you combine them with bleach.
5. L'Oreal Paris Superior Preference Ombre Touch Hair Color
Best for ombre hair
Specifications
RRP: $14/£10
No. of shades available: 3
Permanent: Yes
Gray coverage: Yes
Reasons to buy
+
Blending tools included
+
Subtle lift of hair
+
Great value
L'Oreal is always at the forefront of hair color techniques, and this clever kit is designed to make that tricky ombré technique easier to pull off at home. Ombré hair is essentially subtle graduation of color through the hair, usually resulting in lighter ends and deeper roots. The secret to getting a salon-look ombré from home highlight kits is all in the blending, so go slowly and carefully for the best results.
As well as gentle shade-lifting hair dye, this contains an expert touch finger applicator brush to assist with creating a seamless blend between the lightened ends and root sections. Christophe Robin, an expert colorist for L'Oréal Paris, advises, "For best results, start between ear and chin level."
6. John Frieda Sheer Blonde Go Blonder Lightening Spray
Best for gradual highlights
Specifications
RRP: $11.99/£6.99
No. of shades available: 1
Permanent: No
Gray coverage: No
Reasons to buy
+
Gradual, customizable results
+
Easy, unmessy application
+
Good value
Reasons to avoid
-
You can't pick the placement
This hair lightening spray is ideal for giving your hair color a gradual lift, either during the warmer months or any time you wish to go a little bit lighter without committing to a full salon or bleach session. This can also prolong existing highlights that you have had done at the salon. Although, as a mist-in product, you cannot be specific or targeted with placement, so if your colorist has worked hard to create a specific look, think carefully before going in with this every day.
With that said, you can use this without spraying it all over the head if you do want to fake a sunkissed look Simply isolate the strands you want to lighten and top up as needed—the results are gradual, so you won't get any nasty surprises with the color (although you may need to take some snaps to remember the exact placement for your next spraying session)
7. L'Oreal Paris Colorista Permanent Gel Hair Dye
Best for colorful ombre effects
Specifications
RRP: : $8/£5.99
No. of shades available: 10
Permanent: Yes
Gray coverage: Some
Reasons to buy
+
Fun trendy color
+
Can be used in a number of ways
+
Bleach-free and kind to the hair
Reasons to avoid
-
A daring look that's not for everyone
Not all home highlight kits have to be blonde. If you're stuck wondering what color should I dye my hair, can we tempt you with L'Oréal Paris' pretty-in-pink Colourista Permanent Gel? Pink ombre, streaks, and face-framing 'money pieces' are hugely on-trend, and can be very flattering too.
As this is not a lightening hair dye, it is bleach-free so kinder to the hair than many formulas promising a dramatic lift. You don't need to go for the pink color either, it comes in a variety of bright shades that you can play around with. Personalize your look with an ombré or balayage effect by painting this onto your locks in well-blended pieces—check our FAQs for all the application tips you need.
8. Christophe Robin Shade Variation Mask
Best highlight toning treatment
Specifications
RRP: $37/£39
No. of shades available: 5
Permanent: No
Gray coverage: No
Reasons to buy
+
Low commitment
+
Nourishes hair while toning
+
Refreshes the look of highlights
Reasons to avoid
-
No permanent color change
We've all had dreaded brassy tones hit a few weeks or months after getting our hair color done. This yellow tinge can make professional (and expensive) highlights appear faded, tired, and older than they are, but using purple products can neutralize the issue.
This clever mask works to tone down brassy tones in highlighted hair in a matter of minutes, and truly makes older highlights appear fresh and sparkling again. This is a bit like a supercharged version of the best purple shampoo, but without the dulling residue. The longer you leave the mask on, the stronger the toning effect so give it five for general creaminess, or if you prefer a really cool and ashy tone try 15.
9. Josh Wood Shade Shot Gloss
Best temporary home highlight gloss
Specifications
RRP: : $19/£19
No. of shades available:: 13
Permanent: No
Gray coverage: A little
Reasons to buy
+
Conditions and adds shine
+
Glosses over tired color
+
Multi-tonal results
+
Easy and quick to use
If you've already got bleached hair and are looking to play with your color between salon visits, Josh Wood's Shade Shots will let you try out a few different looks without inflicting any damage on your hair or shelling out a fortune on treatments.
If you want to brighten things up a bit, the Champagne or Icy Blonde Gloss will lift your bleached sections for a professional-looking finish. Or for brunettes, Chestnut and Smokey Brunette will enhance a darker look. You could even try out the colorful 'glazes' Copper, Cherry, Berry, or Rose. Whichever you pick, they work in a few minutes flat, made no mess in our bathroom and the Champagne shade left our grown-out highlights looking glossy and shimmering with a creamy finish.
10. dpHUE Blonding Brush
Best home highlighting brush
Specifications
RRP: $28/£26
No. of shades available:: 1
Permanent: No
Gray coverage: No
Reasons to buy
+
Contains conditioning agents
+
Easy to use
+
Natural looking results
Reasons to avoid
-
Only suitable for pre-lightened or naturally light hair
For sun-kissed highlights that mimic 'holiday hair', turn your attention to this clever Blonding Brush from dpHue. Featuring a blend of lemon juice and hydrogen peroxide (a bleaching agent), the formula gradually lightens hair when exposed to sunlight or heat styling tools like one of the best hair dryers. To use, simply click the button to bring the product to the brush, before painting it onto dry or damp strands of hair.
Our top tip? To achieve natural-looking results, we recommend painting the product onto thin sections of hair to create that sun-kissed look. Start near the root, before painting the length of the hair. Note that this formula is specifically designed for pre-lightened or naturally light hair and is activated by heat. Unfortunately, it won't work on darker shades (including medium blonde and dark blonde). But if your hair is light and you're after a vibrant boost, give this product a whirl—you will not be disappointed!
11. IGK Hair Permanent Color Kit
Best all over highlighting kit
Specifications
RRP: $25/£20
No. of shades available: 10
Permanent: Yes
Gray coverage: Yes
Reasons to buy
+
Suitable for all hair types
+
Contains hydrating ingredients
+
Available in a range of shades
Ok, so this technically isn't a highlighting kit. But it is a brilliant all over colour kit that delivers vibrant, dimensional colour and shine. You'll notice that where your hair naturally differs in shade, this dye will pick up on those nuances and create soft variations in colour that mimic highlights and/or lowlights. With 10 shades to choose from (spanning from black to blonde), there's something to suit everyone.
Shades aside, the strand-savvy formula boasts nourishing ingredients (including squalene, bamboo extract and orchard extract) to lock in moisture and bolster shine. Expect glossy, swishy results. Easy to use, the kit comes with gloves, an applicator, dye and developer as well as a barrier gel to protect the hairline and ears from becoming stained. Clever! Follow the step-by-step instructions and finish with the post-colour mask for super soft strands.
---
How to use home highlight kits: Your FAQs answered
What's inside home highlight kits?
Lightening formula: The actual dye, and sometimes even a darker dye if you're going for a reverse ombré
Applicators: Tint brush with foil, tint brush with balayage board, comb applicator, or cap and hook
Accessories: Gloves, and sometimes a mixing bowl, depending on your chosen application method
Conditioning mask: A conditioning after-treatment
Instructions: read these thoroughly and always carry out a skin test
There are few different methods you could try out to apply your highlights, so we've explained each one to get you going with your color application.
How you decide on which method to use is completely up to you—however, we have instructed which color techniques work well with each different method, so it could all be dependent on what you want your final look to be.
How to use home highlight kits with foils
Works best with: Highlights
Full-on highlights are when fine streaks of color are distributed evenly in small sections throughout the hair, often separated by foils, and tend to come right up to the root—they can also be fine or chunky, depending on technique.
So if you really know what you're doing, or you're happy to give it a go, use foils like some hairstylists do, as they help give the closest finish to what you would get in a salon.
"Highlights are in the foil directly at the root and are the lightest effect usually, as the heat from the foil works the best," says Francesca Dixon, creative colorist at Hari's Hairdressers.
You can get hold of professional hairstylist foils easily on Amazon.
How to use home highlight kits with a brush
Best for: Balayage, ombré or adding shadow roots to grown-out highlights
If you usually opt for balayage when getting your hair colored in a salon, chances are your stylist will use a freehand brush technique and a board to paint your color in. This color technique is usually painted on freehand without the use of foils for a more natural look and often applied in larger sections, and blended through the natural hair color—so for an expertly blended finish, we'd opt for that technique if you want this look.
"Balayage tends to be the lowest maintenance, so you can get away with it for a little bit longer, thankfully—most people have it twice or three times a year," explains Francesca. This brush method can also be used for creating an ombré look, which is "a shadow technique of coloring hair that gives hair a rooty effect going from dark to light effect from root to tip which gives a root effect," says Francesca.
"In a salon, we often merge the two techniques of balayage and ombré together which can create a beautiful and more gentle result." You can also use this method to brush a darker shade onto your roots (known as shadow roots) if you find that your highlights are growing out and becoming too high-maintenance. "These can be created on top of highlights to convert it into a balayage," advises Francesca.
How to use home highlight kits with a comb
Works best with: Highlights, balayage or ombré
A comb applicator will distribute dye through the hair for a highlighted effect. Use the one that comes in the highlight kit, or buy a paddle brush or a professional highlighting paddle.
Wearing gloves, use your fingers, and then comb through for a more natural effect.
You can also use a comb applicator or paddle brush to create a balayage effect by applying the coloring product to the tool and then combing or brushing through your locks.
How to use home highlight kits with a cap & hook
Works best with: Highlights
Alternatively, use a cap and hook. Some highlight kits have a cap instead of a comb, but you can also buy a professional highlights cap and hook set quite easily on Amazon.
To use, simply pick hair through your highlights cap with the hook evenly throughout your head and pull each section through. Take your time and be gentle; the last thing you need is to tug at your roots and encourage breakage. Try to set up your station with a mirror on both ends so you have easy reference as well to the back of your head.
How to fix a home highlighting mishap
"If you had any of the issues from your DIY hair experience, I would always recommend waiting to see a professional to fix it," says Francesca. "If you have patchy hair color, have a root glow, or whatever your hair crisis may be, Hari's offers a full consultation (virtually or in salon) with your professional who will deal with the problem and advise and guide you. Don't try and fix it yourself at home as you may make it worse, which could cause breakage.
"If you have patchy color, try using a purifying shampoo to remove the coating and soften the build-up to help your hairstylist deal with the color mishap and keep your hair in good condition for when you do manage to get back into the salon," advises Francesca.
"I recommend L'Oréal Professionnel Nutrifier Masque as it's silicone-free, so it won't leave a coating on the hair cuticle and contains coconut oil and glycerol, which is proven to hydrate nourish and add shine. If your hair is warmer or brassier than your desired result, then try a silver shampoo to mute the hue. L'Oréal Professionnel Blondifier Shampoo is my go-to shampoo for that!"
How to maintain your highlights
After going through the effort of painting your locks, chances are you'll probably want to do everything you can to make them last as long as possible (unless the process hasn't gone quite like you thought it would).
So we got Francesca's expert advice on exactly how we should be looking after our highlighted hair—and we even picked out a few color maintenance products to add to your repertoire.
Nourish hair: "Keep your hair well-nourished and in good condition," advises Francesca. "Use a home hair mask and glossing treatments and drink lots of water for extra shiny hair."
Start from the inside: "What you take internally will reflect externally," explains Francesca. "Hair vitamins are always a good idea to ensure you're giving your hair all the nutrients it needs for optimal health."
Go sulfate-free: "Opt for a sulfate-free shampoo to help prolong the color and tone from fading," says Francesca. "All of the products in Rahua and Pureology are sulfate-free and are professional-grade. However, it's good to be aware that you only need a small amount of these shampoos, as they are very concentrated. If in doubt, add a dash more water to lather it up more."
---
Aleesha is a digital shopping writer at woman&home—so whether you're looking for beauty, fashion, health or home buys, she knows what the best buys are at any moment. She earned an MA in Magazine Journalism from City, University of London in 2017 and has since worked with a number of brands including Women's Health, Stylist and Goodto. A year on the w&h news team gained her invaluable insight into where to get the best lifestyle releases first—as well as an AOP awards nomination.