Home highlight kits that will give you salon-worthy results
Here's how to use home highlight kits to color your hair—whether you have blonde hair, brunette hair, or dark hair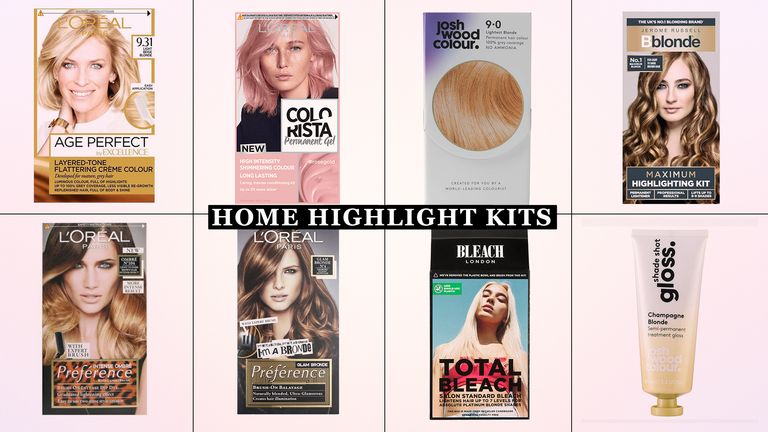 (Image credit: Future)
We've handpicked our favorite home highlight kits to color your precious mane—be it blonde, brunette, or a hybrid of the two. If you're in a pinch and cannot get to the salon, consider yourself covered.
While most of us are possessed with an innate sense of loyalty to our hair colorists, lack of time, energy, or motivation to leave the house can make it increasingly tempting to try home highlight kits.
Of course, we've likely dabbled with plastering on a semi-permanent dye and crossing our fingers for the best at least once in our lives, but trying our hand at highlighting is a completely different ballpark so it's important to know exactly what you're doing.
Not only are there different types of highlights to consider when it comes to enhancing your color—with highlights, balayage, and ombré the most popular—but you also need to make sure you've got a good product and the right kit on hand before nailing the method you're going to use. Otherwise, it could have a serious impact on the health of your hair.
Because let's face it, if there's one thing we all want from our locks, it's a healthy reflective shine. And while we can be as mindful as we want about heat tool use, even the best hair dryers and strongest protective serums won't save your tresses from color damage if you mess up the highlighting process.
So we've picked out some brilliant home highlight kits for blonde, brunette, and dark hair, as well as explaining exactly what you need in your kit and the range of methods to use during application so that you can enjoy a seamless process from start to finish. And you might not even have to cross any fingers.
Home highlight kits for blondes
1. L'Oreal Excellence Age Perfect 9.31 Light Beige Blonde Hair Dye
---
2. L'Oreal Paris Colorista Permanent Gel Hair Dye
---
3. Josh Wood Colour 9.0 Lightest Blonde Permanent Hair Colour
---
Home highlight kits for brunettes
1. Jerome Russell Bblonde Maximum Highlighting Kit No.1
---
2. L'Oreal Paris Preference Intense Ombré
---
3. L'Oreal Paris Preference Glam Bronde 03 Brown Permanent Hair Dye
---
4. Laid Back Balayage with Total Bleach London
---
Home highlight kits for dark hair
While lighter hair tones can get away with highlighting their locks using home hair dye kits or color-brightening products, those with very dark or black hair will know that nothing does the job except bleach. Because of that, we would always recommend that darker hair types get the job done by a professional rather than trying it themselves at home.
However, if you're trying to be a bit kinder on the purse strings and don't fancy forking out circa-£100 on a color refresh every couple of months, it's a good idea to opt for balayage at your salon instead of full-head highlights and then stock up on some color maintenance products. This way, you can keep your color looking fresh and let it grow with your locks, rather than being left with a harsh line from where your roots are coming back in.
And luckily, there are some fabulous products on the market to stop your balayage from going stale and to keep your hair color looking bright and healthy from the comfort of your home.
1. John Frieda Sheer Blonde Go Blonder Lightening Spray
---
2. Christophe Robin Shade Variation Mask - Baby Blonde
---
3. Josh Wood Shade Shot Gloss
---
How to prep and use your home highlight kit
What should a home highlight kit contain?
There are a few basics that it's best to have in-home highlight kits. However these can vary depending on what color technique you're going for - so it's best to know beforehand which look you want to try and achieve and what method you'll be using.
But generally, great home highlight kits will contain:
Lightening formula (or even a darker dye if you're going for a reverse ombré)
Tint brush with foil, tint brush with balayage board, comb applicator or cap and hook
Gloves (and sometimes a mixing bowl, depending on your chosen application method)
Conditioning after-treatment
Instructions (read these thoroughly and always carry out a skin test!)
There are few different methods you could try out to apply your highlights, so we've explained each one and provided a video to get you going with your color application.
How you decide on which method to use is completely up to you - however, we have instructed which color techniques work well with each different method, so it could all be dependent on what you want your final look to be.
1. The foil method
Works best with: Highlights
Full-on highlights are when fine streaks of color are distributed evenly in small sections throughout the hair, often separated by foils, and tend to come right up to the root - they can also be fine or chunky, depending on technique.
So if you really know what you're doing, or you're happy to give it a go, use foils like some hairdressers do, as they'll give the closest finish to what you would get in a salon.
'Highlights are in the foil directly at the root and are the lightest effect usually, as the heat from the foil works the best,' says Francesca Dixon, creative colorist at Hari's Hairdressers.
You can get hold of professional hairdresser foils easily on Amazon, and this YouTube tutorial will show you exactly how to highlight your roots using foils.
2. Apply with a tint brush
Works best with: Balayage, ombré or adding shadow roots to grown-out highlights
If you usually opt for balayage when getting your hair colored in a salon, chances are your stylist will use a freehand brush technique and a board to paint your color in. This color technique is usually painted on freehand without the use of foils for a more natural look and often applied in larger sections, and blended through the natural hair color - so for an expertly blended finish, we'd opt for that technique if you want this look.
'Balayage is a sun-kissed natural highlighting technique where the color is painted onto the hair in very thin strands,' explains Francesca. 'It tends to be the lowest maintenance, so you can get away with it for a little bit longer, thankfully - most people have it twice or 3 times a year.'
This brush method can also be used for creating an ombré look, which is 'a shadow technique of coloring hair that gives hair a rooty effect going from dark to light effect from root to tip which gives a root effect,' says Francesca.
'In a salon, we often merge the two techniques of Balayage and Ombre together which can create a beautiful and more gentle result.'
You can also use this method to brush a darker shade onto your roots (known as shadow roots) if you find that your highlights are growing out and becoming too high-maintenance.
'These can be created on top of highlights to convert it into a balayage,' advises Francesca.
3. Apply with a comb applicator
Works best with: Highlights, balayage or ombré
A comb applicator will distribute dye through the hair for a highlighted effect. Use the one that comes in the highlight kit, or buy a paddle brush or a professional highlighting paddle.
Wearing gloves, use your fingers as shown in this video, and then comb through for a more natural effect.
You can also use a comb applicator or paddle brush to create a balayage effect by applying the coloring product to the tool and then combing or brushing through your locks.
4. The cap and hook method
Works best with: Highlights
Alternatively, use a cap and hook. Some highlight kits have a cap instead of a comb, but you can also buy a professional highlights cap and hook set quite easily on Amazon. This YouTube video shows you exactly how to nail the technique.
How to maintain your highlights
After going through the effort of painting your locks, chances are you'll probably want to do everything you can to make them last as long as possible (unless the process hasn't gone quite like you thought it would).
So we got Francesca's expert advice on exactly how we should be looking after our highlighted hair - and we even picked out a few color maintenance products to add to your repertoire.
'Keep your hair well-nourished and in good condition,' advises Francesca. 'Use a home hair mask and glossing treatments and drink lots of water for extra shiny hair.'
'What you take internally will reflect externally,' explains Francesca. 'Hair vitamins are always a good idea to ensure you're giving your hair all the nutrients it needs for optimal health.'
'Opt for a sulfate-free shampoo to help prolong the color and tone from fading,' says Francesca. 'All of the Rahua and Pureology range is sulfate-free and a professional product. However, it's good to be aware that you only need a small amount of these shampoos, as they are very concentrated. If in doubt, add a dash more water to lather it up more.'

How to fix a home highlighting mishap
'If you had any of the issues from your DIY hair experience, I would always recommend waiting to see a professional to fix it,' says Francesca. 'If you have patchy hair color or have a root glow or whatever your hair crisis may be, Hari's offer a full consultation (virtually or in salon) with your professional who will deal with the problem and advise and guide you. Don't try and fix it yourself at home as you may make it worse, which could cause breakage.
'If you have patchy color, try using a purifying shampoo to remove the coating and soften the build-up to help your hairdresser deal with the color mishap and keep your hair in good condition for when you do manage to get back into the salon,' advises Francesca.
'I recommend L'Oréal Professionnel Nutrifier Masque as it's silicone-free, so it won't leave a coating on the hair cuticle and contains coconut oil and glycerol, which is proven to hydrate nourish and add shine. If your hair is warmer or brassier than your desired result, then try a silver shampoo to mute the hue. Loreal Professionnel Blondifier shampoo is my go-to shampoo for that!'
Thanks to hair color expert Francesca Dixon of Hari's Hairdressers.