32 vibrant red hair ideas to take to your next salon appointment
Ready to switch up your colour? Our top 32 red hair ideas will provide inspiration for the season ahead...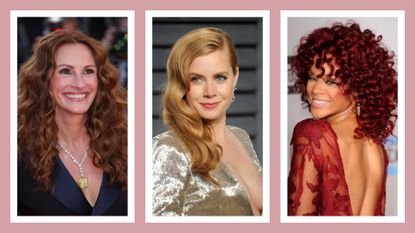 (Image credit: Getty Images: (L to R) Mike Marsland/WireImage | Gregg DeGuire | Jason Merritt)
Considering a seasonal switch-up? Browse our 32 inspirational red hair ideas to discover the warming red hues loved by the A-list – from vivid auburn to soft strawberry blonde, there's a shade to suit all.
Red is the rarest natural hair colour with around 1-2% of the population being born redhead, but don't be deterred if this hue isn't your true colour. Much like blonde hair ideas can be customized with balayage and highlights in hair, so many red hair ideas can be achieved by a great colourist, who can adjust and tailor this versatile shade to suit your hair.
With celebrities including actors Julianne Moore and Julia Roberts often sporting crimson locks on the red carpet, salons are seeing a huge rise in requests for the ever-popular fall hair colour. "Red hair is having a moment but red locks have always been special," says Jordan Jones, Stylist and Colour Technician at Taylor Taylor London. With our expert tips and visual inspiration, your perfect fiery hue is just an appointment away.
32 red hair ideas to inspire your new season look
1. Boho ginger
Florence Welch's peaches-and-cream complexion really suits her vivid ginger hair, making her green eyes pop. Worn in a long, wavy style paired with a block fringe this look is fashionable with a relaxed, bohemian edge.
Want to recreate this look? Head to the salon for the best results, so a professional can work their magic on your locks. Learning how to dye your own hair at home can also be effective but will be easier if you're on the lighter side - we wouldn't advise going from dark hair to a lighter red tone with a box dye. For dramatic changes, always opt for the salon!
Colour protection
Redken Colour Extend Magnetic Duo
RRP: £43.90
This shampoo and conditioner duo works to protect the vibrancy of dyed hair, so if you've just opted for a fresh copper look, these are a must in your routine.
Colour enhancer
Infuse My. Colour Copper Shampoo
RRP: £18.99
If you have red hair (naturally or dyed), this copper shampoo will help to refresh and boost your colour - ensuring it lasts and remains vibrant for well after your trip to the salon. It also works on blonde and light brown hair to provide an instance wash of coppery colour to your locks.
Repairing mask
K18 Leave-in Molecular Repair Hair Mask
RRP: £30
Regardless of whether you've opted for a dramatic, all-over shade or a few tactical highlights, colouring your hair can be quite damaging, so a hair mask, like K18's Leave-in Molecular Repair mask is a must-have. And if your hair is au naturale, it also also never hurts to treat it to a super reparative treatment.
2. Rich auburn
This true red shade exudes bombshell glamour on actress Marcia Cross. With one rich red tone all over, it leaves hair looking thicker, healthier and with incredible shine. If you opt for this shade, bear in mind that it can fade quite quickly. Avoid washing your hair too much to preserve your color and when you do, use one of the best hair masks to keep it nourished from root to tip.
3. Cool peach
Red hair doesn't always have to be show-stopping - it can be delicate and gentle just like Lily Cole's style. This blonde-red hybrid complements a fair complexion without being too overpowering and we love the cool undertone which looks natural and muted against pale skin tones.
To avoid looking washed-out and add some vibrancy into your look, team this hair color with lashings of black mascara and a bright lip colour, à la Lily.
4. Deep crimson
Musician and beauty mogul Rihanna has undergone many hair transformations over the years from box braids to blonde but our favorite is definitely her cherry-red phase.
Deep and vibrant, this shade really accentuates Rihanna's green eyes and lets her curls take center stage. Want to recreate this style? Keep it looking glossy with a rich hair oil before blow drying with one of the best diffusers for curly hair. Adding a pop of cherry-red blush on the cheeks will bring the look together.
5. Soft pumpkin spice
Isla Fisher rocks this beautiful pumpkin spice hair color shade with effortless glamour and we couldn't love it more. With subtle highlights to create depth, it's a natural-looking shade that looks healthy, radiant, and classic.
Worn in loose curls, we recommend creating the look yourself with the best curling iron you can afford, then brush out the curls with a boar-bristle brush before finishing with a spritz of hairspray.
6. Strawberry blonde
This creamy blonde shade with a hint of red brings something different to a traditional platinum blonde color. It's warm in tone and a little deeper at the roots with lighter ends, creating the illusion of fullness and effortless style.
In the salon, ask for auburn hair balayage to create subtle glimmers of red throughout. At home, try toning for blonde hair using wash-out products such as masks and shampoos. These can subtly change the look of your blonde and work very well if you want to introduce just a touch of warmth.
7. Brunette red
Not quite red, not quite brunette. This somewhere-in-the-middle colour should be your go-to if you want to experiment with red but are unsure of whether it would suit you. It can also be achieved with low-commitment semi-permanent dyes and works for anyone who wants a natural look.
Worn in cool, beachy waves just like Amy Adams, this red hair idea combines easy hairstyle chic with a touch of Hollywood glamour.
8. Vibrant scarlet
A bright red isn't for the faint-hearted but we adore this luminous crimson shade. Flame red is model and musician Karen Elson's signature style and she rocks it with confidence and gusto!
A natural redhead, Elson is known for taking her color to the next level, and this vivid shade is in direct contrast to her pale skin tone. Keep yours looking just as vibrant with a colour-preserving shampoo and conditioner.
9. Subtle warm balayage
This is one of the best red hair ideas for brunettes who simply fancy a bit of a change. Ask your colorist for warm tones through the mid-lengths and ends, applied freehand via the balayage technique.
The finished effect is subtle and flattering, bringing warmth to the hair and complexion without the upkeep of going fully red.
10. Grown-up auburn
Emma Stone has been every shade of red imaginable but we think this auburn, muted shade suits her best of all. With slightly lighter ends, this gentle hue really lifts her complexion and brings out her pretty, natural freckles.
Teamed with darker brows and a petal-pink lip this shade is an ideal low-maintenance red that doesn't require a trip to the salon every six weeks.
11. Burnt orange
Actress Jessica Chastain is always on our red hair ideas mood board and this elegant bob in a burnt copper shade is one of her best looks. The all-over color looks shiny, healthy, full, and glamorous.
Taking this picture to the salon? After your appointment keep your locks vibrant by avoiding washing too much. Instead, use one of the best dry shampoos to keep your roots fresh and smelling good.
12. Rich rust
A deep shade of burnt red is arguably the most flattering shade for fairer skin and Julianne Moore's hue is one of our favorites, that's often on our Pinterest boards.
Teamed with soft, casual waves it emphasizes Moore's freckles for an effortlessly chic look that looks expensive and rich. It'll look as gorgeous on the red carpet as it will with a white tee and jeans on Sundays. Elevated glamour at its best.
13. Classy copper curls
Actor Taraji P. Henson is not shy of a hair color transformation, and we love this warm, all-over copper tone on her curly hairstyle.
If your hair is naturally dark brunette it may need pre-lightening to achieve this particular tone. However, as Henson shows, it grows out beautifully and suits a deeper root, so you won't need to dash back to the salon right away to have your regrowth seen to.
14. Elegant claret
Debra Messing's warm, deep color pairs well with a side parting and Hollywood curls. The upkeep of such a rich color will need to involve regular salon visits to minimize fading, but good quality, sulfate-free shampoo and conditioner and avoiding heat styling as much as possible should help.
If you're short on funds, try an at-home hair dye kit to emulate this look yourself. They've come on leaps and bounds in recent years so you can easily avoid a home dye disaster. This will be easier if you're a light brunette or a blonde - black and dark hair should stick to the salon as your hair will need pre-lightening to achieve this vibrant tone.
15. Honey red
Amy Adams' honey-hued red adds some golden warmth to her copper hair, brightening her skin and enhancing her features. With a mix of lowlights and highlights, this multi-tonal red hair idea creates the illusion of fullness and would be perfect if you're prone to hair thinning.
16. Deep copper
The best red hair ideas are shiny, voluminous, and healthy and Bryce Dallas Howard nails the look. Her copper-toned ginger color is fairly uniform all over, which makes root top-ups easier to do at home, and helps promote shine. It'll also make blue and green eyes pop.
If you're after red hair ideas that aren't too difficult to maintain and keep your hair condition looking its best, take heed from Bryce. Styled into a loose curl and on-trend curtain bangs, you could wear this to the shops or for a special occasion.
17. Radiant red
Vibrant, glossy, and fiery is Christina Hendricks' hair in a nutshell. Her trademark ginger-red color looks incredible and accentuates her deep blue eyes.
Worn in a shoulder-skimming curled bob and with a distinctly 1950s feel to it, this is a classic look that exudes femininity. Team it with your best red lipstick like Hendricks and you'll instantly feel confident.
18. Cinnamon red
She's a trailblazer when it comes to trends and when Zendaya graced the red carpet with long auburn locks, the beauty world followed suit. The warmth of this red really brings out the warmth in her complexion for a harmonious look.
This is a fantastic option for anyone with a medium-deep skin tone who wants to try something a little bit different. The color works well over naturally dark hair without having to pre-lighten. Plus the glossy, rich red reflects multiple tones that will look different in certain lights.
19. Golden red
Lindsay Lohan has been a redhead her whole life and switched up her color numerous times. Our favorite? This golden ginger shade worn in a long relaxed wave (ok, maybe it's second to her adorable auburn bob in The Parent Trap)
The secret behind this hair color is nourishment. Keeping your hair healthy, strong and split-ends free will make this shade look expensive, so ensure you get regular trims and use a weekly hair mask to replenish moisture.
20. Chestnut red
Choosing the right red hair ideas can completely change your look and be surprisingly effective at brightening your complexion. If you have a similar skin tone to Julia Roberts, try this brunette-red.
Making her big brown eyes pop, this hair color is anything but boring. It's rich, luxe-looking, and incredibly flattering. Team it with an emerald smoky eye and a pair of sparkly earrings to tie the look together. It's a failsafe way of ramping up the glamour.
21. Ruby red
In-demand actor Keke Palmer's ruby-toned hair is beautifully flattering, with a vibrant shade and warm undertone that suit her skin tone perfectly.
The great thing about trying red hair colour ideas in braided hairstyles is the ability to experiment by adding pieces of colourful braiding hair. This means you can test a new shade without having to dye all of your natural hair, thus avoiding some damage in the process.
22. Dark cherry red
If there's one lady who knows how to wear red hair ideas, it's Sharon Osbourne. She's known for her short, cherry red locks and this color looks amazing on all skin tones, from fair to deep.
This multi-dimensional shade brings depth to the hair, leaving it looking fuller and thicker. This colour will take some maintenance but a colour-enhancing mask can prolong the time between visits to the salon.
23. Caramel ginger
If you're looking to brighten your hair, adding a few warmer, caramel and honey highlights to your hair is a great alternative. Here we can see Jennifer Aniston debuting some warm-toned babylights to soften her look.
This is a very flattering shade on mature women also and a great option to bring to your colourist if you've been blonde for a while and want to warm things up a bit.
24. Money-piece copper
If you're already sporting a warm shade of copper, adding a few lighter money-piece highlights is an easy way to refresh your look. These highlights are applied to the strands around your face to add interest and dimension. Here, we can see Grey's Anatomy star Kate Walsh with lighter, more honey-coloured copper tones running through the front sections of her red hair.
25. Subtle auburn
If you're a lover of subtle hair looks and aren't looking for a drastic change, take a leaf out of Philippine Leroy-Beaulieu's book and opt for a very natural, brownish copper. It's warm but not overly so and is just the epitome of chic - especially when paired with a similarly wispy fringe.
26. Dark roots
Now, this is definitely a statement look but Megan Fox certainly makes a case for it! If you have naturally dark hair, or just want a really bold and eye-catching colour, adding dark roots - or allowing your natural roots to show - with your bright red hair look is a great way to add a touch of edginess.
28. Golden copper
We're obsessed with Chaka Khan's multi-dimensional red hair. At the roots, it's a deep, merlot shade that gradually blends into a vibrant cherry red - which is perfectly accentuated by the singer's curls. It's bold but very wearable and is a great option for those with brunette or even black hair, as your natural roots can be blended into this look.
28. Rosy ginger
You've heard of strawberry blonde but adding a touch of rose to your ginger hair can also have very stylish results, as Rachel McAdams' proves. Here, her hair features a slightly pinkish tint that is simply stunning.
29. Golden copper
If you're looking for a summery iteration of ginger, or want to try a strawberry-esque blonde shade, a golden copper is a gorgeous option. Amy Adam's radiant colour in particular, looks so glossy and really brightens her complexion.
30. Tonal highlights
Adding highlights or complimentary reds and copper tones to your hair is an easy way to refresh your colour, whilst minimizing the damage of applying an all-over dye. Julia Robert's hair, for example, features a range of warm caramel and dark copper, to recreate a really rich and stylish look.
31. Rich burgundy
If you prefer a darker hue, this deep burgundy-like copper could be a great choice for you - especially in the autumn/winter months. Whether you've got a pixie cut, a bob hairstyle or long, long hair, dark red suits every length and is universally flattering.
32. Warm Copper highlights
If you're looking to add a touch of warmth through your ends, a few well-placed gingery highlights can really transform a brunette or mousy brown look. Here, Julia Roberts can be seen with vibrant copper highlights and a few warmer tones running through the rest of her dark hair.
---
How to pick the most flattering red hair shade, according to a colorist
Interestingly, most red hair is caused by your DNA. "Most redheads have a mutation in the MC1R gene, which gives them their distinctive hair colour," explains celebrity hair colour expert Moe Harb.
Luckily, anyone with any genetic makeup is welcome in the redhead club. Whether you're looking to drastically change your colour with a bright all-over crimson or just dabble with red hair ideas by turning your blonde a little more strawberry, there are a few tricks to getting your colour right.
Skin tone: "Anyone can go red, but it's important to choose a shade that suits your skin tone," explains Jones. "The general rule is that warmer coppers wil