Fresh blonde hair ideas to suit everyone, from icy platinum to rich caramel
In search of blonde hair ideas? Browse our beauty team's edit of inspirational hues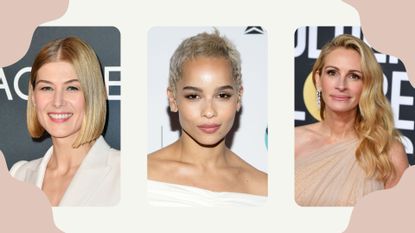 (Image credit: Future/Getty images)
If you're looking for blonde hair ideas, you're spoilt for choice when it comes to A-List inspiration. Think about your favorite red carpet celebrities – chances are, most have been blonde at some point in their career. And then there's you; if you're reading this then you've probably either been blonde or are contemplating going blonde, too.
So what exactly makes blonde hair so attractive? From J-Lo and Zoe Kravitz to Glenn Close and Lady Gaga, so many A-listers routinely rock some form of blonde color, be it highlights, babylights, herringbone highlights or balayage with money piece. And it's not just the rich and famous who have a penchant for the lighter side, pro stylists agree that blonde is still the number one color service in salons, with seven in ten Kerastase clients requesting a blonding service and 80% of Redken customers opting for some kind of bleaching service.
Because of this, blonde hair ideas are everywhere in hair trends 2023, with colorists creating personalized looks that mix and match techniques for every client. "Gone are the days of your straightforward highlight and tone. What's achieved in terms of color nowadays in top hair salons is painstakingly bespoke," says Michelle Austin-Burrell, Operations Director at Charles Worthington Salons. In 2022, there's truly a blonde for everyone.
How to choose blonde hair ideas, by pro colorists
Whether you choose to go all the way with bleach or have a splattering of subtle babylights, blondes have plenty of options. How to get it right? By considering two key factors:
Tone: "When deciding what tone will suit you, go by your skin tone and eye color," says celebrity colorist and The Hair Boss founder, Lisa Shepherd. "If you are fair in skin tone with blue eyes we would recommend an ashy tone such as mushroom blonde. For warmer skin tones with brown or green eyes we would recommend beige honey or bronde hair tones."
Technique: If you want a striking, uniform head of platinum hair then all-over color is the only service that can really achieve it. For a subtle look, other techniques will suit, advises Suzie McGill, Artistic Director at Rainbow Room International. "Highlights and balayage will give your hair a more natural appearance, add dimension and depth, as well as give it a shine. These techniques are also less high maintenance. You can go a few months before topping up balayage and for highlights, you can rotate getting full heads and half heads to avoid excess damage."
18 fresh blonde shades we love
1. Creamy platinum
Law's transformation from brunette to a bleached blonde buzzcut is not for the faint-hearted, but with her petite features, it looks effortlessly stylish and very high-fashion. This short crop manages to retain a feminine edge with an all-over dye in a soft, buttery blonde hue that flatters a tanned skin tone.
2. Cool blonde
This wheat-blonde shade works perfectly with Elizabeth's porcelain skin tone and emphasizes her strong eyebrow shape. The style itself has a retro 60s feel - a short cut tapered into the nape and a longer length at the front to allow flexibility with styling. This blonde hair idea looks super luxe thanks to the shiny, healthy-looking finish.
3. Silver blonde
This vivid gray-blonde is all about those cool, ashy tones, but it requires a bit of TLC, whether you have a naturally gray hair color, or not. A commitment to toning for blonde hair will keep the pearlescent, cool color looking fresh. Invest in the best purple shampoo if you're keen on this shade.
4. Two-tone blonde
This unapologetically striking blonde pixie with an undercut is a departure from Halle's usual nonchalant styles. It's a powerful color choice - highlighted platinum blonde at the very top layers but fading into dark brown at the root. This ashy blonde has very little gloss to it, but rather a grungier, matte finish.
5. Warm platinum
This warm platinum color with golden undertones looks incredible on Zoe's short crop and makes a fabulous summer hair color. It creates a halo of light around her features illuminating her skin. Style with texture to create definition and to play up the color tones for a flattering and very cool finish.
6. Rockstar blonde
We adore how Kristen pushes style boundaries with blonde hair ideas that everyone wants to copy. This ear-lobe grazing length teamed with a rock 'n roll all-over bleached blonde looks effortlessly A-list in a modern and cool way. The best bit about this look is how low maintenance it is, as the grungy lived-in roots just add to the overall appeal. This makes it a wise choice for anyone with naturally dark hair.
7. Warm blonde
If your skin has a cooler, pinkish tone, like Reese's, then one of this year's biggest color trends, a spiced honey shade, will suit you. It's got sunny, warm tones running through it, adding texture and reflecting the light to amp up the shiny finish.
8. Bronde
A nifty mix between blonde and brunette, 'bronde' is an easy all-around option if you want to go lighter but your hair is naturally quite dark. This blonde hair idea is a great choice for those with deep skin tones, too, as it's flattered by the golden-bronze shade helping to enhance the natural pigment in the skin. Just look how JLo glows!
9. White blonde
Proving even the darkest hair can reach its blonde ambition, Katy opts for an arctic white chin-length bob. With a little patience and a lot of expertise this cool icy blonde can be created on brunette hair - just make sure you see a professional, no at-home DIY jobs here, please.
10. Dirty blonde
This look is all about mingling golden blonde highlights into a darker-toned base. Styled best with texture and movement to enhance the multi-tonal effect, this blonde hair idea creates an effortlessly cool finish (just look at Sienna). The placement of lighter highlights around the face adds instant brightness to the complexion too.
11. Natural blonde
Low-maintenance, natural-looking dark blonde is anything but boring. Subtle interest can be added easily and with little damage to your natural hair by using highlights, balayage, and ombre to lift this neutral tone. Rosamund keeps it looking expensive with a sharp bob hairstyle and sleek finish.
12. Gradient blonde
This rooty blonde pairs well with this shaggy 70s cut. Layers add depth and dimension to the yellow-blonde babylights. The beauty of going for this color is that allows you to grow out your roots with ease, meaning no matter how far between appointments you are it'll just look part of this cool, edgy style.
13. Boho blonde
This could just be the perfect shade of buttery, sun-kissed blonde, with a mix of closely-packed foil highlights adding just the right amount of texture. Kate's long-term colorist, Nicola Clarke explains "I try to emulate what the sun would do naturally, to make her hair look like she's been on holiday for a couple of weeks."
14. Neutral blonde
This easy blonde with dark roots is one of the most low-maintenance blonde hair ideas as it allows the natural brunette base color to blend effortlessly with lighter hair. Neutral colors create a blend of warm and cool shades. This nude blonde hue imitates Margot's natural tones as if she hadn't dyed her hair at all.
15. Bombshell blonde
Platinum is a full-time commitment. You'll become BFF with your colorist as you'll need to return to the salon every 4-6 weeks for touch-ups. Also, you'll need to invest in a care package to look after your tresses. Bleached hair is very very delicate so treat it like silk with the best hair masks and gentle heat styling. But boy, does it look utterly amazing when done well, Rita stands out on the red carpet looking like a true Hollywood icon.
16. Blush blonde
Not true red, and not bleach blonde, embracing warm honeycomb tones has become Julia's trademark color. There's something classy and old-Hollywood about this choice, and it's a great option for natural redheads or warm brunettes who want to give their hair color a bit of a lift. Wear with a glamorous wavy hairstyle to enhance the vintage feel.
17. Luxe blonde
Ah, Blake, you wear your color so well. Glossy, shiny, and expensive-looking toffee and caramel balayage intertwine to create a beautifully harmonious hue that works so well with her Hollywood waves.
18. Butterscotch blonde
This creamy, dreamy caramel blonde paired with carefree '70s-inspired curls and curtain bangs is such a great look on Rihanna. The texture allows for a bit of regrowth and the eye-skimming fringe completes the retro look. Care for this deliciously warm hue using color-enhancing masks and the best shampoo and conditioner for shine.
Charley Williams-Howitt has over 20 years of experience working in the beauty industry. As well as previously writing for lifestyle titles, such as woman&home, Woman and Woman's Weekly, Charley has worked for British institutions like Marks and Spencer, John Lewis, and Superdrug creating visual and editorial content cross-platform. Starting her career in the fashion cupboard at Cosmopolitan magazine, she eventually escaped the piles of clothes to discover a world of makeup, moisturizers, and models.