27 summer hair colors to inspire your next salon appointment
These summer hair colors will provide the perfect inspiration to refresh your look - from icy blondes to warm auburn, there's something for everyone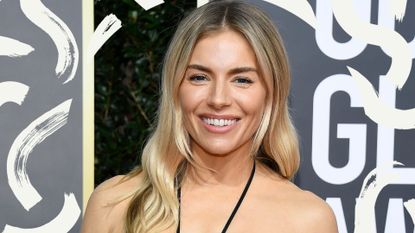 (Image credit: Future/Getty images)
woman&home newsletter
Sign up to our free daily email for the latest royal and entertainment news, interesting opinion, expert advice on styling and beauty trends, and no-nonsense guides to the health and wellness questions you want answered.
Thank you for signing up to . You will receive a verification email shortly.
There was a problem. Please refresh the page and try again.
When it comes to summer hair colors, you can really get playful. The warmer weather calls for a vibrant look that pairs nicely with an Aperol spritz or three. Think vivid coppers, bright blondes, and silky caramel highlights. Now is the perfect time to be brave and try something new.
Changing up your hair color makes even simple hairstyles stand out. If you don't want to go for a full-blown block color, try incorporating some highlights in hair or experiment with balayage hair. Youthful hairstyles like bolder, brighter red hair ideas will help you look fresh and youthful—especially if you've been in a bit of a style rut.
I understand how daunting it can be to opt for a big change. Take it from me, the beauty editor who had a disastrous teenage dalliance with Sun-In and spent a good few months resembling Tony the Tiger. Even the best purple shampoo couldn't help, and the damage affected my hair for years. Essentially, if you're going two shades lighter or darker than your natural color, always leave it to the professionals. To help you avoid any disasters like my 'Tony years', I've consulted Darren Fowler, Kérastase Expert and owner of Fowler35 Salon (opens in new tab), and stylist Tyler Moore at Live True London (opens in new tab) for their expert advice on the best summer hair colors for all.
How to try the latest summer hair colors, according to two expert stylists
Consider your tone: "Trending hair colors can look different on you depending on your natural skin tone and features." explains Moore. "Your skin will have either cool (pink, blue, olive, red) undertones, warm (peach, yellow, golden) undertones, or neutral (mix of both), and this can affect how a hair color looks on you. Although these aren't hard and fast rules, we tend to recommend starting with the opposite tone to your skin, for example opting for a warm golden hair color if you have cool pink undertones."
Mix it up for blondes: Fowler believes, "From pale to olive and darker complexions there is a blonde for you. For paler skin, light pearlescent blondes are most flattering as these have a cool undertone but aren't draining." He continues, "Darker and warmer skin tones are often complemented by more golden and bronze hues to enhance the natural pigment in the skin. Brighter accents around the face can make eyes pop and exude that 'beachy surfer girl' vibe as seen on the likes of Blake Lively."
Gently does it: You don't have to go extreme on a whole new summer hair color, says Moore. "If you're scared to try a new hair color, start with baby steps and opt for just a few shades lighter or darker than your natural hair. This can then be built upon later to create different looks. I also recommend trying balayage, the natural root at the top can be a good option for low maintenance, subtle new hair color."
Aftercare is everything: "To maintain your color fading and to maintain strength and condition, pick nourishing, strengthening products like the Kerastase Chroma Absolu range", recommends Folwer. Moore agrees that hair health is key. "Invest in the best shampoo and conditioner to prevent hair damage, as well as limiting heat styling and getting regular treatments such as Olaplex."
The best summer hair colors to try this year
1. Golden hour
This is not-quite-blonde, not-quite-brunette, not-quite red. The golden tone is one of the biggest hair color trends for this year. Summer hair colors don't get any better than this, believes Moore. "After the glowy, natural makeup looks and natural hair trends of the last two years, getting golden hour glow for your hair is all the rage. Think warm, gold and buttery tones, multidimensional color with freehand balayage, highlights, and lowlights." Sign us up.
2. Straight-up silver
Styling out silver doesn't necessarily mean you have to already be graying, although if you have been dyeing your white roots (or painting them out with your best root touch up) for years, you may have been thinking about transitioning to grey hair for a while. It'll be less maintenance and makes a fabulous, age-positive statement. Even if your hair is naturally still dark, going for a luxurious-looking silver tone will look amazing, and is a modern alternative to blonde.
3. Breton brunette
Normally striped hair is exactly what you don't want, especially when it comes to summer hair colors - but this subtle linear detailing is really effective. Tiny pieces of highlights frame the face and add some interest to the rest of the head, while still maintaining the richness of the brunette. It would work on any length, but we especially love it as a way of adding interest to medium haircuts and styles.
4. Blended bronde
When it comes to curly hairstyles, highlights and balayage help add definition to curls, coils, and waves. You can't go wrong with highlights when it comes to summer hair colors, and a scattering of them is the perfect way to make the most of natural hairstyles. Ask your stylist to blend in different layers of lightness by hand, for extra dimension.
5. Hot honey
Honey blonde has had a revamp to something that's a touch warmer, for a new take on the trend. Think of a drizzle of honey with a touch of spice. Delicious, yes, but also a gorgeous, wearable hair color for summer. This will suit blondes who are looking for a revamp, and those with cooler skin tones.
6. Strawberry lemonade
Get playful by pairing your best pink dress with coordinating hair for this stylish look. Pink hair doesn't have to be brash, this is made wearable by the subtle, barely-there tone blended with slightly darker roots. This is a look best achieved if you're already blonde, as going from dark brunette to light can take quite a lot of admin (and unfortunately—bleach).
7. A pop of purple
However, if you are a brunette, you can still have some fun with some brighter, bolder summer hair colors. Purple will stand out more in darker strands, so add pops of periwinkle and plum to make a statement. If you're not sure about this one, try it as a wash-out treatment to start with, to experiment before committing to a full-blown at-home hair dye.
8. The moneypiece
This look is a huge summer hair color trend, inspired by that massive '90s resurgence that's taken over fashion (personally even thinking about low-waisted jeans breaks me out in hives, I'll stick to the best high waisted jeans, thanks). The money piece hair look takes two sections of hair on either side of your face and highlights them alone. No blending, no subtlety - two full-blown stripes next to your face. It's striking, fun, and more low-maintenance than traditional highlights. Plus, it's cheaper to do!
9. Ruby red
Red doesn't always have to be bold and brash. This toned-down shade is the perfect way to add extra interest to naturally darker hair, adding a wearable pop of merlot red. It'll pair beautifully with natural glowing skin and the best red lipstick in the summer months, and will also work all year round.
10. Surfer-inspired blonde
A modern take on beach blonde, this look is all about emulating the natural highlights that appear when you spend say, six months of the year in your summer home by the sea. Surfboard optional but encouraged. Ironically enough the natural look takes the most work to achieve, so make sure you nail the perfect shade by being on the same page with your hair colorist about toning for blonde hair. You're aiming for a bright, milky blonde rather than a yellow, brassy shade.
11. Tangerine tones
This true-toned orange is a real joy sparker. I feel like everyone should have at least one unapologetic, bold hair color phase in their life, and if you're looking for your sign, this is it. If you're reading this and thinking, "but how do I know which color suits me", don't worry. There's an orange to suit all, and this vibrant tone will work on very pale and very dark skins. It's all about taking a risk and embracing it.
12. Toffee touches
If you're looking for something a bit more wearable, you can't really go wrong with layers of toffee-toned balayage. It will suit all skin tones, hair types and textures, and will work alongside just about every fashion trend of 2022. It's also a great way of dipping your toe into the world of blonde if you're tempted by the light side. This in-between summer hair color is the perfect way of gently easing in, rather than going straight from dark to platinum blonde in one session (so not advisable).
13. Scattered highlights
A more subtle take on balayage, this look still looks richly brunette while adding subtle touches of highlights, as if the sun's just naturally hit your hair for a few days. If you're usually a block-color brunette, you'll be amazed at the difference this will make to your 'do. Not only does it look gorgeously luxurious when your hair is down, it'll also add extra interest dimension to hair up styles.
14. Raspberry ripple
If you've had highlights or balayage before, and are looking for another take on the trend, try mixing in a wash-out color on your next hair wash day. They're cheap, cheerful, and a great way of switching up your look without the commitment. Try this raspberry tone, which blends in beautifully alongside different tones of dark and light hair.
15. Peach bellini balayage
Moore loves this trend, inspired by a favorite summer tipple. He explains, "We see the copper trend transitioning into pink and peach tones in time for summer, creating a blended, beautiful color. This fresh twist on pastel pink will be a popular choice as it is the perfect transition shade between copper hair and blonde."
16. The bob-ready balayage
Short hairstyles for women paired with highlights can create a really chic, sleek look. We love this bob that's punctuated by slithers of highlights through the ends for a fresh, choppy finish. I've been eyeing up a bob for the last few years, and this summer may well be the time to take the leap. My neck will be nice and cool too, which is the main factor drawing me in if I'm honest.
17. Velvet burgundy
Sitting somewhere between dark red and brunette, burgundy is one of the most luxurious hair colors for summer. The rich tones are brightened up with tiny touches of maroon for a fresher take on the more natural color. I love this look on all curl types, but these 3C ringlets are extra irresistible in this tone.
18. A pop of platinum
If you prefer a cooler blonde, this platinum-tinted color is perfect for you. It's bright, light and perfect if you're a natural blonde or a slightly lighter brunette. Be aware though, that the upkeep for platinum is pretty intense regardless. Make sure you're stocked up on the best purple shampoo and use it religiously, ideally every other hair wash.
19. Barely-there babylights
Babylights are a great way to start your summer hair colors journey if you find highlights or balayage a bit daunting. They're soft, subtle and scare-free. I do warn you though—you may find yourself hooked when you open the door to lightened hair. It's addictive stuff—especially in the warmer weather.
20. Vibrant auburn
There's something about auburn that just really sparks something in me. As a beauty editor I've tried pretty much every hair color, but truly this bright, zingy auburn just has my heart. I think it helps that it really makes blue eyes pop. And don't be fooled by the traditional style rules, it's not just for autumn.
21. Iced chocolate shake
There's a misconception that brunette hair is boring, but it's just not true! Different tones of brown can create a rich, irresistible tone that's as pretty as it is low-maintenance. It's also a great color to experiment with if you're wondering how to dye your own hair. Home hair colors tend to be easiest when it comes to brunettes and reds, as you don't have to fuss with bleach.
22. Ashy blonde layering
Ash is arguably the most grown-up member of the blonde family, but that doesn't mean that it has to be dull. The combination of different tones in this look is interesting but brilliantly wearable, and the darker root makes it pretty low-maintenance too. It's a great all-rounder for all ages.
23. Lavishly lilac
A bold look, yes, but I've really noticed a big resurgence in pastel hair colors, and lilac is the perfect way to tap into that trend, especially with periwinkle being the pantone color of the year 2022. Lilac is the prettiest, most wearable way to style it out in summer hair colors. It's crying out for some silver jeweled hair slides, to up the ante.
24. Mocha moment
My coffee addiction makes this particular family of summer hair colors especially tempting. The rich blend of red-toned browns makes this the perfect choice for warm and dark skin tones and is easy to DIY with some at home hair dye. Use the best shampoo and conditioner you can afford to boost shine and keep the color looking glossy.
25. The Modern Geri
My inner Spice Girls fan really couldn't resist including this one. Geri Halliwell, the icon that she is is the inspiration behind this incredibly fun look that combines peach and orange tones with a couple of statement money pieces. It'll just adds that extra bit of zig-a-zig-ah to grey mornings.
26. What lies beneath
Looking for a new party trick? Go for a completely contrasting color to the bottom layer of your hair, which can peek out under your locks and be really showcased with half-up half-down hairstyles. It's an especially perfect look if you want to get playful with color but want to maintain a neutral look or corporate-friendly appearance for your job.
27. Streaks of silver
Metallic shades are a totally new way of trying out new summer hair colors. Fowler says he's seeing a real rise in these shades at his salon. "We are seeing more requests for metallic shades. To achieve this, our stylists are combining the correct blonde undertone with colored toner to achieve that metallic effect. We see this becoming a trend with rose gold shades, bronze, as well as silver and gunmetal." These silver streaks are striking and a whole new take on highlights.
---
Woman & Home thanks Darren Fowler and Tyler Moore at Live True London for their time and expertise.
Rhiannon Derbyshire is the Senior Beauty Editor for Woman & Home and other publications.
She started interning for glossy magazines while working alongside her Fashion Journalism degree. There, she was lured to the beauty desk, seduced by matte lipsticks, posh shampoos, and every skincare product imaginable. 10+ years into her career, she can confidently tell you why the best mascaras are always high street, and why SPF is a non-negotiable all year round. Ask her about her curly hair routine, skincare minimalism, and how to find the exact right red lipstick