Best high waisted jeans for a neat silhouette
The best high waisted jeans will flatter your frame - no gym time required.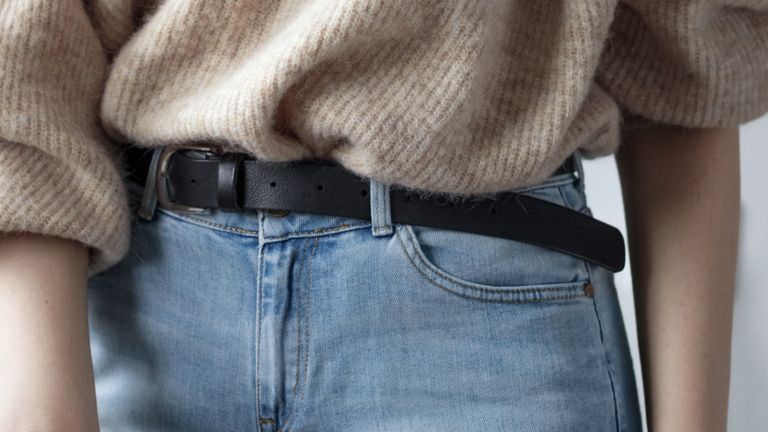 It's hard to believe that at the start of the millennium the best jeans were the low-rise styles worn by music-video stars.
Luckily, trends come and go, and we moved into a decade of more demure jean trends. Enter the best high waisted jeans, a nod back to 70s and 80s style and a denim dream in terms of both comfort and style. Sure, we may tap into the mid-rise style now and then, but when it comes to looking for incredibly flattering jeans, high waisted styles are our go-to.
Whether you prefer a vintage-style mom jean or a timeless skinny jean, high-waisted jeans come in many different designs, making it easy to find a style to suit you.
How do you wear high waisted jeans?
The key to making the most of your best high waisted jeans is to tuck in your top or opt for a cropped top. This doesn't necessarily mean flashing your waist, just changing where your hemlines finish for a more modern look.
Want something with a little more coverage? A paper-bag waist looks great with a tucked-in tee and trainers, and a wide-leg jean works well with a bodysuit and mules. Add a belt if you want extra definition. It will help cinch you in and highlight – or create – a waist.
The best high waisted jeans to buy now
With so many different styles to choose from, we've scoured the shops to find the best ones out there, from budget-friendly to investment pieces you'll wear time and time again.
1. Gap Sky High Rise Universal Jegging with Secret Smoothing Pockets
These jeans finish high – just covering the belly button – with "hold you in" front pocket panels for a sleek and smooth silhouette. They're as comfy as leggings, but look like denim.
2. Crew Clothing Girlfriend Jean
A girlfriend jean is a less baggy version of the boyfriend, so ideal if you're after a slim, but loose, style. Sitting high on the waist, its relaxed fit works well for a low-key weekend look.
3. Weekday Body Extra High Skinny Jeans
If you like your jeans skinny, these are the ones for you. Made with organic cotton, they come in four different washes.
4. Levi's Ribcage Straight Ankle Jeans
Levi's highest high rise helps define your waist and makes your legs appear longer, too. Finishing at the ankle, they're perfect for petites.
5. M&S Ivy High Waisted Distressed Skinny Jeans
These stretchy skinnies sculpt your shape in for a smooth silhouette. Available in six different washes, the cotton is all responsibly sourced, too.
6. Reformation Cynthia High Relaxed Jean
Reformation might be famous for their dress collection, but their denim is worth a look, too. Fitted throughout the hip and bum, these have a relaxed leg for a comfortable fit.
These mom jeans are as classic as they come from iconic brand Wrangler. Made with recycled fibres, keep it casual with Converse and a striped tee.
8. River Island Petite Blue Carrie High Rise Mom Jeans
The visible seam on these washed denim jeans helps streamline your shape and lengthen your legs. A winner for petites.