Best mom jeans 2023: 10 styles to flatter all shapes and sizes
Still think the best mom jeans belong in the '90s? We break down the key features of this versatile shape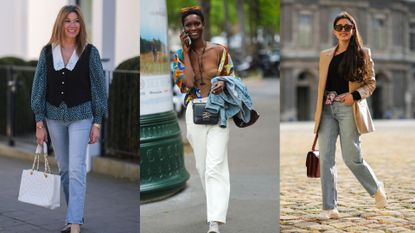 (Image credit: Getty)
The best mom jeans are a fantastic addition to any wardrobe. But what makes a jean a mom jean? And which ones should you buy and why are they great for women 40+?
While the best mom jeans started off as a season denim trend, they have slowly made themselves a wardrobe essential. A great building block to any capsule wardrobe, finding the right jeans for your body type can be a real struggle. But that's why we're so pleased that mom jeans are back on the fashion agenda, as this silhouette is universally flattering, whatever your body type.
Categorized by its high waist and tapered leg, this '90s fashion trend is one of the best jeans for sculpting your curves and they're so easy to style too. For the ultimate mom jeans outfit, team your denim with a silk shirt, a blazer, and some sleek loafers - when polish is required, or try sleek white trainers and a cashmere sweater for off-duty engagements. Ideal for women of all ages, they're great for women 40+ thanks to their curve-loving silhouette and fashionable appeal, without feeling overly trendy. Utterly timeless they work with just about anything, making them an ideal candidate for slipping into a capsule wardrobe.
Best mom jeans to shop now
1. Good American Good Mom Jean
Best mom jeans overall
Specifications
RRP: $149 / £140
Sizes: US: 00-24 / UK: 4-28
Reasons to buy
+
Great size range
+
On-trend cropped hem
Good American jeans have become a firm favorite amongst the fashion pack. It might be a celebrity-owned label, but this American clothing brand has proved it's all about great cuts and quality. The jeans are sized from a US size 00 to a size 24, making them one of the most inclusive denim ranges on the market right now and one of the best jeans for curvy women.
The Good Mom jean is the brand's modern update on this particular trend. Featuring a full leg, tapered to sit right above the ankle, and a flattering high-rise finish, to help hold and sculpt your shape. Though on the pricier side, all Good American denim is well worth the investment - especially if you usually struggle to find the perfect fit.
---
(opens in new tab)
2. Levi's '80s Mom Jeans
Best trendy mom jeans
Specifications
RRP: $118 / £110
Sizes: Waist: 23-32 | Length: 28-32
Reasons to buy
+
Lots of washes available
+
Great quality denim
Reasons to avoid
-
Rips not to everyone's taste
When it comes to selecting the best mom jeans, the choice has increased hugely in the past few years. From neat dark washes that will see you through from dawn 'til dusk to altogether more relaxed styles, like this '80s iteration with distressed knee detailing. The mom jean is the capsule wardrobe hero you didn't know you needed. Crafted by denim legends, Levi's, the premium quality denim is suitable for everyday wear, making it worth every penny. Stick to your regular size for a true fit.
---
(opens in new tab)
3. Zara Mom Fit Authentic Jeans
Best affordable mom jeans
Specifications
RRP: $45.90 / £29.99
Sizes: US: 0-14 / UK: 4-18
Reasons to buy
+
Great price points
+
Range of colorways on the site
Zara has a great selection of denim and is always quick to bring out trend-led styles. We love the range of colors the brand offers, with classic light blues and blacks as well as off-white and khaki iterations ideal for incorporating into camel coat outfits. This particular pair offers the classic mom style for a very reasonable price, so they are a great purchase if you want some foolproof denim to add to your winter capsule wardrobe.
It is noted on site that this style runs a little small, so it is worth trying a size or two up from your regular size to get a comfortable fit. With mom jean styles in general don't be afraid to try a size up, as the fit and aesthetic of the jean and the period of inspiration lends itself perfectly to accessorizing with chunky belts.
---
(opens in new tab)
4. Topshop mom recycled cotton blend jean
best recycled mom jeans
Specifications
RRP: $74 / £46
Sizes : Waist: 24-36 | Leg: 30-34
Reasons to buy
+
Great price points
+
Long-standing reputation for good jeans
Many fashion stylists and editors will tell you that they're fairly devoted to their Topshop denim jeans. Whether it's the Editor or the Jamie jean, or the relative newcomer, the brand's best mom jean, Topshop, now housed at ASOS, has some of the best denim on the market - which is great for those that want mom jeans without breaking the bank.
Wondering how to style jeans like these? With a slim fit and high waist, these dark denim mom jeans will look super cool teamed with a pair of the best Chelsea boots and a slouchy sweater for a relaxed, off-duty style. Plus, black hues are great for smart casual outfit ideas for the office or dinner dates, so this is a pair that will get plenty of wear.
---
(opens in new tab)
5. New Look Curves Blue Waist Enhance Tori Mom Jeans
Best curve mom jeans
Specifications
RRP: £32.99 (UK only)
Sizes: UK 18-32
Reasons to buy
+
Range of fits available
+
Huge selection of styles
Recently launching a whole new series of fits, New Look currently has a whopping 46 options for mom jeans on its website. Covering main, petite, plus size, and maternity collections, the latest New Look mom jean, or Tori as it is known, offers a high waist and slim leg silhouette made with responsibly sourced cotton.
The Tori is available in many iterations, from light to dark washes, patchwork, smarter executions, and ripped and distressed varieties. With Tori's across all categories, if you've struggled to find a pair of the best mom jeans to fit your body shape, New Look is definitely worth checking out.
---
(opens in new tab)
6. Wrangler Mom Relaxed
Best relaxed fit mom jeans
Specifications
RRP: $129 / £100
Sizes : Waist: 24-42 | Leg: 30-34
Reasons to buy
+
100% cotton
+
Vintage look
Reasons to avoid
-
Fit may be too loose for some
Wrangler makes denim for those who want classic styles with a little extra flare, and these relaxed fit mom jeans capture that aesthetic perfectly. With all the components of a classic mom jean, the wide-fit leg and ripped knees help this iteration stand out from the crowd. The 100% cotton composition offers a sculpting, and slightly more rigid fit, than those mom jeans with added stretch.
If you are hoping to be more eco-conscious with your shopping habits this year, Wrangler is the place to go. These jeans in particular take less water and energy than traditional washing processes to make, so they are a great sustainable choice. Top off this cool look by styling with a North Face puffer this season.
---
7. Frame Le Original Straight Jean In Clash
Best vintage inspired mom jeans
Specifications
RRP: $293 / £215
Sizes : 24-30
Reasons to buy
+
Trend-led styles
+
Distressed finish
Reasons to avoid
-
Not as versatile as other styles
Frame is an American denim brand, founded in 2012 by Jens Grede and Erik Torstensson. Known for great basics, here you can find some of the best cashmere sweaters, best leather jackets, cotton tees, and of course, stand-out denim.
Channeling that '90s vibe with a distressed finish, these straight-cut mom jeans offer that classic, rigid denim finish, made without stretch. With a high-rise waistband and tapered leg, the raw hem finish adds a distinctly relaxed edge to the look. If you normally wear jeans with stretch in, be aware these have no stretch, so you may need to size up.
---
8. Marks and Spencer The Mom Jeans
Best high street mom jeans
Specifications
RRP: $68.99 / £39.50
Sizes: US: 2-18 / UK: 6-24
Reasons to buy
+
Great price points
+
Rave reviews
Marks and Spencer is well known for making quality basics, from underwear to t-shirts, it's the place we head to, to invest in our minimalist capsule wardrobes, wisely, and this is no more evident than in their denim collection. Already successful with its much-loved 'Magic Shaping' jeans, M&S mom jeans have been a big hit too. Available in seven washes, the black colorway is super smart and great for slightly more dressed-up occasions.
Slim at the hips, but with a high waist, these organic cotton jeans have been blended with stretch so you get a great fit, but with plenty of added comfort, we're sure you'll be wearing these on-repeat. For a chic winter outfit idea, style with outerwear from the stellar M&S coat collection.
---
9. H&M Mom Ultra High Ankle Jeans
Best everyday mom jeans
Specifications
RRP: $34.99 / £29.99
Sizes: US: 0-18 / UK: 4-22
Reasons to buy
+
Very affordable
+
Range of classic mom styles
If you are loyal to the best skinny jeans but feel ready to switch things up, these H&M jeans are the perfect transitional style that sit somewhere between a slim and relaxed fit. The ankle-skimming length is perfect for pairing with the best winter boots or strappy heels, and the light stretch to the denim ensures lasting comfort for everyday wear.
Available in three smart hues, this is a true everything jean that will look just as good paired with a shirt and your best loafers as they will with a glittery cami for evenings out. If you are petite, be aware that these may come up slightly long as there is only one leg length on offer. However, we love the look of cuffed hems with this shape.
---
10. Agolde '90s Pinch Waist High-Rise Organic Jeans
Best premium mom jeans
Specifications
RRP: $200 / £260
Sizes: Waist 23-32
Reasons to buy
+
High quality
+
Range of trendy styles
Agolde is slowly but surely taking over the jeans scene, thanks to its viral silver pants design. For something more low-key, these mom jeans offer a refined look when styled with a leather jacket. The ideal deep denim hue, they can be worn for more formal occasions styled with heels. The slight kick flare hem helps to balance out wider hips, while the high waist shape is universally flattering. While these are certainly on the pricier side, if you want to invest in one pair of high-end jeans, these are worth the price tag.
---
What figure is best for mom jeans
The joy of the best mom jeans is that they work for lots of different body shapes. Their high waist is great for offering waist definition and sculpting support to apple shapes, while the waisted style is equally good for those with hourglass figures as it's easy to tuck in a top to help highlight your curves.
If you have a rectangular shape, the balance of the tapered leg and the higher rise will also help to add curves to your silhouette and if you pick a style with high seated pockets, that will add some perkiness to your bum too.
For pair shapes, the straight leg into a tapered style might feel tricky to navigate but if you opt for a pair with a gentle taper, they should skim over hips and offer great shaping. Unlike skinny jeans, they won't be too tight, but they will offer more definition than straight or boyfriend jeans.
---
Are mom jeans still in fashion?
Popular during the late '80s and early '90s, mom jeans fell out of fashion favor during the early '00s, when they were usurped by bootlegs, which, at the time, were considered a younger, cooler style. However, a decade later, the revival came and they have continued to be popular ever since. As such, it is now a bona fide modern classic.
Characterized by a relaxed fit, high waistband and tapered leg, the shape is both flattering and feminine, skimming the hips and thighs and accentuating the waist. The chic vintage aesthetic has a cool-yet-grown-up appeal, making them a smart choice for those who can remember them the first time around. In fact, if you still have your pair from the '90s now's the time to dust them off.
Things to consider before investing in a pair of the best mom jeans
If you're yet to bag a pair of mom jeans, there are a few things to consider before adding some to your basket. Look for styles with back pockets that sit high on the bottom and angle outwards. This will make your rear appear delightfully perky. It's also worth checking leg length; a pair that hit around your ankle bone will elongate and slim the leg. If styles come up a little long, roll, or even chop the hem until they sit just right.
Steer clear of excessive detailing such as patches, rips and distressing. These tend to look a little on the young side and will date much faster than a classic pair. Opting for a timeless, fuss-free style will ensure you'll be reaching for them in years to come.
When it comes to washes, again classic is your watchword. For smarter occasions, reach for a dark wash, such as indigo, charcoal or black, which can be worn with a classic white shirt, tailored jacket and leather flats for the 9-5. Switch the flats for heels and add statement earrings, and you've got an effortless dinner-ready look. Weekends call for something more relaxed, so head towards grey, mid-blue, or light blue washes to team with a parka and plimsolls.
Though more commonly associated with the warm summer months, white denim makes for a crisp winter look when layered with knits in biscuit and caramel tones. Eschew bright white, which can be hard to pull off, opting for softer off-white shades. Make sure denim is on the thicker side so it doesn't show off your underwear.
Frankie Graddon is a fashion and beauty journalist and co-founder of @thewingwoman (opens in new tab), a weekly podcast and newsletter about thirty-something life, honestly.
Frankie has over a decade of experience working as a writer, editor, podcaster and consultant. She has been a regular contributor to a number of high-profile publishers including The Telegraph, The Times, Grazia, You Magazine, Glamour and woman&home.
Frankie has interviewed numerous industry experts and celebrities, from Claudia Schiffer and Karlie Kloss to Sam McKnight and Trinny Woodall. She has also created content for numerous fashion and beauty brands including Liberty of London, Whistles, Kitri, Hush and more.