30 best leather jackets for women that will never go out of style
Best leather jackets for women that deliver on shape, fabric and style for a range of budgets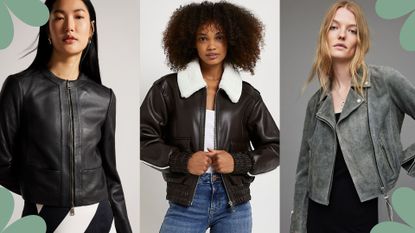 (Image credit: AllSaints, River Island, Ted Baker)
The best leather jackets are wardrobe staples. They don't bow to trends and unlike most buys in your wardrobe, they only improve with age. Choose wisely and you'll wear yours from fall through to spring, it will become your most steadfast fashion companion.
When it comes to your capsule wardrobe, a leather jacket is a wardrobe essential. If you've yet to invest in a leather jacket, let us be clear, this is one of the most important investment purchases you will ever make. Select well and you'll spend a lifetime in one another's company. An iconic fashion piece, the leather jacket may have slightly rebellious connotations, but it really is one of the most versatile pieces of outerwear you can buy.
The best leather jackets have the ability to add a fashion-forward edge to any midi dress, toughen up sequins or even add warmth under capes. A leather jacket is a layering styling tool and a stand-alone piece of outerwear all rolled into one. While leather will age the best and last the longest, breaking down and molding to your form with time, faux leather has come on leaps and bounds in the past decade, with many brands now incorporating faux leather into their collections.
Best leather jackets - as chosen by the fashion team
These are the fashion brands we rely on for the best leather jackets for women. With a mix of leather and faux leather iterations and a range of prices points, invest in one of these 30 leather jackets this season, slot it into your capsule wardrobe and wear it forever.
1. All Saints
Best for choice
Specifications
RRP from: $365 / £199
Sizes: 0-12 / 4-16
Reasons to buy
+
Biggest choice
+
Real leather
+
Classic styles
If this is your first foray into leather jackets, British clothing brand All Saints has the biggest range of classic leather jackets for women. From seasonless biker jackets, with all the classic stitch work and hardware detailing, to sleeker iterations with asymmetrical zips and more body-con silhouettes. Although they don't have the largest size range, All Saints are known for making some of the best leather jackets in the business and its styles do take different body shapes into consideration, with different lengths and cropped styles available. If you're thinking of investing in one, for your minimalist capsule wardrobe check out our All Saints leather jacket review.
All Saints Dalby Leather Biker Jacket
RRP: $529 / £299 | Famous for its leather jacket selection, they're designed as investment pieces that can be worn for years to come. This biker jacket is perfect for transitional weather, layered over your best dresses and underneath coats.
All Saints Balfern Leather Biker Jacket
RRP: $365 / £319 | We love this cream hue for adding some brightness to your winter outfit ideas. Team with all black to really make it pop, or style with your best white t-shirt and a patterned knit scarf, black trousers and a cute winter beanie.
---
2. Belstaff
Best for designer leather jackets
Specifications
RRP from: $525 / £450
Sizes: EU 36-50
Reasons to buy
+
Designer style
+
Iconic leather brand
Made in the UK, Belstaff is a luxury, British heritage brand. Around since 1924, just as Burberry specialized in the Burberry trench coat, Belstaff has a long and wonderful history in producing high-quality, robust outerwear, particularly leather biker jackets. With classic hardware, delicate branding touches, and hand-waxed finishes, these leather jackets are made to last. One of the best designer clothing brands, it is loved by fashion fans and celebrities alike and a perfect edition to a chic over 50s capsule wardrobe.
Belstaff Fera Jacket Lamb Shearling Black
RRP: $1,865 / £1,525 | Shearling leather jackets are a great choice for what to wear in the snow, as they allow you to get all the style of the best leather jackets with added warmth. This jacket will look just as good oversized as it does figure-hugging.
Belstaff Mollison Jacket Nappa Leather
RRP: $950 / £725 | This jacket has all the trimmings of a café race silhouette that harks back to the '60s, seen here through the enforced shoulders, high collar and snap stud fastening. Team this jacket over a dress and your best Chelsea boots.
---
3. Karen Millen
Best for fashion-led leather jackets
Specifications
RRP from: $266 / £155
Sizes: US: 2-20 / UK: 6-24 (style dependent)
Reasons to buy
+
Plus and Petite lines
+
Both leather and faux leather
+
Fashion-led styles
Reasons to avoid
-
Not a heritage leather brand
With an emphasis on more luxury pieces, Karen Millen is another much-loved British fashion brand. The place we head to for statement pieces and trend-led iterations of classic silhouettes, Karen Millen has lots of leather pieces to look through. They have an extensive size range and are one of the best plus size clothing brands, and are one of the few brands to serve up plus size leather pieces. If you're under 5'4 they also sell some of the best petite dresses too.
Karen Millen Military Leather Biker
RRP: $594 / £345 | The military style is timeless, making this jacket one you can wear forever. The popper details add some edge without distracting from the biker shape, making this both a trendy and easy to style piece. Available in four staple shades.
Karen Millen Leather Blazer
RRP: $600 / £349 | Giving a nod to the '80s nostalgia trend, this jacket leans into a corset silhouette. Made from responsibly sourced leather, pair with tailored trousers for a smart look. This jacket is sure to be a look you get asked about on repeat.
Karen Millen Faux Shearling Jacket
RRP: $238 / £139 | This biker jacket is a great winter season buy. Pair with your best winter boots and a midi dress as a cold weather wardrobe staple. We love the brown hue as it is the perfect color for fall and winter, and will never go out of style.
---
4. Maje
Best for timeless leather jackets
Specifications
RRP from: $745 / £449
Sizes : US: S-L / UK: 8-12
Reasons to buy
+
Future classics
+
Edgy styling
+
High-quality
If you love French clothing brands and the high-end finish that French dressing brings, then you need to check out Maje. With an almost Parisian, preppy-like aesthetic, this brand is incredibly stylish, creating lightly trend-led iterations of some of the most classic silhouettes. A favorite with the fashion pack, Maje pieces are beautifully made and will last you for years to come. While the brand doesn't have as extensive a collection of leather jackets as say, All Saints, it always has a few key leather jacket styles to underpin the season.
Maje Leather Biker Jacket
RRP: $595 / £835 | This leather biker jacket is gorgeous. A little different from classic black leather, we love this stunning blue hue that will make a real statement and is on trend for 2023. Ideal for year-round wear, this jacket will only improve with wear.
Maje 4-Pocket Leather Jacket
RRP: $745 / £549 | If you prefer a leather jacket that feels a little more like a coat, this leather belted number is a chic take on a traditional leather jacket. Featuring multiple pockets and statement, vintage-style buttons, it is practical as well as chic.
---
5. Mango
Best for affordable leather jackets
Specifications
RRP from: $79 / £49.99
Sizes: XXS-4XL (style dependent)
Reasons to buy
+
Affordable real leather jackets
+
Faux leather jackets available
Reasons to avoid
-
Largely faux leather products, so not ideal if you want a real leather jacket
One of the best Spanish clothing brands, Mango is our go-to for seasonless classics and the ultimate wardrobe staples. With a mixture of leather and faux leather styles, there is something for everyone amongst Mango's leather jackets for women. With price points under $80/£50, they also have more affordable styles than most. If you're nervous about investing in a leather jacket until you've taken one for a spin, then this is a good place to start. And if you're wondering how to style a leather jacket, then think of it like you would your best denim jackets or favorite cardigan. Easily layered over almost anything, they're ideal for what to wear to a concert or simply for everyday cool. Although, unlike a double denim jacket, when it comes to how to style leather pants, we suggest giving leather on leather a miss.
Mango Faux Leather Biker Jacket
RRP: $79.99 / £49.99 | Available in plus sizes, this leather biker jacket is available up to a size 4XL - making this a really inclusive product. With classic features including shoulder loops and secure, zip-up pockets. This straight-cut jacket might be lighter on your wallet, but it certainly isn't lacking in style.
Mango Short Leather Effect Jacket
RRP: $99.99 / £59.99 | This jacket is similar in style and structure to a denim jacket, making it easy to pair with anything in your wardrobe. For the days you don't fancy double denim, opt for this jacket as part of a mom jeans outfit and pair with chunky black boots and some statement accessories.
Mango Faux Shearling-Lined Biker Jacket
RRP: $199.99 / £69.99 | The oversize fit makes this a great piece to pair with tailored trousers. If you're looking to try out different styles of leather jackets, Mango's prices are affordable without sacrificing on quality. With a slightly cropped finish, for a feminine fit, this features all the classic biker jacket hallmarks.
---
6. Me + Em
Best for feminine leather jackets
Specifications
RRP from: $795 / £450
Sizes: US: 2-12 / UK: 6-16
Reasons to buy
+
Standout design
+
Different to other places
Me + Em is a wonderful British retailer with a real eye for detail and standout design. While many of the pieces give a nod to the current trends, Me + Em is more about elevated everyday pieces and wardrobe staples that you can wear time and time again. It's a great place to shop for work outfits as well as winter classics that will see you through the season. With a distinctive twist on classic silhouettes, expect the little details to be taken care of.
Me+Em Quilt Detail Bomber Jacket
RRP: $795 / £450 | A leather jacket often is seen as quite androgynous, boxy and square, but the iterations at Me+Em really consider the curves of the female form and are much more tailored. This twist on the heritage bomber jacket features a sweet puff sleeve, a contoured silhouette and on-trend quilt detailing.
Me+Em Leather Oversized Shirt Jacket
RRP: $1,050 / £650 | Shackets are all the rage this season, and we love the effortless look they give to any ensemble. This leather version is not only high-quality, but it is also bang on trend, thanks to the wide sleeves and slightly cropped fit. Though pricey, this simple but stylish jacket will last a lifetime.
Me+Em Shearling Biker Jacket
RRP: $950 / £550 | The bomber shape is the ultimate go-to for trendy looks. Providing a perfect fit thanks to the waist cinching, this piece will suit absolutely anyone - and never go out of style. Featuring a removable shearling collar, you get two styles for the price of one here, which is why we think it is worth the investment.
---
7. River Island
Best for faux leather jackets
Specifications
RRP from : $111 / £60
Sizes : US: 0-12 / UK: 4-28 (depending on style)
Reasons to buy
+
Mix of real and faux leather
+
Affordable
+
Good Size range
Reasons to avoid
-
Not a classic heritage leather brand
River Island always has at least one classic biker jacket in its fashion arsenal, so if you're looking for a non-leather version or a slightly cheaper real leather jacket, River Island should be on your fashion hitlist. With plus and petite ranges, they often have styles that will suit a multitude of body types. Team its leather jackets with its best petite jeans for an easy weekend look.
River Island Crop Trucker Jacket
RRP: $139 / £75 | Cropped jackets are incredibly stylish, and work particularly well for petite frames. Whether you are already planning what to wear to a festival, or want a layering piece that you can throw on over sweaters, this jacket has you covered.
River Island Black Faux Leather Biker Jacket
RRP: $139 / £75 | Swap out your best blazers for an edgier alternative with this biker jacket that is surprisingly versatile. One of our favorite pieces for wearing with jeans, dresses, or skirts, it won't fail you. Plus, it's a great price for a timeless piece.
---
8. Ted Baker
Best for variation
Specifications
RRP from: $495 / £295
Sizes : US: 2-12 / UK: 6-16
Reasons to buy
+
Trend-led designs
+
Quirky touches
+
High-quality
As a cult UK brand, Ted Baker started out making the best shirts, before becoming one of the leading fashion brands in the UK and well-loved all over the world. Offering a refreshing twist on style staples, expect quirky added extras, such as on-trend stitch detailing and reworked silhouettes.
Ted Baker Ellaar Leather Biker Jacket
RRP: $550 / £325 | This deep purple hue is gorgeous, and provides just as much versatility as black with some added oomph. Keep it fitted by opting for your usual size, or go a couple of sizes up to achieve that cool oversized look.
Ted Baker Clarya Panelled Jacket
RRP: $495 / £295 | If you prefer a more tailored leather jacket, this one has our vote. The ideal fit and length for both casual and more formal dressing, this is the only jacket you will need. A great switch out for a staple tweed or wool jacket for added edge.
Ted Baker Basile Shearling Jacket
RRP: $595 / £375 | The ideal mix of chic and cool, this jacket is an all-rounder that will slot easily into your wardrobe. Team with the best leggings this winter and an oversized sweater for a comfortable look. We love the faux fur trim for added luxe.
9. Reiss
Best for Utility Style Looks
Specifications
RRP from: $610 / £328
Sizes: US: 0-14 / UK: 4-18
Reasons to buy
+
Flawless finishes
+
Modern interpretations of classic looks
+
Tough edge designs
Reasons to avoid
-
Best on rectangle body shapes
Since 1971, Reiss has cemented its name as a leading UK fashion brand. Its leather jackets reflect the brand's long-standing design signature for sleek silhouettes, paired with sharp finishes and strong attention to detail. Well-loved for its tailoring selection, it is no surprise that Reiss makes excellent leather jackets too. With a smarter finish than your average biker, these Reiss coats will team well for those occasions where you require a little more of a smart casual outfit for added polish.
Reiss Allie Collarless Jacket
RRP: $610 / £328 | Add a feminine edge to your leather jacket via for this collarless design from Reiss. The tailored silhouette is given an easy fit with a double-ended zip, while the collarless look adds an elegant touch to this jacket. Pair with tailored trousers and your best designer heels for a smarter look.
Reiss Maya Leather Trench Coat
RRP: $1,860 / £998 | This is certainly a luxury investment, but one that you won't regret. Both leather and trench coats are foolproof items that are universally flattering and when it comes to how to style a trench coat, pair with the best white trainers, statement boots, or loafers to cover all occasions.
Reiss Gigi Leather Biker Jacket
RRP: $645 / £350 | Crafted from buttery soft leather, this jacket features tones of timeless detailing, including lapels studded with metal hardware, epaulets, and an asymmetrical zip, making it a forever piece. Layer under a trench coat in cooler weather or over a maxi dress on a cooler summer evening.
10. Jigsaw
Best for Innovative Designs
Specifications
RRP from: £320 (international shipping available)
Sizes: 6-16
Reasons to buy
+
High-quality design
+
Interesting fabric mixes
+
Timeless silhouettes
Priding themselves on designs that are "timeless, independent-minded and fun", this is mirrored in Jigsaw's leather jacket collection, boasting innovative designs to create pieces that will be show-stoppers in your wardrobe. Jigsaw's intention to source their fabrics responsibly is crucial when working with leather which is a natural material made from the hide of certain animals. Consciously aware and innovative are just two traits that make this a reputable, well-trusted brand, we also love the variety of their designs.
Jigsaw Quinn Black Leather Biker
RRP: £300 (UK only) | This super soft leather jacket from Jigsaw is lined with 100% cotton for breathability and comfort. The relaxed fit of this iteration means it is best teamed with form-fitting trousers to ensure a balanced silhouette throughout.
Jigsaw Nakoa Leather Mix Jacket
RRP: £320 (UK only) | Expand your leather jacket collection with a more directional piece. Combining leather and suede, this elevated jacket is ideal as part of an evening wear look and can be teamed over party-ready dresses instead of a boucle jacket.
---
Why some of the best leather jackets aren't made from leather
Leather is a natural fabric made mostly from the hides of cows (but sometimes sheep, lambs, and goats, too) and is by its very nature both soft and durable. Hence why it's such a popular choice for designer handbags. It can vary in color depending on the tanning process it has undergone and marks relatively easily - but don't let that put you off. The potential for scuffs and marks is no bad thing, as it will only add character to your jacket. Leather also becomes more buttery the more you wear it.
But not everyone is comfortable wearing leather, which is why we've also scouted out some equally stylish and hard-wearing faux versions. They're so convincing in appearance and texture that you'll need a keen eye to distinguish between them and the real deal. Faux leather is far cheaper than real leather to produce, making it a more purse-friendly option. Simply put, they're ideal for smart events and everyday wear.
---
How to make your leather jacket last
To keep your jacket looking gorgeous follow these five tips:
Apply leather protector: Treat your jacket with a spray-on formula that will repel water and prevent stains. Reapply it at least once a year, but more often if you live in an area that's very cold, wet or windy.
Don't overfill pockets: Never cram lots of items or carry heavy things in your pockets because it will stretch the leather. That's what your bag is for!
Put on beauty products before your jacket: Do not apply hairspray or similar products and fragrances while wearing your leather coat. They can stain the leather. Use the products before and ensure they are completely dry before putting on your leather jacket.
Don't accessorize: Never attach brooches, pins, badges, tape, or stick-on labels to your jacket. They will spoil the leather and leave holes.
Use professionals for alterations: Stitching into leather leaves permanent holes that are very obvious. So holes caused by incorrect stitching are impossible to remove. If you need your jacket tailoring or want to add embroidery or badges, then have a professional do it to reduce the risk of damage.
---
How do you pick a good leather jacket for women?
The fashion crowd love their leather jackets, and fashion editor and stylist Antonia Kraskowski believes you should invest in your jacket for the best result.
"Buying a leather jacket is a serious investment, so look for the best possible leather you can afford. The smaller the grain of the leather is, the softer the leather will become over time. It will slowly mold to your body shape and age beautifully over time, meaning that it will become a wardrobe staple. While the initial investment may be daunting, the cost per wear will make it worth it!
Look for a classic shape such as a biker style that finishes at the hip. This length means you can wear the jacket all year round, it will look equally great with jeans and skirts as it will when thrown over a dress."
Jess Beech is an experienced fashion and beauty editor, with more than eight years experience in the publishing industry. She has written for woman&home, GoodtoKnow, Now, Woman, Woman's Weekly, Woman's Own and Chat, and is a former Deputy Fashion & Beauty Editor at Future PLC. A beauty obsessive, Jess has tried everything from cryotherapy to chemical peels (minus the Samantha in Sex and The City-worthy redness) and interviewed experts including Jo Malone and Trinny Woodall.