How to build a minimalist capsule wardrobe for effortless everyday style
Quick and easy tips on how to build a minimalist capsule wardrobe - delivered by style experts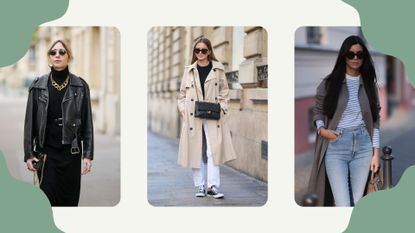 (Image credit: Getty)
woman&home newsletter
Sign up to our free daily email for the latest royal and entertainment news, interesting opinion, expert advice on styling and beauty trends, and no-nonsense guides to the health and wellness questions you want answered.
Thank you for signing up to . You will receive a verification email shortly.
There was a problem. Please refresh the page and try again.
Wondering how to build a minimalist capsule wardrobe? Creating a tight edit of clothes and accessories in your wardrobe will make getting dressed a breeze. The fastest way to everyday style, our experts talk you through this fashion hack.
A minimalist capsule wardrobe takes the stress out of getting dressed every day. The fastest way to how to dress simple but stylish, having less clothing to navigate each morning means you can easily put outfits together. After years of fast fashion and everyone's wardrobes stuffed to bursting with clothes, many people are now taking a more considered approach to getting dressed. Buying less, but better quality, which is better for consumption and in the long run, our bank balances too. Learning how to accessorize or wear items differently can also extend their cost per wear, ensuring your capsule wardrobe is full of smart investment purchases.
According to the United Nations Environment Programme (opens in new tab), the fashion industry accounts for up to 10% of global carbon dioxide output, which is more than international flights and shipping combined! Plus, every year the average American throws away around 37kg of clothes every year. Meaning that a minimalist capsule wardrobe is a great way to start shopping more consciously too. And this is a good idea whatever your age. Whether you're simply looking to nail those style staples or want the best over 50s capsule wardrobe, a tightly edit closet is the speediest way to style elegance.
HOW DO YOU CURATE A MINIMALIST CAPSULE WARDROBE?
Creating a minimalist capsule wardrobe might need to start with you investigating how to organize your closet. No easy task, creating a minimalist wardrobe is all about careful curation, so you'll need to put aside a chunk of time to make this happen. However, the reward in doing so will mean you'll have a clear visual aesthetic that you can wear with ease, every day.
Step one: Get rid of any items of clothing, shoes, or accessories that don't work for you. Whether you've changed body shape, have a different lifestyle, or your tastes have changed, if something doesn't feel right for you, right now, it's time to ditch it. The only exception to this rule is items that hold memories. These should be removed from everyday wardrobes and placed folded with tissue paper into an airtight container, along with a picture of you wearing the item for sentimental reasons, and stored elsewhere.
Step two: Make sure you have the basics covered. These will underpin your wardrobe. They may be boring to shop for, but the basic best shirt, a great under top or a classic sweater will help to make the more statement pieces in your wardrobe shine.
Step three: Don't forget your own personal style. Many experts talk about what has to be in a capsule wardrobe, but your minimalist capsule wardrobe should be full of pieces that are right for your personal aesthetic. Never wear a wide-leg pant and have no desire to learn about what to wear with wide-leg pants - then they have no home in your closet either.
Step four: Finally, it's about having some fun, playing dress up, and discovering how different items in your closet interact. This means creating lots of different combinations, so have a massive try-on session, play with how you pair items, and just test-run what works and what doesn't. Photograph successful looks as a reminder.
Ensuring you have lots of different combinations is the key, says style writer Emily Johnston (opens in new tab).
"A (minimalist) capsule wardrobe is one where every piece purchased carries its weight in your daily outfit battle!" she says. "Having a wardrobe where every piece purchased plays well together in creating an outfit means that you can literally pick any top, bottom and coat combination and it will work. There are no mistakes to be made, no questions to ask."
While it's important to get the right foundations, minimalist capsule wardrobes don't have to be boring and basic either, says award-winning personal stylist Lisa Talbot (opens in new tab).
"Your style personality can be injected into your wardrobe by the colors and prints you have, the styles of clothing you prefer and also the fabric you like to wear," she says. "Our personality drives what we wear without us even knowing it!"
This is more than just about having your own uniform to wear though. This is about mindful shopping and wearing what really brings you joy. Living with less will help you make much more considered purchases when you do hit the shops. It will also make you see how much wear you can get out of certain items just by styling them differently, all of which is great for the environment and our bank balances.
WHAT DOES A MINIMALIST CAPSULE WARDROBE CONSIST OF?
When it comes to how many items are in a minimalist capsule wardrobe, there is no definite answer. It's largely whatever works for you. Whether that's 10 items (for those who really want to slimdown their wardrobe) to around 30, just as long as you can create multiple matches, you're on the right track.
Emma Lightbown (opens in new tab), a stylist and presenter, suggests road-testing a minimalist capsule wardrobe if you're not sure it's the right fit for you.
"Try the 10 x 10 challenge, where you chose 10 items from your wardrobe and only wear those for the next 10 days," she suggests. "I've done it a couple of times and it's a really interesting process. It pushes you out of your usual ways of styling outfits and encourages you to be more creative with your wardrobe."
A really good minimalist capsule wardrobe is one that you continually refine and refresh - whether that's for the season or your new work situation. Remember as well that just as with any fashion, a minimalist capsule wardrobe is a personal thing - what works for one person, won't necessarily work for another, but there are some basics that you can start off with.
Top: Good quality t-shirts, shirts or blouses, as well as a couple of the best sweaters in neutral colors
Trousers: Slim-fitting trousers or leggings, a pair of the best jeans, and tailored trousers that will work for smarter occasions
Dresses: A shirt dress, a casual dress and one that's slightly smarter
Coats and jackets: An overcoat, the best leather jacket and a blazer
Skirts: A maxi skirt, a printed midi, and a mini skirt (or shorts)
Shoes: Ankle boots, trainers, and something with a heel
Bags: A structured work bag, a smaller casual bag, an evening bag
Accessories: A belt, sunglasses, pared-back jewelry, a statement piece, a scarf, a hat
Use this list as a guide, not everything on the list will apply to you, but this is a strong blueprint of basics that you can adapt to your style. While a modern minimalist may go ga-ga over a crisp white shirt, a vintage lover will probably prefer a floral Peter Pan blouse as their go-to shirt, both can work in a minimalist capsule wardrobe, but it is these subtle nuances that will make the aesthetic your own.
1. TOPS NEEDED FOR MINIMALIST CAPSULE WARDROBE
Get the tops right in your minimalist capsule wardrobe and you'll be onto a winner. They'll work with all your other items to create a huge variety of different outfits. But what's the most important top to have? According to Emily, the ultimate staple is a shirt.
"I love a button-down collar shirt," she says. "I have one in almost every color and pattern. They work on their own or can be worn under dresses, knitwear and more to elevate a look."
She also says that no wardrobe - whether capsule or not - is complete with a classic t-shirt. Choose the best quality you can for this, especially if buying in a neutral shade of white or black, as you will literally wear it with everything, day and night.
2. TROUSERS NEEDED FOR MINIMALIST CAPSULE WARDROBE
It's important to look at your lifestyle to work out the style of clothing you want in your minimalist capsule wardrobe - and this is particularly relevant to trousers.
"There's no point filling your wardrobe with formal office wear and trousers if that's not your everyday life," says Emma. "I would suggest looking at the pieces and silhouettes you wear most and basing the rest of your wardrobe edit around them. For example, I tend to wear more dresses than trousers but would include a pair of tailored cigarette style trousers, a great pair of wide legs and then a couple of pairs of jeans, knowing that the trousers might not get as much wear as some of the other pieces."
As well as the style, think about the materials and colors that will work in your minimalist capsule wardrobe. Cream jeans are very on trend, but may not be great for you if you have a very messy toddler, while leather trousers, which are wipe clean, could be a good choice as they'll take you from day to night with a change of your top, perfect for time-pressed mums, or if you're prone to spilling that morning coffee.
(opens in new tab)
H&M Vintage Straight Leg Denim Jeans
RRP: $29.99 / £24.99 | Straight-leg jeans are a great silhouette for versatility. The straight cut from the hip is flattering on legs and thighs, easily balancing your shape. This pair from H&M are a slightly slimmer fit than most straight jeans, ideal if you're trying to work out whether to choose skinny vs straight jeans.
(opens in new tab)
French Connection Vegan Leather Trousers
RRP: $98 / £65 | Proving black leggings don't have to be boring, these pleather ones will add a bit of rock and roll to your wardrobe. The perfect base for all legging outfits for any occasion, team them with a sweatshirt and trainers for daytime or pair them with high heels and a slinky top for a night out.
(opens in new tab)
River Island Checked Tailored Trousers
RRP: $65 / £35 | Checks are one of the big winter 2022 fashion trends, having a revival this season, and we love this pair. As versatile as black, but without being boring, these checked pants are great for pairing with a blazer for the office, or double the wear and team them with a cable knit at the weekend.
3. SKIRTS NEEDED FOR MINIMALIST CAPSULE WARDROBE
If you're not a skirt person, choose more pairs of trousers, but generally, three skirts are a good place to start – and the good news, they don't all have to be black.
Choose patterns that incorporate the tones of your favorite wardrobe basics so you can mix and match them with your skirts, and while a midi length does suit all, mini skirts are back in fashion once more and look great teamed with thick tights and this season's boot trend - the chunky biker boot.
(opens in new tab)
Jigsaw Bias Cut Maxi Skirt
RRP: $140 / £115 | Playing on this winter's '90s fashion trends, the maxi skirt is the look to inject right now. Minis may be on the runway, but a maxi skirt is super versatile, especially in go-with-everything shades such as khaki, navy, black or cream, and will provide you with a base for all those long skirt outfit ideas.
(opens in new tab)
M&S Leopard Print Midi Skirt
RRP: $51.99 / £29.50 | Leopard print is classed as a neutral and as a pattern, it goes with so many different things, easily injecting a touch of cool into your wardrobe, from birthday outfit ideas to what to wear in Rome. The pleated shape here means you should tuck in your top to highlight your waist
(opens in new tab)
RRP: $66.99 / £55 | A cord skirt is perfect for winter outfit ideas and this beauty will become the most worn item in your winter wardrobe. Team with a chunky knit sweater, opaque tights and your best knee high boots for a look that's cozy and stylish. For more leg coverage, try a pair of on-trend, over-the-knee boots.
4. DRESSES NEEDED FOR MINIMALIST CAPSULE WARDROBE
How many dresses do you need for your minimalist capsule wardrobe? Emily says it can be as few as just two.
"In reality, every woman needs two she can absolutely count on: one for day and one for night," she says. "If you can find one that does both, with a little help from accessories, all the better. It's all done to the fit as well. If you find something that works, like a classic wrap dress, swear by that style."
(opens in new tab)
RRP: $120 / £69 | Every wardrobe needs a dress you can just throw on and go – and this is it. The simple shape and color mean it's a shirt dress that can be worn in a variety of ways. Accessorize with a statement necklace and clutch for evening, or wear it over leggings with boots for a far more casual finish.
(opens in new tab)
Oliver Bonas Denim Mini Dress
RRP: $105 / £69.50 | Like jeans, a denim dress is super versatile. The puff sleeve adds femininity, while the length makes it a perfect pairing for boots. In fact, it's a great partner when you're wondering how to wear cowboy boots too, just team with the best cowboy boots and you're ready to rodeo!
(opens in new tab)
Mint Velvet Satin Slip dress
RRP: $200 / £109 | You may think this is an evening or summer-only dress but you'd be wrong. Not sure how to style a slip dress for a winter's day? Wear it over a slim-fitting polo neck, throw on your best wool coat and finish with a pair of chunky boots for a thoroughly modern look that still feels super cozy.
5. JACKETS AND COATS NEEDED FOR A MINIMALIST CAPSULE WARDROBE
Practicality definitely plays the biggest role in what coats and jackets you decide to include in your minimalist capsule wardrobe. And if you're splitting your wardrobe into seasons, then a great coat is a must for winter capsule wardrobe too.
Emma says if you're outdoors a lot then a practical waterproof puffer jacket is a must, otherwise think about those coats that are super versatile, and easy to dress up or down.
"I would include a smart tailored coat or trench, which can see you through evening events but that can also be worn during the day; a blazer for wearing over dresses or pairing with jeans and finally a leather jacket, which goes with everything!" she suggests.
Neutral tones will go with most things in your closet, but jackets and coats are items you can afford to have some more fun with so if green checks are your thing, do it. It will instantly uplift your minimalist capsule wardrobe basics into something much more fashion-forward and it's a great way to introduce bright color clothes into your wardrobe.
(opens in new tab)
RRP: $686 / £399 | Bright pink is one of the best coat trends this season, after all, who wouldn't feel happy shrugging this beauty on during the dark winter months? The rounded shoulder and oversized fit will ensure that all your outfits look very much on trend, while still keeping you warm and snuggly.
(opens in new tab)
Mango Leather Biker Jacket
RRP: $399 / £229 | From one of the best Spanish clothing brands around, comes this classic biker jacket. Made from real leather, which will just look better over time, this jacket is a true investment piece. The classic styling means it won't date and will look great flung over floral dresses or worn with sequin skirts.
(opens in new tab)
RRP: $175 / £177 | Everlane has come up with the goods with this blazer. The khaki shade is versatile but more universally flattering than black, and if you're not sure how to style a blazer outside of workwear, just think of it as a cardigan. Layer over t-shirts and dresses or team with leather trousers and floral skirts
6. SHOES NEEDED FOR A MINIMALIST CAPSULE WARDROBE
Can you have ever have too many shoes? Well, it seems when it comes to a minimalist capsule wardrobe, the answer is yes. Miranda recommends at the very least a good pair of boots, some go-with-everything trainers and a pair of heels that work for your lifestyle.
As the fall winter shoe trends 2022 demonstrate, it's not all about uber-high heels anymore, so if you prefer comfort, you can still be stylish with a block-heeled Mary Jane shoe or a manageable kitten heel.
(opens in new tab)
All Saints Leather Crinkle Boots
RRP: $300 / £249 | Whether you go for knee-high boots or ankle boots is all down to personal preference, but for versatility, a shorter ankle boot can be worn with skirts, dresses and trousers. One with a slight heel, like this one, can also be worn day or night, maximizing your cost per wear, a strong investment.
(opens in new tab)
RRP: $154 / £130 | You simply cannot go wrong with a pair of the best white trainers. Their simple styling ensures they'll go with everything, which is why they reign supreme in a minimalist capsule wardrobe. Rendering every outfit a little more laidback, pair them with tailoring, dresses or joggers.
(opens in new tab)
L K Bennett Bow Front Kitten Heels
RRP: $430 / £239 | One of the more practical shoe trends for spring is the kitten heel. Easy to wear, but still perfect for night-time, give them a modern makeover by styling with baggy jeans or leather trousers. The d'Orsay cut on this pair adds an elegant, yet sexy, touch to this otherwise classic pair of courts.
7. BAGS NEEDED FOR A MINIMALIST CAPSULE WARDROBE
"Three bags in your favorite neutral tones would serve you well - one structured bag, large enough for your work essentials; a slouchier weekend version and something beautiful that suggests evening," advises Miranda.
If you can splash the cash on the best designer tote bag or best designer crossbody bag, do it. The concept of a minimum capsule wardrobe is to consume less and wear more and a good quality bag will last a lot longer than a cheaper high-street version. Saying that, there are some shops such as Cos, Arket, Whistles and Mango that sell more affordable bags that are very much design-led and are also of high quality.
(opens in new tab)
RRP: $379/ £239 | Classically structured totes, are one of the big handbag trends 2023 – and it's one bag look that's going nowhere fast. Spacious enough to fit in a laptop, making a smart tote bag for work, the minimal styling makes it super stylish.
(opens in new tab)
Charles & Keith Slouchy Bag
RRP: $59/ £59 | Brown makes a great choice when you're looking for something a little more casual. The slouchy design makes it super on trend for both winter and into 2023, while the choice to carry it or wear it hands-free means it's also versatile.
(opens in new tab)
Saint Laurent Crossbody Bag
RRP: $1,929 / £1,440 | If you want to invest in a designer bag, make sure it's a timeless piece like this black and gold Saint Laurent one, which works for day or night making it one the best Saint Laurent handbag for a minimalist capsule wardrobe.
8. ACCESSORIES/JEWELRY NEEDED FOR A MINIMALIST CAPSULE WARDROBE
Accessories can really be a savior if you decide to go for a minimalist capsule wardrobe, as they can add personality and a touch of flair to the basics you own.
"A (minimalist) capsule wardrobe can sometimes be seen as a little boring as it's based on the wardrobe staples which don't always tend to be that exciting," says Emma. "Livening up an outfit with some statement accessories or a pop of color is a great way to combat this."
Miranda agrees and says although it's good to invest in some staple accessories and jewelry, this is also one area where you can include some more on-trend pieces as well.
"I always advise my clients to have 90% investment pieces which can be worn multiple ways and last for years, then save the last 10% for the frivolous and the fun," she says. "This could be splashes of color or more trend-led items which keep things fresh and exciting, such as sunglasses or a fabulous hat."
HOW MANY ITEMS SHOULD BE IN A MINIMALIST CAPSULE WARDROBE
All the experts we spoke to recommended between 20-30 pieces in a minimalist capsule wardrobe, however, as Emma points out, this doesn't include everything. Items like sleepwear, activewear and underwear are all extra. Plus, you might want to have a few items for those special or more formal events.
Emma says that if you're based in somewhere where there are extremes of weather, you may also find your minimalist capsule wardrobe somewhat extended.
"A (minimalist) capsule wardrobe is also not necessarily as neat and compact as you might initially assume especially in countries like the UK where the weather is so seasonal - you'll need to curate a wardrobe for each season," she says.
And yes, a minimalist capsule wardrobe can feel a bit restricting, and some may say boring, which is why Miranda says you shouldn't do too much of a cull (especially initially) and always leave some space for creativity.
"There will always be the die-hard minimalists who swear they can happily rotate 12 garments, but the aim is still to be inspired and have choices when you open those wardrobe doors," she states. "A great tip is to also plan outfits and be able to wear each piece in three different ways."
For Lisa there is no set amount, for her it's all about how many outfits you can create from the items you have.
She says: "When you start to create a (minimalist) capsule wardrobe the aim is to see from the items you have, how many outfits you can create, for example, you may have 15 items of clothing that can be interchanged to create 30 outfits."
Because at the end of the day, creating a capsule is all about getting the most out of your wardrobe without accumulating too many items that you don't wear. So keep it tight and edited and make thoughtful purchases that will work with other existing items in your closet and you'll nail a minimalist capsule wardrobe in no time.
With over 22 years' experience in journalism, Jayne has written about a variety of subjects. She spent the start of her career within the world of film, interviewing Hollywood stars, attending premieres and lusting after red carpet outfits, and then moved into fashion, launching websites for big magazines such as Look, Woman's Own and Wedding and working with top fashion brands such as Westfield, LK Bennett and Hunter.
Career highlights include dressing up as Kylie (in gold hot pants!) for a national newspaper and working on big fashion events alongside Giles Deacon, Henry Holland and Naomi Campbell.