How to dress simple but stylish: 12 tips to look chic every day
Streamline your style with these 12 tips for how to dress simple but stylish for every occasion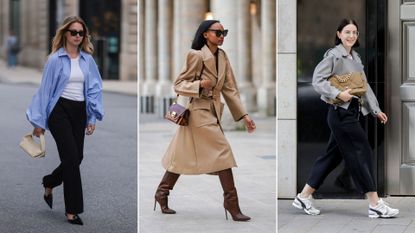 (Image credit: Getty Images)
Yearning to learn how to dress simple but stylish? If your wardrobe is busting at the seams but you never have anything to wear, it might be time to simplify how you get dressed.
Do you want to know the secret to how some women always look so put together? It's all down to their knack of looking stylish in simple clothes. Creating a capsule wardrobe of essentials, it all comes down to how they style pieces together. Opting for a more pared back look, timeless silhouettes and neutral hues will give you a hardworking wardrobe that always looks luxe.
Many of us have closets that are full of clothes, yet we only wear a select few items time and time again. Too much choice can be paralyzing when trying to pull together a chic outfit, making how to dress simple but stylish nearly impossible. Having a subtle approach to getting dressed means knowing your personal style and ensuring your wardrobe is packed with pieces that effortlessly go together.
12 steps to learning how to dress simple but stylish
Nailing how to dress simple but stylish does take some work, to begin with, but once you've got these steps in place, you'll find getting dressed every day becomes joyful, rather than stressful. These expert tips will also help you buy less, shop better and create a chicer look in the process, what's not to love?
And rather than it being about boring clothes, learning how to look stylish in simple clothes will help you maximize on the basics, adding in trend-led or statement pieces as and when you want, but really getting the wear out of the building blocks of your wardrobe.
1. Choose quality over quantity
How often have you been tempted to buy something because it was discounted? Or ended up buying something you didn't need because you were won over by a cheap ticket price? Never buy anything just because it's a great deal - if you never wear it it's definitely not a bargain!
"Investing in immaculately cut, classic pieces in beautiful fabrics that will stand the test of time will reduce clutter in your closet and provide an elegant foundation from which you can develop your style," advises stylist and feel-good fashion coach, Miranda Holder (opens in new tab).
Cheaper items can also often mean that the quality isn't as good, so if you find something you love and wear it repeatedly, it may only last a year or so, meaning the cost-benefit is short-lived.
Investing in good quality items made from natural fabrics is a good bet to longer-lasting clothing. Yes, the best cashmere sweaters aren't as cheap as their man-made counterparts, but they'll last longer and feel a whole lot nicer to boot. Plus, if you added up how much you spent on cheaper sweaters, you'll have probably spent the price of a quality jumper already.
This is particularly true for those items you wear a lot such as coats or footwear. Work out the types of coat that fit into your lifestyle and then spend the maximum you can; the same goes for shoes and boots.
(opens in new tab)
RRP: $259 / £159 | While cashmere was once relatively unattainable on a budget, it's now fairly easy to find good quality cashmere knits, from straight-to-market brands. A cardigan is a smart investment as it's ideal for what to wear over a dress or can be worn done up, in place of a sweater.
(opens in new tab)
RRP: $130 / £100 | Not only is silk a naturally durable fabric, but it also feels pretty darn nice. Light and breathable, silk shirts will help regulate your body temperature and always look polished. The best shirts to buy are ones that won't date, so opt for a neutral hue, with interesting details such as a statement collar.
(opens in new tab)
RRP: $130 / £100 |With added attitude, leather trousers have become a fashion must-have in recent seasons, so it's worth investing in real leather or high quality vegan iterations. If you're wondering how to style leather pants, treat them similarly to jeans, pairing essentially with everything in your closet.
2. Back to basics: incorporate essentials in your wardrobe
A wardrobe that is full of the latest fall 2022 fashion trends is all well and good, but you need to first invest in wardrobe essentials as the building blocks of your closet; the pieces that will help you simplify getting dressed and streamline your style.
These essentials will differ depending on your lifestyle and where you live, but basics such as the best white t-shirt, jeans that fit well, and a quality sweater should make it onto the list.
Other essentials you could buy to help you elevate your look include:
A dress: Whatever style dress you choose, opt for a neutral color or pattern so that it can pair with everything else in your wardrobe. The best shirt dresses, for example, should be easy to incorporate into smart casual outfit ideas, working with trainers as well as court shoes for the office.
An oversized shirt: A breezy oversized shirt is a modern must-have and can take you from season to season. You just need to learn how to style oversized shirts to get the most out of them, but once you've got one, you'll never look back.
A blazer: The best blazer is that one that suits your wardrobe and style. If you like to be on trend, go for one that's slightly oversized, however, if you're petite, be wary of going to oversized, as too much fabric can drown your frame. Instead, opt for a more tailored style to highlight your frame. Largely a casual dresser? Select a blazer that will work with jeans and hoodies, as well as over office-ready pieces.
(opens in new tab)
&OtherStories Crewneck T-shirt
RRP: $25 / £17 | Beloved by many a fashion editor, &OtherStories t-shirts are made from thick, organic cotton, which won't show your bra and will last for several seasons. A relatively cheap basic that you'll return to time and time again.
(opens in new tab)
Levi Wedgie Straight Jeans
RRP: $75.98 / £110 | The best jeans are the ones that suit your body type, and a straight-cut pair are universally flattering. Simple with a slightly retro feel, straight jeans go with everything, opt for a dark blue hue for maximum style versatility.
(opens in new tab)
RRP: $254.45 / £169 | A black blazer is not just for work. Ideal for how to dress simple but stylish, an oversized one, can form the basis of many outfits, as it goes just as it can add polish to denim jean outfits, as well as adding a tailoring element to dresses.
3. Look after your clothes
No clothes, not even the most expensive ones, will look good if you don't look after them.
It all starts with how you wash them. To save your clothes and the environment, wash less, but when you do wash them, make sure you've read the care labels. Washing detergents are so good these days, that you can use low temperatures for most things - this will help preserve your clothes for longer. And if you can avoid dry cleaning, do so as it's kinder to the planet and fabrics (unless the fabric specifically requires dry cleaning). Hand washing delicate fabrics such as cashmere and silk will work just as well - and be a whole lot cheaper, even if they do take a little longer.
Air dry where possible. Tumble drying is not only a drain on energy, but it can also shrink certain fabrics. A heated air dryer is a great, gentler alternative if you don't have good drying weather.
Finally, how your store your clothes is really important.
Choose wooden or padded hangers to stop them from becoming misshapen.
For knitwear, it's good to store with lavender or moth balls for extra protection.
And remember, not to ram your wardrobe full of clothes. It will just create lots of wrinkles and color can transfer from items. If you're finding your closet is overloaded, learn how to organize your closet, to maximize space.
(opens in new tab)
Amazon Basics Velvet Hangers
RRP: $26.99 / £16.05 | Available in a variety of shades, the velvet prevents slipping and keeps garments looking good. Having matching hangers will give your wardrobe a retail feel, so you can feel like you are shopping every, single, morning.
(opens in new tab)
The Laundress Whites Detergent
RRP: $24 / £21.49 | It might seem pricey for a laundry detergent, but this is no ordinary washing liquid. It will help keep whites, bright, which is important in ensuring your clothes stay looking good. Ideal for shirts and t-shirts that need to look sharp.
(opens in new tab)
Dry:Soon Tier Heated Airer
RRP: $123 / £109 | Air drying is so much better for your clothes than dry cleaning or tumble drying. When it comes to how to dry clothes indoors, a heated airer is relatively cheap to run and helps your clothes dry quicker, making it is easy to fold them away.
4. Try on your wardrobe
You may know what's in your wardrobe, but does it still fit? Or suit your current style? When it comes to how to dress simple but stylish, streamlining your wardrobe is absolutely key, as it will help you truly see what's in there.
A wardrobe try-on is a great idea when overhauling your look. Use this as an opportunity to get rid of old clothes, fix beloved items that need some TLC and create new looks as you go. You can even take pictures and create a little visual library as a reminder to make hurried mornings a little easier.
5. Get rid of everything that doesn't fit, dated, or worn out
If you want to master how to dress simple but stylish, it's important to take a look through your wardrobe and see what you are actually wearing. There will be many items that no longer fit, are damaged, or are just not in style anymore.
A good tailor can fix past season favorites, as well as alter those items that are out of style. Taking up a pair of trousers to give them a cropped look will make them seem more contemporary, while a maxi dress can easily be shortened into a midi dress to make it more wearable.
Once you've got your wardrobe in shape, make sure to do an MOT regularly, so you keep it looking streamlined and stylish. Always focus on the building blocks, as these are key to how to look stylish in simple clothes.
If you find you have items that you don't know what to do with, try them on with other items in your closet, if you decide an item isn't for you, it might be time to learn how to sell clothes online.
6. When in doubt, choose neutrals
While color adds a touch of joy to any outfit, matching brights or pastels can be tricky, especially if you're time-poor. There's also establishing 'what color suits me?' to take into account when working out the shades to shop. But you can get rid of that daily procrastination by having a wardrobe full of neutral colors. A key fashion trend 2022, not only will it make outfit building super easy, but neutral outfits also always look luxurious and expensive.
"Neutrals, from black to navy to charcoal grey all mix and match effortlessly, and when combined, create a polished, expensive-looking aesthetic- just think of all those trendy Instagram feeds - don't forget that denim and leopard print are also classed as neutrals too!" says Miranda
When you have a neutral base to work with, it's also easy to introduce the fashion color trends 2022, such as bright pink or green when you're feeling in need of a little pick-me-up.
(opens in new tab)
RRP: $45 / £39.99 | When it comes to coats, a camel coat adds instant chic to any look. A luxurious suits-all shade, it adds depth to an outfit without clashing with other colors. A belted coat creates a waist and elevates jean, dresses or pants instantly.
(opens in new tab)
Nike Air Max Dawn Trainers
RRP: $117 / £104.95 | Choosing white or beige trainers ensures you'll be able to wear them with everything in your wardrobe whatever the season. The neutral tone will ensure your shoes stay subtle too. Go head-to-toe cream for an ultra luxe look.
(opens in new tab)
French Connection A-Line Mini Dress
RRP: $84 / £75 | Everyone has heard of the little black dress, but what about the little navy dress? More universally flattering than black but just as versatile, navy goes with neutral and bright shades equally well. A great, every day investment piece.
7. Create an easy-to-wear uniform
If you like having fun with fashion, the thought of a capsule wardrobe can feel dreary, however, if you get the elements right, it can help you create a personalized uniform, so to speak.
The benefit of a uniform is that you know it will suit you, everything will go together, and you can get ready in record time. It's not something that you have to live in forever - weekends and special events in particular offer opportunities to really think outside your capsule wardrobe (if you so choose) - but if you want to look effortlessly stylish on a day to day basis, then it's the way to go.
It's something Miranda believes works for everyone – including royals like the Princess of Wales, Kate Middleton.
"Creating your own signature look has to be the ultimate hack for hassle-free dressing and can save you buckets of wasted time and money while clothes shopping," she says.
She continues: "The first step is to explore your options, either with the help of a personal stylist or through the endless resources in books and online. Consider your body shape, style personality and lifestyle, then have fun developing a look that is 'all you', before investing in several slightly different versions of it. Your clothes will always fit and flatter, and you'll never be stuck for what to wear again."
(opens in new tab)
Zara Striped Oversize T-shirt
RRP: $29.90 / £19.99 | A striped tee never goes out of fashion and if you're looking for everyday outfit ideas, they're a great mainstay of your wardrobe. Throw a blazer on over the top to smarten it up or team with jeans for a casual spin for the school run.
(opens in new tab)
M&S Pleated Jersey Midi Skirt
RRP: $51.99 / £29.50 | This pleated jersey skirt is the epitome of versatile styling. Ideal teamed with a t-shirt and trainers for a day out, it can be dressed up for the evening with heels and a silk blouse. The added stretch means it's comfortable to wear as well.
8. Harness the power of a good accessory
"Never underestimate the power of the finishing touches to bring a look together and reflect a little personality, making a simple outfit far more special," says Miranda.
She continues: "Whether it's a statement handbag that brings a little edge to an otherwise feminine style or a bold necklace which transforms a plain white tee into something more interesting, accessories are your best fashion friend and a great way to get creative and playful with your style."
Making a simple but stylish outfit feel instantly more put together and thoughtful, accessories are also a way you can stamp your identity onto wardrobe basics. Choose different textures, bright colors or unusual shapes to have some fun.
Miranda's top tip? Keep an eye out for interesting accessories while you're travelling - they'll add a unique touch to your outfit, as you're unlikely to spot someone else in the same piece and will also remind you of cherished trips.
(opens in new tab)
RRP: $210 / £140 | Studded bags are one of the big handbag trends 2022, and this bag taps into the trend in a subtle way. One of the best crossbody bags, the studs add interest to your looking, injecting a little bit of a rock chick feel to any ensemble.
(opens in new tab)
RRP: $355 / £230 | Glasses often get neglected as a fashion accessory, but they're simply a missed styling opportunity. One of the biggest eyeglasses trends 2022, the retro cat eye is back and is a super chic style that suits nearly every face shape.
(opens in new tab)
Jigsaw Resin and Metal Necklace
RRP: $91 / £80 | Dopamine dressing doesn't have to be confined to clothes. Colored resin necklaces are an easy way to add a flash of bright to any neutral outfits. This one gets extra style points for being oversized, tapping into the jewelry trends 2022.
9. Become a better shopper
Simplifying your wardrobe and really getting to grips with how to dress simple but stylish starts with shopping. If you only buy what you need - or what you really love - it will ensure that you have a wardrobe that is a co-ordinated, bringer of joy.
Don't buy something for just one occasion: How often have you bought something new for an event? It's tempting to get new clothes when a special occasion is looming, but it's not cost effective. Instead, think about how you could wear something you already own in a different way, or if you are looking to shop new, ensure you can wear the item more than once. Equally if you focus on buying more neutrals this will get easier with time, as these items can be switched up and reinvented more easily with accessories. If you really want something new, you should also consider the best designer dress rentals. There are a whole gaggle of sites around that allow you commitment free access to posh frocks and more, serving the best wedding guest dresses that allow you to experiment and have the feeling of a new outfit without the long-term commitment.
Don't buy something that doesn't fit: We've all done it. Seen a bargain that is a little bit tight and thought we'll slim into it. Or bought the XL even though it swamps us with the idea of taking it to a tailor. The fact is, you probably won't get it altered and holding onto clothes that don't fit us right now can really affect how we feel about ourselves. Dress and shop for the body you have now and save time, money and emotional energy by only buying what fits. And if that means walking away from a 'bargain' so be it.
Don't buy what you already have: It may seem obvious, but if you've got a thing for striped tops or leopard print dresses, chances are you'll be drawn to them time and time again. And while these are great basics for how to look stylish in simple clothes, you probably have enough of them already.
However, if you really feel like you need that new Breton then you need to follow the final shopping commandment.
When you buy something new, get rid of something old: A simplified and stylish wardrobe should operate on a one in, one out system. That way, you don't get overwhelmed with too many clothes. And if you really can't give up an old favorite for your new buy, it's probably a sign that you don't love that new item enough.
10. Study
Learning how to dress simply but stylish does take some work, and studying the craft is a sure-fire way to get better at the application. But this is unlike any other studying you've done. Create a Pinterest board of your favorite looks or discover some influencers to follow on Instagram.
It's also a great idea to keep up with the fashion trends 2023. You don't have to follow them slavishly, but it will help you understand where hem lines are for the season for example, or what the best coat trends 2022 are as this is what you're likely to start seeing in shops in the months ahead.
You could also try to diversify where you shop to help switch up your look, discovering brands that specialize in a more simplified aesthetic. Scandinavian clothing brands, such as Flippa K and Baum and Pferdgarten, offer simple, muted clothes that will fit into your new style effortlessly. But don't discount British clothing brands either though - Me + Em and Hush are just two under the radar brand that deliver quality clothing with nice, simplified design touches.
(opens in new tab)
Me + Em Pearl Detail Jumper
RRP: $245 / £150 | Creating high quality clothes that are wearable and on trend, Me + Em nails classics with a twist. This cream merino sweater has a directional athleisure feel, while the single pearl button adds a touch of luxurious femininity.
Baum and Pferdgarten Coat
RRP: $489 / £389 | A stylish coat is the basis for chic fall outfit ideas and this one delivers that in spades. Featuring a removable quilted collar for extra warmth, it's a classic style and a great length for all outfits. The color promises not to date too.
11. Shoes can make or break an outfit
Making or breaking an outfit, how to dress simple but stylish relies on a solid base of classic shoes and while you don't need a shoe wardrobe to rival Carrie Bradshaw's, having a few pairs that will co-ordinate with most of your outfits means it will be easier to get dressed in the morning.
Just like your capsule wardrobe of clothes, invest in the best quality you can afford and think about including trainers, a court shoe, a boot (either ankle or knee high) and some sort of flat.
Your shoes don't have to be boring either - tapping into the latest shoe trends 2022 can give you some fresh ideas and breathe life into old outfits. However, don't splash the cash when it comes to trends, keep your money for those more classic styles that won't ever date.
(opens in new tab)
&OtherStories Mary Jane Ballerina Flats
RRP: $129 / £85 | Ballet pumps are back in fashion and aside from being one of the best styles of shoes to wear with leggings, they also look great peeping out of wide-legged jeans or trousers. Directional and comfortable, they're a winner for us.
(opens in new tab)
Jones Chunky Chelsea Boots
RRP: $157 / £125 | The best Chelsea boots are those with a chunky sole and minimal styling. Classic, chic, yet super practical, they'll go with everything in your wardrobe, adding a bold edge to girlie dresses and pairing with jeans perfectly.
12. Don't forget your hair and makeup
Every stylish woman knows that the final finishing touch to a look is hair and makeup.
Miranda believes having good hair or subtle makeup not only makes you look more polished, but it will also make you feel good about yourself.
"There's nothing quite like a fresh bouncy blow dry to put a spring in your step or the perfect shade of lipstick to lift your complexion and bring some color to your face," she says.
She continues: "Spending an extra few minutes doing this every morning is so worth it, thanks to the uplifting ripple effect it will have afterwards. You will feel better, stand taller, smile more and people will naturally gravitate towards you so prioritize the extra time for yourself in the morning and reap the benefits for the rest of your day. Remember, you deserve it!"
Lisa Eldridge Red Lipstick
RRP: $36 / £26 | Red lipstick instantly makes you look more put together and will add a confident boosting feel to any look. This bright orange/red shade is the ultimate pick-me-up. The velvet formulation has a slight sheen so it also feels nice to wear.
(opens in new tab)
RRP: $169 / £179 | Shiny, frizz-free locks are an easy way to look effortlessly stylish. This hot brush uses ceramic technology and an ionizer for taming hair and eliminating frizz in an instant. Sometimes it's the simple. little things that make a big impact.