What to wear over a dress: How to layer dresses to make them work harder in your wardrobe
This is what to wear over a dress to help transform it for all occasions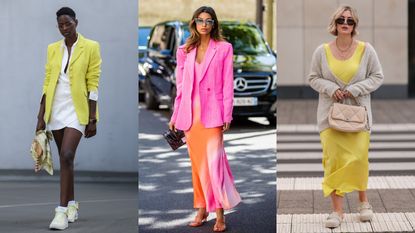 (Image credit: Getty)
Learning what to wear over a dress can help reinvent your wardrobe. While a dress is seen as a one-and-done outfit, it's actually an incredibly versatile base layer that can be reworked for numerous occasions, making your wardrobe work harder.
Breathing new life into favorite frocks is easy when you know how, and the best dresses can be layered under everything from knits to blazers, creating a fresh look in an instant. In fact, discovering what to wear over a dress can be quite the game changer in terms of an item's cost-per-wear value.
While there will always be some dresses that are statement pieces, most dresses can be styled-up or down, meaning they can work for more than one event without anyone realizing you're re-wearing an old look. Nailing what to wear over a dress also helps to extend a dress's life throughout the year, so that your much-loved slip dress of the summer can be re-worked for Fall and beyond. And of course, the benefits go beyond the sartorial. Being able to reinvent your dresses with a few simple additions means you'll find you're buying less and wearing items for longer, which works for the planet and your bank balance too, win-win.
What to wear over a dress according to style experts
The key to understanding what to wear over a dress is thinking about proportions. You'll want to avoid overwhelming your frame, which can be tricky where layering is concerned. To start with you'll want to factor in the length of the dress and the hem length of the item you're trying to pair it with, they'll need to work together to elongate, rather than swamp your silhouette. It's also wise to consider the shape of the dress and the item you're putting over it, as you don't want to hide your frame, instead look for items that cut you in the fewest places, or one that helps to highlight your waist to create a figure-loving silhouette.
1. What to wear over a sleeveless dress
As summer draws to a close, you might think it's time to put away all your best summer dresses, but you'd be wrong. A dip in the mercury no longer means you need to relegate all your sleeveless dresses to storage. Instead, seize the opportunity to shop your wardrobe and rework summer favorites for the season ahead.
Sleeveless dresses are among the easiest to layer, as you don't need to worry about any added bulk around the shoulders and arms. For an elevated transitional look best-suited to those awkward in-between days in late spring or early Fall, a longline blazer or trench coat is the perfect layered look. For maximum wearability, opt for neutral shades like black, navy, camel and cream, which will co-ordinate seamlessly with sleeveless dresses in any hue.
Styling tip: A sleeveless blazer or trench gives these classic pieces a modern twist. Adding a contrasting color jumper underneath will also add interest on the arms.
(opens in new tab)
M&S Collection Linen-Rich Midi Wrap Dress
RRP: $68.99 / £39.50 | The ideal dress for warmer days, the sleeveless style and linen fabric makes for an easy-breezy feel. The neutral hue feels light and bright, but this beige hue also gives a nod to the upcoming Fall 2022 fashion trends and colors.
(opens in new tab)
Massimo Dutti Trench Waistcoat with Belt
RRP: $179 / £169 | A versatile take on the classic trench, this sleeveless style is great for layering over dresses with or without sleeves. It will also work beautifully over full-sleeved blouses and tailored trousers for a smart work update.
(opens in new tab)
Fossil Kingston Tan Leather Tote Bag
RRP: $230 / £209 | A generously sized bag, big enough for even those who like to carry the kitchen sink with them. We love the structured shape. One of the best tote bags for those moments you need to up your sartorial style, the tan hue is gorgeous.
2. What to wear over a spaghetti strap dress
If you're anything like us, spaghetti strap dresses are often reserved for evenings out or as the answer to what to wear in the heat. The barely-there straps can feel too exposed for every day, and of course, we don't often see the weather for them either, which is when layering swoops in to help lower your cost-per-wear.
As the first point of call, you can layer outerwear, like your best blazer or coat, over a spaghetti strapped dress, but there's also space for lighter layers too. A lightweight knit or cardigan is the perfect add-on for summer evenings once the sun sets, while a white or grey t-shirt over the top will give ultra-feminine frocks a more casual edge. Of course, you can also wear your t-shirt under the dress too, if there is some detailing you'd like to show off.
Styling tip: Plain t-shirts are best for layering, as they won't take away too much attention, although a graphic print or band tee will add a rockier feel, rendering this look ideal for what to wear to a concert, just add some stompy boots.
(opens in new tab)
Warehouse Satin Lace Sky Blue Cami Dress
RRP: $95 / £79 | The blue makes this slinky camisole dress easier to work for day and evening. Dopamine dressing was a big fashion trend 2022 and smile-enduring hues aren't disappearing anytime soon. Pair with a white or grey tee.
(opens in new tab)
White Stuff Pure Cotton Crew Neck T-Shirt
RRP: $27 / £22.50 | The best t-shirts are some of the hardest working pieces in your wardrobe and when it comes to what to wear over a dress, they transform a frock into a skirt and top ensemble, so it looks like you have a far bigger wardrobe.
Veja Campo Chromefree Leather Trainers
RRP: $165 / £130 | Loved by the likes of Kate Middleton and Meghan Markle, Veja make some of the best white trainers - and they're sustainable too. A white trainer with a dress instantly helps to dress it down, while keeping the look cool.
3. What to wear over a cocktail dress
Channeling all your energy into finding the best cocktail dresses for your next big event? We get it - there's little more exciting than the thrill of shopping for a fancy frock. But, keep in mind that you'll likely need an outer layer to arrive in too, particularly if you're looking towards the Holiday season. Instead of just slinging on your best winter coat over the top, look instead for a tailored blazer. Cropped, boxy styles are great for Petites and will ensure that all the attention is on your waist, giving you a more curvaceous, but well-proportioned silhouette. If you're taller, a directional longline blazer will look effortlessly chic. Opt for a style that finishes just below your hips and that's, ideally, nipped-in at the waist to highlight your frame
Styling tip: Wondering how to style a blazer? Try "robing", this is where your blazer is draped over your shoulders for a laid-back feel and is a great way to wear your jacket once you're in the party if you're not quite ready for the cloakroom.
(opens in new tab)
Warehouse Feather Halter Neck Midi Dress
RRP: $169 / £139 | If the halter neck and feather trim hem wasn't enough drama for you, allow us to point out the cut-out back detailing too. Ideal for your next big party, this LBD (long black dress in this instance) is one you can switch up with accessories over and over again.
(opens in new tab)
Reiss Skye Double Breasted Blazer
RRP: $475 / £268 | Few labels do tailoring quite like British clothing brand, Reiss. This double-breasted blazer is a worthwhile investment and one that is easy to wear during the day or the evening. The slightly silvery hue gives it a more party-ready feel.
(opens in new tab)
Kurt Geiger Perspex Party Envelope Bag
RRP: $125 / £99 | Cleverly crafted from Perspex, this bag is a conversation starter. With a mix of metallic hues it will work with silver and gold jewelry and the pop of color will brighten up all-black outfits too. Ideal for what to wear to a wedding or Holiday party.
4. What to wear over a maxi dress
The floor-sweeping length of a maxi dress means there's already a lot of fabric at play before you even start to think about layering. To keep your look from overwhelming your frame, make sure either your middle is defined (by a belt or waist-length jacket) or opt for a low (scoop or V) neckline with a longer line jacket to help create balance in the look.
To stop the look from becoming too much, utilize clever color-blocking to mark out your silhouette and choose a jacket in a different (yet still co-ordinating) hue to your dress to create a contrast and prevent it from feeling like one swathe of fabric.
Styling tip: Just because your dress doesn't come with a belt doesn't mean you can't add one. Giving your dress a more personalized and unique feel - which is a life saver if someone turns up in the same outfit as you - this styling trick works best with A-line, fit and flare or trapeze silhouettes, but should generally be avoided with empire line designs. Adding a belt helps to highlight your waist, meaning that even if your outer layer is slightly more relaxed in fit, your shape won't be lost.
(opens in new tab)
Boden Embroidered Cropped Jacket
RRP: $220 / £160 | With a striped print, quilted fabric, and intricate embroidery to boot, this Boden jacket hasn't scrimped on the detail. A lovely light layer, the quilting adds warmth, but the lighter colors add a freshness to Fall and spring looks.
(opens in new tab)
Nobody's Child Lara Cutout Midi Dress
RRP: $71 / £59 | Subtle cut-out detailing might leave you wondering if you can indeed layer this dress at all. The answer of course is yes. While this dress might not be super wearable past Fall, a light jacket will extend its life.
(opens in new tab)
Aspiga Tan Suede Ankle Boots
RRP: $175 / £125 | If you've been considering the best cowboy boots but aren't sure where to start, then these tan suede boots give a subtle nod to the trend, without being too fashion-led - meaning you can wear them for years to come.
5. What to wear over a dress in the summer
Summer dresses call for a field's worth of ditsy floral prints, buckets of broderie Anglaise, and a sprinkling of micro mini hemlines. This is the time of year to embrace color, and when it comes to what to wear over a dress, your layering pieces should reflect that too. Adding a vibrant jacket is a brilliant way to liven up a simple white dress, or, choose a fully co-ordinating print to act as an extension of your frock. You could even wear a shirt over the top of a midi or mini dress, to create the illusion of two separate pieces. The possibilities are endless.
Styling tip: The flouncier the shape of your summer dress, the straighter cut your top layer should be, as it will help to balance out your proportions.
(opens in new tab)
Boden Velvet Chore Jacket
RRP: $160 / £110 | In the kind of blue that instantly makes you feel calmer, this jacket is the perfect antidote to noisy prints and patterns. With a shirt-inspired silhouette, this jacket design has become increasingly popular, gaining the moniker of 'shacket' for its ability to straddle the shirt and jacket category.
(opens in new tab)
RRP: $230 / £129 | This '60s-inspired print and retro tea dress silhouette give this frock a could-be-vintage vibe. The V-neck will help to elongate your frame, whilst flattering a fuller bust and the lightly A-lined skirt offers a pretty and feminine feel. We love the punchy colors that give a nod to the fashion color trends 2022.
Le Specs Air Heart Sunglasses
RRP: $69 / £65 | One of the big sunglasses trends 2022 this shape has been worn by the likes of Meghan Markle. The elongated, winged tips are flattering for all face shapes, creating a lengthened silhouette. The tan hue is a little more unusual but one that will never go out of style and pair with everything.
6. What to wear over a slip dress
A slinky slip dress is among the most versatile layering pieces in any capsule wardrobe and when it comes to how to style a slip dress, the figure-skimming cut means they work for both day and night, as well as pairing well with more oversized pieces.
To make this dressy style and the silky fabric feel more relaxed, team your slip dress with soft knitwear, breezy shirts, and slouchy blazers to lean into the laidback feel. Natural fabrics, like cotton and linen, can be relied upon for a laid-back vibe, but be aware they are naturally more prone to creasing - so you might want to look at a blended fabric.
If you still want to show off the straps of your slip dress, shrug your top layer off of one shoulder (this works particularly well with a new season, slouchy knit) or wear your jacket or sweater around your waist.
Styling tip: Chunky trainers and clogs are at odds with the narrow and elegant fit of a slip dress, helping to dress it down for the day.
RRP: $260 / £215 | This colorful slip will look just as good with trainers as it will with a pair of towering platform heels. We like the updated animal print for an on-trend but fresh feel to the look.
(opens in new tab)
Cos Regular-Fit Linen Shirt
RRP: $99 / £59 | Cut to be ever-so-slightly longer at the back, this shirt was made for laidback layering. Slip on over the dress, you can even wear it open, tying the front at the waist for '90s twist.
(opens in new tab)
RRP: $155 / £90 | Clogs are having a style moment right now, and our feet couldn't be happier. The shaped footbed makes these some of the most comfortable flats to shop this season.
7. What to wear over a strapless dress
If finding the best strapless bra didn't make wearing a strapless dress feel troublesome enough, there's the question of what to wear over the dress in question too, should you need a cover-up. The shoulder-flashing style of a strapless frock means it leans naturally towards partywear, so you'll need a pretty relaxed layer if you want to bring it down a notch for daytime. Enter the best denim jackets. As versatile as your best-loved pair of jeans, it'll go with just about any shade or fabric and work for all occasions. The lighter the denim, the more summer-appropriate it will feel, while dark and indigo washes are great for fall and winter.
If you want to keep your strapless dress in the party mood, look for a cropped tailored jacket, bolero or short cardigan to keep your outfit smart.
Styling tip: Add a necklace to make the most of the straight-across neckline. A statement necklace will also help to break up the expanse of skin.
(opens in new tab)
(opens in new tab)
What jackets to wear over a dress
Ultimately, if it fits over your dress, you can wear it with a dress, but there are still some styling considerations when it comes to which jackets work best for layering. "As we move into late summer and early autumn, it's not always warm enough to wear a summer dress without a jacket," says Farrah-May Archer Boadi, Styling Team Lead at Stitch Fix (opens in new tab). "It's always a good idea to find your perfect transitional jacket in advance, so you're ready to go when the weather cools." Our top picks are a boucle blazer, denim jacket, or a smart trench coat.
"When it comes to lengths, consider opposites for maximum impact," continues Farrah-May. "Maxi dresses, for example, tend to work best with a cropped jacket, as the shorter length will emphasize your waistline and define your silhouette. If you're opting for a mini dress, try styling it with a longline jacket, which will elongate the leg by drawing the eye down from head to toe. If you're fond of a feminine dress, try teaming it with a boxy, oversized jacket to create a cool, laid-back look. The contrast in styles will give your outfit an effortless feel."
Comfort, of course, is always key. We recommend trying on your outfit in advance before rushing out the door to check you're not feeling stifled. "As with any outfit, the most important thing is that you feel comfortable and confident in what you're wearing. With the fit, it's important to make sure you can move your arms freely in your jacket of choice, and that your chest isn't squashed when the jacket is done up."
Jess Beech is an experienced fashion and beauty editor, with more than eight years experience in the publishing industry. She has written for woman&home, GoodtoKnow, Now, Woman, Woman's Weekly, Woman's Own and Chat, and is a former Deputy Fashion & Beauty Editor at Future PLC. A beauty obsessive, Jess has tried everything from cryotherapy to chemical peels (minus the Samantha in Sex and The City-worthy redness) and interviewed experts including Jo Malone and Trinny Woodall.