How to style a slip dress: 6 ways to wear this all-year round frock
Need help with how to style a slip dress? Here's how to make this '90s trend feel modern and chic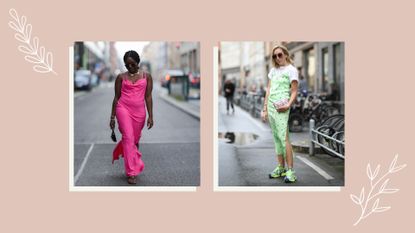 (Image credit: Getty Images)
A super versatile piece, learning how to style a slip dress will help to open up your wardrobe to new possibilities. While you might think the beauty in this look is its throw-on-and-go appeal, a slip dress can be worn and layered in multiple ways to make it one of the hardest-working pieces in your closet.
No other item of clothing sums up the '90s as perfectly as the slip dress. Worn by a host of stylish women including Kate Moss, Winona Ryder and Angelina Jolie, it has played its part in magical red carpet moments. In the early Noughties, the lingerie as outerwear trend slipped out of fashion, but with '90s nostalgia very much on-trend right now, the slip dress has seen a resurgence in the last year, bringing it back into favor with the fashion crowd. The beauty of a slip dress is that it can be dressed up in a multitude of ways and despite it being a slinky, body-hugging dress - when styled correctly, it's a universally flattering style.
Mosope Ogunjobi, founder of Style Necessity, is a big fan of slip dresses because they can work for everyone.
"A slip dress falls flawlessly on all body types - it should graze the figure, and not be too loose or baggy," she advises.
She continues: "Many come with adjustable shoulder straps, so you don't get the gaping front when leaning forward. For those with curves, pay close attention to the cut, searching for styles that go in at the waist and get wider at the bottom. If you're broader across the top bring attention to your waist, so maybe look for a slip dress that twists or gathers at the waist, making it a focal point."
How to style a slip dress: Inspirational outfits from a fashion editor
While it's an obvious choice for a summer holiday or more formal event due to its slinky, shimmery material, the slip dress is much more versatile than that. These are the key wardrobe essentials that will help you style a slip dress and transform your look.
1. How to style a slip dress on its own
Worn alone, the slip dress is the perfect evening dress, whether you're wondering what to wear on a first date or to a wedding, it's an integral silhouette of any capsule wardrobe. Add a killer pair of designer heels - courts or strappy sandals work well - and a swipe of bright lipstick and you're ready to go!
For a more casual look, you can team it with one of the big shoe trends 2022 - a sporty sandal, or even a pair of trainers.
A style tip: If you're going to let the slip dress do the talking, Mosope advises ditching neutral shades for a little bit of dopamine dressing.
"This summer, forget brown, neutrals, or classic creams - this season is an eruption of all things bright. Now it's time for us all to raise our mood with strong hues such as oranges, blues, pinks and greens - they're great colors to start with!" she says.
RRP: $65.45 / £55 | Omnes is one of the most affordable sustainable clothing brands around. This gorgeous orange slip dress, which comes in sizes 6-20, is made from 100% recycled polyester making it 'green' and stylish. The ideal dress if you're wondering what to pack for a beach vacation this summer.
River Island Strappy Sandals
RRP: $71 / £38 | While black sandals may not be the most exciting purchase you'll ever make, they will be the hardest working shoe in your summer wardrobe, going with literally everything. Choose a block heel, to give them a contemporary twist - and to make them easier to walk in.
RRP: $83.30 / £70 | One of the strongest handbag trends 2022 is the mini bag, and they don't get much cuter than this little handmade beaded iteration. Great for all your essentials, the beads give it an extra vintage feel and also help to make it feel a little more dressy, adding a touch of sparkle to your everyday.
---
2. How to style a slip dress with a blazer
One of the enduring fashion trends 2022 has brought to the fore is an oversized blazer, which is ideal when learning how to style a slip dress. The androgynous shaping of a blazer contrasts nicely with the feminine silhouette of the dress. While slip dresses are often midi length, a shorter slip dress looks great with a blazer of the same length - giving it an almost overcoat feel.
If you're still working out how to style a blazer, you can keep your look tonal for a chic look or toughen it up with a black blazer and boots for a directional, pure grunge aesthetic. Utilizing a blazer is an easy way to create a more formal look with a slip dress and is also great if you're conscious about your arms or bottom. If, however, you want to flaunt your waist and legs, choose a cropped jacket for a modern take on the look.
A style tip: To make this look more feminine, Mosope recommends choosing a slip dress with some lace.
"A lace slip is one of the most sizzling and sexiest dresses this summer - so if you're looking for a smoking night out/date night dress, look for a slip with lace," she says.
Warehouse Lace Slip Dress
RRP: $75.21 / £63.20 | A little black dress is essential for any capsule wardrobe and this one comes with added sex appeal thanks to the pretty lace trim. Exuding femininity, it will work for many occasions, from parties and dinner dates, to work events.
RRP: $49.99 / £34.99 | There's something about an oversized blazer that is effortlessly cool. Thrown over a dress or teamed with jeans, it instantly gives any look added polish. This one in white linen is ideal if you're wondering what to wear in the heat.
---
3. How to style a slip dress with a t-shirt
A style classic, one again referencing fashion's current favorite era, a slip dress over a tee is '90s nostalgia through and through.
This time around however, it's more glamour and less grunge. The key is to choose a slim-fitting t-shirt that won't show too much under the slip dress. While you can't go wrong with a black slip and white t-shirt, mixing and matching colors gives it a modern, fresh feel. Alternatively, a striped Breton top or graphic t-shirt will give an added edge to your ensemble. Just add your best white trainers or best Chelsea boots and you're good to go!
A style tip: Hourglass body shapes or rectangular body shapes can add a belt to emphasize the waist or create one. Choose a statement-buckle design to give it a modern edge.
H&M Short Floral Slip Dress
RRP: $24.99 / £17.99 | Looking for the best petite dresses? This length is great for those under 5'3. A short slip dress can be worn with tights come winter, especially if you choose a dark floral print like this one. A fun and stylish choice for summer vacation too, just add some classic flip-flops to get beach-ready.
&OtherStories Fitted T-Shirt
RRP: $29 / £23 | Every wardrobe needs one of the best white t-shirts. Choose a fitted, round-neck design for added mileage as you can wear it as a neat layering piece under dresses or alone, over, or tucked into skirts, trousers and jeans. Made from organic cotton, this fitted white t-shirt will have great breathability.
RRP: $65 / £55 | Wondering how to wear high-top Converse? One of the most versatile trainers around, they're great worn with jeans and trousers, they also look really cool with skirts and dresses of all lengths, meaning you'll get plenty of wear out of them. Try this pink pair and answer what is Barbiecore too.
---
4. How to style a slip dress with a cardigan or hoodie
Need some added warmth? Layer up with chunky knit or hoodie over your slip dress to banish those cold-weather blues. For the transitional months, this is a great way to get more wear out of your slip dress - a great brunch outfit idea. Add some chunky boots with your best sweater or some dad trainers with your best hoodie and you've got an outfit made for running errands. A lightweight, retro-waisted knitted cardigan over a pastel slip dress also makes for a pretty outfit if you're looking for an added layer over the best wedding guest dresses.
A style tip: Keep your slip dress going into cooler months with clever layering. Wear your slip dress over a t-shirt, add a cardigan and (if needed) finish with a classic trench coat. This will ensure you keep stylish, without compromising on comfort.
Nasty Gal Petite Midi Slip Dress
RRP: $66.00 / £39 | When it comes to how to style a slip dress for those under 5ft 3 it's best to buy from a petite range that designs with your stature in mind. One of the best petite dresses, this one has a cowl neck and a timeless bronze hue.
Free People Oversized Cardi
RRP: $29 / £88 | From one of the best American clothing brands, this oversized knit cardigan is the perfect throw-on-and-go essential. Made from 58% cotton, it's cozy but will let skin breathe, so is a great summer addition for cooler evenings.
Dr Martens Platform Boots
RRP: $200 / £189 | Heavy boots are going nowhere! As well as being a great accompaniment to jeans or leggings, they also help to dress down your best midi dresses, giving them an extra fashion twist. It doesn't get more classic than a pair of DMs.
---
5. How to style a slip dress with a shirt
Trying to work out how to style a slip dress for the office? Slide your best shirt underneath it, to instantly smarten up your look - just ensure you choose a slim-fitting shirt or a shirt body to ensure there's no rumpled fabric ruining the line of your dress.
For a more casual look, you can team your slip dress with an oversized shirt, wearing it over the top of your dress and knotting it at the front.
If you really want to make a style statement, combine two dresses to create a whole new look. Similar to slip dresses, shirt dresses are wildly versatile, and when it comes to how to wear a shirt dress, the variations are endless. Choose one of your best shirt dresses, and pop it on over a slip dress, leaving it undone like a jacket. You can give it more definition by adding a belt or on-trend belt bag, cinching both layers, or just the slip dress underneath.
A style tip: Mosope says that the figure-skimming style of a slip dress is always improved with the best shapewear.
"Your slip dress will always give a (more contoured) silhouette if you wear good underwear, great underwear is fundamental to building a successful style - I always recommend investing in good underwear that works for you and your shape," she says.
M&S Square Neck Slip Dress
RRP: $51.99 / £29.50 | Available in sizes 6-24 and in two lengths, this simple slip really is for everyone. The square neck gives it a contemporary feel and the clean lines make it a must-have for layering. A dress you can wear all year round.
Hush Leopard Print Shirt Dress
RRP: $117.69 / £99 | Easy to dress up or down, the shirt dress is a wardrobe hero. This midi-length design in a fashion-friendly leopard print has a stylish, relaxed fit, ensuring it will look chic for lunch with your pals as well as directional for a work meeting.
RRP: $117.69 / £99 | A designer belt bag is a chic alternative to the best designer belts. Super convenient, it allows you to be hands-free while adding a cool luxe edge to any plain outfit. We love this Saint Laurent design with the brand's classic logo detailing.
---
6. How to style a slip dress with a sweater
When does a slip dress become a skirt? When you team it with a great sweater of course. Choose a chunky knit - roll necks work really well - to contrast with a silky slip dress. This look adds huge amounts of versatility to your slip dress transforming it into a skirt that you can wear over and over with multiple knits.
Feeling hot? Tie it over your shoulders Parisian style or around your waist for a preppy finish. This look also pairs well with a graphic sweatshirt for a more casual feel.
If you have a thinner jumper or polo neck, try wearing it under the slip dress in the same way you would a t-shirt to maintain the dress's silhouette.
A style tip: To make this look super luxe, keep everything in neutral shades and choose sensual fabrics such as silk for the dress, teaming it with your best cashmere sweater and suede boots.
RRP: $112 / £64.50 | Not all slip dresses have spaghetti straps - good news if you need a wider strapped bra. Ghost is renowned for its slip dresses and this scoop neck silhouette doesn't disappoint. Also available in black and ivory.
RRP: $67.50 / £89 | A crew neck jumper may not be the most exciting thing in your closet, but it will be a style you reach for time and time again. Opt for a textured knit for an added lux feel, while an oversized silhouette will give a more relaxed finish.
With over 22 years' experience in journalism, Jayne has written about a variety of subjects. She spent the start of her career within the world of film, interviewing Hollywood stars, attending premieres and lusting after red carpet outfits, and then moved into fashion, launching websites for big magazines such as Look, Woman's Own and Wedding and working with top fashion brands such as Westfield, LK Bennett and Hunter.
Career highlights include dressing up as Kylie (in gold hot pants!) for a national newspaper and working on big fashion events alongside Giles Deacon, Henry Holland and Naomi Campbell.