How to dress for a hourglass body shape, according to our experts
Dressing a hourglass body shape is simple—with a variety of silhouettes and styles readily available. Here's everything you need to know.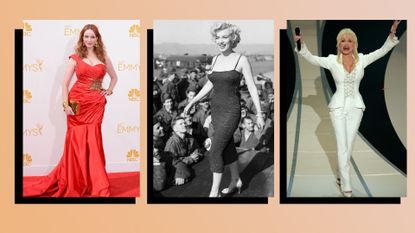 (Image credit: Getty Images)
Having an hourglass body shape may seen timeless and like a star from an old movie, but it's not all fun and games when it comes time to get dressed in the morning. For all the great curves the silhouette offers, it too makes it difficult to find the right outfits to make the most of the look.
With icons like Marilyn Monroe, modern celebrities like Dolly Parton, and even fictional characters from films sporting an hourglass body shape, the look has become a staple of American style. Find out how to make those curves turn in your favor though with this handy guide.
What is an hourglass body shape?
Compared to apple body shapes, pear shaped bodies, and rectangle body shapes, hourglass figures are the most distinctive. Your top half will be fairly equal in proportion to the bottom half, with a narrow, defined waist. According to stylists and experts, characteristics of an hourglass body shape include:
A defined and narrow waist; you would describe yourself as "curvy"
Larger thighs, bust, and bottom
Roughly even bust and hip measurements
Slightly rounded shoulders
Weight gains are evenly distributed throughout the body
Marilyn Monroe and Christina Hendricks are great examples of an hourglass body shape, thanks to their full busts and curvy hips and thighs. They also prove that body type isn't dependent on height or dress size, instead it's all about proportions. You could be a size 8 or a size 28 and still fit into the hourglass category.
What to wear with an hourglass body shape
When it comes to dressing an hourglass body shape, think form-fitting, structured, and cinched silhouettes—your pieces should accentuate, enhance, and carve out your waist, bust, and bum.
Just as a great primer will help your foundation work harder, investing in the best shapewear is a great place to start. By streamlining your shape, you'll create a nice smooth canvas to layer your clothing on top of. A good bra will make a real difference too, boosting and supporting your bust.
Now, for the fun part. When it comes to clothes, seek out pieces with a defined middle. That could be anything from a shirt dress, a tailored jumpsuit, or a pair of straight leg jeans with a T-shirt tucked into them. Adding a narrow belt will immediately draw the eye too, while synching any excess fabric to accentuate those curves.
Be mindful of any overly baggy or loose fitting clothes, as it can have the opposite effect and level off the areas you're trying to bring to the forefront of any look.
It can be hard to find clothes that fit both your waist and your hips 'off the rack,' so look for brands that offer alterations in store, or enquire with your local dry cleaner. It's money well spent for clothes you'll love to wear.
The best clothes for an hourglass body shape
Struggling to navigate the rails? Overwhelmed by online shopping? Don't panic. These are the pieces to seek out to best flatter your hourglass body shape.
Best coats for an hourglass body shape
Belted trench coats: Belted trench coats are ideal for hourglass figures, as they can be adjusted and tightened to your liking. This style is also more structured compared to baggy, more bulky outerwear pieces.
Wrap coats: Like belted trench coats, wrap coats are adjustable: they hug and define curves, and the tie in particular highlights the waist. Fit and flare wrap coats enhance hourglass proportions and create an overall flattering look.
Best tops for hourglass body shape
Fitted tops: Fitted tops, like tight tanks and body suits, accentuate and define the waist, especially curves.
Wrap tops: Since they're adjustable, wrap tops serve as an ideal, tried-and-true option—from low to high end, they effortlessly balance out and add definition to the waist. Plus, you can dress them up or down depending on the occasion.
V-Neck tops: This style draws attention to the bust and midsection. You can also be as revealing (or not revealing) as you'd like.
Best bottoms for hourglass body shape
High-Waisted jeans: Hailed as one of the best jeans, high-waisted jeans accentuate and define the waist by hugging your curves in all the right places.
Flared and bootleg jeans: Similar to high-waisted iterations, flared and bootleg jeans flatter hourglass figures; however, they're more ideal for balancing curvier hips and thighs.
Skinny jeans: Among the best slimming jeans, skinny jeans and straight-leg styles highlight the natural curves, with special attention to the thighs and derrière.
Pencil skirts: Like skinny jeans, pencil skirts outline and define the waist, all while enhancing the thighs, hips, and butt.
Best dresses and jumpsuits for hourglass body shape
Bodycon dresses: Bodycon dresses are form-fitting, figure-hugging, and flattering for hourglass body shapes across the spectrum, be it thin or thick. They not only outline and carve out the body, but draw attention to the bust and bottom sections.
Wrap dresses: Wrap dresses can be tightened to enhance and define the waist. Since they're often V-neck, they accentuate the bust area with little to no fuss.
Wide-leg jumpsuits: Available in a variety of lengths and styles, jumpsuits underscore curves and add volume to the lower half of the body.
What looks are the most "unflattering" on an hourglass body shape?
There are no strict rules as to what you shouldn't wear if you have an hourglass body shape, but there are some pieces that won't make the most of your enviable figure.
Take straight-up-and-down shift dresses for example. Anything without added waist definition will skim over your middle, making you look bigger than you are. Same goes for billowy tunic tops that blouse over your best asset—that tiny waist—instead of showing it off.
If your bust makes you feel self-conscious or frumpy, avoid pieces that draw attention to it, or add unnecessary bulk—frills and plunging necklines are among the worst offenders here. Instead try patterned or printed trousers, statement sleeves and detailed waistbands, anything that steals focus. Nonetheless, we always err on the side of wearing whatever makes you feel confident, empowered, and comfortable above all else.
Sibelle Mehmet started as a junior digital writer at GoodtoKnow and Woman and Home in April 2019.
Prior to landing her first job as a digital writer, Sibelle completed an MA in Magazine Journalism at City, University of London and is also a graduate of the University of Edinburgh with an MA in English Literature and History.
As well as writing extensively about the latest celebrity, showbiz and royal news, Sibelle also covered a wide range of topics from trending beauty products to have on your radar, to the latest fashion styles compounded on the catwalk.