How to dress a pear-shaped body to best flatter your figure
Everything you need to know to make the most of your pear-shaped body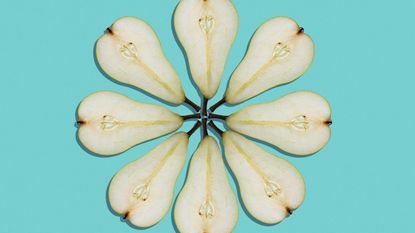 (Image credit: Getty Images)
Not sure how to dress for your pear-shaped body? No problem. Shopping for outfits that best flatter your figure will become a whole lot easier once you gain a better understanding of your body shape.
When it comes to body type dressing, depending on whether you're a pear shape, have an hourglass body shape or an apple body shape, the items that will best fit and flatter your figure will differ. Of course, these aren't hard and set rules and the most important thing is that you feel good in what you wear. But if you're struggling to put together a capsule wardrobe of great pieces and don't even know where to start when it comes to your basic wardrobe essentials, fully understanding your body shape is a good place to begin.
Deciphering your shape will help you create a simple formula of what works best for your silhouette. This will in turn guide you in the best jeans to buy, the style of outerwear that will enhance your figure, and which of the best dresses you need to get into your wardrobe. Once you've got the basics of your body shape down and some of the key principles of what, in the most general sense works, you'll be a shopping pro in no time.
What is a pear-shaped body?
While deciphering which body type you have can be a tricky task, you should be able to tell if you have a pear-shaped body by simply looking in the mirror. Do so while wearing either your underwear or a form-fitting outfit, like the best leggings and a fitted t-shirt—anything that will allow you to get a proper idea of your silhouette. If you're still unsure, taking measurements of your shoulders, bust, waist, and hips and comparing them will help.
"A pear has narrow shoulders and a small waist," says stylist Susie Hasler. "Their hips are broader than their shoulders, and they tend to gain weight easily on their bottom half."
You're also likely to have a relatively modest bust, curvy thighs, and a generous bum. You probably wear skirts and trousers at least one size bigger than your tops and may struggle to find clothes that fit around the waist and hips. Clothes size and height don't come into body shape—you can be a petite pear shape, a plus-size one, or anything in between.
Pear body shape outfit ideas
There are two key ways to approach dressing for a pear-shaped body. Firstly, you can take advantage of your curvaceous bottom half and draw attention to it with figure-hugging silhouettes. Or, you can distract from the area by keeping clothing on your bottom half dark and understated (think indigo jeans and black trousers). To distract from your bottom half you'll want to go brighter on your top half, this can be done by adding interest through block color, print and statement jewelry.
"Use visual tricks such as V and scoop neck tops, chunky necklaces, and earrings," advises aesthetics specialist Dr. Galyna Selezneva. These, plus colorful, printed tops, will draw the eye up and away from your hips.
If you're clever with your styling, you could even create the illusion of a much-coveted hourglass figure. It all comes down to striking a balance between your narrow shoulders and wider hips by adding extra bulk up top. Double-breasted jackets, ruffles, pussy-bow detailing, and statement sleeves will all boost your bust and broaden your shoulders, evening up your proportions. Tucking tops into high-waisted skirts and trousers, opting for fitted dresses, and choosing cropped jackets will also help. And never underestimate the transformative power of cinching in your middle section with a belt, or even throwing on some of the best shapewear to streamline your silhouette underneath.
The best clothes for a pear body type
There are different styles that can work well with pear body shapes—it all depends on what kind of look you want to go for. Pear body shapes are fabulous for creating drama on the bottom half, so embrace your curves and go for wider-leg trousers or bootleg cuts. Or if you'd rather accentuate your smaller middle and disguise your hip and thigh areas, fit-and-flare skirts can be really helpful. Off-the-shoulder tops are also a good way to emphasize your smaller top half.
Best dresses for pear body shape
A-line dresses: These will skim over a wider bottom while drawing attention to the smaller top half of your body.
Wrap dresses: The waist detailing on a wrap dress will accentuate the smallest part of you while skimming over the hips for a flattering finish.
(opens in new tab)
Whistles Blue Ruffle Detail Midi Dress
RRP: $459 / £229 | If you're wondering what to wear to a wedding, this is it. The ruffle neckline adds a romantic flair and gives volume to smaller busts. The flowy skirt keeps it flattering and makes it perfect for twirling on that dance-floor.
(opens in new tab)
Mango Printed Dress with Balloon Sleeves
RRP: $79.99 / £49.99 | A wrap neckline is universally flattering and a shape you can reach for time and time again. The button detailing adds extra interest whilst the green hue gives it a spring-ready update. Team with the best white trainers for a casual spin.
(opens in new tab)
Mint Velvet Gingham Check Midi Dress
RRP: $165 / £119 | Every spring wardrobe needs a gingham dress and this silhouette is a must-have for pear shapes. The puffed sleeves help balance proportions and the full skirt skims over your bottom half. Finish with a basket bag for picnic-ready look.
Best tops for pear body shape
Bardot tops: Bardot tops are perfect for showing off the smaller upper frames of pear body shapes, with the off-the-shoulder design drawing attention to the neck and chest areas.
Statement sleeves: Voluminous sleeves not only add a dose of drama to your look but they are a great choice for pear shapes too, helping to balance your proportions by adding volume to your top half. They're also one of the biggest fashion trends 2022 has to offer, so it's one to shop right now.
Ruffle Blouses: Ruffle and frill detailing will give smaller busts a boost and draw the eye upwards. Keep the rest of your outfit simple and team with any of the best jeans for curvy women as these will offer a great fit for pear shapes.
(opens in new tab)
Hush Sierra Frilled Blouse
RRP: $105 / £69 | Florals are a year-round staple and this pretty blouse will work for off-duty days and your 9-5. Crafted from recycled materials it ticks that sustainable box too. Bring out the yellow flowers and pair with a lemon-hued blazer.
(opens in new tab)
Everlane The Eyelet Puff Sleeve Top
RRP: $95 / £98 | The puff-sleeve trend is going nowhere so get on board with this cute top. A nod to the latest trends, the crochet-inspired texture gives it a boho-vibe that's perfect for summer. Pair with high-waisted jeans to show off your waist.
Best bottoms for pear body shape
Wide leg trousers: These types of trousers create volume and emphasize your lower half, rather than trying to minimize it and cover it up—it's almost like steering into the skid! Keep your top half fitted to avoid being overwhelmed.
Bootcut and flare jeans: Like wide-leg trousers, flare jeans create some drama on your bottom half and help to balance wider hips and thighs.
Fit-and-flare skirts: Skater skirts cinch in at the waist to accentuate this smaller part of pear body shapes and they then shoot out past wider thighs.
(opens in new tab)
RRP: $49.99 / £34.99 | This zesty skirt is another wardrobe winner. It has an easy pull-on style that sits high on the waist and a volumnions silhouette that finishes just at the ankle. Wear with a tucked-in tee to help streamline your shape.
(opens in new tab)
Ted Baker Umelda Wide Leg Trouser
RRP: $225 / £135 | These glossy trousers are comfy and glamorous, perfect for taking you from day to night. The wide-leg cut will help elongate your legs, especially when teamed with the best designer heels. Wear with a pussybow blouse when you hit the office.
(opens in new tab)
Reformation Ada Bootcut Jeans
RRP: $148 / £150 | Bootcut jeans have had a bit of a resurgence and they are one of the best silhouettes for pear shapes. These have an ultra high rise to lengthen legs and the stretch denim will hug your figure effortlessly. Wear with heeled boots for a retro-inspired look.
Best jumpsuits for pear body shape
Off Shoulder: Like your Bardot tops, off-the-shoulder jumpsuits are a stylish fit for pear shapes, showing off your upper frame. Look for styles that have a smocked waist for some of the most flattering jumpsuits.
Belted: Look for built-in belts or tie-waists that help define your middle and create that hourglass silhouette.
(opens in new tab)
Boden Off Shoulder Jumpsuit
RRP: $180 / £120 | Much like the best midi dresses, this has that throw-on and go appeal that makes dressing a breeze. It's all in the details with the voluminous sleeves, shirring at the waist and a flowy wide-leg that makes this a figure-flattering dream.
(opens in new tab)
Phase Eight Rachael Wide Leg Jumpsuit
RRP: $245 / £135 | This elegant two-tone jumpsuit frames a pear-shaped figure perfectly. The darker-hued trousers flatter your bottom half and the cream wrap top shows off your waist and bust. Just add delicate gold jewellery and a metallic heel for an evening out.
(opens in new tab)
Sea Stan Cotton-Twill Jumpsuit
RRP: $395 / £423 | Give the utility trend a feminine spin with this ruffled jumpsuit. In an army green cotton, it has a belt for added structure and billowy sleeves to add volume to your top half. Wear with a pair of trainers for stylish off-duty days.
Best Jackets for pear body shape
Structured blazers: Wearing the best blazer can balance out a pear body shape by giving the shoulders a wider stance and giving the waist a cinched look.
Bombers: A bomber or puffer jacket will add volume to your top half and offers a sporty style. Make sure the hem finishes at the waist to keep it flattering.
Trench coats: A belted trench coat offers a flattering fit and flare shape that looks effortlessly elegant too. A timeless classic, the lightweight fabric makes it perfect for in-between seasons. A popular spring style, you can get many versions from straight-to-market brands, if you're looking to invest though, a Burberry trench coat will offer great quality and style for years to come.
(opens in new tab)
RRP: $399 / £239 | The sweet lilac shade gives this '90s-inspired bomber a spring refresh. It has a quilted lining to keep you warm and voluminous sleeves for added drama. As an added bonus it's crafted from sustainable yarn.
(opens in new tab)
Reiss Pembury Single Breasted Blazer
RRP: $390 / £238 | Who can resist this hot pink blazer, guaranteed to elevate any look. On the money for the 'Dopamine dressing' trend, the padded shoulders help to balance proportions and give it an '80s spin.
What looks are "unflattering" for pear body shapes?
If you have a pear-shaped body, there may be particular pieces you feel more or less confident in than others. But it's all down to personal preference, not hard and fast styling rules.
"One of the most common things I'm asked by my clients is what they should wear for their body type," says stylist Karen Williams. "However, whilst I am always aware of different body shapes, I don't let these fashion rules dictate what works and what doesn't, and I'm reluctant to put women into boxes as I find this can cause an unhealthy body obsession."
"I want women to dress for their own gaze, not the eye of others, to trust their instinct and to go with the things that make them feel great." We couldn't agree more.
Jess Beech is an experienced fashion and beauty editor, with more than eight years experience in the publishing industry. She has written for woman&home, GoodtoKnow, Now, Woman, Woman's Weekly, Woman's Own and Chat, and is a former Deputy Fashion & Beauty Editor at Future PLC. A beauty obsessive, Jess has tried everything from cryotherapy to chemical peels (minus the Samantha in Sex and The City-worthy redness) and interviewed experts including Jo Malone and Trinny Woodall.