Which Burberry trench coat to buy—and why they're completely worth the investment
Finding the right Burberry trench coat is no easy feat, but our round-up of the best Burberry trenches for women will help you choose the right one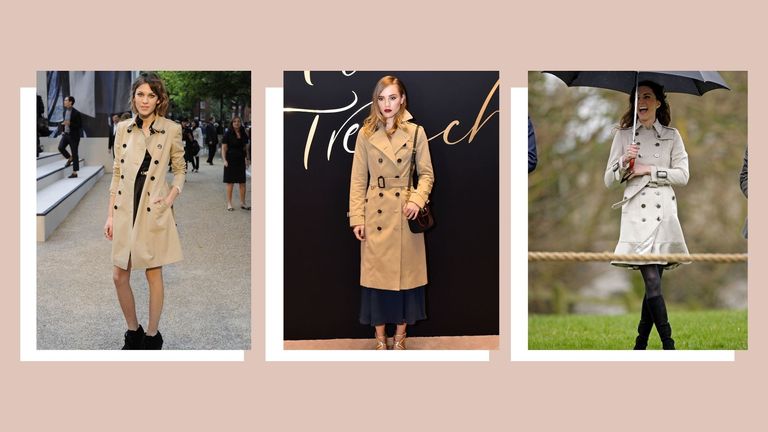 (Image credit: Getty Images / Future)
A Burberry trench coat is probably the most iconic piece of outerwear there is. Synonymous with classic, effortless elegance, simply slipping it over any outfit is enough to catapult you into the realms of the seriously stylish.
Designed in the early 20th century and patented by Thomas Burberry in 1912, the trench coat was originally created as part of Britain's official military uniform. Made from durable, weatherproof gaberdine, it was first worn by soldiers in the Normandy trenches—hence its name. Since then, the iconic trench coat silhouette has become a wardrobe essential for men and women and despite how many brands make an iteration of this classic style. A Burberry coat is still considered one of the best winter coats every year.
Why a Burberry trench coat is worth the investment
A Burberry trench, like the best designer bags, is made by highly skilled workers. Crafted in England by expert tailors, the Burberry trench coat remains at the pinnacle of exquisite quality and style. It takes one year for each specialist to learn the stitching of the trench coat's collar, which is handmade using more than 180 stitches. And such credentials don't come cheap. Retailing for around $2,000 (£1,500), buying one is certainly an investment. However, like purchasing any of the best Chanel bags, it's one that is guaranteed to last you a lifetime. Plus, it pairs effortlessly with everything—from the best dresses to your fave jeans and even on-trend Chelsea boots, there is no look that a Burberry trench can't enhance.
Today, multiple iterations have been borne of the original, incorporating unique details and features for all tastes, which means that there is a style for every shape.
Now of course a Burberry trench coat is a huge investment, but this is a piece that will be one of your wardrobe essentials for years to come. Here's our guide to help you to decide which Burberry coat will work for your shape.
How to pick the best Burberry coat for your shape
The Best Burberry Trench Coats for Tall Women
When making a purchase, the first thing to consider is length. The right hemline can make or break a trench, so it pays to get it right. Those with a tall build should opt for a longer-line coat to play to their elongated silhouette. Due to a lengthier frame, longer-line coats won't swamp them but will help the eye to be drawn up and down the body. This also can make you look leaner as it streamlines your appearance and avoids cutting your outfit in several different places.
A Note on Print and Pattern
When it comes to choosing whether you go for a plain or printed coat, tall builds often can often carry off louder prints and patterns. The classic Burberry plaid—also known as the Haymarket Check, was introduced in the 1920s and is as synonymous with the house of Burberry as their trench coat. Largely used as a lining print, in recent times, Burberry has played with print, migrating it to the outside of the coat for a more fashion-forward look. The medium-sized square and fine-lined print is surprisingly versatile and largely flattering on most. However louder iterations of the print and bolder patterned styles that have emerged in recent seasons sit best with taller frames that can carry off what can otherwise be an overwhelming pattern.
The Best Burberry Trench Coats for Petite Women
When looking at the best winter coat trends 2022, there is little distinction made for various heights, so if you've been left wondering if a Burberry trench coat can work for petites, then you'll be thrilled to know the answer is, yes, but there are some things to consider.
If you're petite, it's best to go with a shorter-length coat which will work best with your proportions and won't drown you. As a designer brand, producing an exclusive and detailed product, Burberry has really considered how their products will work for different heights and have trench coats that come in both short and regular lengths. Their short coats are 90cms, which hits around mid-thigh, a great length for petites as it will balance your proportions. For those looking for something that skims the knee, they also do a 100cm version too.
A Note on Print and Pattern...
While the classic Burberry Haymarket Check in a small fine print is largely flattering for all, if you're nervous about being overwhelmed, opt for a block color or invest in a plain style, and turn up the cuffs a fold or two to reveal just a hint of check, a chic and subtle way to show off your Burberry buy.
The Best Burberry Trench Coats for Curvy Women
Perhaps the reason for the popularity of the Burberry trench coat is its ability to flatter all silhouettes. A trench coat will work easily on apple shapes, curvy figures and those with bigger busts and there are even a few ways to style them too, depending on the look you want.
Want to show off your curves? Use your trench coats self-fabric belt to cinch yourself in at the waist, this will instantly highlight curves and help to create a more hourglass silhouette—you can even swap the fabric belt out for a statement leather belt to really customize your look. If you're not a fan of belts, then look for slightly more tailored styles, that nip in at the waist, doing the job of the belt for you.
Want to appear taller and more streamlined? Opt for a style that hangs from the shoulders and skims the body. Wear your coat open, over a sweater or any of your best shirts to create a centralized panel. This will draw the eye up and down your body, adding extra height to your frame, no heels required.
The trench coat is quite an androgynous style and often is cut with double-breasted buttons. This can be quite bulky and boxy on curvy frames, so look for single-breasted styles of this classic look.
Burberry Paneled Trench Coat
RRP: $3,090 / £2,290 at Net a Porter | Sizes: US 6-12 / UK 4-16 | Length: Regular | Colors: Beige/denim
Draw attention to your waist and create hourglass curves with this clever panel detailing. The tailored style creates a waisted shape, along with the fabric belt.
Great price
Burberry Pimlico Heritage Car Coat
RRP: $1790 / £1381 at FarFetch | Sizs: US 0-16 / UK 2-18 | Length: Regular | Colors: Honey
A weightless trench that's softly tailored and includes a straight cut, which slips easily over other layers. Featuring classic Burberry hook-and-eye collar closure, button-tab cuffs, and check undercollar.
Burberry Waterloo Stripe Trench Coat
RRP: $2,890 / £1,990 | Sizes: US 0-16 / 0-18 | Length: Regular | Colors: Black
A raglan-sleeved trench coat in the brand's English-woven cotton gabardine. The embroidered graphic stripes and tonal blanket stitch detailing draws the eye down the body making you appear instantly taller.
The Best Burberry Trench Coats for Rectangular Shapes
A rectangle shape is largely considered model-esque, meaning most styles will suit your frame. While rectangles aren't always tall, they are slender meaning they can carry off both fitted styles and oversized silhouettes.
For tall women who want to add volume to their shape, opting for an oversized trench coat that hangs from the shoulders can be an incredibly chic look and one that is particularly popular with the fashion crowd. Oversized silhouettes also have a nonchalant, androgynous appeal which never fails to look stylish. Look out for added detail such as drop shoulders or large epaulettes to add interest to this aesthetic. The classic double-breasted style of a Burberry trench coat is a brilliant way of adding shape and structure. The double horn button detailing running down the front is very flattering and adds shapes.
Iconic style
Burberry Kensington Heritage Mid-Length Trench Coat
RRP: $2,250 / £1650 | Sizes: US 0-16 / UK 0-18 | Length: Regular | Colors: Honey, Black, and Midnight
A modern spin on the classic-fit trench with an archive-inspired style and a streamlined silhouette. Fashioned in the brand's signature cotton gabardine, pop the collar for a flash of vintage heritage check.
Burberry Cotton Gaberdine Belted Car Coat
RRP: $2,590 / £1890 | Sizes: US 0-16 / UK 0-18 | Length: Regular | Colors: Fawn and Black
With a relaxed fit, this coat will hang from the shoulder, but you can create waist definition with the self-fabric belt. With beautiful contrast topstitch detailing, this lightweight coat stands out from the crowd.
Burberry Pocket Detail Cotton Gabardine Trench Coat
RRP: $2,490 / £1790 | Sizes: US 0-12 / UK 0-14 | Length: Regular | Colors: Camel
A Burberry trench coat with a twist. In a versatile, deep camel hue, this classically cut coat features quirky sleeve pockets and contrast panel detailing. In a double-breasted design, the lining is of course, the timeless Burberry, vintage check.
How to choose the right color Burberry Trench coat
Warm skin tones
If your skin is warmer in tone, warm colors such as honey, olive and tan will suit you best. These are great all year through colors, as they team well with lighter neutrals for spring and navy and brown for fall. If you're still wondering, we have a full guide to 'what color suits me' to help you navigate this.
Burberry Regenerated Cashmere Trench Coat
RRP: $3,250 / £2290 | Sizes: US 0-16 / UK 0-18 | Length: Regular | Colors: Bronze, Camel, Navy, Black
In Italian-woven, regenerated cashmere, this is a super soft and cozy execution of the classic Kensington fit trench coat. With feature check under the collar, this is a winter version of the classic spring trench coat.
Burberry Sleeveless Trench Coat
RRP: $3,658 / £2,690 at Matches | Sizes: US 2-12 / UK 4-14 | Length: Regular | Colors: Camel
With a wrap-over silhouette and notched lapels, this is the Burberry trench reimagined into a fashion-forward look. Cinch your waist with a belt and wear over new season's blouses and wide-leg trousers. This will be soft and cozy over a cashmere roll-neck too.
Editor's pick
Burberry Cotton Gaberdine Trench Coat
RRP: $2,350 / £1,690 | Sizes: US 2-16 / UK 4-18 | Length: Regular | Colors: Khaki
This iconic style of trench coat comes in a rather more unusual khaki hue. A great color for all seasons, pairing easily with neutrals and white for a spring-ready look. Featuring all of the brand's classic epaulette and button detailing.
---
Cool skin tones
Cool skin tones suit cooler colors so reaching for styles in versatile grey or navy is a good idea. As the Burberry trench coat has grown in popularity, so too has the availability of styles and colors it comes in. When it comes to neutrals, cooler beige tones rather than warm honey will suit you best.
Recycled Cashmere
Burberry Recycled Cashmere Trench
RRP: $3,550 / £2,490 | Sizes: US 4-14 / UK 2-16 | Length: Regular | Colors: Grey
A twist on the classic trench, this coat features stylish symmetrical gun flaps and bellow pockets, this recycled cashmere coat will keep you looking stylish and warm in one go.
Burberry Logo Graphic Technical Car Coat
RRP: $1,790 / £1,290 | Sizes: US 0-16 / UK 0-18 | Length: Regular | Colors: Black
In a relaxed fit, this simple-shaped car coat features an embroidered logo graphic. If you're worried about dark colors against your face, add a pop of color with a scarf to soften the look.
Burberry Rib Knit Collar Trench Coat
RRP: $3,550 / £2490 | Sizes: US 0-16 / UK 0-18 | Length: Regular | Colors: Navy
Take the classic Burberry trench to a whole new level with this incredible off-the-shoulder rib-knit collar. A step away from the classic silhouette, this dark blue coat will still remain elegant and timeless.
---
What makes a Burberry Trench coat so iconic?
Burberry's popularity dates back dates decades. The appeal of the Burberry trench was bolstered by society's elite and exclusive entertainment scene. During the 1940s, the Burberry trench hit the silver screen catapulting it into mass consciousness. Famously worn by Humphrey Bogart while uttering the unforgettable line "here's looking at you, kid" Bogart was filmed wearing a camel edition of the now iconic style. And while this moment set the Burberry trench coat on an upward trajectory, it was an appearance on Audrey Hepburn's Holly Golightly in Breakfast at Tiffany's that cemented the coat as a style classic.
In the years since, the trench has been worn by the best-dressed around, from Marilyn Monroe and Brigitte Bardot to Alexa Chung and Gwyneth Paltrow. It even has the royal stamp of approval having been worn by Princess Diana and the Duchesses of Cambridge and Sussex.
Frankie Graddon is a fashion and beauty journalist and co-founder of @thewingwoman, a weekly podcast and newsletter about thirty-something life, honestly.
Frankie has over a decade of experience working as a writer, editor, podcaster and consultant. She got her start at 10 Magazine before moving to The Telegraph in 2010 as a junior fashion editor. A few years later she became head of fashion & beauty at The Pool, the Webby award-winning platform for millennial-minded women. That website sadly closed in 2019, and since then she has been a regular contributor to a number of high-profile publishers including The Telegraph, The Times, Grazia, You Magazine, Glamour and woman&home.
Frankie has interviewed numerous industry experts and celebrities, from Claudia Schiffer and Karlie Kloss to Sam McKnight and Trinny Woodall. She has also created content for numerous fashion and beauty brands including Liberty of London, Whistles, Kitri, Hush, Boden, Madewell, John Lewis, Michael Kors, Kate Spade, Pandora, Marks & Spencer, Mint Velvet, Clinique, Caudalie and Neom.