Which Burberry trench coat to buy - and why they're completely worth the investment
Finding the right Burberry trench coat is no easy feat, but our round-up of the best Burberry trenches for women will help you choose the right one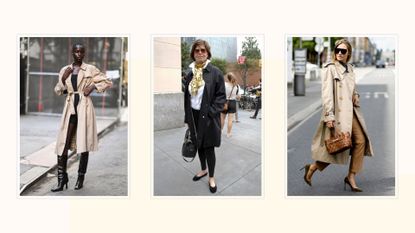 (Image credit: Getty Images)
One of the most iconic pieces of outerwear there is, a Burberry trench coat is the perfect mix of style statement and practical weather wear. Synonymous with effortless elegance, and classic Quiet Luxury, simply slipping one over any outfit is enough to catapult you into the realms of the seriously stylish.
You might not consider outerwear as part of your main wardrobe, but having the right types of coats will ensure that you look stylish whatever the weather and the best trench coats are essential. A lightweight piece of outerwear is often one of the best waterproof jacket too, but unlike the rubberized versions you might wear for a country walk, Burberry trench coats are smartly tailored and beautifully crafted, for outerwear that offers sartorial elegance, even in wet weather.
Designed in the early 20th century and patented by Thomas Burberry in 1912, the trench coat was originally created as part of Britain's official military uniform. Made from durable, weatherproof gaberdine, it was first worn by soldiers in the Normandy trenches - hence its name. Since then, the iconic trench coat silhouette has become a must-have style for men and women and despite how many brands make an iteration of this classic style, a trench coat by British designer brand Burberry, is still considered one of the most timeless pieces of clothing you can own.
Why a Burberry trench coat is worth the investment
When it comes to investment purchases, most people automatically turn their attention to the best designer bags, but the Burberry trench coat, while it may not hold its value in the same way as the best Chanel bags, still has the potential to last you a lifetime. Just as with any well-made item you purchase, look after it, and in the long run, it will return the favor. A Quiet Luxury style, thanks to the subtlety of the outer details, the giveaway for the Burberry trench coat is always in the classic check lining that makes it instantly identifiable.
Crafted in England by expert tailors, the Burberry trench coat remains at the pinnacle of exquisite quality and style and will never go out of fashion, ensuring you can wear it season after season. It takes one year for each specialist to learn the stitching of the trench coat's collar, which is handmade using more than 180 stitches. And such credentials don't come cheap. Available from around $2,000 (£1,700), a Burberry trench coat is made to last. An ideal addition to any capsule wardrobe, a Burberry trench will pair with everything from your best dresses to your fave jeans and even on-trend Chelsea boots, there is no look that a Burberry trench coat can't enhance.
Today, multiple iterations have been borne of the original, incorporating unique details and features for all tastes, which means that there is a style for every shape. Although this might leave you wondering the benefits of the Burberry Chelsea vs Kensington trench coat, any well-tailored Burberry trench coat is a good investment. Classic camel, black and navy interpretations will always have the most longevity in terms of style, but prints and color will be playful and work for several seasons. At the start of the winter season, remember to dry-clean your coat and put it away, so that it's ready for when you want to put your spring capsule wardrobe, or fall outfit ideas to work.
Here's our guide to help you to decide which is the best Burberry trench coat for you, including advice on how to pick the best color, shape and style for your silhouette.
How to pick the best Burberry coat for your shape
For Tall Women
When making a purchase, the first thing to consider is length. The right hemline can make or break a trench, so it pays to get it right. Those with a tall build should opt for a longer-line coat to play to their elongated silhouette. Due to a lengthier frame, longer-line coats won't swamp your shape but will help the eye to be drawn up and down the body. This also can make you look leaner as it streamlines your appearance and avoids cutting your outfit in several different places.
A Note on Print and Pattern
When it comes to choosing whether you go for a plain or printed coat, tall builds often can often carry off louder prints and patterns. The classic Burberry plaid - also known as the Haymarket Check, was introduced in the 1920s and is as synonymous with the house of Burberry as its trench coat. Largely used as a lining print, in recent times, Burberry has played with print, migrating it to the outside of the coat for a more fashion-forward look. The medium-sized square and fine-lined print is surprisingly versatile and largely flattering on most. However louder iterations of the print and bolder patterned styles that have emerged in recent seasons sit best with taller frames that can carry off what can otherwise be an overwhelming pattern.
For Petite Women
When looking at the coat trends 2023, there is little distinction made for various heights, so if you've been left wondering what silhouettes can work for petites, and if there are Burberry trench coats that will work well for your frame, you'll be thrilled to know the answer is, yes, but there are some things to consider.
If you're petite, it's best to go with a shorter-length coat which will work best with your proportions and won't drown you. As a designer brand, producing an exclusive and detailed product, Burberry has really considered how its products will work for different heights and have trench coats that come in both short and regular lengths. The Burberry short coats are 90cm, which hits around mid-thigh, a great length for petites as it will balance your proportions. For those looking for something that skims the knee, they also do a 100cm version too.
A Note on Print and Pattern...
While the classic Burberry Haymarket Check in a small fine print, a delicate all over print is largely flattering for all, if you're nervous about being overwhelmed, opt for a block color or invest in a plain style, and turn up the cuffs a fold or two to reveal just a hint of the check, a chic and subtle way to show off your Burberry buy.
For Curvy Women
Perhaps the reason for the popularity of the Burberry trench coat is its ability to flatter all silhouettes. A trench coat will work easily on apple body shapes, curvy figures and those with bigger busts and there are even a few ways to style them too, depending on the look you want.
Want to show off your curves? Use your trench coats self-fabric belt to cinch yourself in at the waist, this will instantly highlight curves and help to create a more hourglass body shape - you can even swap the fabric belt out for a statement leather belt, or any of your best designer belts to really customize your look. If you're not a fan of belts, then look for slightly more tailored styles, that nip in at the waist, doing the job of the belt for you.
When it comes to how to style a trench coat to appear taller and more streamlined, choose a style that hangs from the shoulders and skims the body. Wear your coat open, over a sweater or any of your best shirts to create a centralized panel. This will draw the eye up and down your body, adding extra height to your frame, no heels required.
The trench coat is quite an androgynous style and often is cut with double-breasted buttons. This can be quite bulky and boxy on curvy frames, so look for single-breasted styles of this classic look.
Burberry Pale Pink Cotton Cropped Trench Coat
RRP: $1,890 / £1,390 | Sizes: US: 00-14 / UK: 02-16 | Length: Cropped | Colors: Sorbet Pink
Draw attention to your waist and create hourglass curves with this clever sugary pink, cropped trench coat. Ideal for spring weather, this jacket will help to highlight your waist, lengthening your lower torso for longer looking legs. The combo of pink and honey too is gorgeous.
Modern style
Burberry Tropical Gabardine Trench Coat
RRP: £1,690 (UK only) | Sizes: UK: 2-16 | Length: Regular | Colors: Black
A standard cape coat might be overwhelming on a petite frame, but this twist on a trench coat gives you a caped look without losing your shape. Thanks to the belted waist to highlight your middle and the shorter hemline, this is a style winner. We love the flash of heritage check lining too.
Burberry Camel Leather Waterloo Trench Coat
RRP: $5,900 / £4,490 | Sizes: US: 0-14 / UK: 02-16 | Length: Regular | Colors: Camel or Black
Crafted from 100% leather, this is one of the best leather jackets on the market right now. This sensational twist on a classic Burberry trench coat that taps into the spring/summer fashion trends 2023 and is a piece of outerwear that can remain in your wardrobe for years to come.
For Rectangular Shapes
A rectangle shape is largely considered model-esque, meaning most styles will suit your frame. While rectangles aren't always tall, they are slender meaning they can carry off both fitted styles and oversized silhouettes.
For tall women who want to add volume to their shape, opting for an oversized trench coat that hangs from the shoulders can be an incredibly chic look and one that is particularly popular with the fashion crowd. Oversized silhouettes also have a nonchalant, androgynous appeal which never fails to look stylish. Look out for added detail such as drop shoulders or large epaulettes to add interest to this aesthetic. The classic double-breasted style of a Burberry trench coat is a brilliant way of adding shape and structure. The double horn button detailing running down the front is very flattering and adds shape.
Iconic style
Burberry Kensington Mid-Length Trench Coat
RRP: $2,590 / £1,790 | Sizes: US: 0-16 / UK: 0-18 | Length: Regular | Colors: Honey, Black, and Midnight
Fashioned in the brand's signature cotton gabardine, pop the collar for a flash of vintage heritage check. This timeless coat offers a modern spin on the classic-fit trench with an archive-inspired style and a streamlined silhouette. Ideal for every day wear over shorter dresses or pants.