Burberry trench coats: why they're worth the investment and how to pick the one the best flatters your figure
Finding the right Burberry trench is no easy feat, with reinvented spins of the original silhouette now available. Here's how to choose the most flattering one for you before investing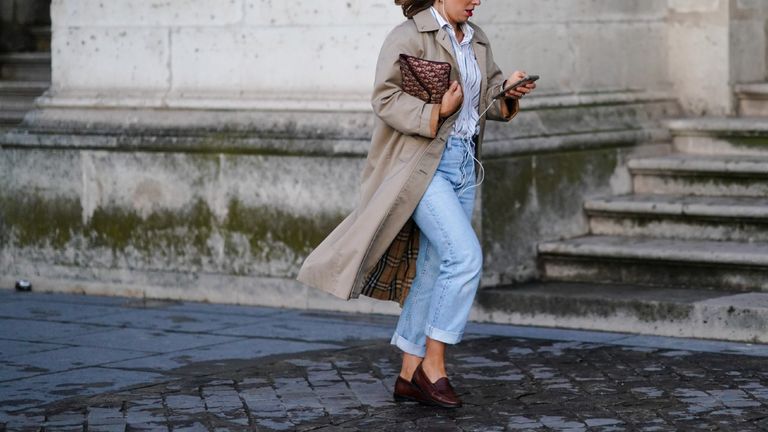 If there's one coat that truly deserves to be called iconic, it's the Burberry trench. Synonymous with classic, effortless elegance, simply slipping it over an outfit is enough to catapult you into the realms of the seriously stylish.
Designed in the early 20th century and patented by Thomas Burberry in 1912, the trench coat was originally created as part of Britain's official military uniform. Made from durable, weatherproof gaberdine, it was first worn by soldiers in the Normandy trenches – hence its name. No wonder it's still known as one of the best winter coats (well, all-season, really) around.
Why is the Burberry Trench worth the investment?
Crafted in England by skilled tailors, the Burberry trench coat remains at the pinnacle of exquisite quality and style. It takes one year for each specialist to learn the stitching of the trench coat's collar, which is handmade using more than 180 stitches. And such credentials don't come cheap. Retailing for around $2,000, buying one is certainly an investment. However, it's one that is guaranteed to last you a lifetime. Especially if you know the tricks to get your winter coat looking like new again. Plus, it pairs effortlessly with everything, from the best dresses for unpredictable spring days to berets and the on-the-fringe Doc Martens outfits.
The appeal of the Burberry Trench was bolstered by society's elite and exclusive entertainment scene. During the 1940s, the Burberry trench hit the silver screen. Humphrey Bogart uttered the famous line "here's looking at you, kid" while wearing a camel edition and, in 1961, an appearance on Audrey Hepburn's Holly Golightly in Breakfast at Tiffany's cemented the coat as a style classic. In the years since, the trench has been worn by the best-dressed around, from Marilyn Monroe and Brigitte Bardot to Alexa Chung and Gwyneth Paltrow. It even has the royal stamp of approval having been worn by Princess Diana and the Duchesses Cambridge and Sussex.
Today, multiple iterations have been borne of the original, incorporating unique details and features for all tastes. So before committing to purchase, it's essential you choose the most flattering one for you and adopt a methodological approach as you would when searching for the best bras.
How to find the perfect Burberry trench
Consider length
When making a purchase, the first thing to consider is length. The right hemline can make or break a trench, so it pays to get it right. If you're petite, it's best to go with a shorter-length coat which will work best with your proportions and won't drown you. The Islington Trench, $2,390, comes in both short and regular lengths. The short is 90cm and hits mid-thigh, while the regular is 100cm and skims the knee. A style from the heritage collection has all the trappings you'd expect (storm flaps, waist belt, epaulets) and comes in a honey color.
Those with a tall build should reach for longer-line, flattering coats to play to their elongated silhouettes. The Long Waterloo Heritage Trench, $2,090, is a lengthy 115cm and reaches the flattering spot just below mid-calf, where the leg begins to taper. It's available in honey and black.
Pick the right fit
Just as important as the length is the fit. This is a forever style you'll want to wear for years to come so it has to look perfect as well as feeling comfortable. The Burberry trench comes in a variety of fits so, before adding to your basket, it's well worth considering which cut is best for you.
If you're tall or rectangular in shape, opt for an oversized fit. This will add volume to straight-up-and-down figures and can easily be carried off with height. Oversized silhouettes also have a nonchalant, androgynous appeal which never fails to look chic. Try The Kensington Heritage Mid-Length Trench Coat, $1,990, which has a subtly dropped shoulder line, large epaulettes, and collar for an upscale look.
Apple shapes and those with bigger busts should reach for a style that hangs from the shoulders, skimming the body to create an elongated silhouette. The Stripe Detail Cotton Gabardine Trench Coat, $2,750 has a relaxed yet streamline fit that does just this. Wear it open, layering knits underneath for an extra flattering look.
Petite builds are best advised to choose a slim-fit style that neatly hugs diminutive proportions. The Mid-length Chelsea Heritage Trench Coat, $1,990, is the slimmest-cut style going with narrow shoulders and a nipped-in waist.
Think about color
Though Burberry trenches exclusively come in a range of classic hues that will never date, it's still worth ascertaining which will make your perfect match. To do this, you first need to work out what tone your skin is. A simple way to do this is with jewelry. Try on a yellow gold necklace, then take it off and switch it with a silver necklace. Which one lights up your complexion and highlights your eyes? If it's yellow gold, you have a warm skin tone and if it's the silver, you have a cool skin tone.
Cool skin tones suit cooler colors so reaching for styles in versatile grey or navy is a good idea. The Cashmere Trench, $2,990, comes in five sophisticated hues, while The Mid-Length Kensington Heritage, $1,990, is available in three chic and timeless shades. For those looking to make a statement, try the Horseferry Print Cotton Gabardine Car Coat, $2,490with emblazoned wording. When it comes to neutrals, cooler beige tones rather than warm honey will suit you best.
If your skin is warmer in tone, warm colors such as honey, olive and tan will suit you best. Try The Cashmere Trench, $2,990, in bronze. If you're striving to look edgy, opt for The Sleeveless Trench Coat with Detachable Warmer, $2,250, which marries deep pine green with creamy white, or reach for warmer-toned neutrals.
If you're a traditionalist, most Burberry trench styles come in classic black. Though highly wearable it can look a little harsh when sitting close to your face, so consider softening it with a colored scarf.
Double-breasted vs single-breasted
Rooted in classic menswear, the signature Burberry trench comes double-breasted with horn buttons running down the front. Giving structure to shoulders and shape at the waist, this can be a supremely flattering style for many. However, if you're apple-shaped and find double-breasted coats that make you look boxy, try a single-breasted style such as The Pimlico Heritage Car Coat, $1,790.
Printed vs plain: Introduced in the 1920s the classic Burberry plaid –also known as the Haymarket Check –is as synonymous with the fashion house as the trench coat. Typically used to line the insides of coats, this season sees the check migrate outside to impact-making effect. With a medium-sized square and fine lines, this is a surprisingly versatile print to wear and will prove a flattering option for most. Look to The Vintage Check Panel Cotton Gabardine Trench Coat, $2,750, which comes with statement cuff ties, or the bright Technical Canvas Collarless Trench Coat, $2,250. For those who feel nervous of print or bold hues, invest in a plain style, and turn up the cuffs a fold or two to reveal just a hint of check.