Designer dupes: Here's where to buy could-be-designer pieces for less
Our round-up of the best designer dupes is here, ready and willing to save your credit card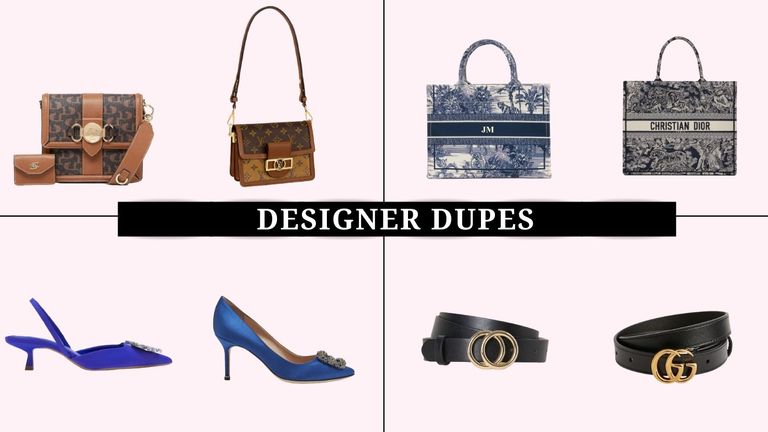 (Image credit: Future/Dune/Louis Vuitton/Lily and Bean/Dior/Zara/Manolo Blahnik/H&M/Gucci)
Familiar with the latest designer dupes? These are the pieces to purchase if your budget doesn't quite stretch to the dizzying heights of catwalk collections—and let's face it, whose does? 
Whether you're looking to invest in a pair of the best jeans or splash out on a special dress, there's no need to max out your credit card in the process. 
Better still, finding these designer-style pieces doesn't even require you to rummage through designer outlets—although, if you enjoy doing that, we would never stand in your way! In fact, all of these bargain pieces can be easily picked up (or added to basket) from everyday fashion stores. 
It's worth noting that when buying from a high-end label, it's not just the design you're paying for; often the higher prices reflect the level of craftsmanship and fabric quality that go into making a piece. This explains why a designer bag is likely to outlive a cheaper one you picked up on the high street. If you're looking to dip your toe into a trend, without the full commitment of going high-end, a designer dupe is the perfect bank-friendly option.
Best designer dupes to shop now
1. Louis Vuitton bag
Keeping your hands free as you go about your day, crossbody bags are as functional as they are fashionable. Invest in a designer one to effortlessly elevate all of your everyday outfits. The higher the price point, the greater the original investment in materials, which points to a longer-lasting piece. 
---
---
2. Gucci belt
A black belt will always earn its keep in your wardrobe. A timeless accessory that will never date, use it to cinch your waist when wearing floaty, oversized dresses or keep your jeans firmly in place. The addition of a gold buckle will catch the eye. 
---
---
3. Manolo Blahnik heels
 A statement heel is a worthwhile purchase for a number of reasons. Firstly, if they're colorful and brimming with sparkle, they're guaranteed to bring you joy every time you slide your feet into them. Secondly, a fancy shoe has the power to make even your failsafe jeans-and-T-shirt combination feel polished. Just add a blazer. 
---
---
4. Bottega Veneta necklace
Statement gold jewellery has made a huge comeback. Chain-link necklaces are perfect for layering over casual dresses, T-shirts and sweaters. We'll let you in on a secret—even the pricey items have usually been gold-plated, so save your coins for true investment pieces. 
---
---
5. Balmain cardigan
With its strong silhouette and iconic gold buttons this chic cardigan is a timeless statement piece; you'll wear it now and then continue to return to it year after year. Use it to instantly dress up your jeans, or team it with a fitted pencil skirt to give your look a 'ladies-who-lunch' feel.
---
---
6. Balenciaga mules
One of the most coveted shoe trends of the year, mules are the only style of footwear you need to be seen in this season. Available in a range of different heel heights and multiple colours, these versatile shoes are a fab addition to your wardrobe. Style with jeans, dresses, and skirts.
---
---
7. Dior bag
Say goodbye to the micro-bag trend, and hello to a fabulous large tote bag. Distinguished by its combination of sophisticated-yet-relaxed style, the Dior Book Tote has been seen adorning the arms of celebrities and influencers alike. The eye-watering price tag does seem steep for a canvas bag, but don't worry—we have found the perfect alternative, and you can even have it personalised with your name or initials.
---
---
8. Balmain Blazer
Buy this instantly recognisable blazer now, and keep it forever. With its shoulder pads, double-breasted silhouette, and military-inspired gold detailing, this iconic piece is certainly one to add to your capsule wardrobe collection. A Zara dupe this good won't hang around forever, so add it to your cart quickly!
---
---
9. Realisation Par skirt
Versatile and flattering on most figures, a midi skirt is a must-buy. This pretty paisley print is perfect for summer and can easily be dressed up or down. Wear with a smart jacket and heels for a special occasion, or with a casual T-shirt and flat sandals for a stylish weekend look. 
---
---
10. By Far bag
The bag shape of the moment, the baguette is here to stay. Just roomy enough to stash your phone, purse and a lippy, nestle this compact design under your shoulder for hands-free wear. Choose a caramel-toned tan like this one for maximum outfit-coordinating potential. 
---
---
11. Chloe trousers
For those occasions when jeans just won't do, a tailored trouser is your next best bet. Make yours high-waisted and wide-legged to create the illusion of a longer, leaner silhouette. Wear with neutrals—black, white, and camel—to let the vibrant red hue take centre stage. 
---
---
12. Proenza Schouler dress
Frothy and feminine, a pink pleated midi dress will look just as good with elegant courts and a beaded bag as it will with stompy boots and a leather jacket. Pleats aren't just pretty—they are forgiving too, floating over (rather than clinging to) your frame. 
---
---