Best swimsuit brands – these are the swimwear designers to be shopping from this summer
We've rounded up the best swimsuit brands to help you feel poolside ready in time for summer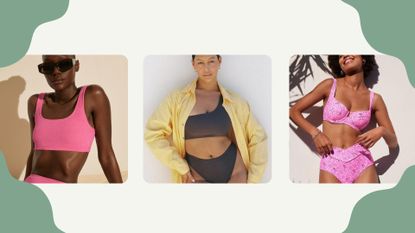 (Image credit: & Other Stories/Faithful The Brand/Aerie)
Want to know the best swimsuit brands to shop this summer? These are the swimwear designers that create pieces to will fit and flatter your shape for the season ahead. Whether you're looking for poolside glamour or beach-ready styles, we've got something for every budget.
As with mainstream fashion, swimwear trends are formulated ahead of the season, with the best swimsuit brands taking their lead from major runway resort shows, as well as events such as Miami Swim Week, which is a special showcase for swimwear designers. As a general rule swimwear styles change less dramatically than clothing year-on-year, but there will be definite patterns in terms of cuts and colors for the months ahead.
So what makes the best swimsuit brands? From aesthetic details such as color and embellishment to figure-flattering cuts and clever fabrications, there is a lot for swimwear designers to consider when creating the perfect poolside looks. Consider the silhouettes that make you feel most confident as a starting point, whether that's contouring swimwear, or a tan line banishing bandeau, as swimwear can feel exposing, nailing the silhouette is most important. Material and decoration are also important, so consider whether you want your swimwear to be able to withstand plenty of pool laps, or simply enhance your holiday wardrobe.
22 best swimsuit brands to shop in 2023 for style, quality and fit
When it comes to the best swimsuit brands the costs can wildly differ and how much you spend on swimwear is down to you.
"Honestly, it's all relative to your lifestyle and budget," advises Daisy Barnett, founder, and personal stylist at The Daisy Edit. "I don't recommend spending more than a small percentage of your wardrobe budget on swimwear. If you can afford designer swimwear, travel frequently, and are wearing your suits at luxury resorts, then go for it. But if you're going into debt and will only wear your swimwear a couple of times, then don't spend so much. Get a classic black bikini or one piece that fits you well and spend your money on a gorgeous coverup instead."
To make finding the best swimsuits for your holiday dreams a reality, we've rounded up the best swimsuit brands to shop for 2023 that max out on style ad cut.
Best known for its modern and elevated basics, American clothing brand Everlane is your first port of call for swimwear that won't feel dated by the time next summer rolls around. Focusing on fit-testing, Everlane try its clothing on more than 100 different women to ensure that it flatters and fits across a range of shapes and sizes. Making waves in the sustainability space, every piece in the Everlane swim collection is made from 82% ECONYL yarn, a fiber made from nylon waste from things like fishing nets, fabric scraps, and carpet flooring that have been rescued from landfill all over the world.
Leading the way as a sustainable swimwear brand that doesn't compromise on design, FISCH was inspired by its creative director's childhood spent snorkeling and exploring in St Barts. It launched in 2017 and was one of the first brands to use ECONYL in a bid to try and clear waste that would otherwise end up in the ocean. Each piece is hand-crafted in Italy from fabric created in Lombardy, which helps to keep the brand's carbon footprint as small as possible. FISCH's designs are pure joy, with punchy prints, cheeky cuts, and bold colors.
One of the best swimsuit brands right now, Hunza G's USP is its sizing. Available in one size only, the brand's signature crinkle fabric expands and contracts to fit sizes US: 2-12 / UK: 6-16. Sticking to a number of classic styles that get repeated year-on-year, the brand introduces more timely aesthetics by concentrating on the latest fashion color trends, or small design tweaks to accommodate new necklines or hardware.
"Trend-wise I think classic colors like black, navy, red, brown, and moss will be big for this year, and the high waist is having a moment," says Georgiana Huddart, Co-Founder and Creative Director at Hunza G. "Neons have been ruling for a few seasons and I think they are going to be overtaken by the neutral colors I mentioned and more classic shapes and cuts. It's all just a bit more elegant than the past few years which have maybe been more bright and fun."
While the brand only recently became a household name, Hunza G has been around since 1984 and was responsible for the iconic cut-out mini dress worn by Julia Roberts in Pretty Woman.
Setting out to prove that sustainability doesn't have to come at the cost of feeling sexy, ex-dancer and stylist Ingemae launched Away That Day in 2018. All of the swimwear designs are block colors, which ensures a focus on shapes and cuts without the distraction of prints. As a British brand, everything is made in London for a visible supply chain and sent to customers in 100% compostable packaging. This swimsuit brand uses ECONYL (a fabric made from regenerated waste) and even runs a scheme where you can recycle unwanted swimwear from any brand through them.
While you might think of swimwear designers as being all about the fashion, some designers create a swimsuit brand to answer a style need or problem. Cover Swim was founded by a busy mom who wanted chic and easy swimwear that would protect her skin while she ran around after her young children, and Cover Swim is one of the best swimsuit brands when it comes to sleeved styles. The brand uses its very own swim jersey fabric, which not only helps shield from UV rays but also boasts temperature control to keep your skin cool. Expect sleeved one-pieces, t-shirts, and rash tops in various different prints and shades alongside swimsuits and swim-dresses. If you're looking for the best bathing suits for women over 50 with extra coverage - Cover Swim is it.
---
Launched by reality star Kim Kardashian in 2019, Skims is a shapewear brand that offers compression clothing in a range of skin tones. The expansion into swimwear felt like a natural progression for the cult brand, applying the same principles of hugging and honing your shape to bikinis and swimsuits. In true Kardashian style, this swimwear range is about more than just being in the water and focuses on how you feel and look poolside too. That's why you'll see fashion-forward designs, pops of neon, and even the odd metallic in the collection - ideal for pool parties and posing by the beach. With a wide range of sizes available, it's one of the best plus size swimwear labels.
---
Everyone wants to feel at least a little bit sexy in their swimwear, and Riot Swim is the brand to help you achieve that. All of its fabrics have been designed to give you a second-skin feeling, so you can hit the beach with confidence, with or without your best beach cover-up. Riot Swim believes swimwear should feel like a natural extension of your body, so there are no rules around how much, or how little, skin you want to show. Cut-outs, plunging necklines, and thong briefs come as standard here, and we love that its designs are shown on models in a range of sizes, although the brand only carries up to a US: 0-10 / UK: 4-14.
---
Canadian brand Lululemon is the first name in technical athletic clothes that look and feel so good that you'll want to wear them way beyond your workout. And as you'd expect from a brand known for making the best workout leggings, its swimwear range pays the same level of attention to detail through technical fabrics and supportive cuts. Lululemon swimwear won't let you down after one summer either, its special Xtra Life Lycra fabric not only holds its shape without compromising on stretch but has been treated for extra chlorine and salt resistance too.
---
Spanish label Mango has long been our go-to for stylish clothing at prices that won't make your eyes water. High-end trends always filter through Mango, so it's the perfect place to try something new without a huge level of commitment. Their swimwear offering keeps going from strength to strength, and this summer it is over-delivering with standout styles to rival some of the designer brands. Splash out here and treat yourself to a new best beach bag and everything else you need to pack for a beach vacation while you're at it.
---
If it's good enough for the supers, it's good enough for us, and Solid & Striped swimwear has graced the bodies of models including Alessandra Ambrosio, Cara Delevingne, and Kaia Gerber. Not to mention actresses Dakota Johnson, Emma Roberts, and Eva Longoria too. Despite its popularity with the A-list, you don't have to be a celeb to look and feel good in this swimsuit brand. All of its designs boast playful touches that set these looks apart from the crowd.
---
Another Kardashian fuelled label, Good American was launched by Khloe Kardashian in 2016. The goal was clothes made by women, for women, with all body shapes in mind. Focusing mainly on denim to begin with (another piece of clothing that's notoriously tricky to shop for) the label is now known for making some of the best jeans for curvy women, stocking up to a 5XL. However, as the brand expanded, it's now recognized as being one of the best swimwear brands too. Edited to a few different ranges, including Ruched Swim which is designed to hug your curves, Full Coverage Swim which has extra fabric as well as extra support, and Always Fits Swim which stretches up and down in size so you don't have to worry about weight fluctuations, this is a brand that combines fit and style beautifully.
---
Eres swimwear doesn't come cheap, but it's almost impossible not to covet. Owned by Chanel, this is a designer swimwear brand that exudes timeless luxury. The French brand has impeccable attention to detail and is one of the best French lingerie brands too. For this season's swimwear collection, Eres has created a tropical atmosphere inspired by the 1930s with wild prints, juicy colors, and a slightly sporty twist.
---
One of the best swimwear brands for affordability, Spanish clothing chain Zara offers trend-led styles at a fraction of the cost of designer swimwear. Widely available, the pieces aren't the most size-inclusive, with the largest size an XL, but they do deliver for those looking for fast, trending designs. With bikinis sold as individual pieces, it's also a great place to shop if you're a different size on the top and bottom and its block-colored separates can easily be mixed and matched, making them ideal for a capsule wardrobe for travel.
---
One of the best jeans brands, Madewell has so much more to offer than great denim With an ethos that revolves around cool, quality clothing that lasts, this design motto is seeded through its swimwear too. For this season, there are a couple of collaborations to keep your eye one, one with the swimwear label OOKIOH, and another with textile designer Caroline Z Hurley. Both have added a fresh spin to Madewell's most popular pieces through exciting prints and unexpected colorways.
---
Part of the H&M Group, Scandinavian clothing brand & Other Stories first launched in 2013. It has three different design ateliers, covering Paris, Stockholm, and Los Angeles, all of which create clothing based on the signature styles of where they're based. While it's well regarded for its clothing, & Other Stories is also one of the best lingerie brands in its price bracket, with its cute, ready-to-wear styles popular since launch. The launch of & Other Stories swimwear line has seen similar popularity, and the tight edit mixes retro and on-trend touches with classic colors and shapes for high quality, yet affordable, poolside essentials.
---
Part of the AEO group, Aerie is the swimwear sister brand of American Eagle. Its focus is on fashion-forward designs at affordable pricing, so expect a one-piece to come in at around $60 and a bikini around $70 for the set. As with a lot of the best swimwear designers on this list, Aerie uses recycled nylon where possible, turning leftover fiber scraps into something new and exciting. A new fabric feature from Aerie is UPF50 sun protection on the fabrics it uses, which shields your skin from around 98% of UV rays.
---
The best swimsuit brands should help you feel instantly relaxed, after all, if you're poolside or heading to the beach you need to be ready for some R&R and Faithful the Brand exudes this laid-back style in droves.
Born in Indonesia in 2014, the founders collaborated with artisans in Bali to create hand-crafted garments for a unique feel. It has expanded since then, but thoughtfully produced designs inspired by travel remain at the heart of the brand. One of the best sustainable clothing brands, Faithfull the Brand is committed to creating socially responsible clothing and is certified by B Corporation to back this ethos up. At a slightly high price point, the level of detail, and the hand-made, hand-printed, nature of the items is well worth paying extra for.
---
Designed in NYC and made in LA, Jade Swim is an all-American brand. It's the brainchild of a former fashion editor and stylist Brittany Kozerski, who wanted to bring her minimalist aesthetic to swimwear in order to focus on classic silhouettes that sculpt and shape the body. You're not going to find anything that could be remotely described as fussy here, with frills and prints off the menu in favor of sharp lines, clean cuts, and block colors. That's not to say that Jade Swim collections are dull – far from it. These designs are certainly pushing the boundaries with the attention to detail and cut making them standout styles.
---
One of the lesser-known names on our best swimwear brands list, Louisa Ballou was founded in 2018 to offer a directional perspective on resort wear. Its swimwear and clothing have been worn by celebrities including Dua Lipa and Bella Hadid, and it boasts stockists including Net-a-Porter, Farfetch, and Matches Fashion. All of the pieces in the collection are inspired by the founder's childhood spent by the coast in Charlestown, South Carolina, which is reflected in their vibrancy. Shoppers who find too much choice overwhelming will appreciate how curated the current range is, with the same print available across multiple garments for synergy and choice.
---
Need to replace your faded old swimwear on a shoestring budget? Head to H&M. Almost everything in its swimwear collection comes in at under $30 for a one-piece or set, making it the most affordable swimwear brand in our round-up. But just because it's at the lower end of the price bracket, doesn't mean it won't last, and these fabrics are good enough to stand the test of chlorine and saltwater. Just make sure you care for them properly, which means rinsing them with water when you get home from the pool or the beach and washing them according to the instructions on the garment label.
Although H&M does carry plus size clothing, its swimwear range for fuller figures is not the most extensive, but there are some options up to a 4X available.
---
A heritage swimwear designer, Melissa Odabash launched her namesake label in 1999 and has been one of the most influential swimwear designers ever since. Hailing from New Jersey, Odabash was living in Italy at the time of the launch, although the label has since relocated to London. Developed to fill a gap in the market for chic, solid-colored bikinis. Melissa Odabash has since branched out into prints, but the original design need remains at the heart of the collection. Expanding the line further, Odabash is now a full resort lifestyle brand with clothing and accessories too, ensuring you can get all your holiday outfit ideas in one place. In 2015, the brand launched its debut mastectomy line, giving more women access to its gorgeous swimwear.
---
Launched by a mother-and-daughter duo based in Malibu, Frankies Bikinis came to life in 2012. Since then, the brand's designs have been worn by the likes of Gigi Hadid and Naomi Osaka, and the brand has expanded into ready-to-wear clothing and accessories too. As you might have guessed by the name, swimwear has remained at the heart of the brand, and the label has continued to push boundaries when it comes to shapes and styles. Many of the designs are lingerie-inspired, which gives them an extra element of cheekiness.
Where are the best places to buy swimsuits?
The best places to buy swimsuits will depend on a few different factors. First up, budget. You don't need to spend a fortune to find swimwear you'll feel confident in, with affordable swimwear options from the likes of Aerie and H&M leading the way. If money is no option, then treat yourself to something a little fancier from brands like FISCH, Frankies Bikinis or Melissa Odabash. "Once you find a good suit that fits right it's worth investing," advises Andréa Bernholtz, Style Expert and founder of luxury swimwear brand Swiminista. "A great fit is hard to find, and often comes with a higher price tag, but it's worth it for a quality suit."
Secondly, consider sustainability is a big word in swimwear too, as the kind of stretchy fabrics that best suit this kind of clothing are also by their nature synthetic, which isn't always great for the planet. However, the best swimwear brands are making conscious moves to a more sustainable future with many brands opting for recycled fabrics and new technological fabrics with low carbon footprints. In addition to this, many designer swimwear brands opt for small batches, or on-demand production, minimizing long-term waste.
And finally, just like shopping for the best bras or best shapewear, your clothing size will be a consideration as to where is best to buy swimwear too. Although the tides are turning, the largest majority of swimwear is still missing out plus size markets, although there is an increasing number of inclusively sized brands. If you're plus size or have a fuller bust, look to lingerie or plus size specialists as these labels will have the best support and cuts for your frame.
Where are the best places to buy luxury swimwear brands?
Where you shop for luxury swimwear will depend on the kind of look you're going for, as well as your commitment to quality and sustainability. Our top picks for the best places to buy luxury swimwear include Fisch, Hunza G, Away That Day, Eres, and Faithful The Brand. You can shop directly from the company, or via retail partners. Not all of these are available to try on in a store, but many prefer to try swimwear on at home, just make sure you've fully read the returns policies before ordering.
When buying luxury swimsuits consider the longevity of the item and the quality of the fabric. "There are multiple things that set it apart from the high street," explains Huddart. "Number one is the production of it, how and where its produced, in what quantities and with what techniques. I would say most swimwear companies that are considered designer also have a clear aesthetic which means they are doing their one thing and doing it super well," she says. "For example, Hunza G is based around one fabric and we know this fabric inside out. We have perfected it, worked on it, improved it, and tested it", ensuring that the Hunza G crinkle delivers on form and function.
Jess Beech is an experienced fashion and beauty editor, with more than eight years experience in the publishing industry. She has written for woman&home, GoodtoKnow, Now, Woman, Woman's Weekly, Woman's Own and Chat, and is a former Deputy Fashion & Beauty Editor at Future PLC. A beauty obsessive, Jess has tried everything from cryotherapy to chemical peels (minus the Samantha in Sex and The City-worthy redness) and interviewed experts including Jo Malone and Trinny Woodall.