The best bras for large busts—supportive styles that won't let you down
We've found the best bras for large busts, with styles up to a size KK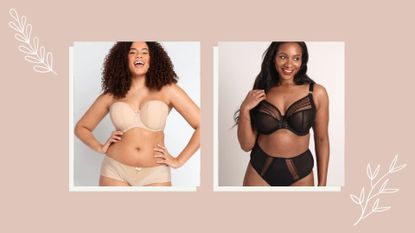 (Image credit: Future / Curvy Kate / Bravissimo)
Anyone above a D cup will know that finding the best bras for large busts is no easy feat. It can take years of trial and error to settle on a style that works for you in terms of support and comfort—and then comes the aesthetics of it all.
The best bras for big busts used to have a reputation for favoring substance over style, however, the years of dowdy and unattractive bras for bigger busts are thankfully behind us. Although full-cup styles are very much still one of the types of bra every woman should own (after all they offer amazing support), those with larger busts now have access to a host of exciting bra styles. From the best strapless bras to bounce-reducing sports bras and multi-way styles, you can now even get involved in the bras vs bralette debate with a host of non-wired, comfortable bras available in larger cup sizes too. All of which offer great support and fantastic design qualities.
The best bras for large busts are a feat of modern engineering but they also should still be an item that is enjoyed. Like with the best shapewear, getting the correct fit is incredibly important, and learning how a bra should fit will help you make better choices.
How to choose the best bras for large busts for you
The best bras for big boobs involve a lot more fashion and design technology than you might think, but there are some easy hints and tricks to look out for when shopping that will help you decipher if a bra is going to offer a good level of support.
Best bras for a large bust: how to get a good fit
Strong underband—this is where the majority of the support comes from. A deeper or stronger underband will help to give good uplift.
Wide straps—adding comfort and preventing digging in, wider straps help to balance the weight of your bust and will eliminate marking that can be left by very slim bra straps.
Side support—good bras should shape the breasts at the side, essentially pushing them, albeit gently, forward in the right direction. This helps to give a fuller, perkier, and round shape.
Underwire—this used to be thought of as a must for larger bust bras as it does offer a lot of support. While you certainly can get wire-free bras that offer strong support, you will most likely find that underwire still gives the best lift.
Push-up padding—again not essential, but can help to support breasts and create shape in the absence of other features, particularly with non-wired styles. Sometimes you will find that a light layer of padding in a molded cup bra can simply help to enhance your natural shape.
Back clasp—three clasps at the back will signal a deep underband and suggest a very good level of support. Two clasps at the back of a bra will still offer good support but it will not be as firm as those bras with a thicker underband. Only one clasp? Chances are that bra will offer very little in way of support for a large bust.
For those with bigger boobs, wearing the right size bra is incredibly important, not just for how you look and feel in your clothes but for your overall physical health too. Learning how to measure a bra can help you pick the correct size, but if you can, we recommend getting professionally fitted twice a year. If you have a particularly heavy bust, you might find you can strain your back, neck, and breasts, causing headaches and bad posture. A well-fitted and good supporting bra can help to alleviate some of this discomfort, but if you're concerned you should always seek medical advice. If you find you suffer from bust discomfort at night, you might want to try one of the best sleep bras to give you support while you sleep.
There are also some style benefits from wearing a correctly fitting bra, as it can literally transform the way you look in clothes. Ensuring your bust line is in the right place will help your clothes sit correctly, as wearing the wrong size bra can mean that seams and darts sit in the incorrect place. Just this tiny fit tweak can immediately elongate your torso as it lifts your breasts up and away from the body.
---
The best bras for large busts as reviewed by our experts
1. Fantasie Illusion Side Support Bra
Specifications
RRP: $58 / £32
Sizes: 30D-38J / 40H
Wired: Yes
Padded: No
Reasons to buy
+
Good range of sizes
+
Satin straps for comfort
+
Pretty design
+
Side support gives lifted look
+
Range of colors available
+
Looks smooth under clothes
Reasons to avoid
-
Could have larger underband sizes
If you're looking for a supportive bra that gives a flattering lifted look, doesn't dig in, keeps you comfy all day without any pain and looks great, then this one ticks all the boxes. It comes with a wide underband that lifts the bust without digging into the skin—a wonder for anyone who's usually plagued with backache thanks to their big boobs. And thanks to its clever three-piece constructed cups, it sculpts breasts beautifully. The side support works with the underband to raise the bust and project it forward for a flattering lifted and shapely look.
The satin feel also gives this a luxurious finish, which is a real plus considering the reasonable price tag and the floral mesh layer makes it oh-so-pretty. With six different shades available, you can stock up your underwear drawer so that you have a color that will go with everything.
---
2. Spanx Breast of both worlds
Specifications
RRP: $42 / £34
Sizes: XS-3X
Wired: No
Padded: Optional
Reasons to buy
+
Stretchy material
+
Supportive
+
Removable cups
+
Nice shape
+
Can wear two ways
Spanx has always been a go-to for many of us when looking for shapewear, so it's no surprise that it makes bras that offer great shaping for big boobs too. Using the same soft but sturdy Spanx material that's used in the brand's shapewear, this bra holds up breasts without the use of a wire or padding and manages to create a lovely shape even without the removable cups—which you can pop in for an even perkier look. What makes this an even more brilliant pick for large busts is the added layer of stabilizer support that comes in sizes XL-3X. A reliable option for those looking for a comfortable bra for large busts—and the reversible function will help it last longer between washes too!
---
3. Freedom Bra in Black
Specifications
RRP: $33 / £55
Sizes: 28D-40HH
Wired: No
Padded: No (molded no padding)
Reasons to buy
+
Simple design, great for everyday
+
Great support for a fuller bust
+
Natural-looking lift
+
Great for small underband but large bust measurements
Reasons to avoid
-
Would be good to see it in bigger back sizes
One of the best bralettes for fuller cup sizes, the Freedom bra was specifically developed to ensure there was a comfortable, stylish, non-wired bra for big busts that still offered brilliant support. Ideal for everyday wear, we found the Freedom bra to be incredibly comfortable. The molded cups offer a really smooth finish, ensuring you can wear this bralette under close-fitting t-shirts. If you're looking to banish underwires without sacrificing on uplift, this is a great place to start. Available in four colorways the brand has branched out into sports bras too.
---
4. Elomi 8900 Matilda Underwired Plunge Non Padded Side Support Bra
Specifications
RRP: $69 / £42
Sizes: 32GG-46DD
Wired: Yes
Padded: No
Reasons to buy
+
Stylish design
+
High coverage shape
Reasons to avoid
-
Sheer design can be limiting
With an underband measurement up to a size 46, Elomi make some of the best plus-size lingerie. With a mission to deliver great bras for larger busts, Elomi is a reliable option for anyone who wants support and comfort from a bra that looks good too. The wide underbrand is brushed with smooth fabric for a super comfortable layer of support while the mesh cups are constructed with their own shape that offers instant perkiness, with contouring abilities not usually seen from a non-padded bra. It also has thick straps that sit nicely on the shoulders without digging or creating any bulges and comes in several different colors that you can wear for an invisible look under outfits. The subtle mesh and lace detailing offers a glamorous finish.
---
(opens in new tab)
5. Marks and Spencer Printed Mesh Underwired Max Support Bra
Specifications
RRP: $30 / £18
Sizes: US: 32E-44GGG / UK: 32F-44J
Wired: Yes
Padded: No
Reasons to buy
+
Supportive
+
Pretty designs
+
Comfortable
Reasons to avoid
-
Too sheer to wear under sheer clothing
If you like to wear a full cup fit but aren't a fan of padding and want something less frumpy and a little sexier and playful, this Marks & Spencer style is a great choice as it features a wide underband with three hook-and-eye fastenings for ample support. The comfortable mesh cups have also been made using four separate parts in each to ensure that support is evenly distributed throughout the cups and you're provided with enough coverage. With a fashion-forward feel, we're big fans of the animal print.
---
6. Curvy Kate Women Luxe Strapless Multiway Everyday Bra
Specifications
RRP: $77 / £36
Sizes: 28-40 D-J
Wired: Yes
Padded: Yes
Reasons to buy
+
Gives great uplift for heavy bust
+
Good size range
+
Comes in four colorways
+
Good price point
Reasons to avoid
-
Bow detail stops a smooth finish (can easily be removed)
Finding a great strapless bra that can hold up a heavy bust, has for many years felt impossible. Thankfully, Curvy Kate, who, as the name suggests, specifically design bras for large busts has created a strapless bra with some serious staying power that fits and lifts D-J cups. Available in four different colors, it comes with straps for multi ways to wear and the molded cup ensures a really smooth finish under fitted clothes. Some of the colorways feature a central small bow detailing, which might show up under lower necklines, but it is easily removable, should it not be to your taste.
Put to the test by woman&home's fashion channel editor, the Curvy Kate strapless bra passed with flying colors, surviving nights out, long days, and several rounds of dancing.
---
7. Curvy Kate Victory Balcony Bra
Specifications
RRP: $62 / £33
Sizes: 30D-44KK
Wired: Yes
Padded: Yes
Reasons to buy
+
Double layered mesh lower cup for support
+
Wider underband for F cup and above
Reasons to avoid
-
Bridge comes quite high up
Carrying sizes up to a KK, this is a gorgeous bra for those with a large bust. The balcony bra has a four-part seamed cup and side support to create a perky look while the sturdy underwire holds up breasts without too much digging. The mesh material also gives this a sexier look than most of the typical best bras for large busts and creates a smooth finish under clothing, while the relatively full cup means that you won't be left with any spillage.
---
8. Fantasie Impression Bralette
Specifications
RRP: £28 / $48
Sizes: S-XL
Wired: No
Padded: No
Reasons to buy
+
Up to an H cup
+
Soft against skin
+
Wide underband
With all the support of a bra, but all the comfort of a bralette, this is a great bra for large busts. Featuring a wide underband for support, it manages to give great lift without any padding or wires. One of the sexier bralettes for large busts we've seen, the Fantasie bralette also has a soft lining on the inside of the cups for a real comfort finish. A practical style, it comes in black, white, and beige, so can be worn under a lot of different looks, but make sure to use the brand's on-site size guide to decipher which size to get as it uses a different scale to your normal bra.
---
9. Triumph Doreen Bra
Specifications
RRP: $46 / £35
Sizes: 34B-48H
Wired: No
Padded: No
Reasons to buy
+
Non-padded
+
Full cup
+
Very supportive
For those who struggle with saggy boobs but still want a comfortable pick, this is a great option. This Triumph favorite is a go-to for women with large breasts thanks to its supportive straps and underband that hold up the boobs without causing any discomfort. The full-coverage fit and sectioned design almost act like a holster for the breasts too, which lifts them for a firmer and perkier shape.
---
10. Runderwear Easy-On Running Bra
Specifications
RRP: $75 / £55
Sizes: 28D-40H / 42E
Wired: No
Padded: Yes
Reasons to buy
+
Good support
+
Flattering shape
+
Molded to reduce spillage
Reasons to avoid
-
Not available in smaller cup sizes
Buying sports bras can be tricky for the bigger-busted among us, as we're often left with a lot of "spillage" coming out of the sides and back of the bra. But this Runderwear option is one of the best sports bras for larger busts, as it uses a unique design to encapsulate your breasts, with molded cups to offer uplift and reduce spillage. The smooth fabric and padded shoulder straps—which are adjustable as well—also prevent digging and bulges, making this one of the best bras for back fat too.
---
11. Curvy Kate Superplunge Multiway Padded Plunge Bra
Specifications
RRP: $66 / £30
Sizes: 28D-40HH
Wired: Yes
Padded: Yes
Reasons to buy
+
Good range of sizes
+
Wide straps for extra support
+
Straps can be worn multiple different ways for versatility
Reasons to avoid
-
Can't be worn without straps
If you're looking for the ultimate style solution for larger busts, then this is it. As is typical of Curvy Kate bras, it features a wider underband for a good basis of support. Packed with versatile and practical features, this bra comes with an extender that lets you lower the back of the bra if you're wearing something that's low-cut at the back. The sturdy straps are fully-adjustable meaning that you can go for whichever look suits your outfit, such as a halter neck style (as shown in the featured image). The satin-like cups are comfortable on the skin, look smooth under clothing, and are sturdy enough for a natural lift.
---
12. Figleaves Smoothing Sweetheart Full Cup T-shirt Bra
Specifications
RRP: £28 (UK only)
Sizes: 28-40 B-H
Wired: Yes
Padded: No (cup is molded)
Reasons to buy
+
Very comfortable
+
Low price point
+
Smooth finish under fitted fabric
Reasons to avoid
-
Could offer larger back sizes
-
Not many colorways
An everyday style winner, this Figleaves t-shirt bra is very much approved by our fashion editor. Featuring a molded cup for a really smooth finish, it's ideal under close-fitting fabrics, including jersey t-shirts. The sweetheart neckline ensures this bra works well under V, round, and scoop necklines. With a slightly slimmer underband than some bras for large busts, it still offers plenty of lift and support, with the cups gently hugging each breast for a lovely shape.
---
13. Chantelle Révèle Moi stretch-lace and mesh 4-part bra
Specifications
RRP: $68 / £60
Size:
Wired: Yes
Padded: No
Reasons to buy
+
Beautiful lace design
+
Lovely shape
+
Light feeling
Reasons to avoid
-
Expensive
-
Not the biggest size range
From French lingerie brand Chantelle, this is a gorgeous design. Featuring 4-way stretch lace for a comfortable and light fit that helps to contour your bust, this bra is certainly designed to be worn every day but feels just a little bit more special thanks to the detailed fabric. Although it only goes up to a FF, it is still a lovely bra for large busts, particularly if you prefer two-clasps at the back and supportive, but slightly slimmer straps.