The best bras for large busts - supportive styles that won't let you down
We've found the best bras for large busts, with styles up to an L cup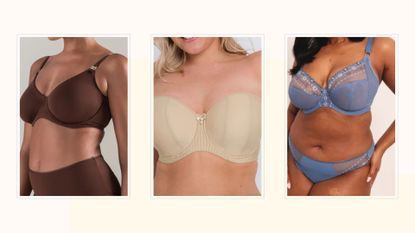 (Image credit: Nudea, Curvy Kate, Elomi)
Finding the best bras for large busts is no easy feat and if you wear a D cup or above, we're sure at times you've struggled to get attractive underwear that also works for a bigger bust. It can take years of trial and error to settle on a style that works for you in terms of support and comfort - even before you nail the aesthetics side.
The best bras for big busts used to have a reputation for being dowdy and unattractive, but thankfully bras for large busts have moved on in recent years and you can now get substance and style from some of the best bra brands. Although full-cup styles are very much still one of the types of bra every woman should own (after all they offer amazing support and coverage), those with larger busts now have access to a host of exciting bra silhouettes that can really help make the most of your bust line. From the best strapless bras to bounce-reducing sports bras and multi-way styles, you can now even get involved in the bras vs bralette debate with a host of non-wired, comfortable bras available in larger cup sizes too. All of which offer great support and fantastic design qualities.
The best bras for large busts are a feat of modern engineering but they also should still be an item that is enjoyed. Getting the correct fit is incredibly important, and learning how a bra should fit will help you make better choices. After all getting the foundations right underneath your clothes will help to elevate every outfit you put on.
How to choose the best bras for large busts for you
Why you can trust Woman & Home Our expert reviewers spend hours testing and comparing products and services so you can choose the best for you. Find out more about how we test.
The best bras for big boobs involve a lot more design technology than you might think, and for the most part, the best bras for large busts are a feat of engineering. This technology has revolutionised the lingerie industry, and if you need a supportive swimsuit for a large bust, bra brands are often the best place to shop for swimwear with uplift.
But while there is more availability, this is still a tricky area to navigate, so we've pulled together some easy hints and tricks to look out for when shopping that will help you decipher if a bra is going to offer a good level of support.
Best bras for a large bust: how to get a good fit
Strong underband: the majority of the support, for holding up your bust comes from the underband, making a sturdy underband the most important thing to consider when shopping for the best bras for large busts. A deeper or stronger underband will help to give good uplift.
Wide straps: adding comfort and preventing digging in, wider straps help to balance the weight of your bust and will eliminate marking that can be left by very slim bra straps. They also contribute to supporting your bust line and while wide straps can be frustrating under some tops, where possible, a wide strap is ideal.
Side support: good bras should shape the breasts at the side, essentially pushing them, albeit gently, forward in the right direction. This helps to give a fuller, perkier, and round shape that will sit better under clothing.
Underwire: this used to be thought of as a must for larger bust bras as it does offer a lot of support. While you certainly can get wire-free bras that offer strong support, you will most likely find that underwire still gives the best lift. Underwire is also used to support the bra so that it sits in the correct place and the center of your bra should sit against the body.
Push-up padding: again not essential, and depending on the size of your bust, and how full you ant your cleavage to be, you may decide to do away with side padding. However, side padding can help to support breasts and create shape in the absence of other features, particularly with non-wired styles. Sometimes you will find that a light layer of padding in a molded cup bra can simply help to enhance your natural shape. Don't confuse this cleverly placed padding that guides your breasts in the right direction with full on padded bras.
Back clasp: three clasps at the back will signal a deep underband and suggest a very good level of support. Two clasps at the back of a bra will still offer good support but it will not be as firm as those bras with a thicker underband. Only one clasp? Chances are that bra will offer very little in way of support for a large bust and is better to leave this as a bra for small busts.
For those with bigger boobs, wearing the right size bra is incredibly important, not just for how you look and feel in your clothes but for your overall physical health too. Learning how to measure a bra can help you pick the correct size, but if you can, we recommend getting professionally fitted twice a year. If you have a particularly heavy bust, you might find you can strain your back, neck, and breasts, causing headaches and bad posture. A well-fitted and good supporting bra can help to alleviate some of this discomfort, but if you're concerned you should always seek medical advice. If you find you suffer from bust discomfort at night, you might want to try one of the best sleep bras to give you support while you sleep.
There are also some style benefits from wearing a correctly fitting bra, as it can literally transform the way you look in clothes. Ensuring your bust line is in the right place will help your clothes sit correctly, as wearing the wrong size bra can mean that seams and darts sit in the incorrect place. Just this tiny fit tweak can immediately elongate your torso as it lifts your breasts up and away from the body. This will lengthen your torso and in many cases highlight your shape and curves, for a more streamlined finish.
---
The best bras for large busts as reviewed by our experts
These bras were last tested at the end of 2022, now half way through 2023, we have revised this list and believe that the bras listed here remain the best bras for larger busts, offering the best support, lift, comfort and style for those with bigger boobs.
1. Fantasie Illusion Side Support Bra
Specifications
RRP: $58 / £35
Sizes: 30D-38J / 40H
Wired: Yes
Padded: No
Reasons to buy
+
Good range of sizes
+
Satin straps for comfort
+
Pretty design
+
Side support gives lifted look
+
Range of colours available
+
Looks smooth under clothes
Reasons to avoid
-
Could have larger underband sizes
If you're looking for a supportive bra that gives a flattering lifted look, doesn't dig in, keeps you comfy all day without any pain and looks great, then this one ticks all the boxes. It comes with a wide underband that lifts the bust without digging into the skin - a wonder for anyone who's usually plagued with backache thanks to their big boobs. And thanks to its clever three-piece constructed cups, it sculpts breasts beautifully. The side support works with the underband to raise the bust and project it forward for a flattering lifted and shapely look.
The satin feel also gives this a luxurious finish, which is a real plus considering the reasonable price tag and the floral mesh layer makes it oh-so-pretty. With six different shades available, you can stock up your underwear drawer so that you have a colour that will go with everything.
Our tester said:
Fit: "As a full cup bra, this offers great coverage across the bust, with no spills at the top. Better for higher necklines, such as crew necks, this bra gives a really perky lift, pushing your bust up and forward without compromising on comfort."
Quality of materials: "A regular go-to for me now, this bra has been through my machine albeit in a washbag several times. Still a great fit, the three part bra cup definitely helps it to keep it shape for longer, and the largest of sizes have a three deep back strap for added support."
Style: "It's not the sexiest of bras, as full cup styles never really are, however the additional lace and the more fashion-forward colors mean this bra for large busts can still hold its own."
---
2. Spanx Breast of both worlds
Specifications
RRP: $42 / £34
Sizes: XS-3X
Wired: No
Padded: Optional
Reasons to buy
+
Stretchy material
+
Supportive
+
Removable cups
+
Nice shape
+
Can wear two ways
Spanx has always been a go-to for many of us when looking for the best shapewear, so it's no surprise that it makes bras that offer great shaping for big boobs too. Using the same soft but sturdy Spanx material that's used in the brand's shapewear, this bra holds up breasts without the use of a wire or padding and manages to create a lovely shape even without the removable cups - which you can pop in for an even perkier look. What makes this an even more brilliant pick for large busts is the added layer of stabilizer support that comes in sizes XL-3X. A reliable option for those looking for a comfortable bra for large busts - and the reversible function will help it last longer between washes too!
Our tester said:
Fit: "Creators of some of the greatest shapewear, this bra does give good lift, although it still can't rival wired bras for perkiness. With a crop top-like aesthetic, it is ideal for casual weekends, or wearing round the house, as larger busts will generally find wearing a bra of some description, more comfortable than forgoing completely. The thicker backstrap makes it great for smoothing out your back too"
Quality of materials: "Spanx benefits from its expertise in shapewear and the utilization of that knowledge makes for a really firm but stretchy wear. The fact it's reversible is a fun added bonus."
Style: "This bra for large busts was definitely created for function over form, however the crop top style still gives it a little bit of a trend-worthy finish."
---
3. Bravissimo Boho Lacey Bra
Specifications
RRP: $72 / £36
Sizes: 30-40 F-L
Wired: Yes
Padding: No
Reasons to buy
+
Excellent fit and lift
+
Sizes up to an L cup
+
Supportive and attractive
Reasons to avoid
-
Not many colours available
You can't talk about bras for large busts without slotting Bravissimo into the equation. One of the best bra brands for larger busts, its launch was revolutionary to many women who for years had struggled to get bras for large busts that were attractive too. With a huge range of own brand and recognised labels on site and in store Bravissimo is a market leader in the larger bust market and this design goes up to a size L cup making it incredibly accessible.
Our tester said:
Fit: "Without a doubt one of the best bras I've tried, I genuinely look forward to putting it on and will certainly be buying this style again. The lift is great and it gives a lovely perky shape without being too OTT. The stretch lace is super pretty but practical too and doesn't show up under clothing as I worried it might. The band sits comfortably, as do the straps and nothing digs in, I can wear this design all day, no problem."
Quality of materials: "This bra has washed really well and it feels lovely against the skin, as the lace is incredibly soft not scratchy. The straps and underband are wide enough to support with no annoying digging. Having had this bra now for several months, it is honestly my favorite bra for everyday wear and I genuinely look forward to putting it on. I really must buy another!"
Style: "One of the most attractive bras for larger busts, it feels pretty and feminine and I tried the minty green color which I loved, as I don't usually buy colorful bras. Currently largely in stock in the navy - which I love too, I hope they bring it out in neutrals to seal the deal as a go with everything bra."
---
4. Freedom Bra in Black
Specifications
RRP: $33 / £55
Sizes: 28D-40HH
Wired: No
Padded: No (molded no padding)
Reasons to buy
+
Simple design, great for everyday
+
Great support for a fuller bust
+
Natural-looking lift
+
Great for small underband but large bust measurements
Reasons to avoid
-
Would be good to see it in bigger back sizes
One of the best bralettes for fuller cup sizes, the Freedom bra was specifically developed to ensure there was a comfortable, stylish, non-wired bra for big busts that still offered brilliant support. Ideal for everyday wear, we found the Freedom bra to be incredibly comfortable. The molded cups offer a really smooth finish, ensuring you can wear this bralette under close-fitting t-shirts. If you're looking to banish underwires without sacrificing on uplift, this is a great place to start. Available in five colorways the brand has branched out into sports bras too. Soft but foamy, this bra has great handle and has a sports-like aesthetic that makes it great for everyday or for relaxing at home.
Our tester said:
Fit: "I am a huge fan of the Freedom bra. A brand I discovered in lockdown, I had spent my whole life looking for a supportive bralette and Freedom really is the one non-wired bra I talk about for large busts all the time. With a sexy plunge finish, meaning this bralette gives great, full-busted shape too, this bra was developed to fill that need in the market for a wire free design that really can keep you uplifted. With a three hook underband you can also rest assured that this has a deep enough underband to give the necessary list and support for those need the best bras for larger busts."
Quality of materials: "With an almost scuba/foam-like feel, you get a really smooth finish from this bra and feels lovely against the skin too. At times a little warm because of the fabric, the molded design doesn't pad but does offer a more curvaceous finish than other bralettes. Again this one went through the wash plenty of times and held its own with ease."
Style: "The bralette has an almost crossover frontage to give a lovely plunge shape that gives it a bit more of a sexy edge to a classic non-wired design. With five colourways now available, including a super rose pink hue, this style is crossing over from functional to fashion with ease."
---
5. Elomi 8900 Matilda Underwired Plunge Non Padded Side Support Bra
Specifications
RRP: $69 / £44
Sizes: 32GG-46DD
Wired: Yes
Padded: No
Reasons to buy
+
Stylish design
+
High coverage shape
Reasons to avoid
-
Sheer design can be limiting
With an underband measurement up to a size 46, Elomi make some of the best plus-size lingerie. With a mission to deliver great bras for larger busts, Elomi is a reliable option for anyone who wants support and comfort from a bra that looks good too. The wide underbrand is brushed with smooth fabric for a super comfortable layer of support while the mesh cups are constructed with their own shape that offers instant perkiness, with contouring abilities not usually seen from a non-padded bra. It also has thick straps that sit nicely on the shoulders without digging or creating any bulges and comes in a number of different colors that you can wear for an invisible look under outfits. The subtle mesh and lace detailing offers a glamorous finish.
Our tester said:
Fit: "I have been wearing Elomi bras for years and when it comes to a full cup bra that gives a gorgeous lift and rounded shape, this brand is hard to beat. The Matilda has become a style staple for the label and I totally get why. Comfortable enough for all day wear, this isn't a style you'll need to rip off when you get through the door. With a deep back it's ideal for smoothing out your back area too."
Quality of materials: "As a bra specialist and catering up to a size 46, you really can rely on the Elomi bra engineers to know what goes into making a sturdy bra. Another bra for large busts that washes really well, as a more expensive design you may want to handwash this bra to help with its longevity.
Style: "A staple silhouette for Elomi, this bra is available in classic, neutral colourways, as well as more mood-boosting tones, ensuring you've got a selection for everyday and some gorgeous lingerie styles that you'll want to show off. I love that they have equally beautifully designed full briefs to match the bras too for the complete set."
---
6. Marks and Spencer Printed Mesh Underwired Max Support Bra
Specifications
RRP: $30 / £18
Sizes: US: 32E-44GGG / UK: 32F-44J
Wired: Yes
Padded: No
Reasons to buy
+
Supportive
+
Pretty designs
+
Comfortable
Reasons to avoid
-
Too sheer to wear under sheer clothing
If you like to wear a full cup fit but aren't a fan of padding and want something less frumpy and a little sexier and playful, this Marks & Spencer style is a great choice. Featuring a wide underband with three hook-and-eye fastenings for ample support, the full cup bra has a fashion-forward feel thanks to the animal print design. Also available in floral and lace iterations, this is the full cup bra that defies expectation and it's comfortable for big busts too. The mesh cups are made using four separate parts in each to ensure that support is evenly distributed throughout and you're provided with enough coverage. Designed to be worn under everything from dresses to blouses, this bra is so cute you'll want to show it off. Don't forget to bag the matching briefs to whichever set you choose too.
Our tester said:
Fit: "I loved the fact that this bra caters up to a J cup and a 44 back, something that is particularly difficult to come by, especially in fun and fashionable prints, like this Zebra design. The bra did give lift and a nice full cup fit, although perhaps the bold design is quite a lot when it covers the entire bust. With a two-hook back, but longer line finish, this bra delivered on supporting a heavier bust. At £18, this bra offered outstanding value too.
Quality of materials: "Not quite as silky or luxurious as some of the other brands, this bra as a high polyester and polyamide mix making it not quite as soft or as breathable. However for the price and the size range, this is still one of the top bras for large busts out there."
Style: "Rather a lot in terms of print, this is a great option for anyone that wants to spice up their lingerie drawer and inject a little fun.
---
7. Curvy Kate Women Luxe Strapless Multiway Everyday Bra
Specifications
RRP: $77 / £37
Sizes: 28-40 D-J
Wired: Yes
Padded: Yes
Reasons to buy
+
Gives great uplift for heavy bust
+
Good size range
+
Comes in four colourways
+
Good price point
Reasons to avoid
-
Bow detail stops a smooth finish (can easily be removed)
Finding a great strapless bra that can hold up a heavy bust, has for many years felt impossible. Thankfully, Curvy Kate, who, as the name suggests, specifically design bras for large busts has created a strapless bra with some serious staying power that fits and lifts D-J cups. Available in four different colours, it comes with straps for multi ways to wear and the molded cup ensures a really smooth finish under fitted clothes. Some of the colorways feature a central small bow detailing, which might show up under lower necklines, but it is easily removable, should it not be to your taste.
Our tester said:
Fit: "Finding the best strapless bra for large busts is one of the biggest challenges, but I have long been a fan of Curvy Kate's 'Luxe Multiway Luxe Strapless', so much so I even wore it under my wedding dress. With molded, padded cups, it gives a well-rounded shape and I truly believe they are a fit of engineering, giving incredible uplift and support. It can feel quite tight when on, but while it won't leave you winded, you do want to feel uplift and security, which this delivers."
Quality of materials: "I don't wear a strapless often, so I've been able to hang on to my Curvy Kate Luxe for quite some time and I can testify that it washes well and keeps its shape with ease. The three hook back makes it a failsafe style too."
Style: "I've unpicked the bow from the front of mine as the front of the bra can come up quite high, which means it might not always be the most suitable strapless for every top or dress. A simple selection of key colorways, this bra is highly functional, but for me, that's all I want from a strapless."
---
8. Curvy Kate Victory Balcony Bra
Specifications
RRP: $64 / £36
Sizes: 30D-44KK
Wired: Yes
Padded: Yes
Reasons to buy
+
Double layered mesh lower cup for support
+
Wider underband for F cup and above
+
Sexy style without compromising on fit
+
Great shapping
Reasons to avoid
-
Bridge comes quite high up
Carrying sizes up to a KK, this is a gorgeous bra for those with a large bust. The balcony bra has a four-part seamed cup and side support to create a perky look while the sturdy underwire holds up breasts without too much digging. The mesh material also gives this a sexier look than most of the typical best bras for large busts and creates a smooth finish under clothing, while the relatively full cup means that you won't be left with any spillage.
Our tester said:
Fit: "The four-part cup helps to give a firm and uplifting fix, gently pushing your bust up and forward for a great shape. The upper panel across the top of the bust stops overspill and creates a smooth finish."
Quality of materials: "The fine mesh cups make this a light and breathable wear. The bra feels really sturdy, both on and off and you can see and feel the quality of the fabrics and wiring used.
Style: "While I'm only a G cup, I am thrilled to see such a gorgeous bra up to a size KK, making this possibly the most attractive bra for large busts. The little cut out design taps into the current trends too, making this a real runway worthy piece. Available in seven colourways, there really is a version of this bra for every occasion, meaning you can enjoy feeling great under your clothes every day."
---
9. Fantasie Impression Bralette
Specifications
RRP: $48 / £28
Sizes: S-XL
Wired: No
Padded: No
Reasons to buy
+
Up to an H cup
+
Soft against skin
+
Wide underband
With support that could rival a bra, but with all the comfort of a bralette, this is a great bra for large busts. Featuring a wide underband for support, it manages to give great lift without any padding or wires. One of the sexier bralettes for large busts we've seen, the Fantasie bralette also has a soft lining on the inside of the cups for a real comfort finish. A practical style, it comes in black, white, and beige, so can be worn under a lot of different looks, but make sure to use the brand's on-site size guide to decipher which size to get as it uses a different scale to your normal bra.
Our tester said:
Fit: "I had read lots about this bra so I was really keen to try it. Incredibly lightweight, it really doesn't appear just by looking at it that it would give the support and uplift that it does. However, for a bra with no wires and a very soft structure, it really does give a good shape. While I wouldn't swap out wired styles on the day to day, this is a really comfortable style for under more relaxed fit clothes, wearing at the weekends, or on those occasions when you just can't do the wires. It has quite a plunged front, which doesn't give such a rounded shape, but it really is a great wear.
Quality of materials: "Nice, soft material, this bra washes well and feels great against the skin. The back has a three hook depth for added support and lift too."
Style: "This is the closest in terms of bralette style to the designs you see for smaller busts. It's a really attractive, light and lacey design and I thoroughly enjoyed wearing it. It's available in three neutral colourways, covering the bra basics."
---
10. Runderwear Easy-On Running Bra
Specifications
RRP: $75 / £55
Sizes: 28D-40H / 42E
Wired: No
Padded: Yes
Reasons to buy
+
Good support
+
Flattering shape
+
Molded to reduce spillage
Reasons to avoid
-
Not available in smaller cup sizes
Buying sports bras can be tricky for the bigger-busted among us, as we're often left with a lot of "spillage" coming out of the sides and back of the bra. But this Runderwear option is one of the best sports bras for bigger boobs, as it uses a unique design to encapsulate your breasts, with molded cups to offer uplift and reduce spillage. The smooth fabric and padded shoulder straps - which are adjustable as well - also prevent digging and bulges, making this one of the best bras for back fat too.
Our tester said:
Fit: "One of the sturdiest designs on the market, this is the sports bra of choice for those that want a superbly secure fit. With high sides, all around this is ideal for activities as it stops all spillage, it's a highly impressive design that will really keep your bust in place."
Quality of materials: "Really scooping up each bust and hugging it into place this is the style to invest in for high-octane workouts, or if you really struggle with finding a bra that gives you solid support all around. The padded shoulders are ideal as they avoid digging in discomfort, especially if you've been bouncing around."
Style: "It's not the most fashion forward and there are certainly sports bras on the market that pack a style punch too, but in terms of the best sports bra to keep you lifted and secure, it can't be beaten. It has a crop top-like aesthetic that can easily pair with leggings for the gym too."
---
11. Figleaves Smoothing Sweetheart Full Cup T-shirt Bra
Specifications
RRP: £28 (UK only)
Sizes: 28-40 B-H
Wired: Yes
Padded: No (cup is moulded)
Reasons to buy
+
Very comfortable
+
Low price point
+
Smooth finish under fitted fabric
Reasons to avoid
-
Could offer larger back sizes
-
Not many colourways
An everyday style winner, this Figleaves t-shirt bra is very much approved by our fashion editor. Featuring a molded cup for a smooth finish, it's ideal under close-fitting fabrics, including jersey t-shirts. The sweetheart neckline ensures this bra works well under V, round, and scoop necklines. With a slightly slimmer underband than some bras for large busts, it still offers plenty of lift and support, with the cups gently hugging each breast for a lovely shape.
Our tester said:
Fit: "I have been loyal to this bra ever since it launched and I do still think it's one of the most comfortable bras for large busts out there. The silky fabric and moulded cup give it a full and curvy shape under clothing, however because it is a one cup construction I wouldn't say it offers as much lift as some of the other styles. A great everyday piece, but if you have something particularly fitted, I'd recommend a bra with a three or four cup cut to give you an extra boost."
Quality of materials: "At £28 this is a mid level bra buy and the fabrics are perfectly comfy and smooth against the skin. It washes particularly well and has good stretch for added ergonomic comfort, however with just a two hook back, it is not the most supportive back band."
Style: "One of the simplest, cleanest bra styles out there, I have always been a fan of this design for its timelessness and ability to literally go under anything. The molded cup adds to its discreet fit. The little gold charm detail adds a cute finish, but overall this bra is about functionality."
---
12. Chantelle Révèle Moi stretch-lace and mesh 4-part bra
Specifications
RRP: $65 / £62
Size: 30D-38FF
Wired: Yes
Padded: No
Reasons to buy
+
Beautiful lace design
+
Lovely shape
+
Light feeling
Reasons to avoid
-
Not the biggest size range in this list
From French lingerie brand Chantelle, this is a gorgeous design. Featuring 4-way stretch lace for a comfortable and light fit that helps to contour your bust, this bra is certainly designed to be worn every day but feels just a little bit more special thanks to the detailed fabric. Although it only goes up to a FF, it is still a lovely bra for large busts, particularly if you prefer two-clasps at the back and supportive, but slightly slimmer straps. It has a matching, mid rise brief, that utilizes the same lace and mesh detail for an attractive and feminine finish.
Our tester said:
Fit: "The four-way stretch lace means this bra really cups your bust for supportive fit that does not feel constricted. The back band has two hooks, so it's not the deepest, but as someone who usually wears a G cup I felt there was good lifting and shaping. As a 36G I could wear a 38FF in this bra. The straps are also slightly slimmer, making it more attractive and easier to wear with sleeveless tops, but no less supportive."
Quality of materials: "Four-way stretch lace, this bra washes really well and maintains its shape and level of attractiveness with ease. It's solid enough for everyday. but thanks to the lace can be saved for special occasions too."
Style: "Ooh la la, this is one of the most attractive lingerie brands that caters to larger busts and this is another bra style that I have worn for several years. The stretch lace is supremely comfortable and the aesthetics of the bra are pretty much impossible to beat.
---
13. Flirtelle Hayley Plunge Bra
Specifications
RRP: $62 / £32
Size: 32-40 F-J
Wired: Yes
Padded: No
Reasons to buy
+
Great lift and shape
+
Sheer attractive design
+
Wired for support
+
Great cup size range
Reasons to avoid
-
Could have bigger back sizes
A relative newcomer in the best bras for large busts game, Flirtelle have some brilliant styles specifically cut for fuller busts. With a high quality fit and finish, these are marvellous everyday pieces, that have a little more va-va-voom. Sitting around the £30 mark, these bras are also great for slightly more budget buys that don't compromise on style, fit or fabric.
Available in four colourways, this sheer bra feels fashionable, but with a three-part cup design it also excels on fit and finish. The curved neckline where the bra cup meets the strap is also an elegant touch that gives this bra a retro feel and with three hooks at the back, the backstrap has solid depth too.
Our tester says:
Fit: "I hadn't actually heard of Flirtelle before researching for this piece and I was pleasantly surprised. The bra fitted extremely well and offered fantastic support. The sheer fabric was light and airy but also felt more special than your average molded cup bra. The three hooks at the back ensured the underband was sturdy".
Quality of materials: "100% polyamide although it isn't breathable per se, the fine mesh fabric means it still allows for airflow. The three hook back will keep you nice and secure, while the fairly deep sides also help to smooth your silhouette."
Style: "The design is simple but effective, the sheer fabric makes it feel modern and sexy without compromising on support."
---
14. Pour Moi St Tropez Full Cup Bra
Specifications
RRP: $52 / £26
Size: 32-40 C-J
Wired: Yes
Padded: No
Reasons to buy
+
Good cup sizes available
+
Attractive embroidered design
+
Several colourway options
Reasons to avoid
-
Could have bigger back sizes
Pour Moi is already a favorite for some of the best swimwear and best plus swimwear pieces, so it stands to good reason that the brand understands how to make great lingerie too. While not an exclusively larger bust site, Pour Moi injects its style flare into large bust friendly items too and the St Tropez is a firm favorite.
Our tester says:
Fit: "I've bought a lot of Pour Moi swimwear over the years and the brand's bikinis are a personal favorite, so I was fairly sure I'd like the bras. In terms of shape and lift, as expected, the bras give a great lift and shape, I felt really secure and I loved the three-part cup and the way the top part of the cup was cut on a curve to enhance the upper bust shape and pushes the bust line forward. I'd say this bra had the firmest wires and it did mean that while I could certainly wear it happily for an eight hour stint in the office, by the time I got home I wanted to slip into a non-wired design. Having said this I still wear this bra regularly and while it has been worn and washed, it has maintained its firm fit better than many other designs. "
Quality of materials: "Gorgeous embroidery and nice mesh fabrics, there is definite quality in both the materials and the thoughtful design structure of the bra."
Style: "One of the most stylish bras for large busts, there are six colourways to choose from, with four using contrast stitching for added flare. I tried the blue and aqua and I loved the fact it was a total curveball from what I would normally buy."
---
15. Nudea The Boss Full Cover Bra
Specifications
RRP: $51 / £45
Size : 32-40 / A-H
Wired: Yes
Padded: No
Reasons to buy
+
One of the comfiest wired bras ever
+
4 colours available
+
4 hooks on back to adjust fit
+
Printed label so no added bulk at back
Reasons to avoid
-
Not as much uplift as other bras
The thought process behind the lingerie brand Nudea is one we can certainly get behind. Created to provide 'supportive and functional underwear, that looks great, feels great and is kinder to the planet' pretty much sums up this relatively new lingerie brand. Founded in 2019, Nudea has its own tape measurers that adhere to its own fit system, that it created best on 'custom, data-driven realness', the brand's pieces are simplistic but chic, a high end product without the mega bucks price tag. Big on sustainability, the brand even has a bra recycling program, and it uses recycled yarn in the production of its lingerie.
The Boss bra is a chic, everyday design that comes in four colourways. At £45 it is in the higher price point of the styles we have featured, but is mid to high end in terms of bra price points.
Our tester says:
Fit: "I hadn't tried Nudea before but the fit is fantastic and I would say it is probably the comfiest bra on this list. While it doesn't offer the most pushed forward finish, as it features a one cup construction over the compartmentalised fit of other options, it has just as much support and lift and is probably my favorite for everyday and for wearing under more relaxed fit clothing. The backband is smooth and the care information is printed on the back, meaning there are no annoying labels sticking out. It has a three hook depth on larger sizes but four hooks along, meaning you can get great wear out of this bra, tightening as you go."
Quality of materials: "It's such a smooth and soft finish on the bra it truly is a delight to wear. The little gold hardware accents, along with the slightly shiny fabric gives a high end polish to the bra."
Style: "If you like a non-padded, smooth bra, then you can't go wrong with this design. Devoid of lace, it just looks crisp and clean, ideal for slipping under almost anything. I also want to give a huge shout out for the brands packaging. This bra was beautifully packaged and it came with a lingerie wash bag so you can safely pop your bra in the machine. It just feels so luxury."
How we tested the best bras for large busts
While, like jeans, the best bra fit is still incredibly personal, in order to tell you the best bras for large busts, our 36G tester tried on every bra in this list. But it wasn't enough to try the bras in a fitting room, knowing how important bra fit and bra comfort is, we wanted to be sure that the products we chose for this breakdown offered all-day support. Our tester has been wearing the bras in this list on repeat for over three months, washing them to test their staying power too and deciphering exactly which bras are her absolute favorites.
Our tester rated the bras based on three pillars:
Fit: fit is queen when it comes to bras, particularly for larger busts that need that extra support to keep everything in place and alleviate aches and pains. We wanted no spillages, both in cups and in terms of a smooth back finish too. We were looking for bras that you could happily wear all day and feel uplifted and comfortable.
The quality of materials: Our tester wore the bras over a three-month period, rotating between styles and washing the bras in a bra bag, before hang-drying them. We wanted to see if the materials of the bra kept their shape and washed well, offering longevity. When updating this piece in 2023, are tester still wears these bras and stands by their fit, comfort and quality from the original testing phase.
Style: Growing up in an era where bras for large busts were relegated to the back of the store, our tester was determined to find bras that didn't just function, she wanted styles that looked great too. From sexy styles, to great everyday pieces, as well as slightly more relaxed, work-from-home style support, we found something for everyone.
What style of bra is best for large busts
This does come down to personal preference and may be more dependant on your bust shape than just your size. However a full cup bra is generally speaking the best bra shape for large busts as it holds all the breast tissue, and safely secures your bust line. A full coverage bra won't work for every occasion, but if you're looking for an uplifting every day choice, a full cup design is a strong option.
Of course to make sure it is the most comfortable fit, make sure the straps don't dig in and the underband and wire between the cups sit flat against your silhouette.
What bra lifts and separates large breasts?
A balconette bra is specifically designed to lift and separate breasts. The design gets its name from the term 'balcony', as the cut of the bra is similar, with straps sitting over the sides of the bust line instead of behind.
Which bra is best for large busts - heavy padded or no padding?
The answer to this question lies more in personal preference and the final look you want to create. A padded bra will add thickness to your bust line, creating the appearance of an even larger bust, but thanks to the padding will add a defined, curved shape.
Forgoing padding will help show off your natural shape more, and be lighter under clothing. In warm months, it maybe preferable to opt for mesh styles with no padding for added breathability.