The 17 most comfortable bras of 2021 that don't sacrifice support or style, and work for all boob sizes
Looking for comfortable bras that feel great, while still supporting your boobs? You're in the right place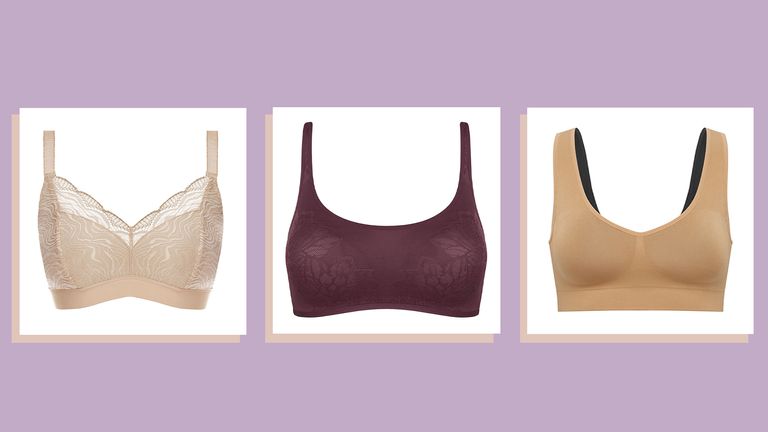 (Image credit: Future)
Finding the most comfortable bras for us can take some work. There are so many different factors to take into consideration when looking for comfortable bras—what kind of material is used in the bra, what kinds of sizes it's available in, whether it uses padding or wires.
And while many people feel that you need underwire in order to feel supported, some of the best bras around are able to support busts without the need for any wires, tight seams, or digging straps. Comfortable bras sales hit the roof when the world started spending more time at home and that trend has continued—so bralettes, non-wired bras, and crop tops are becoming increasingly popular. Our guide features all these comfortable bra styles and more for all shapes, sizes, and occasions.
The best comfortable bras, as reviewed by our experts
1. Fantasie Jacqueline Lace Soft Cup Bra
Reasons to buy
+Non-padded and non-wired+Supportive cups+Padded clasp+Sturdy straps+Pretty lace design
Reasons to avoid
-Not available in smaller cup sizes
If you've ever had the mental battle between bras vs bralettes, then this Fantasie offering will leave you battling no more with this almost hybrid between the two. Their bras are designed to support large busts and create a beautiful shape all while boasting gorgeous designs. And while their side support offerings are particularly special, with their ability to create an enviable shape without any padding in sight, we love this non-wired design that uses sturdy material to support the bust, making this the best non wired bra for large breasts. It holds the breasts up just slightly and boasts strong straps that work hard without digging. It's the attention to detail that gets us with this one, as it even comes with a padded hook and eye clasp for extra comfort.
2. Sloggi Zero Feel Bralette
Reasons to buy
+Feels like second skin+Good for every day+Seam-free+Supportive cups+Wide range of colours+Creates good shape
Reasons to avoid
-Limited sizing
Now and then a product comes along that does it job so well everyone can't help but give it a try just from the whispers they've heard about it—and this time it's the Sloggi Zero Feel bralette. With its second skin-like claims it had a lot to live up to but we can assure you that it is definitely worthy of its bold name. With a material that feels almost like a super-thin, lightweight swim suit, this comfortable bra does the seemingly impossible by offering support to heavier busts with its sturdy material and removable padded cups that lift the bust for a lovely shape. It's a great choice for when your bra sizing changes throughout your cycle too and it will also blend seamlessly under clothes with no obvious VPL lines. There are also a tonne of gorgeous colours to choose from so you can get one to match every outfit. We would love if it came in a few bigger sizes, but the L does fit anything up to and around a 36G—so it's not too limited on the size front.
3. M&S Collection Cotton & Lace Non-Wired Full Cup Bralette A-E
Reasons to buy
+Lightweight+Cool Comfort technology+Full coverage
Reasons to avoid
-Doesn't come in black or nude-Doesn't come in big cup sizes
As one of our all-time best bra brands, we know we can all rely on Marks & Spencer for all our bra needs, so who better to go to when you're in need of comfortable bras? The old reliable of course has some of the best t-shirt bras that will keep you comfortable throughout the day, but we think this pretty bralette is one of their underrated stars. It's lightweight and non-wired, with the brand's Supima cotton-blend fabric that uses their Cool Comfort™ technology to keep you cool and nix any sweat. And the bright colours and pretty lace finish are sure to give you a confidence boost. We just wish it came in bigger cups sizes!
4. Spanx Bra-llelujah smooth wire free bra
Reasons to buy
+Supportive+Moulded cups+Nice lift and shape
Reasons to avoid
-Not suitable for particularly large bust sizes
We all think of Spanx as our best shapewear brand but they actually know what they're doing when it comes to comfortable bras too—and this brilliant bra proves it. Made from sturdy but simultaneously soft and stretchy material, this bra does an impressive job at holding up the bust with its wide and supportive underband and moulded cups. The satiny fabric also feel super premium on the skin!
5. Fantasie Impression Bralette
Reasons to buy
+Up to an H cup+Soft against skin+Wide underband
Reasons to avoid
-Sizing can be tricky to navigate
Those with larger busts will probably have always thought that bralettes aren't for them. But supportive bra brand Fantasie have created a gorgeous bralette that all sizes can benefit from making this one of the best non wired bras for big busts. With a pretty wavy lace design this looks as good as any dainty bralette out there but comes with a wide under band that works to support large bust sizes and a brushed lining that is soft on the skin but holds breasts up sufficiently. It comes in black, white and beige to work as a practical option for everyday wear with a variety of outfits—but you will have to use the brand's size guide to figure out your sizing!
6. Triumph Fit Smart Bra
Specifications
RRP: £40
Sizes: 1-5 (32A-48B)
Reasons to buy
+Seam-free cups for a natural finish+Changes with your body
Reasons to avoid
-Not as pretty as some others
There are so many types of bra around, but this one merges the standard bra design with a more comfortable bralette style. Featuring 4D stretch lace this pretty non-wired bra will move with your body without feeling restrictive and the wide straps make for a more considerate fit that won't leave you with painful digging material. We love the pretty colours that are available too!
7. ASOS DESIGN Microfibre Triangle Bra
Specifications
RRP: £18
Sizes: UK4-UK30 / 30DD-38HH (different sizing options available)
Reasons to buy
+Value for money+No underwire+Non-padded
Reasons to avoid
-Not very supportive-Underband can dig in
If you're looking for a cost-effective option to keep you comfortable for long days in the house then this three-pack from ASOS is great. It won't provide loads of support so is best for those with smaller busts or anyone who just wants a light lift—but we love how easy this on the purse strings and the fact that each buy comes in a multipack. If your wardrobe is all black then there's a black three-pack that will see you through the week or if you want practical options then there's also a pack that includes black, white and beige. Our only niggle is that the underband can dig a little on this causing a bit of discomfort, which is why we recommend it for smaller bust sizes as they won't need as much support from the underband meaning there's less chance of digging.
8. Spanx Breast of both worlds
Reasons to buy
+Stretchy material+Supportive+Removable cups+Nice shape+Can wear two ways
Reasons to avoid
-Sporty design may not appeal to all tastes
For something that will keep you both comfortable and supported the SPANX Breast of Both Worlds is second-to-none. The soft but sturdy SPANX fabric means that your breasts are held up and supported—even without the use of a wire—and it features removable cups for if you want even more shape and support than it already offers. What's more, is that for sizes XL-3X it contains an added layer of stabilizer support, making this one of the best bras for large busts and definitely the best pull on bra for a large bust that we've come across. And the reversible function means it'll even save you on washing.
9. Triumph Doreen Bra
Reasons to buy
+Non padded+Full cup+Good for bigger busts
Reasons to avoid
-Straps are quite thick
If you're trying to fight saggy boobs but still want comfort then this is for you. The Doreen bra has become renowned among the large-busted community for its ample support and comfortable fit that works as a practical option for everyday use. Its full coverage fit offers huge support in the form of what feels like a hug for each breast thanks to the sectioned design, which also lifts the breasts for a firmer shape.
10. Figleaves DD+ Comfort Cotton Modal Sleep Bra
Reasons to buy
+Super soft fabric+Very comfortable+Cotton to keep you cool
Reasons to avoid
-Only light support
Figleaves is the home to one of our best strapless bras, so of course they'll give us a good non-wired option too. Most of us will rip off our bras as soon as bedtime hits, but if you're someone who wants the extra support or prefers to sleep sans pyjamas and just wants your essentials covered up, then this sleep bra will keep you comfortable throughout the night while providing that little bit of support you need. The adjustable straps let you customise this bra to what will suit you best for sleeping and the cotton material will keep you cool throughout the night. The DD+ sizing also makes this the most comfortable bra for large bust during the nighttime.
11. Boux Avenue Rosie DD+ non-wired balconette bra
Reasons to buy
+Non padded and non-wired+Scalloped trim+Balconette style
Reasons to avoid
-Not good for small busts-Scratchy lace
For such a pretty bra you wouldn't expect the level of comfort that you get from this. It is non-wired so that you don't get any pesky underwire discomfort and the lack of padding makes for a more natural look. The scalloped trim is also a really nice touch that helps up the sexy factor of this comfortable bra. Our only niggle is that the lace isn't the softest and can be a bit scratchy so we would reserve this for those evenings out when you want a bit of an inner confidence boost rather than for wearing all day long.
12. Freya Fancies Bralette
Reasons to buy
+Double layered for good support and shape+Pretty lace design+Adjustable straps to prevent slippage+Good colour choices
Reasons to avoid
-Limited sizing
This pretty bralette is great for days when you're just lounging about in the house and don't need much support. It may look like it won't give you much shape, but the gathered cups do work to subtly shape your bust—though it's probably not the best for larger bust sizes as it won't provide the support needed for heavier chests.
13. M&S Collection Flexifit Non Wired Crop Top
Reasons to buy
+Removable cups+Second-skin fabric+Very comfortable+Lots of colourways
Reasons to avoid
-Not good for larger busts
This soft crop top bralette is made with Marks & Spencer's Flexifit™ fabric to create a comfortable second-skin feel that is lightweight enough to leave you feeling as though you're going braless. It has a full-coverage fit and removable non-padded cups for a bit of extra shape for those who want it—a practical everyday option that won't leave you with digging strap lines.
14. Sloggi Go AllRound Bralette
Reasons to buy
+Better for smaller busts+Cute pastel shades+V-neck design+Very comfortable stretch
Reasons to avoid
-Only one size-Not suitable for larger busts
It doesn't get much comfier than this gorgeously simple bralette, with a v-neck at both the front and back. It only comes in one size, so might not be best for bigger busted ladies—although Sloggi insists that the bra adapts to all body shapes. The non-wired bra has a wide, double under-bust ribbon for a good basis of support and features wide straps for comfort. The flexible seams also move with your body so that you don't get any digging and it comes in six different pretty colors so that you can choose whichever best matches your style and capsule wardrobe.
15. Nudea The Easy Does It Bralette
Reasons to buy
+Invisible look and feel+Pretty geometric design+Label-free to reduce irritation
Reasons to avoid
-Limited sizing-More pricey
We love the unique jacquard print of this lightweight non-wired bra that boasts super soft material and claims to show up invisible under t-shirts. It's available in a range of muted colors to go with your favourite outfits and comes with adjustable straps that can worn in various different ways for the ultimate comfort.
16. Commando Butter V-Neck Modal-Blend Bralette
Reasons to buy
+Varied range of nudes+Supersoft fabric+Removable padding
Reasons to avoid
-Not available in cup sizing-Some sizes can sell out quickly
Find some soft bras and bralettes don't provide quite enough support? Then this might just be the bra for you. The slightly wider straps and generous underband help to take the weight off your shoulders, while moulded cups and removable padding create a flattering, boosted shape. Raw cut, seam-free edges ensure maximum comfort, with no risk of niggling seams or chafing.
17. Phaein Triangle Bra
Specifications
RRP: £54
Sizes: 30-36/AA-H (different cups available in different band sizes)
Reasons to buy
+Stretchy material+Lifting and supportive cups
Reasons to avoid
-At the higher end of the price range-Not available in bigger cup sizes with bigger band sizes
With a material that feel almost like a supportive bikini, this soft bra feels lovely on the skin with a fabric that offers four-way stretch and works to mould and lift. The brand says that the material was designed for sports performance to replicate the fabric found in all of your best leggings—but we love it just for the support and lift that it gives. It features a smooth net lining for a lightweight feel and a wide underband that provides extra lift and support—and best of all it's wire-free!
Are non-wired bras more comfortable?
Non-wired bras aren't necessarily any better for your health than wired bras, but they can help spinal health for those who choose to go braless just to get away from more restrictive wired bras. As we recently reported, not wearing a bra can impact your posture meaning other parts of your body could face the consequences.
"Your bra has a very important role, and that is to protect and bear the weight of your bust," Alexandra Thrower, Brand Manager at bra brand Chantelle, explained to woman&home. "Don't wear one and you will get saggy boobs. It's as simple as that. It's gravity after all. And the heavier the bust, the worst it gets.
"Most women don't realise how heavy their bust is (anything between about 500g for B/C cups, to 2+ kg for G+ cup). They need to be supported. You may also find that not wearing a bra will worsen back, shoulders, or neck pains and give you headaches."
Non-wired options can also make for more comfortable bras for anyone who suffers from tenderness, especially during different times of the menstrual cycle or at different stages of the menopause.
Why the fit of your bra can impact comfort
Of course, one of the factors that can move objectively comfortable bras into the non-comfy category is simply not fitting right. You could purchase what are renowned as the most comfortable bras in the world, but if they don't fit you right then you'll never reap the benefits.
With a simple traditional tape measure lying around at home, you can use our expert guide on how to measure bra size to find your perfect fit, so that you know you're doing everything you can to get the most comfortable bra fit.
If you're not confident going through the process on your own and you're unable to get to a professional, companies such as Nudea lingerie and Triumph are modernising the measuring process with online measuring services.
The Nudea Fit Tape: £2.50 | Nudea
To make life easier and comfortable bras fit better, Nudea has even invented a bespoke tape measure that allows for accurate, hands free measurement quickly and simply at home. It features helpful guidance and colour-coded zones to help you read band and cup size easily.