The 19 most comfortable bras of 2022: These non-wired bras won't sacrifice support or style, and work for all boob sizes
Looking for comfortable bras that feel great, while still supporting your boobs? These are the non-wired bras to invest in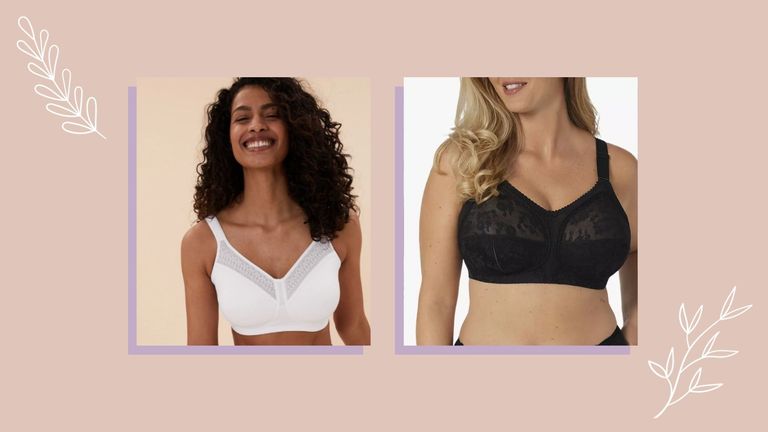 (Image credit: Future / M&S / Fantasie)
Finding the most comfortable bras is no easy task. Traditionally bras have always been seen as an item of clothing that is necessary but rarely enjoyed. The feeling of taking one's bra off at the end of the day is almost unrivaled but what if you could simply get a bra that fit and felt great?
When selecting the most comfortable bras there are several important factors to consider. Fabrication is key but whether a bra uses padding or has an underwire is also important. And once you've worked all of that out, of course, there is size to consider. Many believe that the best bras need to be underwired to support your bust properly. But whether you are looking for the best non wired bra for large breasts or the best bras for small busts, you can actually get all the uplift you need from wire-free styles. Say goodbye to tight seams and straps that dig in and hello to the best bralettes and non-wired bras that use brilliant engineering to keep you comfortable and well supported.
If you're shopping for a comfortable bra from home, it's a good idea to check out our handy how to measure a bra size guide to help you get the best fit. While you want your bra to be comfortable, you still want to order the correct size in order to gain the necessary support from your bra.
The most comfortable bras, as reviewed by our experts
1. Fantasie Jacqueline Lace Soft Cup Bra
Specifications
RRP: $54 / £40
Sizes: 30D-40H
Reasons to buy
+
Non-padded and non-wired
+
Supportive cups
+
Padded clasp
+
Sturdy straps
+
Pretty lace design
Reasons to avoid
-
Not available in smaller cup sizes
If you've been struggling with the bras vs bralettes debate, then this Fantasie bra could be the one for you. A hybrid between the two, this non-wired bra is great for those with a larger bust, looking for a soft bralette style that still gives great lift and support.
Fantasie specializes in bras for larger cup sizes, so they really do offer a fuller bust great shape. Using their expertise in the field, the brand's beautifully designed bras also offer side support. This one pushes the bust up and forward for brilliant shaping without the need for padding.
With beautiful lace detailing, the wide straps work hard but don't dig in for a really comfortable fit. The deep underbust strap helps to lift, while the three hook clasp at the back is padded for extra comfort.
---
2. Sloggi Zero Feel Bralette
Specifications
RRP: $41 / £29.99
Sizes: XS-L
Reasons to buy
+
Feels like second skin
+
Good for everyday
+
Seam-free
+
Supportive cups
+
Wide range of colors
+
Creates good shape
The Sloggi Zero Feel bralette is designed to feel like a second skin. Extremely lightweight, it is made from super-thin fabric and features Lycra for a contoured fit. Blending seamlessly under clothes, it also makes for one of the best sleep bras as it will sit comfortably at night, with no seams to dig in. With removable padding to allow you to adapt the fit and shape to the occasion, this is a pretty and versatile bralette. Although there are lots of colors, with matching briefs, the Sloggi Zero Feel only goes up to a size L, fitting up to a 38C.
---
3. Marks and Spencer Cotton Blend & Lace Non Wired Total Support Bra
Specifications
RRP: $27 / £20
Sizes: 34B-44H
Reasons to buy
+
Lightweight
+
Non-wired and non-padded
+
Full coverage
Reasons to avoid
-
Only available in black or white
British clothing brand Marks and Spencer is one of the best bra brands around. Always reliable for both style and price, Marks and Spencer has really upped its game and expanded their offering in recent years. Starting from a B cup and available up to an H cup, this bra, made from responsibly sourced cotton, is great for a huge range of sizes. While it might not be the sexiest bra, it is certainly comfortable. Lightweight, non-wired and padding free, it has a deep underbust band and side support for good shaping and uplift. The thick straps offer added comfort for those with a larger bust.
---
4. Spanx Bra-llelujah smooth wire free bra
Specifications
RRP: $49 / £36
Sizes: S-XL
Reasons to buy
+
Supportive
+
Molded cups
+
Nice lift and shape
Reasons to avoid
-
Not suitable for particularly large bust sizes
Spanx already makes some of the best shapewear and some of the best slimming jeans but the brand is also a dab hand at comfortable bras too. Made from soft and stretchy material, this bra is clasp-free, designed to be pulled on. Featuring molded cups and a supportive underband, it offers good lift and fit for those with a smaller bust, as sizing is limited. Although the bra features fabric with back-smoothing properties, the back strap isn't particularly deep, making its impact a little more limited. The seamless style with no adjustable straps or detail means it's perfect for tighter clothes and will go unseen under any outfit.
---
5. Fantasie Impression Bralette
Specifications
RRP: $38 / £28
Sizes: S-XL
Reasons to buy
+
Up to an H cup
+
Soft against skin
+
Wide underband
Reasons to avoid
-
Sizing can be tricky to navigate
For years, bralettes have very much been seen as an item only for those with smaller busts. Similar to a crop top, the original bralettes didn't offer great support to bigger boobs, but as technology and engineering (yes, the best bras are essentially construction and science) have developed, so-to have bralettes that are brilliant for larger breasts.
Fantasie already makes some of the best bras for large busts, so you can rest easy knowing that their bralettes are designed with the same research and development. The attractive lace design makes this bralette pretty and light, just like any of the daintier versions aimed at smaller breasts. When shopping for a bralette for bigger busts, always look for a deep underband, as this is where a lot of the support comes from. This Fantasie bralette has a wide underband for great lift and a brushed lining for a really soft finish against the skin. In three basic colors: black, beige and white, it's ideal for every day.
Choosing the right size on this one is a little more complicated than usual, so make sure to use the size guide on-site to work out what you need.
---
6. Triumph Fit Smart Bra
Specifications
RRP: $52 / £38
Sizes: 1-5 (32A-48B)
Reasons to buy
+
Seam-free cups for a natural finish
+
Changes with your body
+
Good selection of colors
Reasons to avoid
-
Not as pretty as some others
-
Small size range
Made from 4D stretch lace, this bra is both pretty and comfortable. Without fastenings, this bra is made to be pulled on and off. Wire-free and with wider straps it offers support and unrestricted movement. Available in a good range of colors, it's ideal for lounging in and you can even match one up to your best joggers. Like with many of the most comfortable bras it, unfortunately, has a relatively small size range, only fitting up to a C cup. Offering light uplift, this one is good for smaller cup sizes.
---
7. ASOS DESIGN Microfibre Triangle Bra
Specifications
RRP: $24 / £18
Sizes: 4-18
Reasons to buy
+
Value for money
+
No underwire
+
Non-padded
+
Pack of 3
Reasons to avoid
-
Not very supportive
-
Underband can dig in
If you're looking for a cost-effective option to keep you comfortable at home then this three-pack from ASOS is great. These bras won't provide loads of support so they're best for smaller busts. In a cost-effective three-pack, you get a black, white, and beige iteration with every purchase. Our only niggle is that the underband can dig a little on this causing a bit of discomfort, which is why we recommend it for smaller bust sizes as they won't need as much support from the underband meaning there's less chance of digging.
---
8. Spanx Breast of both worlds
Specifications
RRP: $46 / £34
Sizes: XS-3X
Reasons to buy
+
Stretchy material
+
Supportive
+
Removable cups
+
Nice shape
+
Can wear two ways
Reasons to avoid
-
Sporty design may not appeal to all tastes
For something that will keep you both comfortable and supported, the Spanx Breast of Both Worlds is second-to-none. The soft but sturdy Spanx fabric means that your breasts are held up and supported—even without the use of a wire—and it features removable cups, allowing you to adapt the bra's shape depending on the occasion.
What's more, is that for sizes XL-3X it contains an added layer of stabilizer support, making this one of the best bras for large busts and definitely the best pull-on bra for a large bust that we've come across. Made from 100% cotton for breathability, this bra will stop you from feeling hot and sweaty in warmer months and will wash really well.
---
9. Triumph Doreen Bra
Specifications
RRP: $46 / £34
Sizes: 34B-48H
Reasons to buy
+
Non-padded
+
Full cup
+
Good for bigger busts
If you're trying to fight saggy boobs but still want comfort then this is for you. The Doreen bra has become renowned as one of the most comfortable bras for large busts for its ample support and comfortable fit that works as a practical option for everyday use.
Offering full-coverage cups, it is an extremely supportive bra and thanks to its sectioned design, it essentially feels like a hug for each breast. One of the best non-wired bras for big busts, it gives brilliant lift and shape and has a wide underband and deep back band with three clasps for excellent uplift and a smooth finish. The straps are wide, which some may not like from an aesthetic point of view, but it does mean that this bra won't dig into your shoulders and the wide straps again help to give a secure fit. Available in three colors.
---
10. Figleaves DD+ Comfort Cotton Modal Sleep Bra
Specifications
RRP: $35 / £24
Sizes: 30DD-38GG
Reasons to buy
+
Super soft fabric
+
Very comfortable
+
Cotton to keep you cool
+
Great for sleeping in
This Figleaves bra sits firmly in the sleepwear and loungewear territory, offering light support but plenty of comfort. With adjustable straps to help you get the right fit and lift for your bust, it's made from cotton for extra breathability. Sleep bras are a great idea for larger bust sizes and this simple style is available from a size DD. Wear alone with briefs or joggers or slip on under any of the best pajamas to help hold your breasts in place during the night.
---
11. Boux Avenue Lounge lace non-wired plunge bra
Specifications
RRP: $38 / £28
Sizes: 30A-38DD
Reasons to buy
+
Comfy longline style
+
Perfect for smaller cup sizes up to DD
Reasons to avoid
-
Only available in lilac or white
Makers of some of the best strapless bras, Boux Avenue has excelled with this attractive, longline, comfortable, plunge bra. With a pretty lace back, in an almost racerback design, this bra has a little bit of padding to help give lift and shape. One of the best t-shirt bras, it has a really smooth finish, ideal for wearing under close-fitting fabrics. The longline finish means that the underband sits lower down the torso than you might be used to but this helps to create a really secure and supportive fit. Available in cream or lilac this is one spring-ready bra that will make you feel both comfortable and sexy, a winning combination.
---
12. Freya Erin Bralette
Specifications
RRP: $38 / £28
Sizes: XS-XL
Reasons to buy
+
Pretty lace design
+
Adjustable straps to prevent slippage
+
Good color choices
A really pretty bralette, this Freya design is available in four colorways. Makers of some of the best bras, the brand really understands how to make great lingerie. While the largest size is an XL, the conversion charts on-site state that the XL fits up to a G cup, making this a good option for larger busts. Not the most sturdy bralette we have seen, the back strap is rather slim, meaning this offers only a light level of support, making it more appropriate for lounging than everyday wear. Although this is a pull-on bralette, the straps are adjustable to help you get the right level of lift for your silhouette.
---
13. M&S Collection Flexifit Non Wired Crop Top
Specifications
RRP: $27 / £20
Sizes: US: 4-18 / UK: 8-22
Reasons to buy
+
Removable cups
+
Second-skin fabric
+
Very comfortable
+
Lots of colorways
Reasons to avoid
-
Not good for larger busts
Marks & Spencer's Flexifit is used in some of their best bras, including this sleep bra, creating a comfortable second-skin feel. This crop top style bralette offers a full-coverage fit and has removable padding, so you can decide on the shape that's right for you. Available in eight different colorways it has a lovely sports luxe, crop top style, giving it a fashion-forward twist and we love the extra support offered by the hidden gel underband. Slightly confusingly, the crop top is sold according to dress size, making it a little harder to get the perfect fit but the wide back band offers a really smooth finish, ideal if you're looking for a good bralette to tackle back fat. Available up to a size 22, it offers good support, but those with a larger bust might want to look to more bra-like styles for better lift.
---
14. Sloggi Go AllRound Bralette
Specifications
RRP: $27 / £20
Sizes: One size
Reasons to buy
+
Better for smaller busts
+
V-neck design
+
Very comfortable stretch
Reasons to avoid
-
Only one size
-
Not suitable for larger busts
It doesn't get much comfier than this gorgeously simple bralette, with a v-neck at both the front and back. It only comes in one size, so might not be best for bigger busted ladies—although Sloggi insist the bra adapts to all body shapes. The non-wired bra has a wide, double under-bust ribbon for a good basis of support and features wide straps for comfort. The flexible seams also move with your body so that you don't get any digging and it comes in six different pretty colors so that you can choose whichever best matches your style and capsule wardrobe.
---
(opens in new tab)
15. Nudea The Easy Does It Bralette
Specifications
RRP: $57 / £42
Sizes: 30A-38E
Reasons to buy
+
Invisible look and feel
+
Pretty geometric design
+
Label-free to reduce irritation
Reasons to avoid
-
Up to an E cup
-
More pricey
Available in six colorways, both muted and pops of bright color, this lightweight non-wired bra is super soft. Invisible under t-shirts, it features a unique jacquard print for added detail. While this iteration only goes up to an E cup, there are F and F+ bralettes on-site too for those after light support for a bigger bust. With adjustable straps to help you get the right fit, this pretty, premium-looking bralette is ideal for those who want a soft and comfortable bra paired with strong aesthetics.
---
16. Commando Butter V-Neck Modal-Blend Bralette
Specifications
RRP: $61 / £61
Sizes: XS-XL
Reasons to buy
+
Varied range of flesh tones
+
Supersoft fabric
+
Removable padding
Reasons to avoid
-
Not available in cup sizing
-
Some sizes can sell out quickly
With a deep underband, this attractive and simple bralette offers great support. The wider straps ensure you won't feel it digging in, offering a generous level of uplift and shape. Molded cups help to shape your bust line, so you can wear this comfortable bra every day. With removable padding, it's also seam-free and uses bonded fusion technology for a flat against the skin fit. Light and breathable, the soft modal blend fabric is pilling resistant for longevity and sustainably sourced for peace of mind.
---
17. Pour Moi Opulence T Shirt Non Wired Bra
Specifications
RRP: $32 / £24
Sizes: 32A-44F
Reasons to buy
+
The perfect T-shirt bra
+
Great non-wired style
+
Inclusive cup sizing
Reasons to avoid
-
Only available in black or white
Pour Moi is a great place to shop for some of the best lingerie and best plus size swimwear. With trend-led styles, alongside great staple pieces, the brand's range is huge, covering the many types of bra every woman should own. This classic t-shirt bra, is, as the name suggests is ideal for wearing under close-fitting fabrics. Prettier than most of the comfortable bras we have seen, it features a contrasting lace underband to make it stand out from the crowd. While the bra looks like it has underwiring, the molded design is actually wire-free. Although it offers good support and supportive straps, the back panel is relatively narrow, so if you're looking for the best bras for back fat, this is not the bra to buy.
---
18. Les Girls Les Boys Ultimate Comfort Soft Bra
Specifications
RRP: $52 / £38
Sizes: XS-XL
Reasons to buy
+
Super comfy non-wired and non-padded
+
Five different colors
+
Great addition to a loungewear collection
Reasons to avoid
-
Not available in cup sizes
One of the best loungewear brands, Les Girls Les Boys is loved by the fashion crowd. The 'Ultimate Comfort Soft Bra' lives up to its name and is one of the comfiest around. While it has adjustable straps, a wide underband and a clasp at the back for added support and fit, it is not available in cup sizes and has a rather limited size range, making it better for smaller busts. Available in four sporty colorways, this is a very trend-led comfy bralette that will work well under your best hoodies and sweatshirts for lazing around on a weekend.
---
19. Freedom Bra
Specifications
RRP: $69 / £50
Sizes: 28D-40HH
Reasons to buy
+
Innovative brand
+
Great lift and support
+
Specially designed for big busts
"When I was first told about Freedom Bras I didn't believe the marketing hype, and then I tried one. At a G cup size I have searched my whole life for a bralette that really offers great support for bigger busts and found the Freedom bra to be the best one I've tried", says w&h fashion channel editor, Rivkie Baum.
The Freedom Bra was created by Alex, CEO of the brand, who herself struggled to get a great wire-free comfortable bra. The result of her research and development was, 'Freedom bra'. Launched in June 2020, in the midst of the pandemic, the company has quickly become a favorite among bigger-busted shoppers. Expanding their product offering to sports bras and a selection of color options in the original bralette design, this incredibly comfortable bralette offers the same level of support as a regular bra making it ideal for every day. With a plunge finish, this simple silhouette also feels a little sexy, making comfort attainable and stylish.
---
Are non-wired bras better for your breasts?
Non-wired bras aren't necessarily any better for your health than wired bras, but they can help spinal health for those who choose to go braless just to get away from more restrictive wired bras. As we recently reported, not wearing a bra can impact your posture meaning other parts of your body could face the consequences.
"Your bra has a very important role, and that is to protect and bear the weight of your bust," Alexandra Thrower, Brand Manager at bra brand Chantelle, explained to woman&home. "Don't wear one and you will get saggy boobs. It's as simple as that. It's gravity after all. And the heavier the bust, the worst it gets.
"Most women don't realise how heavy their bust is (anything between about 500g for B/C cups, to 2+ kg for G+ cup). They need to be supported. You may also find that not wearing a bra will worsen back, shoulders, or neck pains and give you headaches."
Non-wired options can also make for more comfortable bras for anyone who suffers from tenderness, especially during different times of the menstrual cycle or at different stages of the menopause.
---
Why the fit of your bra can impact comfort
Of course, one of the factors that can move objectively comfortable bras into the non-comfy category is simply not fitting right. You could purchase what are renowned as the most comfortable bras in the world, but if they don't fit you right then you'll never reap the benefits.
With a simple traditional tape measure lying around at home, you can use our expert guide on how to measure bra size to find your perfect fit, so that you know you're doing everything you can to get the most comfortable bra fit.
If you're not confident going through the process on your own and you're unable to get to a professional, companies such as Nudea lingerie and Triumph are modernizing the measuring process with online measuring services.
The Nudea Fit Tape: $7/£5 | Nudea (opens in new tab)
To make life easier and comfortable bras fit better, Nudea has even invented a bespoke tape measure that allows for accurate, hands-free measurement quickly and simply at home. It features helpful guidance and color-coded zones to help you read band and cup size easily.
Hannah Hughes is Group Fashion Editor at Future Publishing. Her work appears in woman&home, Woman, Woman's Own, and Woman's Weekly magazines.

She is a fashion creative with over fifteen years of solid experience in editorial, commercial, and celebrity styling. She has an in-depth knowledge of the luxury, mid and high-street fashion sectors, which she developed over a decade spent as Fashion Director at some of the UK's most widely read women's magazines, including You Magazine and Look Magazine.