Best sleep bras for support and comfort through the night
The best sleep bras will support your bust and help you get a restful and comfortable night's sleep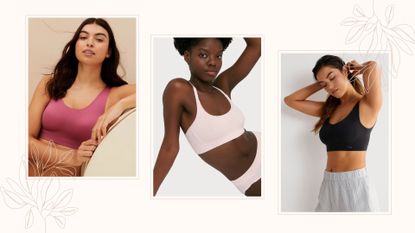 (Image credit: M&S, Organic Basics, Sloggi/Simons)
Molding to your shape, the best sleep bras are crafted to offer bust support through the night, without obstructing your movement.
Having a good night's sleep ensures that we can face the day with maximum energy, and if you've already bagged yourself the best pajamas and formulated a bedtime routine, then you're well on your way to getting ready for bed. But if you find your bust is causing you discomfort at bedtime you might want to consider a sleep bra.
While the need for purchasing the best bras to support our busts in the daytime is obvious, have you ever thought about the level of support your breasts need at night? Depending on whether you're a bra for small busts or large busts, the level of support you'll need throughout the day is different. But just because we're horizontal at night, that doesn't mean our busts don't need a little help to ensure they sit in the best position. Not just a good foundation, bras are important for your overall back and breast health. At night, large busts, in particular, may find a sleep bra helpful to aid in a comfortable night's sleep.
What is a sleep bra?
Why you can trust Woman & Home Our expert reviewers spend hours testing and comparing products and services so you can choose the best for you. Find out more about how we test.
A sleep bra is a bra designed specifically for sleeping in. Unlike your regular bra, which is designed for uplift under clothes, a sleep bra is there to stop discomfort during the night. A sleep bra is different from your regular bra, even if you have one of the most comfortable bras. Bras for the day are likely to be tighter for support and shape, whereas a sleep bra will be closer to a bralette, in terms of fit and more like something you might own already simply for lounging in. This is because anything too tight or with an underwire will not only dig in but could affect circulation.
What to look for in the best sleep bras
Not all bras that are good for sleeping in are marked specifically as 'sleep bras'. Bras that work for this activity hold certain characteristics or are constructed in a particular way to ensure they mold and sit flat on your body, offering the right support for a restful night. There are some dedicated sleep bras out there but knowing what to look for will help widen your options.
When selecting the best sleep bra, there are a few important things to consider:
Wire-free: wires will be too constricting at night and can dig in. They also can cause tightness and marks. So always opt for a sleep bra without wires.
Seam-free: most sleep bras or sleep-appropriate bras will not have seams as these again can dig in, run or leave marks. You might see sleep bras with seams if they offer particularly high support for very large busts.
Free from padding, or removable padding: if you usually wear a padded bra in the day, at night, you don't need the extra boost. Padding also adds bulk to a bra which can make it more difficult to sleep in. While you can choose a bralette style to sleep in that has padding, just make sure it can be removed.
Breathable: look for natural breathable fabrics, or high-tech fabrics that list breathable as a quality to ensure you don't feel too warm.
Sweat-wicking: a nice added extra, sweat-wicking fabrics will keep you dry and are particularly handy in the warmer months.
Who is a sleep bra for?
Anyone can invest in a sleep bra, but those with a larger bust will find a sleep bra most useful. If you have a bigger bust you may find that sleep can be uncomfortable because your breasts will move during the night. If this is an issue you are suffering from, then investing in one of the best sleep bras could help you get a better night's sleep.
The best sleep bras as selected by our fashion team
1. Hanes Invisible Embrace Comfort Flex Fit® Wirefree Bra
Best for bargain sleep bra
Specifications
RRP: $16.99 / £11.41
Sizes: S-3XL
Reasons to buy
+
Cute colors
+
Great size range
+
4 way stretch
Reasons to avoid
-
Foam cups (although they are removable)
This ultra-thin and wire-free bra offers sleep and daytime support. With a four-way stretch, you don't have to worry about clasps digging in and the lightweight fabric will feel like a second skin. In an inclusive sizing range, up to a 3XL, this bra uses SmoothTec® Band for a smooth fit. We recommend removing the foam cups for using this bra as a sleep bra.
---
2. Soma Enbliss Bralette
Best sleep bra for color options
Specifications
RRP: $48 / £43
Sizes: S-XXXL
Reasons to buy
+
Wireless for comfort
+
12 color options
+
Fits up to a 44G
The Soma Enbliss Bralette comes in 12 colors, so you can easily match it up to existing pajamas or your best joggers for a great loungewear option too. Wirefree it offers good support, without anything to dig into you in the night. Although it is sized S-XXXL, the largest size should fit up to a 44G, making it a good choice for those with a larger bust. Made with a brushed fabric, it's really soft so ideal for sleeping in. It's had literally thousands of five-star ratings too with many people wearing it during the the day too.
---
3. Boody Ribbed Seamless Bra
Best sleep bra for sustainability
Specifications
RRP: $38.95 / £32.95
Sizes: XS-XL
Reasons to buy
+
Wire and padding free
+
Sustainable production
+
Ethical fabrications
Made from 79% bamboo, this bralette not only feels good, but it does good too. The brand donate 1% of all bra sales to Beast Cancer Research and the site lists the positive impacts made from production. The product itself is great too. In a ribbed fabric that is seamless, for added comfort, this bra offers four-way stretch and is easy to pull on and off. It has moisture-wicking properties to keep you dry and is ideal for everything from sleeping to lounging. It's available in eight colorways so you can select your favorite hues.
---
4. Sloggi Zero Feel Bra
Best for lightweight sleep bra
Specifications
RRP: $45 / £33
Sizes: S-XL
Reasons to buy
+
Geat colors
+
Lovely lightweight feel
+
Matching briefs available
The Zero Feel series by Sloggi means lovely lightweight fabric with a good level of support. The smooth lining ensures added comfort, which is matched with the totally seamless fit, created with the brand's use of dot bonding technology and the wider straps and wide back straps offer maximum support and hold.Depending on where you shop there is a range of colors available, although not all stockists have all hues available. With matching briefs available you can wear this set in the day too.
---
5. M&S Flexifit™ Non Wired Crop Top
Best sleep bra up to a size 22
Specifications
RRP: $38.99 / £22
Sizes: 8-22
Reasons to buy
+
Large size range
+
Lots of colorways
+
Not just for sleep
Although this crop top style bra is not specifically made to be a sleep bra, the non-wired silhouette and second skin feel make it an appropriate bralette to use for bedtime. With removable padding (we recommend going padding-free at night), this bralette can also be worn in the daytime for a lighter level of support that stretches and moves with you, thanks to Marks & Spencer's FlexiFit™ technology.
---
6. Bravissimo Sleep Bra
Best sleep bra for larger busts
Specifications
RRP: $76 / £38
Sizes: 30-40 / DD-L
Reasons to buy
+
Specifically designed for sleeping
+
Up to an L cup
+
Very supporting
With a crop top look for a stylish finish, this bra is packed full of the brand's knowledge of fit and support for large busts. Made from a super-soft jersey fabric, unlike most sleep bras, this is not a pull-on and utilizes the standard hook and eye fastening of most bras. With adjustable straps for better support, this bra considers the need for a more structured fit for those up to an L cup size, making it one of the best bras for large busts.
---
7. Organic Basics Cotton Bra - Pack of 3
Best for organic sleep bra
Specifications
RRP: $132 / £105
Sizes: XXS-XXL
Reasons to buy
+
Lots of colorways
+
Chic racer back
+
Ethically made
The racerback on this soft bra is ideal if you find shoulder straps uncomfortable at night. Wire-free, this soft bralette is made from organic cotton, so it's breathable against your skin, but also a more ethical and sustainable option too.
Sold in packs of 3, which is convenient from a laundry point of view, it does mean you have to invest big to start with, however you can build your own pack, customizing your size and color choices, so you could order with friends to help split the cost.
With a relatively small size range, this bralette has adjustable straps for added support but is only suitable for up to a C cup, making it one of the best bras for small busts.
---
8. Pretty Secrets Sleep Tops
Best for stylish sleep bras
Specifications
RRP: £28 (UK only)
Sizes: 12-34
Reasons to buy
+
Attractive styles
+
Comes in a two packs
+
Great reviews
Reasons to avoid
-
Conflicting size information
The sizing information on the bra is rather conflicting as it suggests it fits up to a 34. However they fit up to a DD cup, and customer comments, although happy with the product suggest you need to size up to get a good fit. Listed as sleep tops rather than bras, they're made of soft, tubular knitted fabric with an attractive mesh yoke, making these a little sexier than your average sleep bra. Conveniently sold as a two-pack, offering you more for your money.
---
9. Lunya Soft Seamless Modal Bralette
Best sleep bra for a small bust
Specifications
RRP: $56 / £61
Sizes: XS-XL
Reasons to buy
+
Light support
+
Several colorways
+
Attractive design
The soft, natural fabric is ideal for wearing at night, as it is breathable, ensuring you don't feel clammy in the morning. Offering a lighter level of support with a smaller size range, this is ideal for those with a smaller bust looking for a comfy sleep bra that looks and feels chic, we love this navy colorway too.
---
10. Figleaves Sleep Bra
Best sleep bra for plus sizes
Specifications
RRP: £18 (UK only)
Sizes: 30-48
Reasons to buy
+
Great for plus sizes
+
Light level of support
+
No fastening
Made from a cotton-modal blend for comfort and breathability, this bra offers lightweight support right up to a size 26. With a slightly confusing size range, it is roughly done according to back size, with a 30 fitting an 8 and a 48 a size 26. The cross-over front offers gentle support and a flattering finish. Without wires and with a pull-on style, this is ideal for sleeping in.
---
What are the benefits of a sleep bra?
Alleviate back pain: if you find that your breasts hurt your back, then you'll already have invested in some of the best bras for the daytime. For some women, particularly those with larger busts, a bad back from the result of a heavy bust can also impact their sleep. If that sounds like an issue you're experiencing, try a sleep bra to improve the position and support your breasts get at bedtime. Any continued issues should be discussed with your doctor.
Help with sensitivity: for those with particularly sensitive breasts or nipples, a sleep bra can help to diminish some of these symptoms, particularly if you find how you sleep or your pajamas are irritating you. If sensitivity is an issue, however, consult a medical professional as well.
Support: Mainly an issue for those with a larger bust, the skin tissue can strain during the night if your bust isn't supported. A sleep bra will help to position and hold your bust as you enjoy a good night's sleep.
Rivkie is a fashion editor, writer and stylist with over fifteen years' experience in the industry. Having studied design and pattern cutting at the London College of Fashion, Rivkie fell in love with styling and journalism, covering fashion weeks in London, Paris and New York.
Specialising in plus size fashion, Rivkie has long championed that style is for everyBODY and has been a regular talking head on a host of radio stations and television shows, pushing for greater representation for plus size women and fashion throughout her career.