The best pillow for a comfortable, pain-free night's sleep—whether you're a back, side or stomach snoozer
On the hunt for the best pillow for you? There's no such thing as a good night's sleep without one—so we've rounded up our pick of the comfiest.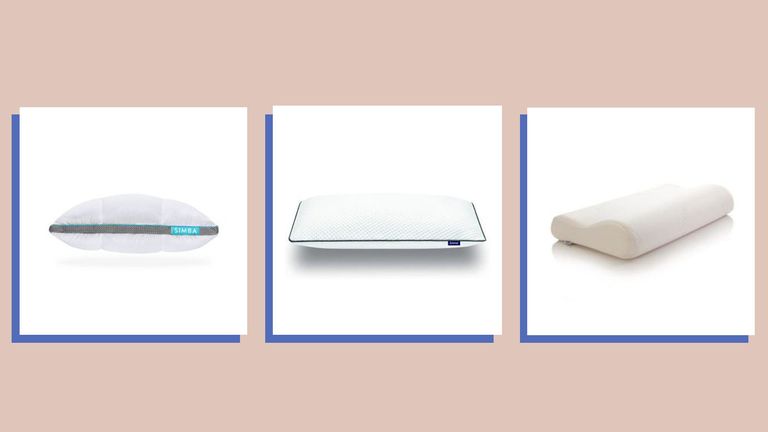 (Image credit: Future)
A good night's sleep depends hugely on having the best pillow you can buy—because we all know a bad one can leave us feeling achy, tired and fed up.
The right pillow for you will largely depend on three key factors. First, which kind of sleeper you are (stomach, side, or back), whether you suffer from any allergies, and what filling you prefer. For example, you might want to think about opting for a cooling pillow, with breathable cotton outer if you tend to overheat at night. Hypoallergenic microfibre, silk, or memory foam will help if you suffer from allergies. And for those who sleep on your front, thin pillows can often feel better. Choosing the right one for you is vital to helping work out how to sleep better and feel more rested come the morning.
Plus, one of the main concerns with having the wrong pillow is neck and shoulder pain. Often, these issues are sometimes just down to an incorrect pillow choice—making choosing the best pillow for you all the more important. A preference for a firm pillow or a soft, marshmallow-like one will also influence the pillow you choose.
To help you decide on the best pillow for your needs, we tested a variety from across the market. Our selection includes the hugely popular Simba Hybrid Pillow, which—while expensive—is uber comfortable and supportive, as well as the Emma Memory Foam Pillow, which is ideal for spine alignment.
So, whether you're after a luxurious five-star hotel-style goose-down pillow or the best memory foam pillow for neck support, we've picked the best for a great night's slumber.
How we tested for the best pillow
We tested each of the best pillows over several nights with a range of sleeping positions—front, side, back, restless and overheating—to ascertain the comfort and quality of both the filling and outer cover. In general, we checked how easy each pillow was to clean (e.g is it machine washable), kept an eye out for fillings that didn't clump or poke through the casing, and the overall value-for-money we felt each pillow offered. For side sleepers, we tested for head and neck support and firmness and for front sleepers, softness that didn't impair breathing.
How do I choose the best pillow for me?
There are a few things to consider when purchasing a new pillow—taking a moment to think about what you need from yours will ensure you buy one that will give you the most comfortable, restful night's sleep. Consider:
Your sleeping position:
Much like purchasing the best mattress for you, finding the best pillow for your needs will largely depend on your body size and shape, and what position you sleep in the most. The best pillow will be one that comfortably supports your head and neck in the same alignment as if you were standing up straight—and this is normally down to the amount and supportiveness of the filling itself.
Back sleepers: As a general rule, back sleepers should choose a medium-thickness pillow. With a medium-loft pillow, most back sleepers will be able to achieve a good spinal alignment, to prevent any aches and pains from occurring.
Side sleepers: Side sleepers a thicker, high-fill pillow to cushion the space between the neck and the bed. Pillows for side sleepers should also be on the firmer side, to maintain alignment for their body while they sleep.
Front sleepers: Front sleepers require a thinner, softer down, synthetic or specialist pillow to avoid that suffocating feeling of sinking into something too deep. This is why thinner pillows can be good for people who sleep often on the front, and who may use their arm to prop up their head in the night.
Multi-position sleeper: If you're a restless sleeper, choosing the pillow for your most common sleeping position could help. But if you naturally opt for several positions in the night, then choose a medium-filled pillow to ensure you have enough support overall.
Budget:
Pillows can vary wildly in price from $15 (£15), to over $100 (£100), so setting your budget is vital.
£: The most affordable pillows are often synthetic pillows—e.g, those not made out of natural materials but man-made. Synthetic pillows can be brilliant, in spite of their lower price tag. They are often hypo-allergenic and can be very comfortable—however, they don't last as long as other pricier pillows.
££: There are plenty of mid-price pillows available on the market, and these will meet the vast majority of different sleeper's needs. Mid-price pillows usually use synthetic fillings too, such as microfiber or memory foam.
£££: Often, those with more luxurious fillings (such as feather and down), will be more expensive. These are often the cushiony, marshmallow-like pillows that you might have slept on in hotels. But it's worth noting here that paying more doesn't guarantee a better pillow—in fact, many of the best we've featured below are not the most pricey. If possible, go for the right pillow for your needs whatever the price—but if you are on a budget, don't feel you need to pay over the odds.
The best pillows as reviewed by our experts
Best pillow for a customised sleep experience
Specifications
Firmness: : Soft/medium
Machine washable: Yes, the cover is washable
Product guarantee: No, but you get a 100 night trial of the pillow before you have to commit
Reasons to buy
+Adjusts to suit your sleeping preferences+Breathable+Relieves pressure in head and neck
Reasons to avoid
-May be too soft for some
The soft, breathable outer cover of this Emma Memory Foam pillow, which encases three separate layers of support, makes this one of the best pillow picks for us. The top is cold foam, which according to the makers is necessary for counter-pressure and helps to keep your spine aligned. The second is an Airgocell foam layer that's softer, aiding sleep by letting your head softly sink into the pillow. Finally, an adaptive visco-elastic memory foam layer will distribute and relieve pressure evenly for a good night's sleep. However, this isn't where this pillow's story stops as it's designed to allow you to remove layers, depending on what kind of sleeper you are in order to have a night's sleep that's right for you.
Removing or adding layers will make this pillow thicker or thinner, depending on your preferences. Emma's recommendation is that side sleepers keep the pillow with all three as they will need more support in the neck area. Front sleepers should use just one, while back sleepers two. It doesn't say which layers to take out or leave in so we experimented. Our side sleeper found the three layers super supportive but the restless, position-changing sleeper preferred two layers—the comfort and the memory foam combined. It gave the right level of softness as well as helping to keep the spine aligned whether they were on their side or back.
See our full Emma Memory Foam Pillow review
2. Dormeo Octaspring Compact Pillow
Best pillow for front sleepers who want support
Specifications
Firmness: Medium-soft
Machine washable: Yes, the cover is washable
Product guarantee: No
Reasons to buy
+Great for those who like thinner pillows+Supports the neck in any position
Reasons to avoid
-Might not be firm enough for those who sleep in other positions
Most front sleepers eschew memory foam as it can be too firm for them, making for an uncomfortable night. Thankfully, the Dormeo Octaspring Compact pillow is here to offer a solution to the problem of front sleepers wanting firm support while they sleep, without the discomfort.
The clever Dormeo Octaspring Compact pillow has a lower profile than normal memory foam offerings but is just as supportive—which is why it has made our best pillow roundup. The soft-to-the-touch washable cover contains two layers—a pressure-relieving memory foam that molds to your body shape and a layer of 32 memory foam 'honeycomb' springs. These springs, unique to Dormeo, are eight times more breathable than traditional memory foam and also move three-dimensionally to provide a cool and comfortable place to lay your head.
Our testers found the lower profile perfect for our restless sleeper who spent some of the night on their front, as it was just high enough to slightly elevate the head without the suffocating feeling some deeper memory foam pillows have if you sleep on your stomach. In fact, we found it supported the neck well in any position, so was incredibly comfortable and a good all-round choice.
3. Soak & Sleep New Zealand Wool pillow
Best pillow for back sleepers
Specifications
Firmness: Medium-firm
Machine washable: Yes
Product guarantee: Yes—5 years
Reasons to buy
+Good for allergy sufferers+Contours the head and neck beautifully+Soft but supportive
Reasons to avoid
-Slightly more expensive option
Filled with New Zealand wool, this medium-firm Soak & Sleep New Zealand Wool pillow was both supportive enough for our back sleeper but also soft enough for a more than sound night for our restless sleeper, making it our best pillow choice for back sleepers. It fitted beautifully under the head, gently shaping to cradle the contours of the neck and shoulder, which ensured there was no neck stiffness in the morning. To keep it from compacting, we just massaged the filling a bit and it was back to its usual medium-firm plumpness in no time. Wool is naturally temperature regulating and dust mite resistant, making this a good choice for allergy sufferers too. Plus, it can also be machine washed at 60˚C, which means it can be easily kept in tip-top condition. It comes in three sizes, junior, 40x60cm, standard and super king.
4. Tempur Original Support pillow
Best pillow for neck pain
Specifications
Firmness: Firm
Machine washable: Yes - the cover is washable
Product guarantee: Yes - 3 years
Reasons to buy
+Very firm so great for those with neck pain+Molds to your shape
Reasons to avoid
-Not ideal for restless, multi-position sleepers
This contoured ergonomic Tempur Original Support pillow is one of the best pillows for neck pain. It has been specifically designed to cradle the neck and shoulders, to provide a neck-pain-free night. Made from a visco-elastic material first developed by NASA to provide pilots with a comfortable seat when flying, Tempur began making mattresses from this material in the 1990s.
Their Original Support pillow is very firm and the unconventional, almost rigid curved shape means it's best suited to those who experience neck pain, and also those who sleep on their back or side. The shape, and the memory foam filling itself—which gently molds itself to your individual shape when sleeping and springs back to its original shape afterward—definitely take a little time to get used to, particularly if you've always had a traditional style pillow. But many say it's well worth persevering for a couple of weeks for a pain-free experience. It was definitely the most 'Marmite' of all the pillows we tested and while it didn't really suit our multi-position, restless sleeper, after a few days our back sleeper had got used to it and found it helped them sleep a little sounder with no recurrence of recent neck pain.
Best memory foam pillow
Specifications
Firmness: Adjustable
Machine washable: Yes—the cover is washable
Product guarantee: Yes—1 year
Reasons to buy
+Ideal for regulating temperature+Allows you to adjust pillow to your preference
Reasons to avoid
-One of the most expensive options
Like the Simba mattress, the Simba pillow is in-demand because of their next-gen sleep technology. And we love the latest version of their Hybrid Pillow, which now features heat-phase technology called Stratos, which helps the body maintain the perfect sleep temperature, effectively storing and releasing heat for when you are cold and moving it away from you when you get too warm.
We really liked the fact that the loose filling of soft memory foam cubes was encased in a zip pocket, allowing us to remove as much or as little as we liked to create a bespoke sleeping experience. When it arrived, with all its filling intact it was quite deep even for our side sleeper but once we'd taken out a few handfuls of the cubes to adjust the height and firmness, it was very comfortable. If you feel you need more or fewer cubes, simply empty or fill from the mesh bag (that comes with the pillow) to adjust. The Stratosfabric technology—inspired by technology originally designed for astronauts—solved a common memory foam pillow problem of overheating, as it works to keep your body temperature steady all night by absorbing, storing and releasing heat as and when it's needed. The cubes are also sandwiched between a hypoallergenic mineral-enriched fiber called Aerelle Cool Night, which dissipates heat and a durable microfiber padding for softness. As with Simba's original offering, our overheating side sleeper definitely found it supportive and there was no need to flip it during the night.
See our full Simba Hybrid Pillow review
Best pillow for side sleepers
Specifications
Firmness: Soft
Machine washable: Yes
Product guarantee: Yes—3 years
Reasons to buy
+Ideal for side and back sleepers+Two options for sleeping+Cool
Reasons to avoid
-May be too soft for some
The unusual shape of this Eve microfibre pillow—it's boxy at one end and tapered at the other—means it works well for both side and back sleepers. The thicker side provides more support to the neck—great for those who assume the side position— while the thinner edge works to align the spine for back sleepers. Softly supportive, rather than firm, it still provided enough rigidity for our multi-position sleeper to get a good night's sleep, once they'd decided on which of the two options (the thicker of the two) suited them best. The 230 thread-count cotton case is beautifully soft and the polyester mesh side panels aid airflow, ensuring there was no sign of overheating, even on an unseasonably warm spring night. At 46x67cm it's sized to fit a standard pillowcase and is machine washable at 40˚C, too. A quick re-fluff after tumble-drying will help it to retain its shape.
See our full Eve Microfibre pillow review
Best pillow for luxury hotel-style sleeping
Specifications
Firmness: Soft or medium
Machine washable: Yes
Product guarantee: Five years
Reasons to buy
+Plump and cushiony+Bounces back after use+Hugs the head and neck beautifully
Reasons to avoid
-Sinks slightly when you lie on it so side sleepers could struggle-Expensive
If it's a luxurious, boutique-style hotel experience you're after then this beautifully soft yet supportive Cuddledown Edelweiss Hungarian Goose Down pillow definitely fits the bill. Straight out of the package, its quality shines through, and the super-soft Pure Swiss cotton cambric 400 thread count cover makes it feel like an elegant choice. Importantly, you can opt for soft or medium support, making it a good choice for both front and back depending on which you prefer. A slightly denser filling with 20% extra down meant the medium version we tried suited a back sleeper best.
If we had one gripe, we'd say that it does sink a little when you lie on it, so it may not be as good for a side sleeper. However, this pillow comes with the cloudy, satiny feel you would expect from a fancy hotel pillow, but offers just a touch more support than you would usually get from that type of pillow—which is why it was a real winner for us.
8. Slumberdown Front Sleeper Pillow
Best pillow for stomach sleepers
Specifications
Firmness: Soft
Machine washable: Yes
Product guarantee: No
Reasons to buy
+Affordable+Super supportive+Breathable
Reasons to avoid
-Not for back or side sleepers
Because of their position—with face pressed into the pillow, often with an arm cradling their head—those who regularly sleep on their front often find themselves drifting towards the outside edge of their pillow to ensure they don't feel smothered by it. Front sleeping is the least recommended position because it can force the neck into an uncomfortable angle, resulting in aches and pains. But, if you do sleep on your front, thin pillows, with a thin profile or loft (height) will help, as pillows that are too plump can feel suffocating. While you can buy oddly-shaped designs that allow for breathing space, we found this regular shaped one, the Slumberdown Front Sleeper Pillow, was not only a great price, it was also a perfectly comfortable option for front sleeping as it was supportive enough but didn't force the neck of our multi-position sleeper into a nasty angle when they flipped onto their tummy.
Our front sleeper found this pillow breathable and lightweight, but supportive enough to prevent any aches and pains, which makes it a winner in our books. Although it doesn't come in any other firmness level than soft (the advised level for front sleepers), and doesn't come with a guarantee, it would still be our best pillow recommendation for those who sleep on their front most often.
Best overall pillow
Specifications
Firmness: Soft
Machine washable: Yes
Product guarantee: Yes—2 years
Reasons to buy
+Affordable+Great if you want a cooler pillow+Lovely, marshmallow-soft comfort
Reasons to avoid
-Too soft for some sleepers-Might be too big for some
Just like the duvet of the same name, this Silentnight Airmax pillow has lovely, squishy marshmallow plumpness—in fact, it was so big we had to use an oversized Oxford pillowcase to cover it. Don't be fooled, though, this box construction hollowfibre pillow is pretty supportive, and at just £10.99, it was also one of the best value pillows we tested. Even though it's very much on the soft end of the scale, our dedicated side sleeper actually found it firm enough for a comfortable night's rest, so it's a good option for many different sleepers.
However, it's the improved airflow from the meshed material strip that runs through the center of this pillow that makes the difference. It definitely helped to circulate the air and keep our over-heater cool and rested, with no need for the usual pillow turning to get the cool side in the middle of the night. It's hypoallergenic and machine washable at 40˚C, plus it has a 2-year guarantee—all things that added up to make it the best all-round pillow we tested.
See our full Silentnight Airmax pillow review
10. Slumberdown Allergy Protection pillow
Best pillow for allergy and asthma sufferers
Specifications
Firmness: Medium
Machine washable: Yes
Product guarantee: No
Reasons to buy
+Best pick for allergy sufferers+Ideal if you sleep in different positions
One of our testers has what Allergy UK has named 'home fever', an increasingly prevalent non-specific allergy to our homes that causes sniffles and sometimes sore eyes, as well as aggravating eczema. So, we were keen to try this Slumberdown Allergy Protection pillow—one of the few that has the Allergy UK seal of approval—filled with synthetic fibres that have been specially treated to combat dust mites, one of the biggest causes of night-time allergies and asthma. It's a medium-dense, soft filling that's a good all-round option if you sleep in a variety of different positions during the night—although our side sleeper needed two in order to ensure proper spine alignment and avoid a stiff neck in the morning. It's machine washable at 40˚C, has a breathable 100% cotton cover and at just £12.50 for a set of two measuring 48x 74cm, we felt it was one of the best value pillows we tested, too.
11. Clevamama Toddler Foam pillow
Best pillow for kids
Specifications
Firmness: Firm
Machine washable: Yes—the cover is washable, the pillow is hand wash
Product guarantee: No
Reasons to buy
+Breathable and lightweight+Good for kids with allergies+Machine washable cover
Reasons to avoid
-Quite thin
While babies shouldn't have pillows, as there's a risk of suffocation, once a toddler moves from a cot to a proper bed, you might find they need a more supportive base to rest their head. Filled with ClevaFoam®, this Clevamama Toddler Foam pillow, researched and developed with the university at Trinity College Dublin, has the benefit of being the only one that is scientifically proven to reduce pressure on the back of a baby's head by 50% and increase support by 80%. This helps to combat Flat Head Syndrome, a condition often caused by lying and sleeping in one position. Lightweight, hypoallergenic and breathable, it has reduced heat retention ensuring there's no overheating at night. This also makes it a good choice for children with asthma or allergies. The pillow, compared to adult ones, feels quite thin at first but the foam filling molded comfortably to the head, and was just the right height and level of firmness for a toddler. The cover is removable and machine washable, too—which we're sure any parent will be glad to hear!
12. Sealy Zonal Support pillow
Best pillow for a combination of support and luxury
Specifications
Firmness: Firm (but medium and soft also available)
Machine washable: No—only covers
Product guarantee: Yes—three years
Reasons to buy
+Great support for head and neck+Crisp but soft casing+Maintains shape after use
Reasons to avoid
-Not very plump-Limited availability
The Sealy Zonal Support pillow does what it says on the tin—it exudes both hotel levels of luxury comfort, whilst also providing brilliant support for your head and neck. With multiple internal layers to provide different levels of support, this pillow puts spinal health and comfort at the forefront. The pillow really cradled our upper body during testing, with firmer foam springs in the center of the pillow for the head, and softer springs in the edges of the pillow, to gently support the shoulders and neck. One drawback is that this pillow definitely isn't as plump or fluffy as others, but this is because of the way that it works to support your body during sleep.
However, we did enjoy the luxuriously crisp, 100% cotton casing, which meant sleeping on the Sealy felt a bit like sleeping in a hotel room. And there's no doubt that it's a dream to sleep on—supportive, bouncy, and pain-free in the morning.
See our full Sealy Zonal Support pillow review
13. Tempur Comfort Pillow Original
Best pillow for all sleeping positions
Specifications
Firmness: Medium
Machine washable: Yes—the cover is
Product guarantee: 3 years
Reasons to buy
+Great for all sleeping positions+Supportive+Molds well to your head and neck
Reasons to avoid
-Expensive-Memory foam isn't for everyone
Tempur Comfort Pillow Original is a pillow that offers great support for all sleepers, whether you lie on your side, front or back. Made of supportive memory foam, it's sturdy and heavy, so you can count on it to take care of your body where it really needs it while you sleep, as it adjusts its support levels depending on the position you are in. We found that this one molded incredibly well to our heads and necks when drifted off to sleep, and offered brilliant support. However, memory foam isn't for everyone, so it's worth noting that it generates a bit of heat after a few hours of sleeping. The Tempur Comfort is fairly expensive too, so that's something to factor into your buying decision. However, it offers a great guarantee, is very easy to care for (the cover is machine washable), and provides the incredible support that we've come to expect from the Tempur brand.
See our full Tempur Comfort Pillow Original review
What are the different types of pillows?
There are many different types of pillows. While most pillows have a soft, cotton or polyester outer casing, the fillings can vary considerably. Familiarise yourself with the pros and cons of each so you can choose the best pillow for you:
Down or feathers: A combination of down and feathers will be soft and cushioning, with those featuring a larger percentage of down to feathers being the most luxurious. However, the more down, the less support, so while they will be good for front sleepers, they might not be firm or deep enough for side sleepers. For those with allergies, pillows with down or feathers might be best avoided. However, if well cared for, natural materials are the best choice if you want a long-lasting pillow.
Silk: Silk pillows are generally less deep and are a good choice if you overheat at night, because they naturally wick away moisture and help to regulate body heat. Opt for one if you're a front sleeper with allergies, as they're naturally dust-mite resistant—after all, good sleep hygiene is vital for helping you to feel properly rested.
Wool: Natural wool will give a good level of support and, depending on how well filled the pillow is, will work well for both back and side sleepers. Regular plumping is needed to stop the pillow flattening or bunching up over time, though.
Synthetic: Synthetic pillow fillings, such as microfiber, are also hypoallergenic, so a good choice for those with allergies. They're lightweight, often machine washable, and reasonably priced, too. However, choose your outer cover carefully if you get hot at night as some feature a polyester cover, which is not as breathable as cotton. While synthetic pillows may be cheaper, they often have the shortest lives, as the filling can start to clump and be uncomfortable over time.
Memory foam: Memory foam provides great support if you're a side sleeper—most of the best travel pillows are made of memory foam. But, many people find them on the firm and hot side and, like memory foam mattresses, there is sometimes an initial chemical smell. Despite this, the deep, firm support they offer often makes them a good choice of pillow for those that have neck problems.
Latex: Latex pillows are similar in feel to memory foam, providing firm, deep support for your head and neck, but often giving a cooler sleeping experience (see our guide to the best cooling pillows here, if that's what you're after). This means they are an excellent option if you're an overheating side sleeper.
Is it better to have a hard or soft pillow?
When deciding what's the best pillow firmness for you, you'll have to take into consideration your sleeping position and personal taste. Front sleepers will find a too-firm pillow uncomfortable and cloying, while back and side sleepers will need a more solid support to hold their neck and spine in alignment through the night.
Consider which position you sleep in, or sleep in the most often, and make your decision based on that. In our pillow reviews above, we've suggested the best pillows for those who want a firmer option, and the best pillow for those who are after a softer option.
How often should you change your pillows?
We're all now up to speed with the need to change mattresses every eight years or so but how often should we change our pillows? Well, if you're waking up with sniffles or a sore neck and shoulders or your pillows has lost is shape, it's likely that it has overstayed its welcome.
Some synthetic pillows may need replacing after as little as six months, while others such as down and feathers and memory foam will give you two years or more depending on how well they are cared for. Down pillows tend to last longer—up to five years, while a feather pillow could last up to eight years. A report by Allergy UK, which spoke to 1,600 allergy sufferers, quoted figures that—brace yourself—"the average bed harbors 2 million dust mites and the average pillow doubles in weight over six month due to dust mite droppings". A hypoallergenic synthetic pillow is chemically treated to prevent dust-mites, and the little critters aren't fans of natural materials such as silk or wool. In all cases though, regular washing and changing bed linen will help to maintain your pillow for as long as possible.
Why are hotel pillows so comfortable?
If you've ever laid your head to rest in a five-star hotel, you're likely to remember the ultimate softness and luxury of the pillows in hotels. Many hotels will have their own brand of standard pillows—and these are usually well-filled goose or duck down ones, which are a brilliant pick for ultimate squishiness. Plus, many of them will be encased in super luxurious high thread count Egyptian cotton.
Some hotels even have pillow menus, from which you can pick a variety of fillings and comfort levels. The Savoy, for example, uses a quality feather-down pillow, while Hilton hotels across the world have pillow menus that feature something for every kind of sleeper. For more information, read our guide to the best hotel pillows and where you can buy them for your own home.