The 8 best cooling pillows to buy ahead of summer 2022, as tested by us
The best cooling pillows will keep you dry and comfortable, no matter how hot it is outside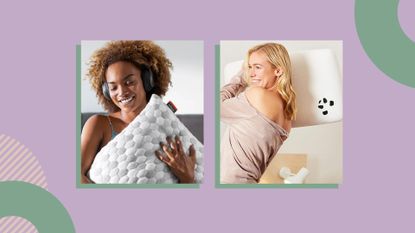 (Image credit: Future)
woman&home newsletter
Sign up to our free daily email for the latest royal and entertainment news, interesting opinion, expert advice on styling and beauty trends, and no-nonsense guides to the health and wellness questions you want answered.
Thank you for signing up to . You will receive a verification email shortly.
There was a problem. Please refresh the page and try again.
Sleeping on any of the best cooling pillows will keep you dry and comfortable all year round—but you'll especially want to rest your head on one when temperatures start to rise.
If your pillow is in need of a refresh ahead of summer, we have eight cooling pillows we've thoroughly tested and can highly recommend. Each pillow on our list boasts remarkable cooling properties, but that's not all—our choices span several different types of pillows, including the best pillows for side sleepers and the best pillows for back pain. No matter your sleep preferences or budget, you'll find what you're looking for here.
Meanwhile, if you're embarking on a summer holiday, keep yourself comfy on the plane or train by picking up one of the best travel pillows.
How we chose the best cooling pillows for this guide
Why you can trust Woman & Home Our expert reviewers spend hours testing and comparing products and services so you can choose the best for you. Find out more about how we test.
We've based our picks for the best cooling pillows on the following five criteria...
Materials: This includes the outer cover and inner fill, both of which factor into a pillow's cooling properties. We tested each pillow to see how well its materials successfully wick away sweat and body heat.
Support: Of course, the best pillow has to be able to maintain proper alignment and support. Each pillow has been used by back, front, side, and combination sleepers in order for us to provide a full assessment of its strengths and weaknesses.
At-Home Trial: Most pillows nowadays include an at-home trial so you can sample it before making a final decision. This is especially important if you're buying a pillow online sight unseen. Most entries on our list come with a trial period of at least 30 days.
Warranty: Once you decide on a cooling pillow you want to ensure you're protected against any manufacturing flaws. The pillows on our list all have a minimum 1-year warranty.
Value For Money: Cooling pillows range in price depending on the quality of materials used plus included amenities (like a full-year at-home trial or a lengthy warranty period). Our buying guide features a mix of budget and premium pillows.
What is the best cooling pillow to buy in 2022?
Just need a short-and-sweet look at what we recommend? Below is an overview of the best cooling pillows you can buy in 2022, with quick links to buy...
Best cooling pillows as reviewed by us
1. Layla Kapok Pillow
Best cooling pillow for side sleepers (US)
Specifications
RRP: $109 - $129
Fill: Kapok fiber, memory foam
Firmness: Medium
Dimensions: 18x28 in (queen), 18x34in (king)
Care: Machine-wash (outer cover only)
Warranty: 5 years
Trial: 120 nights
Reasons to buy
+
Excellent support for side sleepers
+
Cooling combo of kapok fibers and woven copper
+
Includes a 120-night trial and 5-year warranty
Reasons to avoid
-
One of the pricier cooling pillows out there
-
Requires constant fluffing each morning
Side sleepers who overheat at night will find relief with the Layla Kapok pillow. This medium-firm pillow contains a mix of shredded memory foam and sustainably-sourced kapok fibers, allowing the pillow to mold to the shape of your head and shoulders whilst promoting airflow to temper hot flashes. The outer cover of the Layla Kapok pillow is made with woven copper, a material known for its cooling and anti-microbial properties.
The Layla pillow arrives overstuffed, but you can remove and place excess fill in the included tote bag to achieve the perfect loft. We did have to be diligent in fluffing the pillow each morning as it flattens out quite a bit, but we've otherwise felt well-supported and refreshed when sleeping on it. Most importantly, we haven't woken up with our hair sticking to our sweaty necks. The Layla pillow sleeps very cool.
At an RRP of $109 to $129, the Layla Kapok pillow is not a budget buy. But in addition to top-class cooling, you'll avail of a 120-night at-home trial. That's more than enough time to determine whether or not it's right for your sleep needs. (Most brands include a 30-night trial.) And should you decide to keep the Layla pillow, you'll be covered by a 5-year warranty for materials and workmanship.
Best cooling pillow for side sleepers (UK)
Specifications
RRP: £11
Fill: Hollowfibre polyester
Firmness: Medium-soft
Dimensions: 48x74 cm
Care: Machine-wash
Warranty: 2 years
Trial: N/A
Reasons to buy
+
Vented mesh sides promote airflow
+
Also good for most back sleepers
+
A quality pillow at a super-low price
Reasons to avoid
-
Doesn't include a trial period
-
High loft won't work for front sleepers
The Silentnight Airmax pillow may only cost around a tenner, but make no mistake: this is a spectacular cooling pillow. Plush as a cloud yet incredibly supportive, it has a soft microfibre cover with Airmesh walls around the sides for ample airflow. Inside the Silentnight Airmax is a hypoallergenic polyester hollow fibre fill that'll require regular fluffing to help it retain its shape.
Despite the brand itself describing the Airmax as ideal for front/stomach sleepers, the higher loft makes it best-suited for side sleepers. Our dedicated side sleepers were uncertain the marshmallow-like Silentnight Airmax pillow would offer enough support but we were pleasantly surprised at how well it aligned our neck and shoulders whilst gently cradling our head. Our hot sleepers appreciated that they didn't have to turn this pillow over to the 'cool side' in the middle of the night.
A trade-off for buying such an inexpensive pillow is the lack of a trial period. However, your purchase will be backed by a 2-year warranty. Kit out your guest rooms with several Airmax cooling pillows without breaking the bank. Your overnight visitors will thank you for the comfortable night's sleep.
Check out our full review of the Silentnight Airmax pillow.
Best cooling pillow for combination sleepers (UK)
Specifications
RRP: £109
Fill: Open-cell foam Nanocubes and microfibre
Firmness: Firm to medium-firm
Dimensions: 50x75 cm
Care: Machine-wash (outer cover only)
Warranty: 1 year
Trial: N/A
Reasons to buy
+
Outfitted with space-age cooling tech
+
Variable firmness and loft via Nanocubes
+
Includes a spare bag for excess fill
Reasons to avoid
-
An expensive pillow with no trial period
-
Won't suit dedicated front sleepers
If you're a combi sleeper wanting to go all out for a cooling pillow, check out the astronaut-inspired Simba Hybrid. It has lightweight foam Nanocubes you can add or remove to make the pillow as high and firm as you'd like. (Spare Nanocubes can go right in the included storage bag.) The Stratos-infused phase changing outer cover regulates temperature and the Aerelle cooling layer directly beneath it combines with a mesh border for maximum airflow.
The bespoke element of the Simba Hybrid pillow means it'll appeal to most types of sleepers—but namely combination sleepers who are keen to switch positions at night. There will be some trial and error required to find the ideal amount of Nanocubes for your preferences but it's worth it once you hit that sweet spot. We also found the Simba pillow extremely comfortable when it came to keeping night sweats away. We didn't have to turn it over to the 'cool side' once.
For the lofty price you pay for its space-age tech, you'd think Simba would include a trial period. (You do get a 1-year warranty in return.) That makes it somewhat of a risky purchase but we trust with some patience you'll be able to fashion it into your perfect cooling pillow.
Check out our full review of the Simba Hybrid pillow.
4. Brooklinen Marlow Pillow
Best cooling pillow for combination sleepers (US)
Specifications
RRP: $65 - $85
Fill: Cooling memory foam, polyester fibers
Firmness: Plush to medium-firm
Dimensions: 17.5x26 in, 17.5x36 in
Care: Spot treat
Warranty: 2 years
Trial: 365 nights
Reasons to buy
+
Adjustable firmness via dual zippers
+
Cooling-infused foam and mesh gussets
+
You have a full year to test it out
Reasons to avoid
-
Loses its shape easily
-
Not as customizable as traditional adjustable pillows
The Brooklinen Marlow pillow is an adjustable pillow that seamlessly adapts to most sleep styles. With a quick pull of a zipper (or two), the Marlow can become as soft or firm as you need it, which is a departure from adjustable pillows that require people to add or remove fill — and that can sometimes get messy. It's not a cooling pillow per se, but the Marlow's fill is an 80/20 blend of cooling memory foam and polyester fibers. There's also a breathable 100% cotton outer shell plus dual mesh gussets for continuous airflow.
The Marlow pillow has three levels of firmness, depending on how you position the zippers. Being able to change the level of firmness on the fly made it super appealing to our combination sleepers who could instantly make the pillow harder or softer depending on how they were positioned. It also kept us comfortably cool at night.
Since this isn't a traditional adjustable pillow with fill you can replace or remove, it can be a bit tricky to shape the Marlow to your liking at first. Fortunately, Brooklinen provides one full year for you to test it out, with a full money-back guarantee if you're not satisfied.
Best memory foam cooling pillow
Specifications
RRP: $83 / £50
Fill: Multiple memory foam layers
Firmness: Medium-soft to firm
Dimensions: 15.7x27.5 in / 40x70 cm
Care: Machine-wash (outer cover only)
Warranty: 10 years (US) / 2 years (UK)
Trial: 100 nights (US) / 30 nights (UK)
Reasons to buy
+
Cooling foam layer plus breathable outer cover
+
Can add or remove layers for ideal comfort
+
100-night trial and 10-year warranty (US only)
Reasons to avoid
-
Need to experiment to find the right combo of layers
-
UK trial period is much shorter (30 nights)
Memory foam is notorious for retaining heat, but the innovative Emma memory foam pillow is among the most comfortable cooling pillows we've ever rested our heads on. It contains three different layers of memory foam including a layer of open-pored Airgocell foam to enhance airflow and absorb moisture. The outer cover is made from breathable, temperature-regulating fibers that allow air to flow freely.
The Emma pillow's foam layers can be removed as you see fit, depending on your preferences. Our side sleepers found this pillow most comfortable with all three layers intact, while our restless combination sleeper preferred a dual-layer of Airgocell and pressure-relieving memory foam. If you regularly battle neck pain (say, from spending your days hunched over a computer), the Emma memory foam pillow will contour the area around your head and neck nicely to relieve that pressure.
Whether you're in the US or UK, you'll have time to try your new Emma pillow out — although the trial period is much more generous Stateside at 100 nights. (It's a 30-night trial in the UK.) It will take some experimentation to find the ideal combination of foam layers and we trust you'll be able to find what you need in about a month.
Check out our full review of the Emma memory foam pillow.
Best hypoallergenic cooling pillow (UK)
Specifications
RRP: £39
Fill: Hollowfibre central chamber, microfibre outer chamber
Firmness: Soft
Dimensions: 50x75 cm
Care: Machine-wash
Warranty: 2 years
Trial: 30 nights
Reasons to buy
+
Suitable for allergy-prone sleepers
+
Comfortable, breathable cotton cover
+
Best for side and back sleepers
Reasons to avoid
-
Unusual tapered shape takes getting used to
-
Not for those needing extra-firm support
The Eve Microfibre pillow is a boon for hot sleepers who are also prone to allergies. It's Oeko-Tex Standard Class II certified, meaning it is hypoallergenic and made without any harmful substances. It contains a microfibre outer chamber that surrounds a slightly firmer hollowfibre centre. The outer cover is made from 100% cotton that's breathable and soft to the touch.
The boxy shape of the Eve pillow might leave some sleepers wondering how it could possibly be comfortable — but after a few nights we found it fabulously soft whilst it comfortably cradled our head. The boxier edge suited our side sleeper well, and the thinner edge adequately aligned the spine of our back sleeper. And when we woke up, we did so without any sneezing or sweating.
The unconventional form factor of the Eve Microfibre pillow will take some getting used to, which is why the company provides a 30-night at-home trial with a money-back guarantee if you opt to return it. Keep it and your purchase will be protected by a 2-year warranty.
Check out our full review of the Eve Microfbre pillow.
Best eco-friendly cooling pillow (UK)
Specifications
RRP: £34
Fill: 100% New Zealand Wool
Firmness: Medium
Dimensions: 50x75 cm
Care: Machine-wash
Warranty: 5 years
Trial: N/A
Reasons to buy
+
Made from natural and sustainable materials
+
Breathable in even the hottest temps
+
Comes with a 5-year guarantee
Reasons to avoid
-
Does not include a trial period
-
Not for sleepers who like a firm pillow
The Soak&Sleep New Zealand Wool standard pillow is an eco-friendly solution for warm sleepers who are extra mindful of their bedding materials—whether it's because of allergies or general care for the environment. It's filled with sustainably-sourced 100% Mitchell New Zealand wool, which regulates temperature and repels dust. The outer casing is 100% cotton, another breathable material.
Thanks to its wool filling and soft cotton outer, the Soak&Sleep pillow has a fluffy feel that's soft to lay on, but with a slight bounce to it for proper support and alignment. Our warm, allergy-prone sleeper woke up refreshed every morning whilst sleeping on this pillow, with no stuffiness nor sweat to contend with. It's also dead simple to care for — just throw it in the washing machine at 30°C and tumble dry on low.
Soak&Sleep New Zealand Wool pillow does not include any trial period, but in lieu of that, there's a very generous 5-year warranty that'll cover your purchase should a manufacturing issue pop up.
Check out our full review of the Soak&Sleep New Zealand Wool standard pillow.
Best bamboo cooling pillow
Specifications
RRP: $65 / £45
Fill: Memory foam
Firmness: Medium to firm
Dimensions: 15.7x23.6 in / 40x60 cm
Care: Machine-wash (outer cover only)
Warranty: 10 years
Trial: 30 nights
Reasons to buy
+
Bamboo outer cover regulates temperature well
+
Very comfortable for back sleepers
+
Comes with an impressive 10-year warranty
Reasons to avoid
-
Not a fit for front sleepers
-
Some may find it too firm
The Panda Memory Foam Bamboo pillow stands out for its wonderfully soft outer cover, which is made from a bamboo-polyester blend. Not only is bamboo naturally reactive to changing temperatures (which will keep you cool in summer), it's also an hypoallergenic material that'll safeguard you against dust mites and bacteria, Meanwhile, the fill consists of three layers of pressure-sensitive memory foam. (The center layer is the most firm; the layers surrounding that are softer.)
It's shorter than most standard pillows at under 25in/70cm long, but that didn't matter to us when we slept on it. The Panda pillow is on the firmer side but still had enough give around the neck and shoulders to alleviate pressure and stiffness. Our overheating sleepers also liked the feel of the bamboo outer cover, which kept them cool throughout the night. It suited our back sleeper well, though our restless sleeper found more comfort on their side than their stomach.
Panda includes a 30-night trial so you can properly test it out. There's also a 10-year warranty — which outpaces the standard lifespan of a pillow by far, but that's a testament to how much faith Panda has in the integrity of its products. And if you consider yourself an ethical shopper, know that Panda donates a portion of proceeds towards protecting the at-risk habitat of its wild namesake.
Check out our full review of the Panda Memory Foam Bamboo pillow.
How to choose the best cooling pillow for you
'Best' is a subjective qualifier — what may be right for one sleeper may not vibe with another. Thus, it's important to think about what you need in order to purchase a cooling pillow that'll help you sleep comfortably each night:
Your Sleeping Position: Do you sleep on your back, front, or side? Knowing this will determine what type of firmness and loft (height) you should choose. If you are a combination sleeper, choose a pillow based on your dominant position.
Firmness and Loft: Side sleepers need a thicker, firmer pillow, one that will fit the nook between their ear and neck. Back sleepers will benefit from a thin yet supportive pillow, especially if they regularly experience pain. Stomach sleepers can go for a soft pillow...or opt to go without a pillow at all, if they wish.
Materials: Hot sleepers require materials that are breathable and good at regulating temperature. Thus, seek pillows that contain cotton, wool, or bamboo. Memory foam tends to trap heat but if you like the way it feels otherwise, then look for foam pillows infused with cooling elements like gel or graphite.
Price: As our list shows, you don't have to shell out a load of cash for a quality pillow. But if you want a pillow with more luxurious fillings or extremely generous trial and/or warranty periods, know that it'll cost you so have a budget in mind.
The best cooling pillow is just one component to help you sleep better. Pair your pillow with the best mattress, download one of the best sleep apps, and invest in a white noise machine for sleep — you'll be snoozing comfortably every night.
Freelance writer and editor
Alison Barretta is a freelance writer and editor from Philadelphia, USA who specializes in home and lifestyle, skincare, and tech. For the last 15 years, she has been sharing buying advice and product reviews with curious, cost-conscious shoppers from around the world. Alison's work has been featured in Forbes, Business Insider, Tom's Guide, TechRadar, and Creative Bloq.
When she's not reviewing mattresses or waxing poetic about her favorite face cleansers, Alison can be found teaching/training in martial arts, streaming underrated TV series, trying new recipes, and singing karaoke until her throat is hoarse.