Simba Hybrid Pillow review
If an innovative filling is integral to the best pillows, this design is one to consider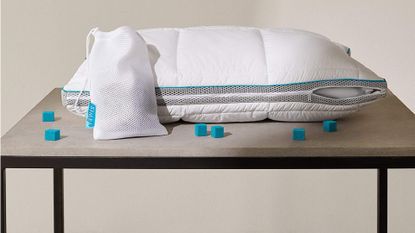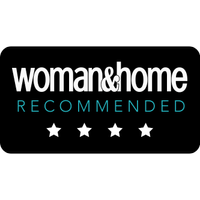 (Image credit: Simba)
The versatility of the unique Nanocubes and space-age tech helps to make this a pillow for all seasons and most sleepers
Reasons to buy
+

Loose filling allows for bespoke alteration

+

Removable cover for washing

+

Spare mesh bag for neatly storing unused cubes

+

Option to buy more Nanocubes if needed
Reasons to avoid
-

Needs occasional plumping

-

On the expensive side
Why you can trust Woman & Home Our expert reviewers spend hours testing and comparing products and services so you can choose the best for you. Find out more about how we test.
woman&home newsletter
Sign up to our free daily email for the latest royal and entertainment news, interesting opinion, expert advice on styling and beauty trends, and no-nonsense guides to the health and wellness questions you want answered.
Thank you for signing up to . You will receive a verification email shortly.
There was a problem. Please refresh the page and try again.
Most memory foam pillows come as a single – often quite bulky and firm – layer of foam, so if you're looking for the best pillow (opens in new tab) and that's not what floats your boat, the Simba Hybrid is a welcome step away from tradition; rather than one large wedge, it features hundreds of individual foam cubes. Another area where it differs from more classic foam options is in the space-tech infused cover. Helping to regulate temperature, making sure it's cool in the summer and cosy and warm in the winter, this is a real bonus if you're currently struggling through hot, sweaty nights.
On Simba's own site, the Hybrid comes in at a fairly hefty £99 and it is only slightly less if you buy at Argos (£95). There are no special offers currently, but often bed-in-a-box companies will offer free pillows if you buy a mattress from them so if you do need a total upgrade, it's worth checking before you invest.
Want more expert pillow reviews?
Read our in-depth reviews on the Emma Memory Foam Pillow (opens in new tab) and the Panda Memory Foam Pillow (opens in new tab) now.
First impressions
This pillow is unlike any other we tried. With its two-sided construction and innovative 'cubed' filling, it truly felt like a quality product – important to note, as it's not a cheap choice by any measure. The quilted-cotton outer felt both soft and cool to the touch, while the mesh border looked suitably high-tech to support Simba's 'space-age' technology claim. It definitely has heft and loft, too, something that was initially a concern for our back sleeper looking for the best pillow for neck pain (opens in new tab), who feared that it might be much too full for them to sleep comfortably. But more of that later…
What is it like to sleep on?
The Simba pillow really is unlike any other, in that you can't – and shouldn't – just pop on a pillow case, throw it on the bed and forget about it. First, you need to customise it to suit your sleep style.
Inside the zipped cotton outer cover is another zipped bag, which contains 640g of breathable and lightweight foam Nanocubes. This is where the bespoke element comes in. If you prefer a higher, firmer pillow, leave all the cubes in. To create a lower loft (or more medium feel), take out several handfuls of the cubes and store them in the supplied mesh bag. Our testers found a little experimentation was necessary to find out exactly how many cubes to take out or leave in but, to attain what is essentially a bespoke pillow, it's worth trying different options.
Over a few nights, we took away and added handfuls of the cubes in order to find our optimum level for comfort. Our side sleeper found that just removing two or three large handfuls produced the right base. Meanwhile, our restless/ back sleeper, who was after a lower loft but still a medium sleep, found removing a very precise five handfuls was best for them to get a good night's sleep. Another bonus is that both sleepers felt their pillows stayed at just the right temperature throughout the night. Not needing to flip the pillow to the cool side was a real result for our hot sleeper in particular, who was used to waking in the night to do just that with other pillows.
Will it suit my sleep position?
Complete with all, or nearly all, of the cube filling, it's a good fit for side sleepers who need a pillow that's on the firm side. It gave excellent support in the gap between the neck and shoulder, resulting in markedly reduced morning aches and pains. For back sleepers, we found it best to remove at least four or five handfuls of the Nanocubes for a less plumped, more medium sleep feel. We also tried taking out most of the cubes to see if it worked as well for our restless sleeper, who changes position multiple times in the night, but the result was a pillow that felt a little too thin and sparsely filled. As such, we wouldn't recommend it for a dedicated tummy sleeper.
What's it made from?
The exterior is soft Jacquard cotton, coated with Stratos – Simba's active temperature regulator – while the interior consists of a polyester casing filled with 640g of memory foam Nanocubes.
How easy is it to care for?
It's pretty easy to keep fresh and clean. Simply remove the inner pouch containing the Nanocubes and pop the cover in the wash at 40 degrees.
Any special features?
In addition to the innovative foam cube interior, the cover features a Stratos infused cover – in layman's terms, that's an astronaut suit-inspired temperature regulator, which absorbs, stores and then releases heat just when you need it. Below that is an Aerelle cooling layer, which combines with the mesh border to help provide maximum airflow. This definitely makes it a bit of a game-changer, especially if you're experiencing unpleasant night sweats.
Any free trials or guarantees?
Unlike the mattress of the same name, there is no extended trial period – you can't test it to see if you like it, then send it back if you find it's not for you. However, the flexibility that this pillow offers means we think it's unlikely that you'll want to do that anyway. There is, however, a 1-year guarantee should your pillow be faulty.
Summing up… the Simba Hybrid pillow
It was the bespoke element to this pillow that really sold it to our testers. Being able to remove as much (or as little) of the clever cubed filling as necessary allowed us to experience as individual a sleep experience as we could possibly imagine. That said, it does take a few nights to get the right mix of loft, supportiveness and comfort. Also, as what's right for one won't be right for all, there's no sharing of pillows. Once you've hit the sweet spot though, you're unlikely to want to swap. Which is just as well as, at £99 and with no offers of any substance online currently, it's one of the most expensive, non-feather-and-down pillows that we tested.
SPECIFICATIONS
Size: 50 x 75cm
Filling: Memory foam cubes, microfibre, cotton
Sleep position: All, but best for side and back
Comfort: Adjustable – firm to medium
Trial period: No
Guarantee: 1 year
RRP: Hybrid Pillow, £99, Simba
Ysanne Brooks comes from a family of wordsmiths, artists and jobbing journalists. Among other things, her somewhat lengthy career includes 10 years working on specialist magazine 25 Beautiful Kitchens, nine of those as editor.
For more years than she cares to reveal in public, she's opined on planning, designing and buying for all areas of the home. She's too long in the tooth to be a tech geek but she knows what's what when it comes to beautiful, useable products that make modern living just that little bit more comfortable.