PANDA memory foam pillow review
This environmentally friendly PANDA memory foam pillow proves that the best pillows offer something extra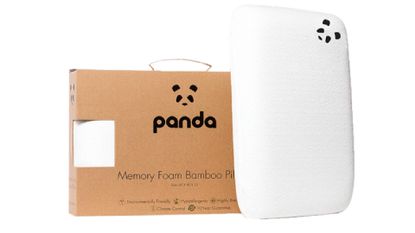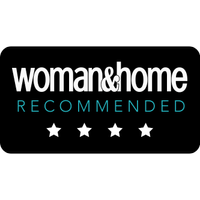 (Image credit: Panda )
If you're a side or back sleeper who experiences overheating at night, this is a good memory foam choice.
Reasons to buy
+

Hypoallergenic filling and bamboo fibre cover

+

30-night trial period

+

Long guarantee

+

Temperature regulating for cool nights
Reasons to avoid
-

Not suitable if you sleep on your front
Why you can trust Woman & Home Our expert reviewers spend hours testing and comparing products and services so you can choose the best for you. Find out more about how we test.
There are plenty of memory foam pillows on the market and, for the most part, they contain the same materials – just in slightly different forms and amounts. If you're looking for the best pillows (opens in new tab) fabricated from this particular material, the Panda Memory Foam pillow stands out from the pack; its wonderfully soft outer cover, made with a bamboo-fibre mix, boosts its eco credentials while also adding a little extra something. Meanwhile, its OEKO-TEX standard shows it is certified to be free of chemicals and harmful substances, so you're assured of a comfortable, cool and allergy-free night's sleep.
A single Panda bamboo pillow is currently priced at £36.35 at Amazon but the price changes regularly, so it's always worth keeping an eye out for any reductions. It costs £44.95 direct from Panda, but if you invest in two, the price reduces to £79.95 – a saving of almost £10.
Want more expert pillow reviews?
Read our in-depth reviews of the Emma Memory Foam Pillow (opens in new tab) and the Simba Hybrid Pillow (opens in new tab) now.
First impressions
The pillow comes neatly packaged in a cardboard box that concisely lists all its selling points on the outside. At first glance, the pillow itself is pretty deep and fairly firm, while the antibacterial and hypoallergenic bamboo fibre cover is wonderfully soft and feels luxurious. At just 60cm long it's slightly shorter than the standard 70cm but that didn't feel like an issue, even when it was placed on a king-size bed. We liked the fact that the bamboo cover can be removed easily for washing, too, while the memory foam layers inside are further protected by an inner mesh that helps to keep them fresh.
What is it like to sleep on?
It definitely seemed to elevate the head at an angle, so we were briefly concerned that it might be too high to comfortably align the head and neck. After a few moments of resting, however, we realized that although it still felt fairly firm, the pillow had enough give to gently cushion the head and neck without putting strain on the spine. After testing for several nights there was no sign of any neck issues; in fact, for our tester who spends most of the day at a computer, they found they were less stiff in the neck and particularly the upper shoulder area than usual after a hard day at the keyboard. This means it could also be one of the best pillows for neck pain (opens in new tab) We also noticed that the bamboo cover helped to keep both testers cool through the night, something our overheating sleeper really appreciated.
Will it suit my sleep position?
While our back sleeper was perfectly cushioned and cosy throughout the night, our restless sleeper had a few issues. When in the side position, the pillow again cradled the head, allowing for both softness and support between the neck and shoulder but when the tester turned on their tummy, it was just too deep and had too much give to be comfortable. That said, they also experienced much less tossing and turning during the night than usual, which could have been the result of the pillow holding them firmly but gently in position, meaning they were less likely to move around. Another factor could be due to our combining it with Panda's Cloud duvet for the night, which also has temperature regulating properties.
What's it made from?
The core of the pillow comprises three layers of lightweight, pressure-sensitive hypoallergenic visco memory foam; the centre is firm while the outside has more give. Meanwhile, the soft and silky-to-the-touch outer cover is made from a mix of 40% bamboo fibres and 60% polyester. As bamboo is a fast-growing sustainable resource – when compared to cotton it uses 70% less water – this pillow is a good choice if you're concerned about environmental impact.
How easy is it to care for?
As with other memory foams, the inners are not washable; you can just spot-clean with a damp sponge. The bamboo outer cover unzips and can be popped into the wash at 40 degrees when a refresh is necessary.
Any special features?
Bamboo is naturally reactive to fluctuations in temperature and therefore will help you to feel warm in winter and keep you cool in summer. This breathable technology also provided protection against bed-time nasties such as allergies, dust mites and bacteria. If you're an animal lover it's good to note that Panda donates a portion of profits made to protect the at-risk habitat of its wild namesake.
Any free trials or guarantees?
Apart from some offerings by bed-in-a-box mattress makers, most pillow manufacturers don't offer free trials – presumably because it's hard to recycle a pillow once it has been used. Still, Panda seems quite happy for you to try its pillows for 30 nights to discover whether they are the one for you or not. There's also a long guarantee of 10 years (admittedly, we've yet to keep a pillow that long before consigning it to pillow Heaven). The brand also runs occasional online promotions, for instance offering money off if you buy more than one pillow.
Summing up… the PANDA Memory Foam pillow
Memory foam pillows are very much a 'Marmite' choice – some love them, some loathe them – but for those who are sold on the benefits and do want a firmer, more supportive base, this gets the thumbs up from our testers. Mostly that's because of the cooling properties and ultra softness of the bamboo cover, which helps to avoid constant stirring or waking due to discomfort or overheating. That said, this is definitely not the pillow for those that sleep mostly on their front as the loft feels too high. Multi-position sleepers may also not reap the benefits either, as constant wriggling combined with the pillow's relatively short length could see it moving around the bed a bit.
SPECIFICATIONS
Size: 40 x 60cm
Filling: Visco memory foam
Sleep position: Back and side
Comfort: Medium to firm
Trial period: 30 nights
Guarantee: 10 years
RRP: Panda Memory Foam Bamboo Pillow, £36.35, Amazon
Ysanne Brooks comes from a family of wordsmiths, artists and jobbing journalists. Among other things, her somewhat lengthy career includes 10 years working on specialist magazine 25 Beautiful Kitchens, nine of those as editor.
For more years than she cares to reveal in public, she's opined on planning, designing and buying for all areas of the home. She's too long in the tooth to be a tech geek but she knows what's what when it comes to beautiful, useable products that make modern living just that little bit more comfortable.