The best pillows for side sleepers—for both comfort and support
The best pillows for side sleepers should keep your head and neck supported, whilst guaranteeing a peaceful night's rest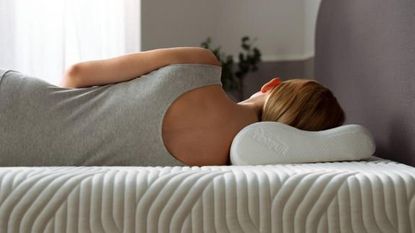 (Image credit: TEMPUR)
woman&home newsletter
Sign up to our free daily email for the latest royal and entertainment news, interesting opinion, expert advice on styling and beauty trends, and no-nonsense guides to the health and wellness questions you want answered.
Thank you for signing up to . You will receive a verification email shortly.
There was a problem. Please refresh the page and try again.
Finding the best pillows for side sleepers can be difficult, especially when you're trying to tick both the support and comfort boxes. So, we've tested and reviewed some of the best pillows out there, to help you choose the right one for laying on your side as opposed to your back.
For side sleepers, a good pillow should hold your head in alignment with your shoulders and spine. This is why side sleepers need a deeper level of support—and often a thicker pillow—than a back sleeper, for example. Thinner pillows simply won't provide enough cushioning, while ones that are too thick can over-compensate and be just as detrimental to your head's alignment as something that has no support at all. Look for one that holds your head in place without placing any strain on your neck, and go for a medium to firm support if possible.
We assessed a range of pillows from popular brands (including Tempur, Ikea and Soak & Sleep) over multiple nights, in order to find the best pillows for side sleepers on the market at the moment.
How we tested the best pillows for side sleepers
Why you can trust Woman & Home Our expert reviewers spend hours testing and comparing products and services so you can choose the best for you. Find out more about how we test.
We took on the task to find the best pillows for side sleepers, risking our necks (literally!) to find designs that weren't so full they gave us neckache, or so flat they felt as though we may as well not be using a pillow at all. We tried a range of designs over four nights with varying fillings, material, shape and price points.
We specifically looked at:
Comfort—how comfy and squishy did the pillow actually feel whilst lying on it? Did we sink into it, or did it feel firm and supportive? Did we feel like one pillow was enough, or would the average side sleeper need two for optimal spinal alignment?
How our bodies felt after sleeping—did we wake up without aches and pains, or did our neck and shoulders feel tight and sore? Did we wake up feeling relaxed and well-rested, or were we recovering from a bad night's sleep?
Ease of maintenance—how easy was each pillow to clean, and do they plump up well and keep their shape? Plus, would they fit a normal pillowcase and do they look good generally in a bedroom?
So if you're in need of a new pillow (see how often you should change your pillows here), or simply need one that better supports your side sleeping, see our list of expertly tested options below.
The best pillows for side sleepers according to an expert
1. Tempur Original Support Pillow
Best pillow for side sleepers overall
Specifications
RRP: $109/£95
Filling: TEMPUR® material
Cover: 100% polyester knit hypoallergenic
Firmness: Firm
Removable cover: Yes
Size: W61 x L31x H10
Guarantee: Five-year limited warranty
Reasons to buy
+
Ergonomic and supportive design
+
Removable cover
+
Available in three different heights for personalized sleep experience
Reasons to avoid
-
Irregular shape to use with pillowcases
-
Higher price point
This beautifully ergonomic pillow has been designed specifically for side sleepers, with a unique shape that promises to follow the natural curve of your body and keep your head in perfect alignment. We had high hopes for this one, having been fans of Tempur's mattresses and pillows for a while (they sell some of the best pillows for back pain), and we're glad to report that it didn't disappoint. Made from the iconic TEMPUR® material, born from NASA technology, this pillow feels instantly responsive and pretty much molded around our tester's head when we laid on it.
It's a firm pillow, so no feathery-light texture here, but the fact that it adapts to pressure means you get the support you need without feeling that your neck is strained in an uncomfortable position. The firmness also helps the pillow to stand up, should you want to sit back against it, and we found absolutely no difference in support after four days—it definitely holds its shape well. We tested the Queen Medium, but there are two larger sizes available and we'd suggest you try these out before committing because the height of the pillow does make a difference to the support depending on your size. Our only gripe is the fact that because it's a unique shape, you can't use this pillow with regular pillowcases. But that's a small price to pay for a design that's great for side sleepers, and also one of the best pillows for neck pain on our list.
2. Ikea Rosenskarm pillow
Best value pillow for side sleepers
Specifications
RRP: $14.99/£19
Filling: Memory foam
Cover: 99% polyester 1% elastane
Firmness: Firm
Removable cover: Yes
Size: W50x L33 x H12cm
Guarantee: No
Reasons to buy
+
Different heights that supports both side and back sleeping
+
Ergonomic design
+
Fantastic price—great value-for-money
Reasons to avoid
-
Also an irregular shape to use with pillowcases
-
Lacks a premium feel
If you're looking for a pillow that's not too costly, then you'd do well to consider this option from Ikea. Similar in shape to that of the Tempur design, but at a fraction of the price, the Rosenskärm may not have the same quality feel to it, nor the same history and research into the technology, but it still makes a good ergonomic choice if you like to sleep on your side.
Two layers of foam (one soft and one more dense) offer good support and what we particularly like about this design is that if you generally switch between back and side sleeping during the night, you can use either the higher or lower part of the pillow, depending on what suits you best. We found this pillow slightly higher in comparison to the Tempur option, which meant it did place a bit more strain on the neck for our tester—as such, we suggest it would work best for those with broader shoulders. Again, it stood up well, didn't lose its shape, and has removable covers, which combined with its support and comfort made this a solid contender for our best pillows for side sleepers round-up.
3. Scooms Hungarian Goose Down Pillow
Best luxury pillow for side sleepers
Specifications
RRP: $132.69/£99
Filling: Hungarian goose feather and down
Cover: 100% sateen cotton
Firmness: Medium
Removable cover: No
Size: W75 x L50cm
Guarantee: Three years
Reasons to buy
+
100% naturally anti-allergy
+
Ethically sourced
+
Available in two sizes
+
Plump and supportive yet soft and cozy too
Before we talk to you about how this pillow performed during testing, we want to point out how much we love its eco-friendly factors. It comes in a reusable fabric bag and recyclable cardboard box, with a Downafresh Certificate to state that Scooms' down is ethically sourced, traceable and rigorously tested. Plus it has a No-mite Anti-Allergy Standard certificate, proving its usefulness for house dust mite allergy sufferers. Back to its performance though: when someone says the words 'goose down', we often think of a super-soft pillow that flattens into nothingness—not ideal for a side sleeper. However, we were pleasantly surprised with this medium-support design that's actually pretty plump and yes—is as soft and light as a feather—but also springs back almost instantly after each night's sleep. After the fourth night, we gave our pillow a quick plump and it was exactly as we'd tested it on night one.
Another thing we should mention is that one of the benefits of goose down is that it provides three to four times more air circulation than synthetic materials. This means moisture escapes quicker, and so if you're a hot sleeper, or your bedroom is generally humid, then it's a particularly beneficial pick. It didn't make our top spot, but only because side sleepers generally prefer a slightly firmer feel. However, it's easily supportive enough and a fantastic option for those after a pillow with a luxurious look and feel.
4. Panda Memory Foam Bamboo Pillow
Best firm pillow for side sleepers
Specifications
RRP: $54.62/£40.46
Filling: Memory foam
Cover: Bamboo
Firmness: Medium-firm
Removable cover: Yes
Size: W60 x L40 x H12cm
Guarantee: Ten years
Reasons to buy
+
Sustainable and eco-friendly
+
Antibacterial and hypoallergenic
+
Long guarantee
+
Personalized—comfort will improve the longer you sleep on it
Reasons to avoid
-
Long length (not ideal for compact beds)
-
Firmness might not suit everyone
While our tester didn't find the Panda pillow to be the perfect fit for her, what it does offer is good support for those that prefer a firmer feel from their pillow. Think of this pillow as a fine wine, which gets better (read: more comfortable) with time—the more it's slept on, the more it molds to your head and neck, without losing its shape or density, something that can't be said for many other pillows. It's pretty solid, which makes it even more surprising that it's so comfortable. If you're after a pillow that stays solid and doesn't flatten over time, then this is a great option.
It's slightly bulkier than some of the other designs we tested, so we'd recommend it for larger beds rather than smaller ones. Another great plus point for this pillow is its eco-credentials. The removable bamboo pillow cover is naturally breathable and sustainable (bamboo is an organically grown plant, so it's kinder to the environment), and it is antibacterial and hypoallergenic. We were impressed with the plastic-free packaging too. So convinced is Panda that you'll love its vegan-friendly pillow, it offers a whopping 10-year guarantee. A good contender that could transform the way you sleep.
5. The Fine Bedding Company Boutique Silk Pillow
Best hotel-like pillow for side sleepers
Specifications
RRP: £31.50 (not available in the US)
Filling: 90% Smartfil® Microfibre, 10% Pure Silk
Cover: 100% sustainably sourced cotton
Firmness: Firm
Removable cover: Yes
Size: W74 x L48
Guarantee: 10 years
Reasons to buy
+
Luxurious feel
+
Incredibly comfortable
+
Machine washable
+
Matching duvet available
Reasons to avoid
-
Softer feel may not suit those that like a firmer support
Now, we all love the sensation of sinking into sumptuous bedding and soft hotel pillows when we stay at a luxurious hotel or spa (don't we?), and this ultra-comfortable pillow is designed exactly for those who want to emulate that feeling at home. A beautifully rich silk-blend filling is encased in a soft-touch cotton cover that had us instantly feeling relaxed and our head incredibly supported as we lay on our side. We were surprised at how well this pillow reshaped after use too, and while we'd be interested to see how it does after a few more months, our test left us feeling confident that we'd still be happy with it for a long while to come. This pillow also has an elegant and timeless stripe design which we love, and there's a matching duvet available should you want the full set. Beautifully comfortable, we have no hesitation in recommending this as one of the best pillows for side sleepers.
6. Piglet in Bed Merino Wool Pillow
Best cooling pillow for side sleepers
Specifications
RRP: $99/£59
Filling: 100% Merino Sheep's Wool
Cover: 100% organic cotton
Firmness: Medium
Removable cover: No
Size: W66 x L50
Guarantee: No
Reasons to buy
+
Three levels of firmness available—can be personalized
+
Temperature regulating thanks to filling
+
Can be machine washed
Reasons to avoid
-
No removable cover
-
Takes longer to reshape
If you know exactly what firmness you like in a pillow, Piglet's selection is ideal, as it offers three different supports, from soft to firm, so you can tailor your choice to your needs. We trialed the medium firmness and found it to be particularly comfortable when sleeping on our side, and, although we did need to give it a plump each night to disperse the wool out evenly and help it bounce back into shape, it was easy enough to do. This pillow also made a comfortable back rest when we sat up in bed to read.
One particular selling point to this option is the filling. The best cooling pillows can be hard to come by, but the merino wool in this pillow is great for regulating your temperature during the night, ensuring you don't wake up too hot or cold. When it comes to cleaning, the pillow can be washed in a machine, however Piglet recommends laying it to air out in the sunshine or washing line at least four times a year, so the sun can sterilize the wool. A great all-rounder with fantastic personalized firmness and cooling properties.
7. Soak & Sleep Hungarian Goose Down Pillow
Best fluffy pillow for side sleepers
Specifications
RRP: From £60 (Not currently available in the US)
Filling: Hungarian goose feather and down
Cover: 280 thread count cotton
Firmness: Medium-firm
Removable cover: No
Size: W75 x L50cm
Guarantee: Five years
Reasons to buy
+
Super comfortable
+
Range of sizes
+
Good bounce back shape
Reasons to avoid
-
Broad shoulders may need extra height
We've called this one the 'best fluffy pillow' which may sound odd—but it's actually a very worthy category, as fluffy pillows can be some of the most comfortable and cloud-like of all. Many down pillows can be too low for side sleepers, but this goose-down design was not only indulgently light and soft, but also beautifully supportive as we slept. Although at first it had that tell-tale 'crinkling' sound often found with these types of pillows, once we were used to that we got on with it very well.
Another factor we liked, is that while goose down isn't necessarily the filling you might consider if you're an allergy sufferer, this pillow is an exception. It is washed in naturally warm spring water with fewer chemicals, and it's cased in NoMite fabric, which is ideal for anyone that suffers from housedust mite allergies. Soak & Sleep are known for all-natural pillows—their Soak & Sleep New Zealand Wool Standard pillow is also brilliant for those with allergies. One thing we would point out about their Goose Down pillow is that although it was high enough for us, anyone with broad shoulders may need to go for a larger size than the standard that we tested.
8. Brinkhaus Down Surround Pillow
Best pillow for side *and* back sleepers
Specifications
RRP: $119/ £87
Filling: Goose feather and down
Cover: 100% Egyptian long staple cotton
Firmness: Medium
Removable cover: No
Size: W75 x L50cm
Guarantee: No
Reasons to buy
+
Range of softness options
+
Works well for sleepers who move a lot in the night
+
Reshapes well after plumping
Reasons to avoid
-
High price
-
Not as firm as others
Not everyone sleeps on their side all night long, and if you're someone who alternates between back and side, then you need a pillow that can adjust with you. That's where this design from Brinkhaus (available at Amara) comes in, with its super-soft down filling that makes it the perfect height, whichever way you're sleeping. Sleep mostly on your side? Then choose a firm option and give it a good plump each morning after use. Mostly a back sleeper but switch to your side occasionally? Then you may prefer the softer, thin pillow option which won't put such a strain on your neck. Our only gripe is that it's recommended to spot clean or dry clean only, but that's a small price to pay for one of the best pillows for side sleepers, which is super soft, easy to adjust and gave us four nights of truly quality sleep.
What are the benefits of sleeping on your side?
Being a side sleeper isn't actually thought to be the most beneficial position for your health—laying on your back takes the top spot. But there are still many health benefits associated with it, according to a 2017 study from the Norwegian University of Science and Technology (opens in new tab) on sleep positions. These include:
Reducing joint pain, especially in your upper body
It can help to reduce snoring (back sleeping can make it more likely)
Side sleeping can give you better gut health—it is generally a better position for digestion
For the same reason, it can help to ease issues such as heartburn and bloating
Of course, one of the few drawbacks of side sleeping can be niggling shoulder pain, which often occurs if you're sleeping on your side but your head isn't in complete alignment with your shoulders and spine. In order to rectify this, try alternating your sleeping positions throughout the night, and try to sleep on your back as much as you sleep on your side.
As an interior stylist and writer with a penchant for way too many vases and cushions, Laurie Davidson eats, sleeps, and breaths interiors. She's lucky enough to have been in the industry for over 20 years, working across TV and magazines, and alongside some of the top UK brands and names.

If Laurie isn't knee-deep in boxes for a shoot or preparing mood boards, you'll most likely find her testing appliances and accessories for buyer's guides. With a wealth of experience, features, and shoots under her (stylist's) belt, Laurie has become a much-called upon expert.