Why good sleep hygiene is so important for a great night's sleep
Learning good sleep hygiene is simple–and will help you drift off easily every night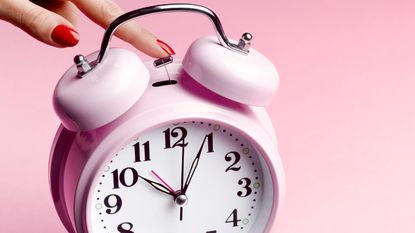 (Image credit: Getty)
According to sleep experts, good sleep hygiene is the key to getting the best night's sleep. An estimated one in three of us fail to get a good night's sleep every night, and this could all be down to our level of sleep hygiene.
But our poor sleep doesn't have to turn into an ongoing nightmare, according to sleep expert Dr. Neil Stanley who says, "the beauty of most sleep problems is that we have the power to solve them ourselves". A few lifestyle tweaks to improve sleep hygiene could help you fall asleep more easily and sleep through the night. These changes may include investing in one of the best pillows, trying a temperature regulating blanket, or simply getting into a better bedtime routine. In fact, doing at least 30 minutes of exercise, five times a week, ideally outside, could improve your sleep hygiene. Don't have a gym membership? Something as simple as a brisk walk will do the trick.
Are you still asking yourself why is sleep hygiene so important and how you can you improve yours? Here's everything you need to know.
What is sleep hygiene?
"Sleep hygiene is made up of a number of contributing factors," says Silentnight's sleep expert Dr. Nerina Ramlakhan. "This includes a good daily and nightly routine, a comfortable bedroom environment, our sleep schedule, bed comfort and the ability to switch off and relax when our head hits the pillow at night."
And, there are big benefits to having a good sleep hygiene routine. "Good sleep hygiene enables you to wind down and fall asleep easier in the evenings and teach you how to wake up early feeling rested and refreshed," says Dr. Ramlakhan. It can also tackle sleep anxiety and help you know how to get back to sleep fast if you wake in the night.
Signs of poor sleep hygiene
According to The Sleep Foundation, between 10% and 30% of adults suffer with chronic insomnia—defined as long-term difficulty falling asleep or staying asleep, or both.
"The effects of poor sleep hygiene differ for every sleeper," says Dr Ramlakhan. "Some of the most common indicators include difficulty falling asleep, frequent interruptions whilst sleeping and feeling tired or switched-off during the daytime."
If you're unsure if you have poor sleep hygiene, Dr Ramlakhan explains the symptoms to look out for:
Trouble concentrating
Poor sleep hygiene can result in exhaustion which can limit our concentration span, creativity and overall thinking capacity.

Weakened immunity
Sleep and rest are required to strengthen the immune system which helps us to fight off all kinds of germs and infections. If sleeping becomes irregular, the immune system weakens and makes us more vulnerable to illness and infection.

Weight gain
Sleep deprivation can lead to an imbalance of chemicals in the brain, which can often result in overindulgence, even after eating a full meal.

Impact on mood
Prolonged difficulty sleeping can result in irritability and tetchiness, as well as more long-term mental health problems, such an anxiety symptoms and depression.

Physical health issues
Poor sleep hygiene can also cause physical issues such as eczema, psoriasis, headaches, migraines and hormonal and menstrual irregularities.
Sleep hygiene tips
1. Develop a sleep schedule
"One of the best things you can do to help you to get your circadian rhythm back in sync and feel fully refreshed during the day is to establish a set sleep schedule," says Rob Hobson, Healthspan's head of nutrition and author of the Art of Sleeping. "This means going to bed at the same time every night and waking up the same time each morning."
How long you sleep for is up to you and what you feel your body needs. "You can follow the natural flow of your circadian rhythm by going to bed at around 9/10pm," says Rob. "This is when your body naturally releases the sleep hormone melatonin. This secretion stops naturally at around 7am."
The benchmark of eight hours is a useful one to live by but, of course, not everyone manages to stay asleep.
"One method is to also work in sleep stages as it is thought that you will feel more fully refreshed if you wake at the end of a full cycle," says Rob. "You can work in cycles and calculate the number of hours sleep accordingly. So if you want to get five full cycles then that would mean getting 7.5 hours sleep."
You may also have to work with your chronotype to some degree. This is how alert you feel in the morning and how tired you feel in the evening, and varies from person-to-person as part of their DNA. If you are a "night owl" then you will naturally feel sleepy much later into the night than a "morning lark".
"You may need to adopt a way of life that allows you to wake later into the morning, which may mean scheduling work later into the day or scheduling work hours to start later and finish later," says Rob.
2. Create a bedtime routine
"Most people flop into bed after a busy day without giving their brains or body a chance to unwind," says Dr. Stanley (opens in new tab). "Quite simply they've forgotten how to relax."
Establish a 30-minute wind-down bedtime routine each night to program your brain and body for sleep.
"Find something which relaxes you," says Dr. Stanley. We're unique, so different things work for different people but try these basic guidelines for relaxing in the evening:
Have a warm bath
It dilates blood vessels in your extremities and cools the body once you leave the tub, mimicking the natural drop in temperature your body needs to sleep.

Enjoy a hot milky drink
Choose a bedtime drink, such as milk, that contains tryptophan, a natural sleep-promoting amino acid. Snacks, such as a banana or turkey sandwich contain it too, but you should avoid big meals late in the evening. You could also try relaxing with a variety of sleep teas.

Meditate or practice yoga
Try a breathing technique where you breathe through your nose, using your abdomen, not your chest. Breathe in for three seconds, then out for three. Pause for three seconds before breathing in again. Repeat for three minutes. You could also try some bedtime yoga to relax your body and mind or one of the best sleep apps.

Write a to-do list
At least an hour before bed, write a to-do list that will help you put the day to one side and focus on relaxing. Here, you can also record any common nightmares or dreams you have, and explore what they might mean for you so you can put your mind at ease in case they happen again in the night. This time is also great for recording what you're grateful for that day.

Avoid looking at a screen before bed
Swap an hour in front of the TV for a magazine or book instead. Avoid brightly lit screens as they stimulate, rather than calm, your brain.

Avoid strenuous exercise
Try not to exercise at least four hours before bed to give your body temperature a chance to cool.
3. Make your room more sleep-friendly
"Of all the things I talk about when it comes to sleep, the bedroom oasis is a game-changer and something many people do not pay enough attention to," says Rob.
There are a number of things you can do to create the perfect sleep oasis and promote good sleep hygiene.
Declutter your space
Mess causes stress, so make sure to tidy up your space every evening before getting into bed. If your bedroom is a workspace during the day, tidy up your desk and switch off any standby lights at the end of the day.

Prepare for the next day
"Lay your clothes out the night before for the day ahead to help calm a busy overactive mind," says Rob.

Check your mattress
If your mattress is more than 7-10 years old then think about replacing it–it could be causing you joint pain and poor sleep. A new mattress may be the solution. This is a big investment, so take your time to decide on what works best for you and shop around. You should also get up to speed with how to clean a mattress, as it's so important for your overall health.

Invest in the right bedding for you
Your pillows and mattress should be supportive and comfortable, but not too soft or too hard. Investing in the best pillows for neck pain could also help. Choose hypoallergenic bedding as "they are made of natural fibres, usually cotton, and not only do they ward off bugs that cause allergies but also help to maintain body temperature during the night," says Rob.

Keep the room cool and dark
Try blackout curtains or blinds, particularly in summer when sunlight streaming into your bedroom in the early hours can disrupt your sleep, and wear light, cotton nightwear to keep you cool.

Don't forget a little bit of luxury
Looking after yourself and implementing some self-care into your nighttime routine is so important. So, get that lovely scented candle burning before bed or invest in a soothing bed linen spray. "Try scents such as lavender, ylang-ylang or lemon balm–in fact, just use a scent that means something to you and helps you to relax," says Rob.
How does sleep hygiene change with age?
Experiencing changes in our sleeping habits as we grow older is incredibly common. "Whilst some may find it more difficult to develop a regular sleeping routine as they get older, some actually find sleeping easier," says Dr Ramlakhan. "It's crucial that good sleep hygiene remains a priority as we get older, as this can impact a number of age-related hormonal changes, such as the menopause."
Being responsible for the welfare of others can also have a huge impact on our own sleeping habits. Whether it's waiting for your teenager to return home from a night out or looking after an elderly relative, caring for others can make maintaining healthy sleeping habits difficult.
"The younger we are, the more sleep we need to enable growth and development, both physically and mentally. Without the required 9 to 10 hours of sleep per night, school-aged children are at a higher risk of slowed or stunted growth, behavioural problems and a host of mental health issues," says Dr. Ramlakhan.
Is your child struggling to sleep or are you finding it difficult to establish a bedtime routine for them? "Ensuring your child eats their evening meal and goes to bed at the same time every night will help to create a good routine and settling down for the night will become easier," says Dr. Ramlakhan. "A warm (not hot) bath will also help your child to feel relaxed before bed and choosing the correct mattress is critical to ensuring they have an undisturbed night's sleep."
Tanya Pearey has been a writer and editor in the health, fitness and lifestyle field for the past 25 years. She writes regularly for women's lifestyle titles including woman&home. She has also written for newspapers including The Daily Mail and Daily Express, and women's magazines in Australia.
Tanya is an avid runner and is lover of Parkruns and half marathons. She completed the London Marathon in under four hours – but that was 20 years ago! She's a keen tennis player and walker, having climbed Kilimanjaro and the UK's three highest peaks - Snowdon, Ben Nevis and Scafell Pike.