The best sleep teas for relaxing at bedtime
Sleep teas can help relax your body and mind for a better night's rest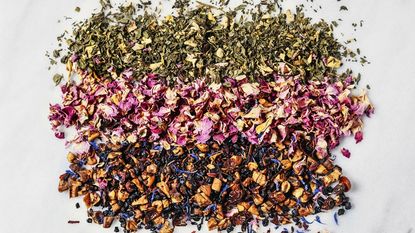 (Image credit: Getty)
If you're looking for a better night's sleep, you've no doubt thought about trying out sleep teas to see if they can really be of any help.
"There are a number of common reasons people don't sleep," says sleep expert James Wilson AKA The Sleep Geek. "Firstly, poor sleep can be genetic; we inherit our sleep, in terms of whether we're a good sleeper or a poor sleeper, our sleep type, our sleep needs and other aspects of our sleep from our ancestors."
But whether we are genetically good sleepers or poor sleepers, there are other lifestyle factors that can also affect our sleep.
"Things such as being too stressed and anxious, not winding down properly before bed or drinking too much caffeine or alcohol can all contribute to us not sleeping well," explains James, "as well as not going to a bed that works for our sleep type, having inconsistent wake up times, being too hot during the night or lying in bed when we can't get to sleep."
So we've delved into the world of sleep teas to see whether they can really help us get the rest we need. Because let's face it - after downloading all the sleep apps, experimenting with the best pillows and even trying CBD for sleep, there's only so much left we can try to help us get those much-needed zzzs.
Is tea good for sleeping?
Although there's little to no evidence to show that tea can have a sedative effect, herbal teas can help to relax the body and mind to promote easier rest.
"Any tea that doesn't include caffeine won't be adversely affecting our sleep," says James, "as caffeine directly impacts on the body's ability to wind down and we all have a different tolerance to it.
"However, herbal teas using ingredients such as lavender, camomile, cinnamon and lemon have been used for centuries as pre-sleep drinks and there is some proof that herbal roots like valerian can help, although the research does not specifically look at it delivered in the form of a tea.
"There is no real evidence that there is anything in tea that is helping us sleep from a scientific point of view," James adds. "Some of the ingredients have a relaxing effect, such as lavender or camomile, due to their smell, which helps the process of our heart rate dropping before bed - an incredibly important part of the pre sleep process in our bodies. They are also a great behavioural cue, so if you use them every evening, they are an indicator to the body, telling it "when we have this drink, the next thing we do is go to sleep".
"A cup of calming tea can create a mindful moment, helping us to slow down when the end of the day beckons," agrees Holly Lee-Huntley, qualified nutritional therapist at Pukka Organics. While Pukka Organics Ayurvedic practitioner Jo Webber adds, "Herbal approaches to sleep have been traditionally used to support natural functions for thousands of years. Nourishing herbal teas and remedies promote good sleep by soothing, calming and relaxing the body and mind."
What kind of teas help you sleep?
"The essential oils from certain herbs and flowers relax both the nervous system and our muscles, helping us to feel physically relaxed, enabling us to unwind," says Holly.
Holly and Jo suggest using sleep teas made of the following herbs:
Valerian tea
"Valerian is a strong nervine (a type of herb that aims to nourish and support the central nervous system) that relaxes tense muscles whilst also encouraging an undisturbed sleep, ensuring you wake feeling refreshed and ready for the day ahead," says Holly. "It promotes a sense of deep relaxation and improves the quality of sleep."
Lavender tea
"A renowned herb for settling frazzled nerves," says Jo. "The aromatic essential oils in this plant can help reduce difficulty falling asleep and prevent night-time wakening. I like to add a few drops of lavender oil to my pillow to help me drift off, too."
Chamomile tea
"Chamomile creates an overall sense of calm and relaxation in the body, helping prepare the mind for restful sleep and reducing anxiety," explains Jo.
"The essential oils in chamomile contribute to the anti-anxiety effect, while an antioxidant called apigenin acts on the brain to induce relaxation and improve sleep quality."
Ashwagandha
"Stress is normally at the heart of sleeping problems. Ashwagandha is an adaptogen (helping counteract the effects of stress) and calms the nerves," says Holly.
"It can be particularly beneficial for those who tend to feel 'wired', with insomnia caused by anxiety or stress."
Sleep teas to try
---
---
---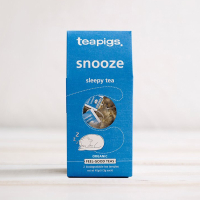 (opens in new tab)
Teapigs Snooze Sleepy Tea
In a departure from the traditional sleep tea, Teapigs blends lavender and chamomile with sweet apple to take the herbal edge off the taste.
A favorite for Sleep Geek James, who loves that "the flavours are more nuanced and it doesn't leave the drinker feeling like they are drinking a mugful of flowers!"
---
---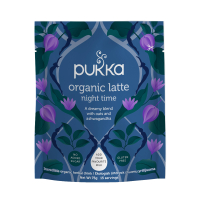 (opens in new tab)
Pukka Night Time Organic Latte
If your bedtime drink of choice is a hot chocolate rather than a watery herbal tea, then this clever latte will give you the best of both worlds with a silky blend of malty oat and nutty carob mixed with calming herbs – lavender and chamomile, ashwagandha and nutmeg.
---
---
With thanks to Sleep Expert James Wilson AKA The Sleep Geek (opens in new tab) and Pukka Organics (opens in new tab) experts, qualified nutritional therapist Holly Lee-Huntley and Ayurvedic practitioner Jo Webber.
Aleesha is a digital shopping writer at woman&home—so whether you're looking for beauty, fashion, health or home buys, she knows what the best buys are at any moment. She earned an MA in Magazine Journalism from City, University of London in 2017 and has since worked with a number of brands including Women's Health, Stylist and Goodto. A year on the w&h news team gained her invaluable insight into where to get the best lifestyle releases first—as well as an AOP awards nomination.