CBD for sleep: Could CBD help beat insomnia?
Taking CBD for sleep issues could be a natural alternative to popping pills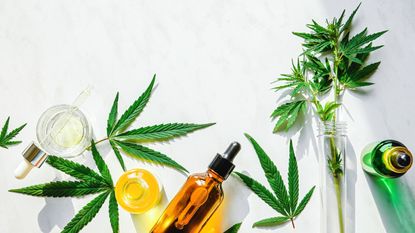 (Image credit: Getty Images / Anna Efetova)
woman&home newsletter
Sign up to our free daily email for the latest royal and entertainment news, interesting opinion, expert advice on styling and beauty trends, and no-nonsense guides to the health and wellness questions you want answered.
Thank you for signing up to . You will receive a verification email shortly.
There was a problem. Please refresh the page and try again.
Struggling with insomnia at night? Taking CBD for sleep issues could be the solution. If you've invested in the best pillow promising a great night's sleep, yet still spend hours tucked up in bed and counting sheep to no avail, it might just be the natural sleep savior you need.
You certainly wouldn't be alone in wanting to give CBD a try. It's had a huge surge in popularity, with products aiming to treat a number of different health concerns, including providing pain relief, helping relive stress and even soothing skin conditions. The popularity is partly down to the taboo around CBD reducing. Plus, more and more of us are looking for a natural approach to getting adequate sleep, rather than popping sleeping pills.
"There's a sense of CBD being a great untapped resource that's been obscured for too long behind the stigma attached to cannabis," says Simon Horth (opens in new tab) from Green Stem CBD.
But what really is CBD and how can help your sleep issues? Here's everything you need to know...
What is CBD?
Before you can start taking CBD for sleep problems, you should know what it is, just like any herbal remedy.
"CBD, or cannabidiol, is one of several compounds found in hemp, a variety of the cannabis plant," says Simon.
Unlike cannabis, it won't cause addiction or a 'high'. "CBD is safe as it's a non-psychoactive compound derived from the hemp plant. This is opposed to the marijuana plant, which contains THC, the compound that makes you 'high'," says Simon.
How will CBD help me sleep?
So, how exactly does CBD work in terms of helping you sleep? Here comes the science! "The way CBD works is by interacting with the body's endocannabinoid system (a network of receptors that interacts with cannabinoids to maintain vital functions throughout the body) to give a positive effect," explains natural health expert and chemist Dr Tim Bond (opens in new tab) from Dragonfly CBD.
"CBD oil helps with sleep and anxiety by causing moderate sedation through an action at the CBD receptors (small structures on body cells). These are found throughout the body, including the brain. Interacting with this receptor influences electrical transmission in the nerves." And this is what gives you a feeling of being more balanced.
"Relaxation and being relaxed is vital for helping us to maintain good sleep hygiene," explains Dr Bond. "If we aren't relaxed, if we have thoughts running through our minds or are too stressed or anxious, this puts the body into a fighting, alert mode. What we need for sleep is to be calm. And this is where CBD helps."
And that's not all. "The World Health Organisation has recognized that CBD may have the potential to help cure insomnia, as well as anxiety, which can prevent you from getting a good night's sleep," adds Dr Bond.
"Plus, research conducted in general practice among 397 people prescribed CBD oil found that taking CBD oil was associated with improvements in better sleep."
When should I take CBD for sleep?
With drops, capsules, and balms to choose from – the beauty of CBD is how adaptable it is for each user.
"There are a number of ways to take CBD, but I would recommend going for a seed-to-shelf product in the form of a CBD oil," says Dr Bond. "This is where you take the products as drops under the tongue (sublingually) as this helps to maximize absorption."
In terms of how much you should take and when, this is really down to the individual. "Some will take it at a certain time each day, some may just want to take it when they are experiencing periods of stress, anxiety, or interrupted sleep," says Dr Bond. "However, I would not recommend going over a maximum daily dose of 70mg. If you are just starting to use CBD oil, then I would start with three to four drops, two to three times a day. The dosage will also depend on the strength of the CBD being taken."
As with any medication, it's important to keep a note of what you are taking. "If you find yourself becoming reliant on CBD or are taking high amounts each day, there could be an underlying condition, and you should seek advice from your pharmacist or doctor," adds Dr Bond.
When should you expect to see results from CBD?
"The effects of CBD can last for around 3-4 hours if taken sublingually," says Dr Bond. "And you may feel the benefits after taking a few drops before dealing with a stressful situation."
In the longer term, you should expect to see results after a few weeks. "We all react differently, so there's no firm rule here. However, most people will start to see effects in a couple of weeks, after regular use," says Dr Bond.
CBD is not suitable for anyone under 18 years of age. It should not be used by pregnant or breast-feeding women. It is important you speak to your pharmacist or doctor before taking any new supplements or medication, and if you are currently taking other medication you must ensure there are no potential interactions.
Faye M Smith is an award-winning journalist with over 15 years experience in the magazine industry. Her continued work in the area of natural health won her the coveted title of the Health Food Manufacturers' Association (HFMA) Journalist of the Year Award 2021. Currently Health Editor across several brands including woman&home, Woman and Woman's Own, Faye specialises in writing about mental health, the menopause, and sex and relationships.