The best night cream formulas to hydrate, nourish and treat skin concerns overnight
Our beauty team selects the best night cream for every skin type and budget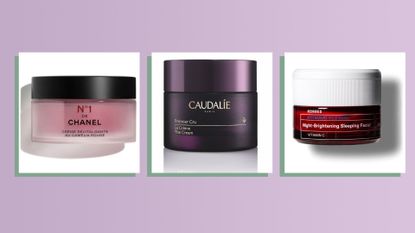 (Image credit: Future)
A lot of thought should go into choosing the best night cream for your needs. Is it proven to be effective? How comfortable is it to wear overnight? Does it really need to be different from your day cream? We'd argue yes, it does.
A good skincare routine should include a nighttime moisturizer that strikes the balance between making your skin feel good and working on concerns. The feeling good bit is fairly universal—most of us want something to moisturize dehydrated skin in a comfortable texture for our skin type. The other bit depends on what concerns you're working with. Those could be fine lines, lack of elasticity, sun damage or skin barrier issues such as sensitive skin and rosacea. It's worth pointing out that treatments containing skincare acids and retinol are usually the best skincare products to tackle textural concerns. But, the best night cream will be able to help things along generally and keep your skin happy while sealing in more aggressive actives.
Using a targeted overnight cream isn't just a nice bit of pre-bed self-care, it also works in tandem with your skin's natural overnight processes, such as cell renewal and toxin drainage. "Since most people sleep between seven and eight hours a night, applying night cream before bed can be more than beneficial, as sleep is a time when the skin works to repair itself," explains board-certified dermatologist Dr. Debra Jaliman, MD. No wonder usage is steadily rising according to Mintel data which found 47% of women now use a night cream, compared to 44% in 2019.
How to choose the best night cream for your skin
Why you can trust Woman & Home Our expert reviewers spend hours testing and comparing products and services so you can choose the best for you. Find out more about how we test.
When choosing a night cream, budget, product texture, and skin type are factors worth taking into consideration. Dr Jaliman advises selecting a night cream based on ingredients too:
For lines: "Ingredients to look for are retinol and niacinamide, which decrease fine lines and improve skin pigmentation."
For plumpness: "I recommend looking for products containing peptides, which help stimulate collagen production."
For hydration: "look for hydrating glycerin, ceramides, squalane, and hyaluronic acid."
For skin tone: "Looking for a night cream that doubles as a brightener? Make sure your chosen product also contains vitamin C," advises Dr Jaliman.
The best night creams, chosen by our beauty team
1. Kiehl's Ultra Facial Cream
The best night cream for most people
Specifications
RRP: $32/£28
Texture: Ultra-light cream
Targets: Moisture, replenishing, barrier protection
Key ingredients: Squalane, antarcticine, apricot kernel oil, sweet almond oil, salicylic acid
Fragranced: No
Reasons to buy
+
Uniquely silky texture
+
Excellent hydrating ingredients
+
Gently exfoliates congestion
+
Versatile for many skin types
+
Good value
This is night cream in its most honest form and it's hard to picture anyone trying Kiehls Ultra Facial Cream and thinking, not for me thanks. Why is that? Because at its heart this is just an excellent hydrator, which should be the true purpose of any night cream. It contains a combination of water-binding and barrier replenishing ingredients to pull in moisture and keep it there, with nourishing natural plant oils like apricot kernel and sqalane from olives to give skin an ultra-plumped feel. It also contains a tiny smidgeon of beta hydroxy acid salicylic, which helps keeps pores clear and congestion-free.
The light, slippery texture is unique and teeters towards the edge of gel-cream territory, but it is still luscious enough to satisfy those whose idea of the best night cream errs on traditional ointments. It sinks in quickly but leaves skin soft and bouncy-feeling, plus it layers well over other night treatments or under makeup, lending a juicy glow under natural makeup looks. It's unfragranced so smells of nothing in particular, just clean and mildly soapy. Due to that slippy formulation, a little spreads a very long way, making it very good value to boot. Honestly, what more could you want? We have a jar on standby at all times.
2. Caudalie Premier Cru The Cream
Best luxury night cream
Specifications
RRP: $119/ £85
Texture: Rich cream
Targets: Lines, skin tone, radiance, firmness
Key ingredients: Honokiol, resveratrol, hyaluronic acid, peptides
Fragranced: Natural origin fragrance
Reasons to buy
+
Unique patented skincare technology
+
Excellent ingredients
+
Beautifully rich texture
+
Subtle aroma
This is a perfect example of how the best night cream can combine multitasking benefits with the sensorial aspects of skincare. The main thing to shout about ingredient-wise is honokiol, a floral extract that works on our Ten-Eleven Translocation (TET) enzyme. This enzyme was discovered thanks to a decade-long partnership between Caudalie and Harvard Medical School's Dr David Sinclair, who concluded that TET can help reverse aspects of aging skin such as lines, firmness, dullness, and uneven tone and that honokiol can rev said enzyme and its effects up.
Aside from this impressive and unique science, this cream offers all the things we've come to know and love about Caudalie as a brand—the recyclable and refillable jar, the vegan formula of 97% natural origin, and the brand's signature antioxidant-packed resveratrol. It feels absolutely delicious in texture, super-creamy with a subtle, spa-like aroma. It is fairly thick so would make particularly welcome skincare for dry skin, but we loved it on combination skin too. This isn't the kind of night cream that disappears into nothingness, we awoke with a still-soft, plump, glowing complexion.
3. CeraVe Facial Moisturizing Lotion PM
Best budget night cream
Specifications
RRP: $13.99/ £10
Texture: Lotion
Targets: Inflammation, dryness, skin barrier issues
Key ingredients: Ceramides, hyaluronic, niacinamide
Fragranced: No
Reasons to buy
+
Dermatologist-vetted
+
Contains ceramides naturally found in skin
+
Reasonably priced
+
Unlikely to irritate
No, your eyes aren't deceiving you: this non-comedogenic lotion really can rival the best night cream options at five times its price, it's simply a matter of managing expectations. The key ingredients here are ceramides, hyaluronic acid, and niacinamide—all gentle giants that hydrate and condition the skin and are well tolerated by most skin types. Ceramides, which this brand has made their name on, are particularly good news for sensitive or reactive types. These natural lipids can help replenish your skin barrier, the outer layer of your skin that when depleted can cause irritation, inflammation, and a generally unhappy complexion.
Superstar ingredients aside, the texture of this lotion is impressive; it's lightweight and absorbs quickly into the skin without any greasiness or nose-tingling unnecessary fragrance. No, it isn't going to radically re-texturize your skin or shift hyperpigmentation (try the best Vitamin C serums for that) but what it can do is soothe, nourish and replenish over the top of your active treatments. The packaging may not be glamorous, but on a practical level, you can't knock a handy pump bottle. And if it's a simple, effective well-priced night cream you seek, this could be one of the best face moisturizers for the job
4. The INKEY List Symbright Moisturizer
Best night cream for radiance
Specifications
RRP: $12.99/£10.99
Texture: Light cream
Target issues: Skin texture. brightness, hydration
Ingredient callouts: Fermented clary sage, kakadu plum extract, red algae
Fragranced: No
Reasons to buy
+
Brilliant value
+
Rich in Vitamin C and other brighteners
+
Great for daytime too
+
Light texture
+
Vegan, unfragranced
Reasons to avoid
-
Not ultra-rich or luxurious
The Inkey List can generally be relied upon to provide certain things: Easy to understand products, active ingredients in effective doses, and basic-looking but functional design. This symbright moisturizer ticks all those boxes. And although the light monochrome tube doesn't exactly exude dressing table appeal, that utilitarian nature is exactly why many will find this the best night cream for their needs. Nothing is wasted here on fancy jars and fragrances, instead, the focus is firmly on ingredients and results.
The aim here is turning around dull skin, evening out any tone issues, and of course like all the best night creams, moisturizing. Two antioxidant-rich ingredients provide the brightening—kakadu plum extract and a complex based on fermented clary sage, then we also get moisture-binding glycerine and mineral-rich seawater for healthy hydration. The texture is a little looser than your average night cream and feels refreshing on the skin, making this one of the best night cream for oily skin buys as well as combination types. We found it left our face feeling soft after one use, with a healthy sheen and no residue, so you could happily use it night and day. It is not artificially fragranced which well be good news to many, and it smells faintly fruity in an inoffensive, subtle way.
5. Algenist Genius Sleeping Collagen
Best aromatic night cream
Specifications
RRP: $98/ £69
Texture: Slippy cream
Targets: Loss of firmness, fine lines and wrinkles, dullness
Key ingredients: Alguronic acid, vegan collagen, ceramides, mary thistle
Fragranced: Yes
Reasons to buy
+
Unique algae-based ingredients
+
Sleep-inducing aroma
+
Hydrates very dry skin
+
Plant-derived collagen
Reasons to avoid
-
Texture not for everyone
This luxury night cream may be pricey but, based on its unique ingredients list, it's definitely worth the splurge. The formula includes plenty of innovative ingredients, including the patented alguronic acid (an algae-based extract that has been shown in studies to boost skin hydration) plus active vegan collagen, replenishing ceramides, and Mary thistle. This combination of powerful conditioning ingredients can soften and strengthen the skin over time while improving texture and dullness.
So, what's it like to use? The most noticeable thing immediately is the aroma. Ultra-soothing botanical notes of rosemary and atlas cedar help create the best night cream scent of the bunch and one that would certainly help you wind down for your beauty sleep. The texture of this cream is a lot like your best body moisturizer—a silky and buttery feel that slips over the skin easily. However, because of this balm-like texture, those with oily skin may want to avoid this particular product. That aside, this is an enjoyable-to-use cream that should appeal to a wide spectrum of skincare fans. Vegans, in particular, won't want to miss this plant-derived collagen—especially since many skincare products still use animal-sourced collagen in their formulas.
6. No1 de Chanel Red Camellia Revitalizing Cream
Best sustainable-luxury night cream
Specifications
RRP: $110/ £84
Texture: Glossy cream
Targets: Plumping, dryness, radiance
Key ingredients: Red camellia extract, red camellia oil, hyaluronic acid, lactic acid
Fragranced: Yes
Reasons to buy
+
Glow-boosting formula
+
97% naturally derived ingredients
+
Eco friendly yet luxurious
+
Sits beautifully under makeup
Reasons to avoid
-
Fragrance won't suit everyone
The intersection between natural, eco-friendly skincare products and ultra-glam luxury ones tends to be pretty slim, but if anyone can make sustainable sexy, it's Chanel. This gorgeous refillable and 97% naturally derived moisturizer is part of a new category for the brand, No.1 De Chanel, spanning skincare, fragrance, and makeup (including one of the best foundations we've tried in ages) all connected by the inclusion of red camellia flower. In this night cream, we get skin-revitalizing red camellia included three ways: in oil form to deeply nourish, in extract form to work as an antioxidant and protect from dulling environmental damage, plus a base of red camellia flower water to refresh and hydrate.
That aside, skincare stalwarts make an appearance such as hyaluronic acid and we are particularly impressed by the inclusion of lactic acid, the gentle alpha hydroxy acid that will slowly refine skin texture over time and encourage a glow (which we found appeared pretty instantly on testing.) We also found this had one of the best night cream textures we tried—a 'Goldilocks' sweet spot of not too rich and not too light, and although it is fragranced, which may put off very sensitive types, it is, of course, a Chanel-formulated fragrance and as classy as they come.
7. Korres Wild Rose Night-Brightening Sleeping Facial
Best botanical night cream
Specifications
RRP: $48/ £34
Texture: Cream
Targets: Uneven texture, dullness, loss of firmness, dark spots
Key ingredients: Wild rose, vitamin C
Fragranced: Yes
Reasons to buy
+
Excellent plant extracts
+
Brightens uneven tone with vitamin C
+
Safe for nightly use
+
Superbly hydrating
Reasons to avoid
-
Added fragrance is quite strong
Roses aren't just loved for their good looks and pretty scent in the best rose perfumes. When used in skincare, extracts of rose boast powerful antioxidant effects that can be helpful in treating inflammatory skin disorders, according to a 2017 review published in the International Journal of Molecular Sciences. Pair that with brightening and protecting Vitamin C, and you have one of the best night cream options to send dullness and dark spots packing.
While this night cream's rich texture drenches dry skin in much-needed moisture, be advised that oily and acne-prone skin may find it feels a little bit much, so if you are looking for a skincare routine for acne ensure this doesn't cause congestion in your pores, or cause breakouts in combination areas. The fragrance is beautiful, floral, and not overpowering. Plus, if the smell of roses tends to relax you and can help soothe you off to sleep, this cream will surely earn its rightful place on your nightstand. However, if your skin is sensitive to fragrances or you just don't like scented products in general, you may want to stick with one of the non-fragranced night creams on our list.
8. Burt's Bees Night Cream Sensitive
Best night cream for sensitive skin
Specifications
RRP: $17/£12.99
Texture: Cream
Targets: Dryness, inflammation
Key ingredients: Cotton extract, aloe
Fragranced: No
Reasons to buy
+
Hypoallergenic, dermatologist- and allergy-tested
+
98.9% natural origin
+
Fragrance-free
+
Very affordable
+
National Eczema Association certified
Reasons to avoid
-
Consistency may be too thin for some
Burt's Bees night cream is a godsend for sensitive skin—it's lightweight, hydrating, and both allergy and dermatologist-tested. It also has glowing endorsements from reputable organizations: having been awarded the National Eczema Association Seal of Acceptance, the product is certified suitable for use on eczema and extremely reactive or sensitive skin.
Because this cream's texture is more like a lotion, those with acne-prone skin can benefit from picking this up as it provides moisture yet absorbs quickly without clogging pores, and leaves skin with a natural radiance. After all, while the best highlighters can add a pink or golden shimmery look to the skin, there's no substitute for a natural dewy glow. While the cream's thinner consistency has the benefit of easy absorption, it can feel a little watery to some—especially those with very dry skin looking for products that provide deeper hydration. However, if you have sensitive or reactive skin or favor a night moisturizer that's quickly and efficiently absorbed with little risk of pillow transfer, look no further.
9. L'Oreal Paris Revitalift Anti-Aging Night Cream
Best night cream for skin texture
Specifications
RRP: $11/ £8
Texture: Cream
Targets: Wrinkles, skin texture, dryness, loss of firmness
Key ingredients: Retinol, centella asiatica (aka tiger grass)
Fragranced: Yes
Reasons to buy
+
Targets fine lines
+
Contains retinol
+
Soothing and hydrating
+
Reasonably priced
If this best-selling firming cream from L'Oreal has been on your wishlist for a while, or your are simply looking for the best night cream to tackle skin texture issues, now is definitely the time to employ these three little words: add to cart. Firstly, it includes retinol, the cell turnover boosting ingredient that can help smooth out fine lines, dull and rough-textured skin. Plus it also packs in centella Asiatica, or Tiger Grass. This calming and soothing plant-based ingredient is effective in treating wounds, psoriasis, and inflammation-linked aging skin,
Considering that many of the best retinol creams are expensive, this night cream makes a well-priced introductory product for those who are new to using the wonder ingredient. It is affordable, hydrating, smoothing, and softens fine lines over time. However, as with all retinol-infused products, you'll need to be patient and consistent when using this cream, start slowly using it a few nights a week to ensure you won't react. For retinol veterans, though, this is probably as straightforward and effective as things get, and the extremely budget-friendly price tag is a real added bonus.
---
woman&home thanks Dr. Debra Jaliman for her time and expertise.