The best night creams for oily skin to leave yours glowing but not greasy
Our experts have tested the best night cream for oily skin that'll help balance your complexion while boosting hydration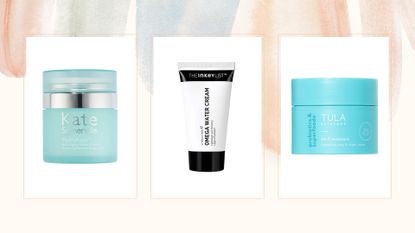 (Image credit: Kate Somerville / The INKEY List / TULA)
Using the best night cream for oily skin in your evening skincare routine will keep your skin balanced, content, and, crucially, free from that greasy feeling come morning. It's actually a myth that oily skin doesn't need moisturizer – it can still get as dehydrated as dry skin – but it's important to choose the right kind of formula.
There are a few considerations to make when selecting skincare for oily skin, and finding the best night cream is something of a balancing act. It needs to be able to deliver hydration without sending oil glands into over-production – when the skin makes more sebum and ends up looking shiny and greasy, which can trigger other issues. "Night creams typically have a richer consistency thanks to the fact they contain a higher oil-to-water ratio," says consultant dermatologist Dr. Catorina Maybury, medical lead for skincare brand Dermatica. "This can clog pores and contribute to acne or rosacea."
It's fairly easy to spot oily skin, but if you are unsure there are some key identifiers. "[It] tends to be diffusely oily all over, rather than just in the T zone," explains aesthetic doctor, Dr. Ana Mansouri. To figure out your skin type? "Cleanse in the morning with a gentle, non-stripping cleanser and leave your skin for an hour," she explains. "If your skin feels oily all over the face, you likely have an oily skin type. If it feels more on the dry side all over, you likely have a dry skin type. If it feels oily in the central T zone while normal or dry in the surrounding areas, you likely have a combination skin type."
To help you select the right one for your skin's needs and budget, our beauty team and expert contributors tested several moisturizers to review the very best night creams for oily skin.
The best night creams for oily skin, tested by our beauty team
Why you can trust Woman & Home Our expert reviewers spend hours testing and comparing products and services so you can choose the best for you. Find out more about how we test.
1. The INKEY List Omega Water Cream
Best budget night cream for oily skin
Specifications
RRP: £9.99 / $11.99
Key ingredients: Glycerin, niacinamide, omega fatty acid complex
Reasons to buy
+
Oil-free formula that's not greasy
+
Nice squeezy tube and minimally-designed packaging
+
We found it also made a good barrier cream
Reasons to avoid
-
If you like scent, you'll find the fragrance-free cream a bit boring
The INKEY List's aim is to make effective skincare as straightforward as possible with With quite a unique gel-like texture that melted into a more watery consistency when we rubbed it into our skin, this brilliant, budget-friendly moisturizer drenches the skin with hydrating ingredients without overloading it. This makes it one of the best night creams for oily skin in general, but especially so when you consider its price tag.
When testing, we found that it also works really well on top of other skincare products, such as serums, to help lock them in. And even though it may sound slightly niche, one of our testers also really likes to use this as a barrier cream when applying the best fake tan for face to prevent streaks along the hairline. All in all, it's a very handy little multitasker!
2. Chanel Le Lift Pro Créme Volume
Best luxury night cream for oily skin
Specifications
RRP: £135 / $141
Key ingredients: Melipona enzymatic, collagen booster, glycerin
Reasons to buy
+
Lifts and plumps skin
+
Smooths wrinkles
+
The socially and environmentally conscious formula impressed us
First and foremost, this is a great night cream for oily skin because it feels light and refreshing, yet deeply hydrating – not to mention the luxurious packaging. However, to justify its (considerable) price tag, it of course has to do more than that. This cream has been designed to help lift the skin, plump up cheeks, and soften wrinkles. It can also be used as a hyperpigmentation treatment as it's designed to fade the appearance of dark spots.
The star ingredient is Melipona enzymatic, a natural ingredient created by bees that helps lift and support skin bringing back volume into the face. (Don't worry, no bees are harmed in the making of this product.) The ingredient is extracted from the beehives, and Chanel has created an eco and socially sustainable project with local beekeepers so the bees and their environment are protected. On testing, we loved using this cream – our tester's skin felt plump, content, and comfortable.
Image 1 of 2
3. Tatcha The Water Cream
Best pore-refining night cream for oily skin
Specifications
RRP: £63 / $69
Key ingredients: Japanese wild rose, Japanese leopard lily, green tea
Reasons to buy
+
Has a light, fresh scent
+
Gorgeous texture – thick, yet sinks into the skin with ease
+
Beautiful packaging that feels well-made and good quality
Tatcha is a cult US-Japanese brand that only came to UK shores in early 2022 – but when it did, sales went through the roof. It's easy to see why. Japanese skincare has become renowned for using the best of the best skincare technology that exists along with some of the finest ingredients – and this is no exception. The formula contains wild rose to help reduce the appearance of pores as well as smooth the skin's surface, while the leopard lily is an anti-inflammatory.
At a glance it has quite a thick consistency, but sinks into the skin easily without feeling heavy or greasy. It left our tester's complexion feeling and looking velvety, so if you did want to use it during the day, it would definitely make a great base for makeup, too. Not to mention our skin didn't feel at all greasy the next day. The packaging is also a lovely touch of luxury, and looks gorgeous in our bathroom cabinets.
4. No7 HydraLuminous Recovery Gel Cream
Best drugstore night cream for oily skin
Specifications
RRP: £14.95 / $17.99
Key ingredients: Bisabolol, Pollution Shield technology, HydraDrench complex
Reasons to buy
+
Great price
+
Feels really refreshing
+
Not sticky
Reasons to avoid
-
Some may not like the scent
As a brand, No7 is something of a drugstore hero, so we had high hopes for this particular cream. Proving that great skincare doesn't need to cost the earth, this is a lovely lightweight night cream that's ideal for oily skin, as well as skin that has a degree of sensitivity. I found the unique gel-cream texture melts into the skin immediately and it feels slightly cooling – which our tester found was particularly lovely on her hot, tired skin at the end of a long day.
Ingredient-wise, the formula contains lots of antioxidants to help strengthen the skin, as well as a hydrating complex, unique to the brand, that keeps moisturizing the skin as you sleep. It's the best night cream for oily skin for this price point, without a doubt.
Image 1 of 2
5. Kate Somerville HydraKate Recharging Water Cream
Best plumping night cream for oily skin
Specifications
RRP: £65 / $76
Key ingredients: Marigold flower extract, blue light-activated algae extract, hyaluronic acid
Reasons to buy
+
Handy dose applicator
+
Silky watery texture
+
Contains Nobel prize-inspired ingredient
Reasons to avoid
-
Not the most eco-friendly packaging
As well as containing hyaluronic acid, which is the moisture maker for the skin, this very clever cream contains a Nobel Prize-inspired ingredient, AquaPort technology; a way of channeling hydrating ingredients to the areas of the skin that need it most. This is a key element for oily skin as it prevents your complexion from getting overloaded at the surface and becoming even more oily.
The more efficiently the skin is hydrated, the plumper and fuller it looks, and our testers certainly found that to be the case after applying this silky-smooth cream. Another clever element that prevents the skin from being overloaded is the dose applicator that pumps out the perfect amount of moisturizer with each press. In short, this cream is a dream to use and left our skin feeling all bouncy and soothed (we've also tested the hydrating serum from the range and deem that excellent, too). It's the best night cream for oily skin if dehydration is one of your biggest skin concerns.
6. Skinceuticals Daily Moisture
Best hydrating night cream for oily skin
Specifications
RRP: £70 / $78
Key ingredients: Vitamin E, algae extract, witch hazel
Reasons to buy
+
Lightweight
+
Can be used day and night
+
Won't overload the skin
We're yet to meet a Skinceuticals product that isn't impressive. And while this is 'only' a simple moisturiser, it's been perfectly formulated for oily skin and gets to work on delivering hydration where it's needed as well as helping reduce the appearance of pores. I also love that it's suitable for day and night use.
It contains ingredients to help calm skin such as chamomile extract whilst witch hazel gets to work on tightening pores as much as it can (it's worth noting no skincare can actually shrink a pore, no matter what they claim) It also reduces excess oil. On testing, I found this ideal layered over other skincare thanks to its light texture, it would work especially well on top of one of Skinceuticals many, super-efficient serums (like our pick of the best Vitamin C serum in the luxury category) but it's also lovely and hydrating worn on its own.
7. Sarah Chapman Digital Rest Night Cream
Best reviving night cream for oily skin
Specifications
RRP: $55/£57
Key ingredients: B-circadin, Lanablue, Lumicease
Reasons to buy
+
Resets the skin's circadian cycle
+
Protects against radiation from electronic devices
+
Targets dullness
Reasons to avoid
-
Might seem a bit too high tech for some
Our skin, just like our body, has a circadian rhythm that helps it know when it's time to rest and repair, however, modern-day living can get in the way and disrupt things. Stress, spending too much time looking at screens, as well as environmental pollution, and poor diet all take their toll. This in turn disturbs our skin's circadian rhythm, which means it doesn't know when to repair itself and this results in our skin looking fatigued. That's where this clever night cream comes in.
It's ideal for oily skin because of its lightweight and gel-like texture. It felt like a cool drink of water on my skin before bed and I woke up looking revived and refreshed. The brand's unique ingredient, B-Circadin synchronizes the skin's circadian rhythm allowing it to be more effective at nighttime repair. There's also Lumicease that helps protect the skin from the effects of light and radiation as well as Lanablue, a complex which has been paired with vitamin C to help smooth the complexion and make skin look brighter. Sure, the best night cream for oily skin doesn't need to be this complicated, but if you're looking for something high-tech and hard-working, look no further.
8. Clarins Super Restorative Night Cream
Best night cream for oily menopausal skin
Specifications
RRP: £81 / $140
Key ingredients: Organis sea lily extract, harungana, gorse extract
Reasons to buy
+
Supports skin structure
+
Targets effects of menopause on complexion
+
Signature Clarins spa-like scent
Reasons to avoid
-
If you're not menopausal, there are other night creams for you
This new cream has been designed and formulated specifically to help menopausal skin, which may make you wonder what it's doing on this list of the best night cream for oily skin. The reason is that many women experience hormonal breakouts and hot flashes during menopause that create the need for refreshing, skin-balancing products suited to naturally oily skin types. Plus, I think this has been so brilliantly put together that it really does work and suits so many skins.
Clarins always harness the power of plant extracts in their formulas and in this one you'll find organic sea lily extract which helps reduce the dehydration that menopause can cause whilst still balancing out any oily areas too. It also contains organic harungana extract which has been proven to be as effective as the best retinol creams at balancing and retexturizing the skin but doesn't come with any of the skin sensitivity issues. And finally, there is organic gorse extract which helps tone and firm the skin, a key issue for menopausal skin. I found this to be a lovely, revitalizing buy that feels like a treat to use.
9. Oskia Violet Water Hydra-Gel
Best lightweight night cream for oily skin
Specifications
RRP : $78 / £52
Key ingredients: Vitamin C, niacinamide, micro-plankton complex, colloidal silver
Reasons to buy
+
Very light, almost water-like formula
+
Sinks into skin nicely; skin doesn't feel greasy the next morning
+
Can be used both morning and night
Reasons to avoid
-
Might not be nourishing enough for winter months
This Oskia moisturizer is so lightweight that it almost feels like water when rubbed into the skin – it's even lighter than some of the lightest, silkiest options in our guide from Kate Somerville and Tatcha. We were so impressed with how well the gel texture sank into the skin not just upon application, but didn't leave us with any greasiness the following morning. Skin felt comfortable, so the formula was nourishing enough for nighttime, but not at all greasy.
As well as being extremely hydrating – great for those oily complexions that also struggle with dehydration – it's got an impressive oil-free formula that is designed with oily skin in mind. There's sebum-controlling technology to help regulate oil production, and ingredients like niacinamide, prebiotics, and vitamin C to keep the skin happy. Some people may find that they want something ever so slightly more nourishing during the winter months, when the atmosphere is much colder and drier, but this great cream can be used both as part of day and nighttime skincare routines. We truly think it's one of the best night creams for oily skin.
10. Evolve Organic Beauty Hydrate & Protect Facial Cream
Best eco night cream for oily skin
Specifications
RRP: £24 / $54
Key ingredients: Wild butterfly ginger, plant-derived squalane, pink indigo
Reasons to buy
+
Creates a lovely matte finish
+
Gorgeous clean soap-like scent
+
Product (and brand) has amazing eco credentials
With its very slight pink tint (that completely disappears on application), this night cream feels like velvet when you put it on the skin. It contains pink indigo which works at reducing inflammation in the skin and wild butterfly ginger help give the product its gorgeous scent but also defends the skin against UV, pollution, and blue light.
These are all things that oily complexions need, plus I loved how it left my skin feeling and looking slightly matte, which is also the holy grail for complexions prone to shine and also makes this a great option to wear during the day too. It contains nearly 100% natural ingredients and almost half of them are organic. The products are made in small batches to reduce waste and the factory is powered by 100% wind power. A brilliant product from a brilliant brand.