The best night cream for oily skin to leave your skin looking glowy, not greasy
We've tested the best night cream for oily skin that'll help balance your complexion while boosting hydration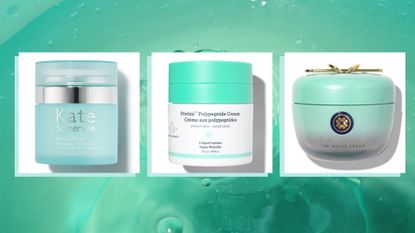 (Image credit: Future/brands)
woman&home newsletter
Sign up to our free daily email for the latest royal and entertainment news, interesting opinion, expert advice on styling and beauty trends, and no-nonsense guides to the health and wellness questions you want answered.
Thank you for signing up to . You will receive a verification email shortly.
There was a problem. Please refresh the page and try again.
Using the best night cream for oily skin will keep your skin balanced, content, and, crucially, shine-free. It's a myth that oily skin doesn't need moisturizer – it can still get as dehydrated as dry skin.
Mastering skincare for oily skin can be tricky, and finding the best night cream for oily skin is a balancing act. It needs to be able to deliver hydration without sending oil glands into over-production mode, meaning the skin makes more sebum and ends up looking shiny and greasy, which can trigger other issues. "Night creams typically have a richer consistency thanks to the fact they contain a higher oil-to-water ratio. This can clog pores and contribute to acne or rosacea," explains consultant dermatologist Dr Catorina Maybury (opens in new tab) who is the medical lead for skincare brand Dermatica.
It's fairly easy to spot if you have oily skin, but if you are unsure there are some key identifiers. "Oily skin tends to be diffusely oily all over rather than just in the T zone," explains aesthetic doctor, Dr. Ana Mansouri (opens in new tab). And she has an easy skincare-based test to check your skin type. "Cleanse in the morning with a gentle, non-stripping cleanser and leave your skin for an hour. If your skin feels oily all over the face, you likely have an oily skin type. If it feels more on the dry side all over, you likely have a dry skin type. If it feels oily in the central T zone while normal or dry in the surrounding areas, you likely have a combination skin type."
How we tested the best night cream for oily skin
Why you can trust Woman & Home Our expert reviewers spend hours testing and comparing products and services so you can choose the best for you. Find out more about how we test.
When selecting and testing the night creams for this guide, I had a natural advantage in that I have an oily skin type. This means that my sebum-overloaded complexion was perfectly placed to try dozens of creams and handpick the ones that left my skin feeling hydrated and fresh in the morning and not looking like an oil slick.
As well as how they appeared and felt on my skin, I also looked at texture, and ingredients - paying close attention to oil and pore-clearing actives such as salicylic acid, niacinamide, and azelaic acid, as well as considering price points and value for money.
11 of the best night creams for oily skin, tested by our beauty team
1. Chanel Le Lift Pro Créme Volume
Best luxury night cream for oily skin
Specifications
RRP: $141/£135
Key ingredients: melipona enzymatic, collagen booster, glycerin
Reasons to buy
+
Lifts and plumps skin
+
Smooths wrinkles
+
Socially and environmentally consciously formulated
First and foremost, this is a great night cream for oily skin because it feels light and refreshing yet deeply hydrating. However, to justify the price tag it of course has to do more than that. This cream has been designed to help lift the skin, plump up the cheeks and soften wrinkles. It can also be used as a hyperpigmentation treatment, as it's designed to help dark spots fade.
The star ingredient is melopina enzymatic, a natural ingredient created by bees that helps lift and support skin bringing back volume into the face. And don't worry, no bees are harmed in the making of this product. The ingredient is extracted from the beehives and Chanel has created an eco and socially sustainable project with local beekeepers so the bees and their environment are protected. On testing, I loved using this cream – my skin felt plump, content, and comfortable.
2. The Inkey List Omega Water Cream
Best budget night cream for oily skin
Specifications
RRP: $11.99/£9.99
Key ingredients: Glycerin, niacinamide, omega fatty acid complex
Reasons to buy
+
Oil-free
+
Gender neutral packaging
+
Bargain price
Reasons to avoid
-
I you like scent you'll find the fragrance-free cream a bit boring
With quite a unique gel-like texture that melted into more of a watery consistency when I rubbed it into my skin, this brilliant, budget-friendly hydrator drenches the skin with hydrating ingredients without overloading it. This makes it one of the best night cream for oily skin options I tried - especially for the price point.
I found that it also works really well on top of other skincare products such as serums to seal them in. And, even though this may sound slightly niche, I also really like to use this as a barrier cream for when I'm using the best fake tan for face, to prevent streaks along my hairline. A handy little multitasker.
3. Tatcha The Water Cream
Best pore-refining night cream for oily skin
Specifications
RRP: $69/£63
Key ingredients: Japanese wild rose, Japanese leopard lily, green tea
Reasons to buy
+
Beautiful packaging
+
Light, fresh scent
+
Gorgeous texture
Tatcha is a cult US- Japanese brand that only came to the UK shores in early 2022 and when it did, sales went through the roof. It's easy to see why. Japanese skincare has become renowned for using the best of the best skincare technology that exists along with some of the finest ingredients – and this is no exception.
It contains wild rose to help reduce the appearance of pores as well as smooth the skin's surface and the leopard lily is an anti-inflammatory. It left my skin feeling and looking velvety, so if you did want to use it during the day, it would definitely make a great base for makeup too. The packaging is a nice little luxe touch too.
4. Kate Somerville HydraKate Recharging Water Cream
Best plumping night cream for oily skin
Specifications
RRP: $76/£65
Key ingredients: Marigold flower extract, blue light-activated algae extract, hyaluronic acid
Reasons to buy
+
Handy dose applicator
+
Silky watery texture
+
Contains Nobel prize-inspired ingredient
Reasons to avoid
-
Not the most eco-friendly packaging
As well as containing hyaluronic acid, which is the moisture maker for the skin, this very clever cream contains a Nobel Prize-inspired ingredient, AquaPort Technology; a way of channeling hydrating ingredients just to the areas that need it most. This is a key element for oily skin as it prevents your complexion from getting overloaded at the surface and becoming even more oily.
The more efficiently skin is hydrated, the plumper and fuller it looks, and I certainly found that was the case when using this. Another clever element that prevents skin from getting overloaded is the dose applicator that pumps out the perfect amount every time. This is a dream to use and left me feeling all bouncy and soothed. It's the best night cream for oily skin if dehydration is one of your skin concerns.
5. Skinceuticals Daily Moisture
Best hydrating night cream for oily skin
Specifications
RRP: $78/£70
Key ingredients: Vitamin E, algae extract, witch hazel
Reasons to buy
+
Lightweight
+
Can be used day and night
+
Won't overload the skin
We're yet to meet a Skinceuticals product that isn't impressive. And while this is 'only' a fairly simple moisturizer, it's been perfectly formulated for oily skin and gets to work on delivering hydration where it's needed as well as helping reduce the appearance of pores. I also love that it's suitable for day and night use.
It contains ingredients to help calm skin such as chamomile extract whilst witch hazel gets to work on tightening pores as much as it can (it's worth noting no skincare can actually shrink a pore, no matter what they claim) It also reduces excess oil. On testing, I found this ideal layered over other skincare thanks to its light texture, it would work especially well on top of one of Skinceuticals many, super-efficient serums (like our pick of the best Vitamin C serum in the luxury category) but it's also lovely and hydrating worn on its own.
6. Sarah Chapman Digital Rest Night Cream
Best reviving night cream for oily skin
Specifications
RRP: $55/£57
Key ingredients: B-circadin, Lanablue, Lumicease
Reasons to buy
+
Resets the skin's circadian cycle
+
Protects against radiation from electronic devices
+
Targets dullness
Reasons to avoid
-
Might seem a bit too high tech for some
Our skin, just like our body, has a circadian rhythm that helps it know when it's time to rest and repair, however, modern-day living can get in the way and disrupt things. Stress, spending too much time looking at screens, as well as environmental pollution, and poor diet all take their toll. This in turn disturbs our skin's circadian rhythm, which means it doesn't know when to repair itself and this results in our skin looking fatigued. That's where this clever night cream comes in.
It's ideal for oily skin because of its lightweight and gel-like texture. It felt like a cool drink of water on my skin before bed and I woke up looking revived and refreshed. The brand's unique ingredient, B-Circadin synchronizes the skin's circadian rhythm allowing it to be more effective at nighttime repair. There's also Lumicease that helps protect the skin from the effects of light and radiation as well as Lanablue, a complex which has been paired with vitamin C to help smooth the complexion and make skin look brighter. Sure, the best night cream for oily skin doesn't need to be this complicated, but if you're looking for something high-tech and hard-working, look no further.
7. Clarins Super Restorative Night Cream
Best night cream for oily and menopausal skin
Specifications
RRP: $140/£81
Key ingredients: Organis sea lily extract, harungana, gorse extract
Reasons to buy
+
Supports skin structure
+
Targets effects of menopause on complexion
+
Signature Clarins spa-like scent
Reasons to avoid
-
If you're not menopausal, there are other night creams for you
This new cream has been designed and formulated specifically to help menopausal skin, which may make you wonder what it's doing on this list of the best night cream for oily skin. The reason is that many women experience hormonal breakouts and hot flashes during menopause that create the need for refreshing, skin-balancing products suited to naturally oily skin types. Plus, I think this has been so brilliantly put together that it really does work and suits so many skins.
Clarins always harness the power of plant extracts in their formulas and in this one you'll find organic sea lily extract which helps reduce the dehydration that menopause can cause whilst still balancing out any oily areas too. It also contains organic harungana extract which has been proven to be as effective as the best retinol creams at balancing and retexturizing the skin but doesn't come with any of the skin sensitivity issues. And finally, there is organic gorse extract which helps tone and firm the skin, a key issue for menopausal skin. I found this to be a lovely, revitalizing buy that feels like a treat to use.
8. Evolve Organic Beauty Hydrate & Protect Facial Cream
Best eco night cream for oily skin
Specifications
RRP: $54/£24
Key ingredients: Wild butterfly ginger, plant-derived squalane, pink indigo
Reasons to buy
+
Creates a lovely matte finish
+
Gorgeous clean soap-like scent
+
Product (and brand) has amazing eco credentials
With its very slight pink tint (that completely disappears on application), this night cream feels like velvet when you put it on the skin. It contains pink indigo which works at reducing inflammation in the skin and wild butterfly ginger help give the product its gorgeous scent but also defends the skin against UV, pollution, and blue light.
These are all things that oily complexions need, plus I loved how it left my skin feeling and looking slightly matte, which is also the holy grail for complexions prone to shine and also makes this a great option to wear during the day too. It contains nearly 100% natural ingredients and almost half of them are organic. The products are made in small batches to reduce waste and the factory is powered by 100% wind power. A brilliant product from a brilliant brand.
9. Tula Skincare 24/7 Hydrating Day & Night Cream
Best day and night cream for oily skin
Specifications
RRP: $54/£47
Key ingredients: squalane, probiotic extracts, chicory root
Reasons to buy
+
Very versatile
+
Super hydrating
+
Non-comedogenic
Tula has been created by Dr Roshini Raj, a gastroenterologist who is an expert in probiotics. She knows how important they are for our internal health and her range aims to deliver the same balancing and calming properties they have in our guts, to our skin.
This gorgeous, silky cream works perfectly on oily skin both day and night, but you may find you only need it at night. I didn't find it greasy at all, it didn't clog my pores and I love that it contains both pro and prebiotics, which help balance oil levels. There are other ingredients such as squalane that also get to work on maintaining optimum hydration as well as smoothing out fine lines. It has quickly become a best-seller and I can see why - but that's also a little annoying, as it can sell out really quickly. If you see this night cream around - pounce!
10. No7 HydraLuminous Recovery Gel Cream
Best drugstore night cream for oily skin
Specifications
RRP: $17.99/£14.95
Key ingredients: bisabolol, Pollution Shield technology, HydraDrench complex
Reasons to buy
+
Great price
+
Feels really refreshing
+
Not sticky
Reasons to avoid
-
Some may not like the scent
Proving that great skincare doesn't need to cost the earth, this is a lovely lightweight night cream that's ideal for oily skin as well as skin that has slight sensitivity. I found the unique gel-cream texture melts into the skin immediately and it feels slightly cooling which was so lovely on my hot, tired skin at the end of a long day.
Ingredient-wise it has lots of antioxidants to help strengthen the skin as well as a hydrating complex, unique to No7, that keeps moisturizing the skin as you sleep. It's the best night cream for oily skin for this price point, without a doubt.
11. Drunk Elephant Protini Polypeptide Cream
Best multi-tasking night cream for oily skin
Specifications
RRP: $68/£59
Key ingredients: Waterlily extract, signal peptide complex, soybean folic acid
Reasons to buy
+
Suitable for sensitive oily skins
+
Perfect dose packaging
+
Revives skin
Reasons to avoid
-
Unfragranced, which may not appeal to some
Drunk Elephant describes this cream as a 'dose of protein for the skin' and that's a great way to think about it. It's not only delivering on all the hydrating benefits that a night cream offers but it also contains ingredients that will strengthen and help tired skin look pepped up and revived in the morning.
Whilst it's not formulated specifically for oily skin, it is an excellent option for anyone who wants their night cream to hydrate and get to work on skin issues too. I found the hygienic pump dispenser very pleasing - one push gave me just the right amount for my whole face and neck.
---
Should you use night cream if you have oily skin?
Of course. You may find that you don't need to apply night cream every night, as serums with active ingredients may be more beneficial. For example, if you've discovered your best retinol cream or you've worked out how niacinamide can help keep pores unclogged then you may find they are already keeping your oily skin under control.
But on your night 'off' from active treatments, or even layered on top of them, you may feel your skin just needs some simple hydration and that's where a night cream plays its part. "It's important to understand that oily skin types can indeed become dehydrated and therefore still require hydration. I tend to utilize the evening routine to ensure my patients with oily skin types stay hydrated," says Mansouri, who also adds, "The seasons and weather can play a part too. During summer time my patients with oily skin tend to need creams and moisturizers less often."
Which cream is best at night for oily skin?
Consistency is always key in skincare, whatever your skin type, and for nearly all your skincare products. But this is even more so for oily skin because it can get weighed down so easily, and that's not what you want to happen. "Switching to a gel-based or lighter texture formulation will be a better bet for those with oily skin as they will find this far better to apply and leave on," says Maybury. "Avoid any products that contain excess oil to prevent any breakouts, and look for non-comedogenic products, which means products that contain ingredients that don't block pores."
What stops oily skin?
Nothing can stop oily skin as creating oil is a natural mechanism for our skin. In fact, we need our skin to do so to keep it healthy and hydrated. However, as we've discovered you never want your skin to be too oily as that's when acne flare-ups, congested pores, and other skin issues can occur so the trick is embracing a bit of natural oil, while keeping your skin as balanced as possible.
Freelance Beauty Director
Sarah-Jane Corfield-Smith has worked in the beauty industry for more than 15 years and, as well as woman&home, has contributed to titles such as Stylist, The Daily Mail and The Times.

As a mum of two little girls she has limited time to spend on herself, so if you're looking for hard-working multi-tasking products, she's the one in the know.

Her top three products she has on her at all times are a glow-giving tinted moisturiser, brow pencil and a tinted lip balm. Oh, and she's never far away from a hydrating face mist.