What are antioxidants and how do they work?
Confused about antioxidants? We explain why they're a must in your skincare routine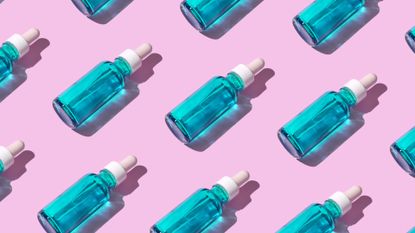 (Image credit: Getty)
woman&home newsletter
Sign up to our free daily email for the latest royal and entertainment news, interesting opinion, expert advice on styling and beauty trends, and no-nonsense guides to the health and wellness questions you want answered.
Thank you for signing up to . You will receive a verification email shortly.
There was a problem. Please refresh the page and try again.
When searching for a beauty product that makes you look ten years younger, chances are it has antioxidants in it. These popular beauty ingredients have found their way into most brands, because not only do they prevent natural components of the product from breaking down, but they also protect cells from free radical damage and as a result, slow the aging process.
If there was ever an ingredient to get familiar with, it's antioxidants. They're definitely MVPs in any skincare routine, and do your skin a world of good by helping achieve healthier, younger-looking results. Here is everything you need to know about what they are and how they work.
What are antioxidants?
Antioxidants are derived from common plants you may find outside your home, including colorful fruits, vegetables, and some nuts. While they don't have a rare and exclusive appeal to them, they are incredibly important to your health, particularly to skin.
Their rich nutrients revive skin and encourage a brighter complexion, lessen signs and symptoms of aging, and help skin repair itself from any sun damage. The types of antioxidants you can find in skincare products like your face creams, face masks, serums, anti-aging formulas, moisturizers, and best eye creams are:
Vitamin C: According to Dr. Patricia Wexler, vitamin C promotes collagen production, reducing fine lines and protecting cells from damaging free radicals.
Retinol/Vitamin A: Retinol creams are great for slowing signs of fine lines, protecting your skin from UV damage. It is also known to clear up acne.
Niacinamide/Vitamin B3: This antioxidant is considered a brightening agent that corrects pigment changes in skintone associated with sun damage.
Coenzyme Q10: NYC esthetician Nichelle Te (opens in new tab) says that CoQ10 is what helps your skin look younger and regulates your metabolism by producing nearly 95% of your body's energy.
Resveratrol: Resveratrol is antioxidant that helps protect your skin from outside stressors, lessens skin redness, and evens out your complexion.
Vitamin E: Medical experts say that vitamin E can treat hyperpigmentation and acne scarring. It also prevents aging and wrinkles and can soften lips when regularly applied.
Polyphenols: Commonly found in berries, nuts, coffee and tea, and yes, wine, this antioxidant can protect cells from damage when absorbed by the skin and thus reverse signs of aging.
Antioxidant benefits
Antioxidants claim to be the star of the show when it comes to giving you younger, healthier skin. For this reason, many skincare brands have been all too willing to incorporate it into their products.
Besides having a positive track record, antioxidants have many other benefits for you to consider:
They repair sun damage by reducing symptoms like redness, inflammation, and tenderness.
Due to its high intake of nutrients, antioxidants can also benefit your overall health, sometimes lessening the risk of health issues like heart disease and some cancers.
High intakes of antioxidants have been known to relieve constipation.
They help prevent and repair skin damage caused by stress, pollution, smoke, and UV exposure.
Antioxidants work as an effective anti-aging solution that helps with fine lines, wrinkles, and undereye sagging.
They help with skin conditions like acne and rosacea, making the ingredient safe and helpful for users with sensitive or reactive skin.
Antioxidant side effects
Antioxidants in your skincare products don't typically result in any side effects when applied as intended. That said, there can be some side effects if taken in high doses through food or oral supplements. In these cases, you may be vulnerable to symptoms like nausea, diarrhea, and headaches.
Although highly debated, some medical experts caution against the use of antioxidants in skincare at a young age. Some studies have shown that they fight to reduce damage and premature signs of aging can actually help keep your skin young and healthy before the age of 30.
When to use antioxidants (and when not to)
There are many cases where using skincare products with antioxidants is a good idea. Unlike some ingredients that can be harsh on sensitive skin and often need other ingredients to neutralize any harmful effects, antioxidants are safe for anyone looking to slow down the signs of aging, regardless of skin type and condition.
They're generally presumed safe for application, but as always, do consult your doctor or dermatologist when in doubt.
How to use and apply antioxidants
Applying products with antioxidants to your skin has typically been part of many morning routines for while now, but recent experts have been touting the added benefits of using it in your night skincare routine as well, they've found that antioxidants protect skin in the morning, while repair skin in the evening.
Following the directions on your product's label, make sure to massage into problem areas to ensure the product and its ingredients are absorbed efficiently into skin. You'll notice most of your products likely have antioxidants, with moisturizers being among the most popular.
Antioxidants are unanimously considered as trustworthy and beneficial. They are naturally derived and are full of nutrition that our body craves. In the world of beauty, where many mystery ingredients can be shrouded in controversy and suspect claims, you can rely on antioxidants to provide safe, effective care.
A lifelong creative writer and beautyphile, Eunice Lucero-Lee graduated from De La Salle University in 2002 and was hired a year later to front all beauty coverage for Pink Magazine. A beauty, astrology, and pop culture obsessive and insider for over 18 years, Eunice is an internationally published editor (and now certified astrologer) whose work has been featured in publications such as Cosmopolitan, Esquire, and The Numinous, among many others.