How to treat rosacea and the best rosacea skincare buys, according to a beauty expert who has regular flare ups
Rosacea is more common than you think. We look at how to treat rosacea and the best skincare buys...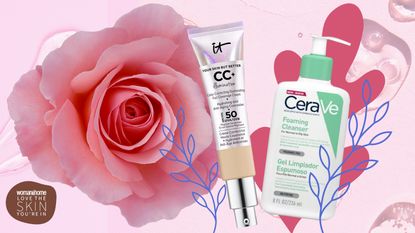 (Image credit: Future)
woman&home newsletter
Sign up to our free daily email for the latest royal and entertainment news, interesting opinion, expert advice on styling and beauty trends, and no-nonsense guides to the health and wellness questions you want answered.
Thank you for signing up to . You will receive a verification email shortly.
There was a problem. Please refresh the page and try again.
Rosacea is a common, chronic skin condition that women are particularly susceptible to. Much like pigmentation and dehydrated skin, rosacea is common in middle-aged women, although can affect anyone.
This skin condition rosacea has symptoms including flushing, stinging, redness and in some cases spots, meaning it can be mistaken for acne. It's also incredibly sensitive to your environment so even if you have nailed your skincare routine you can still struggle. Everything from the climate to emotional stress can trigger a flare up. And while there are some treatments available one of the most important ways of managing rosacea is simply managing your own personal triggers.
Whether you are prone to flushing or have severe symptoms like itchiness or rashes, read on to find out everything you need to know about rosacea. Plus, the products one beauty expert uses to manage her redness.
Rosacea causes: what is it and why do we get it?
"Rosacea is a chronic inflammatory skin condition which usually occurs on the face and can affect all skin types," explains Dr Daron Seukeran, Group Medical Director for SK:N (opens in new tab). "It may also manifest itself as persistent redness, blood vessels and spots which can resemble a similar appearance to acne, although the two should not be confused."
As well as being mistaken for acne, sometimes the redness and irritation that rosacea causes can appear to be other inflammatory conditions such aseczema. This misdiagnosis as well as a lack of single cause or cure are the reasons rosacea can be tricky to manage.
Often the cause isn't known for rosacea specifically, but it's thought that exposure to sunlight, extreme hot and cold temperatures, as well as consuming alcohol, caffeine and spicy foods can exacerbate the skin condition.
Symptoms of rosacea
Persistent flushing of the face
Thread veins
Red spots
Thickening of the skin
"There are four main symptoms to help identify if you are suffering with rosacea," explains Dr Seukeran. "Persistent flushing of the face where redness will most commonly appear around the nose and cheeks. This is as well as thread veins, which will be visible blood vessels around the same areas of the face."
"Then there are red spots which can be filled with puss and can often be misdiagnosed if not seen by a dermatologist. Thickening of the skin can also appear as excess, bumpy tissue, particularly around the nose although this is a rare complication and is mainly seen in male patients."
Less common symptoms include:
Sensitive skin– burning, itching, stinging andpain
Dry, rough skin
Raised red patches (plaques) on your skin
Facial swelling (lymphoedema)
Why does my rosacea get worse during the summer?
"Summer can be difficult for people with rosacea as the sun, hot weather and humidity can all lead to a flare-up," says LloydsPharmacy pharmacist Anshu Kaura.
"Sun exposure is one of the most common triggers when it comes to rosacea, so using a daily sunscreen with at least SPF30 or higher is the best way to protect your skin against it. You should also try and stay in a cool or air-conditioned area on particularly hot days."
Should I go to the doctor for rosacea treatment?
Unfortunately there is no known cure for rosacea, but that doesn't mean you should avoid seeking help if yours is persistent and causing you serious discomfort.
"There are a number of effective treatments that can help to alleviate the symptoms of rosacea," says Dr Daron Seukeran. "This includes antibiotics and topical prescription medications which can be prescribed by a doctor and can often lead to remission after about four to six months of treatments."
"In terms of dealing with redness and flushing, laser treatment can be an effective solution in removing these symptoms."
How to treat rosacea: identify your triggers
'Identify what causes your Rosacea to flare up, whether that be certain foods or drink, and try and avoid these." says Dr Daron. "The most important thing is to seek medical attention if it persists. If left untreated rosacea can cause other complications such as irritation of the eyes and enlargement of the nose, which is rare but also a very unpleasant symptom."
The right rosacea skincare routine: how this beauty expert soothes her skin
For make-up artist and beauty blogger Rose Gallagher, managing flushes and concealing redness is her area of expertise. Read on to discover Rose's rosacea story and the products she swears by.
"I've always been rosy so it was something I noticed especially from secondary school onwards," Rose says. "To be honest it didn't knock my confidence purely because I always had a knack for covering it, but without make-up on I have days when I feel fine and others when I feel conscious."
In order to keep her skin happy and healthy, Rose developed a back-to-basics approach to skincare. A huge fan of French pharmacy brand La Roche Posay, (opens in new tab) she uses their Toleraine Dermo-Cleanser to cleanse before following with their eye and face cream.
Rose Gallagher's rosacea skincare shopping list
(opens in new tab)
1. La Roche Posay Toleraine Dermo-Cleanser
RRP: £12.50
Rose loves this gentle cleanser, specifically designed for sensitive skin.
(opens in new tab)
2. La Roche Posay Anthelios Pocket Sun Cream
RRP: £10
Sun protection is important for all skin types, but especially for rosacea sufferers whose skin can be triggered by sunlight. Rose won't leave the house without SPF50.
Again, it's trusty La Roche Posay Rose turns to, this time their Anthelios SPF. Specially formulated for sensitive skin, it delivers broad spectrum protection and won't clog your pores. For instant calm, she turns to La Roche Posay's Rosaliac anti-redness range or anything from CeraVe, a purse-friendly, fragrance-free and fuss-free option
---
(opens in new tab)
3. Eve Lom Rescue Peel Pads
RRP: £60
For a luxe treat, Rose relies on Eve Lom Rescue Peel Pads. This helps smooth uneven texture without aggravating her skin as stronger acid treatments might.
---
Make-up for rosacea: how to achieve natural, even coverage
(opens in new tab)
---
It Cosmetics Your Skin But Better CC+ cream SPF50
RRP: £32
When it comes to make-up, Rose counts IT Cosmetics Cult CC (opens in new tab)+ as the go-to for full coverage. She switches between the original, illuminating and matte depending on the finish she's after.
Follow Rose's rosacea journey and find out more about the products she can't live without at @mixedgemsbeauty.
If your rosacea is impacting your mental wellbeing, or if you are unsure whether you have rosacea, discuss the matter with your GP.
Jess Beech is an experienced fashion and beauty editor, with more than eight years experience in the publishing industry. She has written for woman&home, GoodtoKnow, Now, Woman, Woman's Weekly, Woman's Own and Chat, and is a former Deputy Fashion & Beauty Editor at Future PLC. A beauty obsessive, Jess has tried everything from cryotherapy to chemical peels (minus the Samantha in Sex and The City-worthy redness) and interviewed experts including Jo Malone and Trinny Woodall.