The very best Vitamin C serums, for every skin type and budget
Brighten, protect and perfect your skin with the best Vitamin C serums, as tested by our skincare-obsessed beauty editor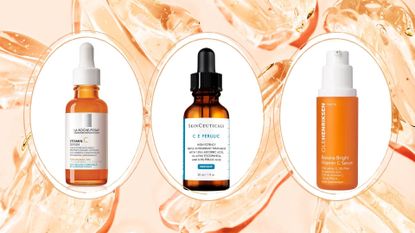 (Image credit: Future)
The best Vitamin C serums are something beauty editors have a lot of opinions on. A casual mention of this topic to the w&h beauty team ended in an intense debate, with most of us talking over each other, eager to prove why our pick was actually the best option.
Why all the hype? For skincare obsessives, Vitamin C is something we couldn't imagine our skincare routine without. Using one of the best Vitamin C serums is easily as important as knowing how to wash your face, or using the best facial sunscreen. When formulated carefully and used properly, serums containing Vitamin C are ultra-effective tone and texture boosters. Better still, even the most potent form, ascorbic acid, is suitable for almost all skin types and is unlikely to cause irritation. This sets it apart from other feted actives such as the notoriously reactive retinol, tipping the retinol vs Vitamin C debate in Vit C's favor.
Not only will antioxidants like Vitamin C help make your skin look brighter and healthier, but they'll also help protect your skin from harm caused by pollution. But how do you pick the right option for you? I've enlisted the help of dermatologists, Dr Elif Benar (opens in new tab), and Dr Salomé Metreveli (opens in new tab) to provide their expert thoughts.
How to pick the best Vitamin C serums for you, according to dermatologists
Why you can trust Woman & Home Our expert reviewers spend hours testing and comparing products and services so you can choose the best for you. Find out more about how we test.
Packaging matters: Vitamin C is a famously unstable ingredient. It is incredibly sensitive to light and air and must be kept protected from both as far as possible in order to remain active and effective. Avoid jars and opt for pipette applicators, or even better - light-shielding airtight bottles.
Save the date: Because of its unstable nature, even the best Vitamin C serums can go out of date much quicker than the rest of your best skincare products. Check the little symbol on the packaging of a jar with a number on it. 6 means it'll last 6 months, 12 is a year, and so on. In general, most Vitamin C serums have a 6-12 month shelf life.
Check the concentration: Not all serums are created equal - the concentration of the active ingredient will impact how effective it is, and how quickly it'll get to work. "In general, you'd use a minimum of 5%, and a maximum of 20-30%" says Dr Metreveli.
Beginners should ease in: Don't jump straight into 20% concentrations if your skin's not used to active ingredients, warns Dr Metreveli. "Those with more sensitive skin should start on a lower percentage, and gradually work their way up once the skin begins to tolerate it."
The best Vitamin C serums, as chosen by our Beauty Editor
1. Ole Henriksen Banana Bright Vitamin C Serum
Best overall Vitamin C Serum
Specifications
RRP: $68/£56
Vitamin C: 15%
Key ingredients: 5% PHAs, Hyaluronic Acid
Reasons to buy
+
Incredibly effective
+
Combined with acids also helps melt away dead skin cells
+
Includes color-correcting pigments to make an instant difference
Reasons to avoid
-
Strong orange scent, which might not be for everyone
This was one of the serums we as a team all agreed was a brilliant, fail-safe buy. I'm a big fan of the Scandinavian brand, and not just because of their aesthetically pleasing packaging. This serum is the hero of the range and would be the first product I'd recommend trying.
A potent 15% concentration of Vit C is infused with PHAs (the gentlest form of exfoliating acids) to help melt away dead skin cells and leave your complexion looking extra clear and bright. Also infused in the formula are slightly tinted pigments, which have an instant (temporary) brightening effect on your complexion while the formula gets to work to really transform skin. I noticed my face looked brighter in about a week - with the results improving even more over time.
It has a slightly milky, sticky texture but once it's sunk in it's perfectly smooth. Some might find the orange scent a little off-putting, but for me, it just adds a revitalizing little zing. You really can't go wrong with this one.
(opens in new tab)
2. Allies of Skin 20% Vitamin C Brighten + Firm Serum
Best highly concentrated Vitamin C serum
Specifications
RRP: $120/£85
Vitamin C: 20%
Key ingredients: Gluthathione, orange extract
Reasons to buy
+
Ultra-stable formula
+
High Vit C concentration
+
Antioxidant combination
If you haven't heard of Allies of Skin before, this Vitamin C serum would be a perfect product to get to know the brand. Why? Because unless you are on a tight budget there's very little not to adore about it.
It contains 20% ascorbic acid, the highest Vit C percentage of any product on this list, and combines it with several other antioxidants for extra skin-protecting powers. It also has a waterless base, which means that precious vitamin C won't be prematurely destabilized by the oxygen in H2O, while the airless pump bottle boosts this protection further.
Vitamin C serums, particularly waterless formulas, can have a gritty texture but somehow this is fairly silky and even smells lovely thanks to the inclusion of orange extract. It may be a little thicker than some other on this list, but it sinks in easily, plays well with moisturizers and works as hard as possible for a topical product. This more than lives up to its brightening and firming promise - and gets top marks from me.
(opens in new tab)
3. SkinCeuticals CE Ferulic
Best luxury Vitamin C serum
Specifications
RRP: $169/£150
Vitamin C: 15%
Key ingredients: Ferulic acid, Vitamin E
Reasons to buy
+
Industry-leading product
+
Incredibly effective
+
Combined antioxidants
CE Ferulic is never far from the top of any list of the best Vitamin C serums, and with good reason. SkinCeuticals are pioneers of antioxidant skincare and this is their hero product. In fact, the only thing keeping it off the top of this list is the price, which will be prohibitive to some.
Budgets aside, if you can afford to buy this, you should. It combines 15% gold standard stable Vitamin C with Vitamin E plus ferulic acid, another antioxidant that's known to boost the power and stability of Vit C when combined. You'll spot this trio of ingredients together a few times in this list, but just know that these guys did it first.
Texture-wise this is loose and watery, so should be pressed into the skin rather than massaged. It doesn't smell great but it's not horrible either, not unlike a very weak instant coffee to my nose, some find it more on the herbal side. Either way, Vitamin C serum is one of those products that you don't want to feel or smell particularly spa-like. If it does, some effectiveness will likely have been sacrificed to get there.
4. Revolution Skincare X Sali Hughes Must-C Daily Serum
Best drugstore Vitamin C serum
Specifications
RRP: $16/$15
Vitamin C: 15%
Key ingredients: Niacinamide, Hyaluronic Acid, Vitamin E
Reasons to buy
+
Brilliantly affordable
+
Fuss-free and hardworking
+
Vegan-friendly
Chances are, if you're a British beauty obsessive, you'll know who Sali Hughes is. The beauty journalist is known for her fuss-free approach to skincare, so there was a big buzz when she launched her minimalist skincare range with the affordable brand Revolution.
Even if you don't necessarily know who Hughes is, it's worth paying attention to her incredibly affordable, hardworking range. I was especially impressed with this serum. A lightly chemical, but generally inoffensive scent is the first impression. The cool gel formula glides smoothly onto the skin and doesn't feel tacky or sticky, even without moisturizer on top. The 15% Vit C is from Ascorbyl Glucoside, one of the most stable versions of the antioxidant. Combined with Niacinamide to minimize the appearance of large pores, plus hyaluronic acid (HA) and glycerine to hydrate, this is, hands down one of the best serums I've tried for a long time - it's just a bonus that it's so affordable. In a word, brilliant.
5. La Roche-Posay Pure Vitamin C 10 Serum
The best Vitamin C serum for sensitive skin
Specifications
RRP: $39.99/£38
Vitamin C: 10%
Key ingredients: Hyaluronic Acid, Salicylic Ac
Reasons to buy
+
Won't irritate sensitive skins
+
Gentle enough for daily use
+
Includes hydrating hyaluronic acid
If you have sensitive skin, this is the antioxidant serum for you. La Roche-Posay is known for ultra-gentle skincare that, crucially, doesn't compromise on real results. In my opinion, the brand's serums are the best La Roche-Posay products in their roster. Sure, their soothing moisturizers and SPFs are brilliant but don't sleep on their incredibly hardworking serums. I rave about them to everyone - I use every single one (honorary mention to their Effaclar serum, which is a non-negotiable part of my skincare routine for acne).
A clear and non-sticky formula, this sinks nicely into the skin thanks to comfort-boosting HA and sits nicely under a moisturizer and SPF. A 10% concentration of Vitamin C is a nice sweet spot for the active ingredient, too. Not too delicate, not too harsh. This is the best Vitamin C for cautious first-timers, it's one I mention most often to those trying to introduce the ingredient into their routine. A brilliant, frill-free buy that's not intimidating (or wildly expensive).
(opens in new tab)
6. INKEY List 15% Vitamin C and EGF Serum
Best affordable Vitamin C serum
Specifications
RRP: $21/£14.99
Vitamin C: 15%
Key ingredients: Epidermal growth factors
Reasons to buy
+
Excellent value
+
Effective ingredients
+
Easy to incorporate into any routine
The INKEY List is known for knocking out active skincare at 'how did they manage that?' prices, and this certainly delivers the punchy ingredient-to-cost ratio I've come to expect from the brand.
The formula is built around a solid 15% ascorbic acid, plus epidermal growth factors (EGF) a signal peptide that, in broad brush strokes, binds to tired old cells and revs them up into behaving like energetic young ones. We also get phytic acid to gently refine and unclog congestion.
All this for the cost of your average movie ticket, you say, what's the catch? Well, the texture is a little bit sticky when first applied, you need to wait a good 5-10 minutes to apply other products so it won't pill. Plus, the packaging is basic-looking, if that's important to you. Fripperies aside, this is effective and highly impressive skincare.
(opens in new tab)
7. Drunk Elephant C-Firma Day Serum
Best 'clean' Vitamin C serum
Specifications
RRP: $78/£67
Vitamin C: 15%
Key ingredients: Ferulic acid, Vitamin E
Reasons to buy
+
Clever airproof packaging
+
'Nasty-free' formula
+
Includes botanical extracts
Reasons to avoid
-
Pricy
-
Texture not for everyone
There is something so satisfying about Drunk Elephant C-Firma's packaging. Twist the chunky tangerine lid and out pops a spout ready to dispense the perfect amount of glossy orange-hued serum into your palm. Aside from looking and feeling great, this airless mechanism also ensures the stability of your actives are kept in tip-top nick for maximum effectiveness, so we're onto a great start.
You'll recognize the holy trinity of antioxidant ingredients - Vits C, E, and Ferulic Acid - plus, this packs in some other good stuff like a pumpkin ferment and pomegranate enzymes that gently exfoliate and refine skin texture. As per Drunk Elephant's 'clean beauty' philosophy, it also leaves out a good few things you might be glad- to know aren't in there like parabens, sulfates, oil, fragrance, and alcohol.
For an oil-free formula, there is something strangely rich about the texture, which might put off oily or combination skinned types. But it sinks in fast and leaves behind just the tiniest touch of sheen. Like most good Vit Cs, it smells a tiny bit funky but is not strong enough to be offputting, and sits happily under any cream you want to top it off with.
8. Sunday Riley C.E.O 15% Vitamin C Brightening Serum
Best Vitamin C Serum with skincare accomplices
Specifications
RRP: $85/ £70
Vitamin C: 15%
Key ingredients: Glycolic acid, redness-reducing Phytosterols Comple
Reasons to buy
+
A noticeable difference after a few days
+
Glycolic acid makes it work harder
+
Stable airless packaging
Reasons to avoid
-
Fairly expensive compared with others
What I mean by a skincare accomplice is brilliant, coordinating buys in the range that make the product work even better. Namely, when it comes to this product, I'm referencing Sunday Riley's Vitamin C-infused C.E.O Oil, which I'm also a huge fan of (Helen Mirren loves this facial oil too - you can't argue with that recommendation). You can use it in the evening after cleansing, to double up on your Vit C intake.
There's good stuff here as a standalone serum too - a decent 15% concentration, plus a Phytosterols Complex, which will help balance out any redness you may experience. It also contains glycolic acid to help speed up the brightening process. A more creamy than liquid serum, this felt soft and smooth on the skin, but leave it around 5-10 minutes before following on with your moisturizer and SPF, as there's potential for pilling. Apart from that, there's little here to dislike.
(opens in new tab)
9. SkinCeuticals Silymarin CF
Best Vitamin C serum for oily skin
Specifications
RRP: $205/£145
Vitamin C: 15%
Key ingredients: Silymarin, ferulic acid
Reasons to buy
+
Excellent formulation
+
Pore-clearing plus brightening
+
Pleasant texture
Reasons to avoid
-
Won't suit dry skin types
Another SkinCeuticals product, and another pricy one at that. Hey, we told you this brand was the industry leader for antioxidants and this serum covers an important corner of the market that's not often addressed: Vit C for oily skin.
Many breakout-prone or combination types complain Vitamin C serums have a pore-clogging or heavy texture on the skin, but not Silymarin CF. It combines all your top antioxidants with salicylic acid, the most powerful skincare acid for clearing pores. Plus we get silymarin, another antioxidant derived from milk thistle that regulates oil production and the tinted dropper keeps everything inside fresh and active.
The texture is thin and watery, which feels refreshing on oilier skin. Press it in first thing after cleansing and it'll disappear without leaving any sheen or residue behind. We experienced less congestion within a week or so, then within a few more weeks longer-term improvements in tone as that Vitamin C got to work. As ever with SkinCeuticals this is a formula you can trust at an elevated but justifiable cost.
(opens in new tab)
10. Elizabeth Arden Vitamin C Ceramide Capsules Radiance Renewal Serum
Best Vitamin C serum for dry skin
Specifications
RRP: $87/£47
Vitamin C: Unknown
Key ingredients: Ceramides, clary sage
Reasons to buy
+
Portable and stably packaged
+
Nourishing properties
+
Kind to barrier ceramides
Reasons to avoid
-
Oil base won't suit all
-
Unclear on the concentration of Vitamin C
Ampoules are everywhere now, but Elizabeth Arden pioneered individual, active skincare with the original ceramide skincare capsules, and this Vitamin C version proves they still lead where others follow.
First things first - the ampoules are biodegradable, which should assuage any environmental concern. The second thing to say is, naturally, individual dosing could not be more suited to Vitamin C as an ingredient, as every drop is kept safely away from light and air until it's going onto your face in fully active form. The capsules also contain ceramides, Arden's signature ingredient, which nourishes and rebuilds the skin's barrier function for soft, plump, protected skin.
A dry oil base gives the texture plenty of slip and ensures you can get a decent massage on as you apply. Plus, it leaves a light juicy sheen on the skin that's very flattering. Oilier types may wish to avoid this product for that reason, but for drier or mature skin there's not much you can say against these pocket rockets.
(opens in new tab)
11. Paula's Choice C15 Super Booster
Best Vitamin C serum for layering
Specifications
RRP: $52/£49
Vitamin C: 15%
Key ingredients: Vitamin E, ferulic acid
Reasons to buy
+
Can be mixed into creams
+
Good value
+
Stable formulation
Paula's Choice is something of an insider's favorite amongst beauty editors. Founded by the inimitable Paula Begoun, a.k.a. The Cosmetic Cop, this brand specializes in no-nonsense ingredient-led skincare that never oversells itself, and this Vitamin C serum fits into the cannon very nicely.
It contains 15% ascorbic acid plus its best friend ferulic acid and unusually lists its pH as a selling point (an acidic 3.5, which gently stimulates the skin, in case you were wondering). As well as applying it directly onto clean skin, as with the other products, you can also drop this into your moisturizer or hydrating serum. This makes it a great choice for those of us who like to keep steps in our skincare routine to a minimum and speed up that morning routine. We love the light, mixable texture although some may wish it was a little richer and more nourishing. Avoid blending it with other skincare ingredients that you should never mix, like retinol. Stick to one active at a time!
(opens in new tab)
12. Murad Vita-C Glycolic Brightening Serum
Best exfoliating Vitamin C serum
Specifications
RRP: $109/£75
Vitamin C: Unknown
Key ingredients: Glyolic acid, gold
Reasons to buy
+
Powerful ingredients
+
Smooths and brightens
+
Effective
Reasons to avoid
-
Doesn't reveal Vit C concentration
This is one of the only products to make this list without giving away that all-important Vit C percentage. But seeing as Murad is such a respectable name and this product has so much going for it we can give it a pass, just this once.
So what is going on then? Mainly a super-potent combination of exfoliating glycolic acid and brightening Vitamin C, stabilized by none other than gold. This cell sloughing plus antioxidant protection action really packs a punch for improving skin clarity and fading pigmentation, as demonstrated by some very persuasive before and after photos from their clinical trials.
On testing, the texture was thicker than the other products, more of a gel than the thin fluid you might expect from a Vitamin C serum. This does make it easier and in many ways more pleasant to massage in. The glycolic doesn't prickle but it's definitely there, while botanical antioxidant Kakadu plum extract and floral extracts are likely responsible for a pleasant, subtle fragrance. As glycolic gets to work pretty quickly and Vit C is more of a long game, these two make a perfect pairing. Those instant effects offer all the motivation you need to achieve your long-term goals.
---
Your Vitamin C FAQs answered
Why use a Vitamin C serum?
"As one of the most potent antioxidants for the skin, vitamin C has multiple benefits", says Dr Benar. "They include fading dark spots and hyperpigmentation, brightening the skin, and helping to increase collage production for an overall healthier complexion." She continues, "In addition, Vitamin C's anti-pigmentary and brightening effect on your skin will help you with discoloration problems such as hyperpigmentation caused by acne."
Why a serum over a cream, or infused in your best cleanser? To cut to the chase, serums' concentrated formulas are the best way to treat any skincare concerns. Their light, liquid consistency means they sink deeper into the skin than even your best face moisturizer, and get to work much quicker. We're always wary of all-singing, all-dancing cleansers infused with hyped-up ingredients like retinol and acids. Really, these don't sit on your skin for long enough to get to work, washing those active ingredients (and to be frank your cash), down the plughole.
If you're wondering how to apply serum, it's always onto clean skin after cleansing, before your moisturiser.
What does a vitamin c serum do to the face?
After using the best Vitamin C serums, you'll notice your face looking brighter. It's also one of the best hyperpigmentation treatments that you can safely do at home. How does all of this brightening, protecting magic work exactly?
Skincare expert Fiona Brackenbury (opens in new tab) explains, "Vitamin C is an antioxidant powerhouse that prevents cellular damage from UV rays and pollution, which are the top two most damaging elements which our skin comes into contact with daily."
She continues, "If that wasn't enough to make you reach for a vitamin C serum, it's also essential for collagen production. We lose 1.5% a year after the age of 30 and this reduction speeds up during menopause where we can lose a whopping 30% of our collagen."
Is it okay to use a vitamin c serum every day?
In theory, yes! If you don't notice any sensitivity or irritation from using it, it's safe to use your Vitamin C serum daily. For me personally, I alternate between Vitamin C and HA serums daily but feel free to pick what works best for you.
Brackenbury agrees, "Vitamin C is best used daily as you don't want to miss out on the antioxidant protection, however, I would always caveat that with saying to listen to your skin and consider any stress, medication, menopause or sun exposure that may cause your skin to be more sensitive."
Who should not use a vitamin c serum?
Really, everyone can use the best Vitamin C serums - there's really no downside to using one. I've you're not sure whether Vitamin C can be bad for the skin, the short answer is no, it's usually not - if it's in date and the right concentration for your skin type.
Easily-irritated skin should proceed with caution, as you would when you're introducing any new product to your skincare routine for sensitive skin.
"Every skin is different and unique and has a sweet spot for skincare actives", says Brackenbury. "If you have sensitive skin or have never used a vitamin C before, vitamin C derivatives such as tetrahexyldecyl ascorbate will be easier for you to tolerate." If you'd rather avoid Vit C altogether, niacinamide is often touted as a gentler alternative, and does offer some of the same antioxidant and brightening benefits (hence the longstanding niacinamide vs vitamin C skincare debate)
Beauty Editor, womanandhome.com
As woman&home's Beauty Channel Editor, Fiona Mckim has tried more products than she's had hot dinners and nothing makes her happier than raving about brilliant finds on womanandhome.com or her instagram grid (@fionamckim if you like hair experiments and cute shih-tzus). Fiona joined woman&home as Assistant Beauty Editor in 2013 under industry legend Jo GB, who taught her everything she needed to know (learn about ingredients and employ extreme cynicism). She has since covered every corner of the industry, from interviewing dermatologists and celebrities to reporting backstage at Fashion Week and judging the w&h Beauty Awards.